Nuclear vaping | Manweller leave | Bargaining CHIP | Trump harasses
Tuesday, December 12, 2017
---
LOCAL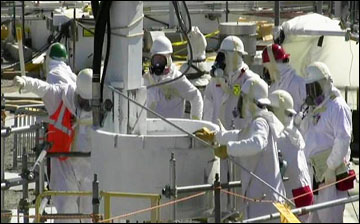 ► In today's Tri-City Herald — Union agrees. Some Hanford chemical vapor protection can be reduced — The Hanford tank farm contractor and union leadership have agreed to ease respiratory restrictions around some of the nuclear reservation's stored waste for the second time. In June 2016, the Hanford Atomic Metal Trades Council issued a stop-work order in the tank farms unless workers were wearing supplied air respirators. HAMTC is an umbrella group for 15 Hanford unions. Officials were concerned that breathing in chemical vapors associated with waste held in underground tanks could seriously damage workers' neurological or respiratory health. Last week, the supplied-air respirator restriction was partially lifted for the first time since HAMTC leadership changed earlier this year.
► In the Seattle Times — Renton-based Providence in talks for massive hospital merger with Ascension — Renton-based Providence St. Joseph Health has been in talks with Ascension Health on a possible merger that would create the nation's largest hospital network, according to two people familiar with the matter.
► In today's (Everett) Herald — Everett mayor tries new tactic to curb fire department overtime — Stephanson says an engine won't go into service when the only available staff would be on overtime.
---
THIS WASHINGTON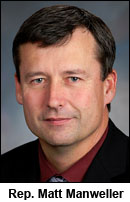 ► In the News Tribune — GOP lawmaker Matt Manweller placed on leave from CWU due to investigation into conduct — State Rep. Matt Manweller (R-Ellensburg) has been placed on administrative leave by Central Washington University, where he teaches political science, because of a new investigation into allegations of inappropriate conduct. The university confirmed the investigation Monday but would not disclose details about it. The school's decision comes as the Republican from Ellensburg has faced scrutiny over past allegations of sexual harassment at CWU, along with new reports of women who have told the Legislature interactions with Manweller made them uncomfortable.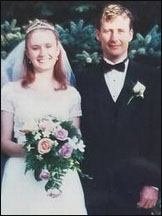 ► In the News Tribune — Ex-wife, former high school student of GOP lawmaker now calls relationship 'inappropriate' — The ex-wife of Matt Manweller contends the embattled GOP state representative leveraged his age and status as her former high school teacher to marry her when she was 18. "My truth, my story, is that I had a man that's 12 years older than me, as a teacher in a position of power, take advantage of me, groom me to be a trophy wife and prey on my insecurities," OraLynn Reeve said.
► In the Seattle Times — Legislative staffer says she complained about Manweller's conduct this year — A former legislative staff member says she complained earlier this year about the Manweller's conduct after a meeting that she thought was to discuss her career ended up at a restaurant and felt more like a date.
► In today's (Longview) Daily News — McCleary legislation leaves district with $4.2 million budget hole — State lawmakers' McCleary legislation was supposed to fix local school districts' funding problems, but the Longview School District is facing a $4.2 million budget gap over the next four years under the new plan, according to new district projections.
---
TRUMP'S TAX PLAN

► From The Hill — Wharton study: GOP tax bill does not pay for itself — The University of Pennsylvania's Wharton School has released an analysis of the Republican tax plan that concludes that even under favorable economic conditions the plan will add more than $1 trillion to the national debt. The analysis released Tuesday finds that "even with assumptions favorable to economic growth," the Senate's version of that tax bill would add more than $1.5 trillion to the nation's debt over the next 10 years. The Wharton model estimates that the plan would add $1.8 trillion to $1.9 trillion in debt even with economic growth.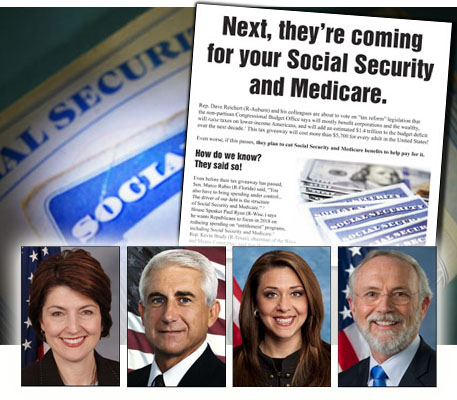 ALSO at The Stand — Labor-sponsored ads warn of GOP plan to cut Social Security, Medicare 'entitlements'
► From Salon — The Republican tax plan is the most unpopular bill in 30 years — Thirty-two percent of Americans support the Republican tax bill, while 48 percent oppose it, according to a USA Today/Suffolk University Poll. This means that, if it becomes law, the Republican tax reform bill will be the most unpopular major legislation passed in the United States in roughly 30 years. It will even surpass the unpopularity of President Obama's signature law, the Affordable Care Act.
► In today's NY Times — Tax plan's biggest cuts could be in living standards (by Eduardo Porter) — Tax cuts are not the secret sauce to power the American economy. They have, in fact, very little power to affect economic growth. The main effect of tax cuts is in changing how the fruits of economic growth are distributed… Adding in the cuts to Social Security, Medicaid, education and other programs that Republicans are planning to cull to pay for the tax reductions, the cost to poor and middle-income families would be even greater.
---
THAT WASHINGTON
► From Business Insider — Over 1 million children and pregnant women are on the brink of losing health insurance — and Congress hasn't done anything about it — Late night host Jimmy Kimmel brought his newborn son on stage Monday night to make an emotional plea for Congress to restore funding for the Children's Health Insurance Program (CHIP), which has provided healthcare to millions of Americans and helped to drastically reduce the uninsured rate of children since its implementation in 1997. "Now CHIP — [it] has become a bargaining chip," Kimmel said, cradling his son Billy, who received life-saving open heart surgery just hours after birth earlier this year. "It's on the back burner while they work out the new tax plans. Parents of children with cancer, diabetes and heart problems are about to get letters saying their coverage could be cut off next month. Merry Christmas, right?"
► From Reuters — Voters head to polls in Alabama race with high stakes for Trump — Voters in Alabama were headed to the polls on Tuesday in a hard-fought U.S. Senate race in which President Donald Trump has endorsed fellow Republican Roy Moore, whose campaign has been clouded by allegations of sexual misconduct toward teenagers.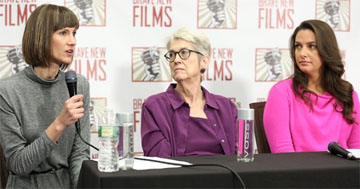 ► In today's Washington Post — Three women reassert allegations of sexual harassment against President Trump — The #MeToo sexual harassment movement roiling the nation reached the doors of the White House on Monday, when three women who last year accused President Trump of sexual misconduct began a renewed public push to gain attention for their allegations. The three accusers were among more than a dozen who had initially come forward during the 2016 presidential campaign.
► In today's Washington Post — Trump sends sexually suggestive and demeaning tweet about Sen. Gillibrand — The President of the United States tweets: "Lightweight Senator Kirsten Gillibrand, a total flunky for Charles E. Schumer and someone who would come to my office 'begging' for campaign contributions not so long ago (and would do anything for them), is now in the ring fighting against Trump." The backlash and criticism was near instantaneous, with Gillibrand replying directly to Trump on Twitter. "You cannot silence me or the millions of women who have gotten off the sidelines to speak out about the unfitness and shame you have brought to the Oval Office."
► From Politico — Looming pension shortfalls to complicate next shutdown fight — Congress barely averted a shutdown last year amid a fight over miners' health care. Now the looming collapse of pension plans for the miners — as well as thousands of Teamster truck drivers and food service workers — is fueling another, even more expensive, round of brinkmanship.
► From Reuters — U.S. halts loan relief to defrauded students — The U.S. Education Department under President Donald Trump and Secretary Betsy DeVos has stopped cancelling the student-loan debt of people defrauded by failed for-profit schools and those borrowers face mounting interest and other burdens, its inspector general said on Monday.
---
TODAY'S MUST-READ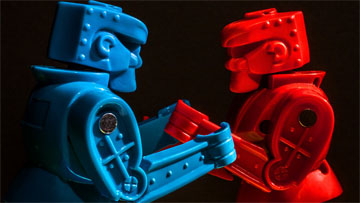 ► In the Seattle Times — If you seek opportunity, stick with a blue state (by Jon Talton) — In general, blue states are richer, healthier, more innovative and educated than red ones. Their economies are more competitive, high-quality and diverse. This, despite higher taxes and more regulation of business… The lesson should be clear: If you want prosperity and greater opportunity, align policies with those proven effective in blue states. Among them: High public investment in education and infrastructure; stronger public safety nets; an outward-looking attitude toward the world, an environmental ethic and tolerance. These attributes are even more important in a knowledge economy where top talent prizes quality of life, broad social acceptance and choices in such things as transportation… Blue state. Red state. Among partisans, few minds will be changed by their relative economic performance. Most people are just trying to get by. But what's happening in Washington, D.C., especially with the destructive tax legislation, will hurt the United States of America. Or what passes for "united."
---
The Stand posts links to Washington state and national news of interest every weekday morning by 10 a.m.
Short URL: https://www.thestand.org/?p=62397
Posted by
David Groves
on Dec 12 2017. Filed under
DAILY LINKS
. You can follow any responses to this entry through the
RSS 2.0
. Both comments and pings are currently closed.