Today's the deadline | Inslee's budget | Cathy ♥'s the FCC | RIP, Pat
Friday, December 15, 2017
---
LOCAL

► In today's Spokesman-Review — Deadline for Jan. 1 health coverage is TODAY — Washington has seen a rush of new sign-ups for health insurance in the final days to get coverage that starts Jan. 1. Friday is the deadline to enroll in 2018 coverage in Idaho and on the federal health insurance exchange, Healthcare.gov. In Washington, enrollment will stay open until Jan. 15, but people must sign up by Friday to be covered on Jan. 1. Washington HealthPlanFinder has had 40,000 new people apply for coverage this year, the exchange said in a news release. To help people sign up before the deadline, the exchange website, wahealthplanfinder.org, and its customer service line, (855) 923-4633, will be available until 11:59 p.m. Friday.
► In today's Tri-City Herald — More Hanford workers may have inhaled radioactive particles — A major demolition project at Hanford was halted two days this week after air monitors worn by several workers showed they might have inhaled radioactive particles.
► In today's Seattle Times — Small business doing well in our 'socialist hellhole' (by Jon Talton) — Two new reports show good trends for small business in Washington, despite the epithet hurled at such places by the Trumpists. The latest Paychex/IHS Markit Small Business Employment Watch showed Washington No. 1 for job growth in November and the past three months. In the 12-month average, Washington was second behind Tennessee. Seattle ranked No. 1 for job growth in small firms over the past year. Meanwhile, Washington ranked No. 2 in a small-business sentiment survey from an online consumer service. Seattle came in No. 3 among metros.
---
THIS WASHINGTON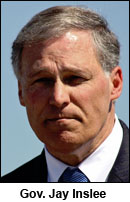 ► From Medium — Inslee releases supplemental budget proposal including full funding of basic education by 2018 school year — Gov. Jay Inslee on Thursday released his 2018 supplemental budget, which adds nearly $1 billion to fully fund basic education in time for the 2018 school year and makes modest new investments for emerging and urgent needs. The governor also again urged the Legislature to enact the 2017–19 capital budget so state and local entities can get started on hundreds of projects that have been on hold since lawmakers adjourned in July without passing one. It was the first time in modern history the Legislature adjourned without passing a biennial capital budget.
► From WFSE — Governor unveils supplemental budget; more for quality care, kids, public safety, parks
► In today's (Everett) Herald — Inslee's budget solves school funding with help from carbon — His budget would use reserves to boost education, then replenish them with a carbon fee.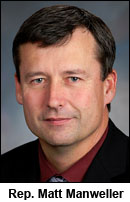 ► In today's News Tribune — Manweller booted from legislative positions after sexual harassment allegations — State Rep. Matt Manweller (R-Ellensburg) has been demoted from two positions at the Legislature following the start of an investigation into his conduct as a professor at Central Washington University and past allegations he sexually harassed students. House Minority Leader Dan Kristiansen (R-Snohomish) said in an emailed statement Thursday that Manweller was "removed" as the top Republican on the House's Labor and Workplace Standards Committee. Manweller also resigned as the party's assistant floor leader upon Kristiansen's request. The demotions come as Manweller is on administrative leave from CWU. The school is conducting a fresh investigation sparked when the school received new complaints following renewed scrutiny of previous back-to-back investigations into whether Manweller sexually harassed students.
---
TRUMP'S TAX SCAM

► In today's NY Times — Republican tax bill faces new uncertainty ahead of expected vote — House and Senate Republicans faced a new round of uncertainty on Thursday about the fate of their $1.5 trillion tax bill with the possible defection of a Sen. Marco Rubio (R-Fla.), amid continuing questions about how the bill will be paid for and how much of the benefits will flow to low- and middle-income people versus corporations.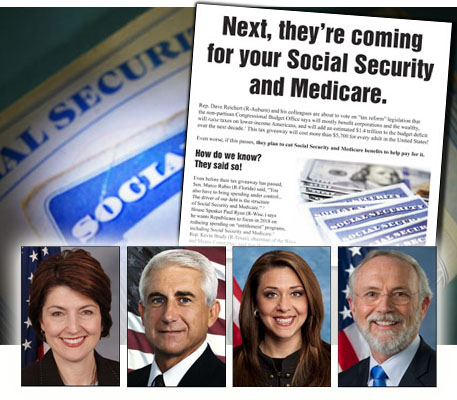 ALSO at The Stand — Ads warn of GOP plan to cut Social Security, Medicare (this ad appears in today's edition of The Seattle Times) — The labor-sponsored ads point out that Republican leaders intend to cut Social Security and Medicare benefits to help pay for their trillion-dollar plan to cut taxes for the wealthy and corporations.
TAKE A STAND — Click here to call to your Representative now or dial 1-844-899-9913 toll-free and you'll be connected to your Representative. Tell them to vote NO on this tax-cutting plan and to keep their HANDS OFF the Social Security and Medicare benefits that you have earned.
► In today's Washington Post — GOP considers letting tax cuts for families expire sooner — That change would free up more revenue for additional changes to their tax overhaul, but it could also heighten complaints that the bill prioritizes cuts for corporations over households.
► From Vox — The Republican tax bill that could actually become law, explained — The combined proposal would slash corporate tax rates permanently, offer temporary cuts for individuals, and repeal the individual mandate in Obamacare, a $338 billion health care cut that leaves 13 million more people uninsured by 2027. The result is that by that year, when the individual cuts expire, most Americans will be worse off due to higher taxes and lower health care coverage, while rich people who own shares in corporations will continue to benefit.
► From AP — Return of 2 ill GOP senators crucial next week for tax bill — Ailing Republican senators John McCain and Thad Cochran missed votes this week, but their presence will be crucial early next week as the GOP tries to pass a sweeping $1.5 trillion tax package in the Senate with a razor-thin majority and all Democrats opposed to the legislation.
► In today's NY Times — Republicans despise the working class (by Paul Krugman) — As usual, the Republicans' tax plan seeks to afflict the afflicted and comfort the comfortable, but they don't treat all Americans with a given income the same. Instead, their bill hugely privileges owners, whether of businesses or of financial assets, over those who simply work for a living. And this privileging of nonwage income isn't an accident. Modern Republicans exalt "job creators," that is, people who own businesses directly or indirectly via their stockholdings. Meanwhile, they show implicit contempt for mere employees.
---
THAT WASHINGTON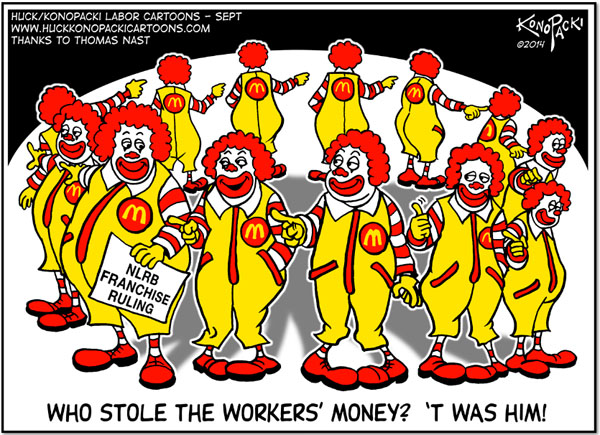 ► From Reuters — NLRB overrules joint-employer decision on labor violations — In  a 3-2 vote on Thursday, the Republican-controlled NLRB overturned an Obama-era ruling that had made it easier for unions and workers to hold companies accountable for practices of contractors and franchisees, a decision welcomed by business groups that could affect a major case against McDonald's Corp.
► In today's Washington Post — FCC repeals net neutrality rules in sweeping act of deregulation — Federal regulators voted to allow Internet providers to speed up service for some apps and websites — and block or slow down others — in a decision repealing landmark, Obama-era regulations for broadband companies such as AT&T and Verizon.
► In today's NY Times — Why net neutrality was repealed and how it affects you — Broadband providers like AT&T and Comcast can now begin selling the internet in bundles, not unlike how cable television is sold today. Want to access Facebook and Twitter? Under a bundling system, getting on those sites could require paying for a premium social media package. In some countries, internet bundling is already happening. Another major concern is that consumers could suffer from pay-to-play deals. A fast lane could be occupied by big internet and media companies, as well as affluent households, while everyone else would be left on the slow lane. Small business owners have raised concerns these issues will affect them, worrying that industry giants could pay to get an edge, and leave them on an unfair playing field.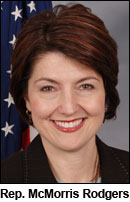 EDITOR'S NOTE — Rep. Cathy McMorris Rodgers (R-5th) is the only member of Congress from either party in Washington state who signed a letter this week urging the FCC chairman to repeal the net neutrality rules. According to the Center for Responsive Politics, McMorris Rodgers has received $673,530 in campaign contributions from the telecom industry since 1989.
► In today's Olympian — Ferguson says he'll sue over FCC's net neutrality repeal — Washington state Attorney General Bob Ferguson says the FCC's action allows internet service providers to discriminate based on content and undermines a free and open internet.
► In today's NY Times — Millions of children could lose health coverage starting next month — Lawmakers have yet to renew federal funding for the Children's Health Insurance Program, also known as CHIP, which insures nearly nine million children in low-income families. Most states will run out of money in the next few months if Congress does not act.
► In today's (Everett) Herald — Congress must renew children's insurance program (editorial) — CHIP, which helps ensure better health for children and avoids much costlier care were they to become sick or develop chronic illnesses later in life, deserves renewal on its own merits. Not renewing it would be costly and cruel.
► From HuffPost — Trump judicial nominee can't answer basic questions about the law in disastrous hearing — One of President Trump's nominees for a lifetime appointment as a U.S. district court judge struggled to answer basic questions about the law during a confirmation hearing on Thursday.
► From TPM — Trump called Putin to thank him for praising U.S. economy
---
T.G.I.F.
► Pat DiNizio, lead singer and songwriter of The Smithereens, died Tuesday at the age of 62. His band had a string of modest hits in the late 1980s and early 1990s, but was revered by rock enthusiasts of the day, including Nirvana frontman Kurt Cobain, who was so influenced by The Smithereens' debut album, 1986′s "Especially for You," that he attempted to recruit the album's producer Don Dixon to work on Nirvana's Nevermind. In 2000, DiNizio made an unsuccessful run for U.S. Senate in New Jersey, running on the Reform Party ticket and calling for campaign finance reform and saying, "I cannot be bought off. It's time to ruffle some feathers." He finished 4th with 19,312 votes (0.64%), losing to Democrat Jon Corzine. The campaign was chronicled in the 2001 documentary film Mr. Smithereen Goes to Washington. R.I.P., Pat.
---
The Stand posts links to Washington state and national news of interest every weekday morning by 10 a.m.
Short URL: https://www.thestand.org/?p=62501
Posted by
David Groves
on Dec 15 2017. Filed under
DAILY LINKS
. You can follow any responses to this entry through the
RSS 2.0
. Both comments and pings are currently closed.