Jay and Bob strike back | Trump's 'pure madness' | Reagan's DOL induction
Monday, March 5, 2018
---
THE WAR ON UNIONS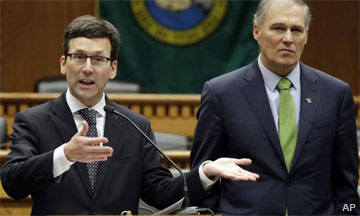 ► In the News Tribune — Supreme Court should preserve union 'fair share' (by Gov. Jay Inslee and AG Bob Ferguson) — Janus v. AFSCME is the newest attempt to undermine public sector unions. The plaintiffs raise essentially the same arguments as in Abood. The court settled these issues 40 years ago. If Janus succeeds, it will be a win for powerful special interests and another setback for the struggling American middle class. Unions will still be obligated to represent all employees in the work unit, but those people will no longer be obligated to pay their fair share for these benefits, which threatens the financial viability of unions. Overturning Abood threatens the right of public employees to collectively bargain because it guts the financial mechanism to do so… Regardless of any Supreme Court decision, we stand in solidarity with worker organizations and their fight to keep good jobs in our communities.
► In the Walla Walla U-B — U.S. Supreme Court case threatens to divide prison staff (by Teamsters 117 member S.L. Muecke) — We may not be able to prevent the court from ruling against us in the Janus case, but we can continue to stand together with one united front and speak with one voice. Apart, we are powerless, rudderless and too easily ignored. Together, we are strong.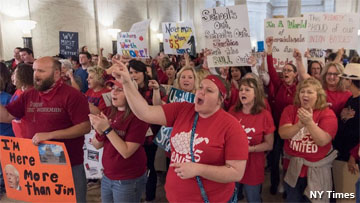 ► In today's NY Times — West Virginia teachers give a lesson in union power (editorial) —  Public-sector unions have been the last bastion of worker strength. Despite Justice Alito's hand-wringing over the right to free speech, the effect of the Janus decision that is expected from the court would be to silence workers and sap their power. The West Virginia teachers are having none of that… "We come from an area that is known for standing up for what they believe in." said Katie Endicott, a 31-year-old high school English teacher from Gilbert, W.Va. "The union wars, they originated in the south in Mingo County. We believe we're following in their footsteps." And, we can hope, these teachers can provide workers throughout the country with a powerful lesson.
---
THIS WASHINGTON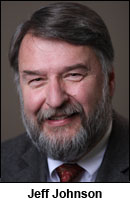 ► From KNKX — Inslee's carbon tax fails, but supporters have already filed an initiative — Less than a day after the governor announced that he lacked the votes to pass his measure, backers of a carbon fee had already filed an initiative to the people in its place… WSLC President Jeff Johnson said the ballot measure's solutions have the powerful backing of groups with a wide range of interests: "It's the broadest and deepest coalition that I've ever been involved in in Washington state in the 32 years I've been here. It is made up of organizations of color, faith-based groups, environmental groups, tribes, labor, public health, women's groups – it's really, really exciting."
► In the Seattle Times — Senate bill tackles pesticide drift that can sicken people nearby — Viviana Silvia had been a farmworker since the age of 14, but ever since she was exposed to pesticides while working, she can no longer help pick the produce that feeds the state. Silvia, now 36, is one of 20 farmworkers who became sickened after being exposed to pesticides that drifted from a neighboring farm in Douglas County, according to a 2014 lawsuit. SB 6529, sponsored by Sen. Rebecca Saldaña (D-Seattle), would create a work group to review data from the Department of Health on pesticide-exposure incidents.
ALSO at The Stand — Full disclosure: Historic bills are passing! (WSLC Legislative Update)
► In the Spokesman-Review — House GOP refused to vote on home health care worker bill (by Jim Camden) — On the Legislature's website, the official House vote for SB 6199 is 50 yes, 48 absent. That might make some people assume a virus had swept through the Legislature on March 1. If so, it was a virus of indignant futility.
► In the News Tribune — People, press, governor win fight for government sunlight (editorial) — A crucial veto by Gov. Jay Inslee wouldn't have happened if not for an extraordinary outcry from average people aghast at the Legislature's sneak attack on government transparency. A nudge from news organizations also helped.
---
IMMIGRATION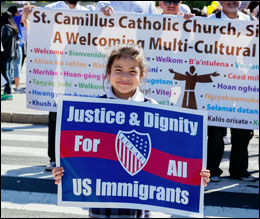 ► In today's Spokesman-Review — DACA deadline arrives with diminished urgency — A program that temporarily shields hundreds of thousands of young people from deportation was scheduled to end Monday but court orders have forced the Trump administration to keep issuing renewals, easing the sense of urgency.
► In the Columbian — Dozens march in Vancouver for Dream Act — Dozens of people marched in Vancouver on Saturday afternoon to press Congress to pass the Dream Act, legislation to allow children brought illegally into the United States by their parents to remain in the country and achieve citizenship.
► From The Hill — Action on guns and immigration screeches to a halt in Congress — On immigration, a federal court order blocking Trump's effort to end DACA has taken the pressure off Congress to act. Now lawmakers are not expected to touch the issue before Election Day.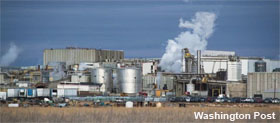 ► In today's Washington Post — Trump says American workers are hurt by immigration. But after ICE raided this Texas town, they never showed up. — ICE's Operation Wagon Train hit Swift & Co. plants in six states on Dec. 12, 2006, arresting nearly 1,300 workers. In tiny Cactus, Texas, 300 were taken into custody — about 10 percent of the town's population. It was the largest workplace raid in U.S. history. Cactus and surrounding Moore County have bounced back from the raid, and the plant today is once more thriving. But finding workers remains a perpetual struggle. JBS USA, a Brazilian conglomerate that now owns the plant, has raised starting wages nearly 25 percent in recent years, but like other meat processors across the country, it survived by finding a different set of foreigners to do jobs that used to be filled by illegal workers: refugees.
---
THAT WASHINGTON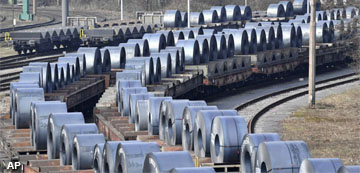 ► In today's Spokesman-Review — Speculation, uncertainty ripple across Washington after steel import tariffs announced — Industry groups expressed concern Friday that a plan to slap large tariffs on steel and aluminum imports could ignite a global trade war, sending shock waves through much of the economy – including Washington's aerospace and agriculture sectors. In the short term, however, impacts from the tariffs likely will be limited, and much of the fallout from the decision remains a matter of speculation.
► In today's Washington Post — Trump says Canada and Mexico will only escape new tariffs after NAFTA concessions — President Trump on Monday expanded his personal trade war, telling Canada and Mexico that he would only consider lifting possible tariffs on steel and aluminum if they concede to White House demands for renegotiating the NAFTA.
► In today's NY Times — Don't worry about Trump's tariffs (by Josh Bivens) — Last week President Trump announced new tariffs on steel and aluminum products, and the response couldn't have been more negative — critics warned of trade wars, recession, global instability. But the blowback is overblown, and seems to constitute reflexive anti-Trump sentiment rather than careful economic reasoning.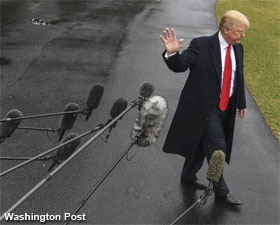 ► In the Washington Post — 'Pure madness': Dark days inside the White House as Trump shocks and rages — Trump is now a president in transition, at times angry and increasingly isolated. He fumes in private that just about every time he looks up at a television screen, the cable news headlines are trumpeting yet another scandal. He voices frustration that son-in-law Jared Kushner has few on-air defenders. He revives old grudges. And he confides to friends that he is uncertain about whom to trust… Retired four-star Army general Barry McCaffrey said the American people — and Congress especially — should be alarmed. "I think the president is starting to wobble in his emotional stability and this is not going to end well," McCaffrey said. "Trump's judgment is fundamentally flawed, and the more pressure put on him and the more isolated he becomes, I think, his ability to do harm is going to increase."
---
TODAY'S MUST-READ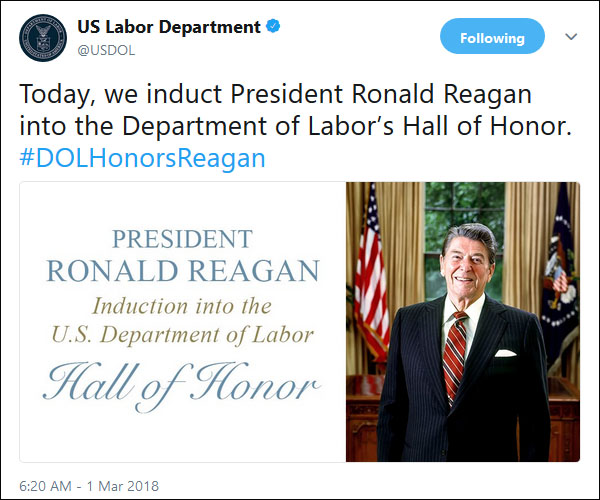 ► From The Stranger — Ronald Reagan's induction into Dept. of Labor's Hall of Honor is cynical, even by Trump standards (by Sean Nelson) — I'm going to spend a little time vomiting up reasons why this is not merely an inaccuracy, but an affront. Not an affront to the Department of Labor. An affront to the word "labor." … Joe Carl's excellent DailyKos post from last year entitled "Whatever Happened to Unions? Ronald Reagan," elaborated on the Reagan administration's systemic antagonism toward workers and concluded, "No man ever hurt working men and women more than did Ronald Reagan."
It's political nihilism that enshrines the perspective that the government's role is not to protect the well-being and opportunities of its citizens but to aid in the process of generating wealth. You needn't be a cynic to know that perspective has been guiding the vision of the U.S. government since at least the end of WWII, with a short four-year blip for the Carter administration — and listen to how indignant people get when they talk about him now. But that doesn't make this Department of Labor honor an act of honesty, or even of nihilistic trolling. It's just one more contemptible lie designed to make truth more relative and reality more horrible. Nice work, fellas.
---
NATIONAL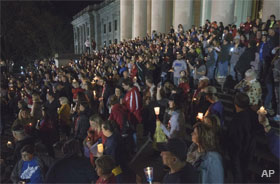 ► From CNN — West Virginia teachers will strike for eighth day after legislative impasse — West Virginia public school teachers will strike for an eighth day Monday because the state legislature didn't meet their demand for higher pay and better benefits over the weekend. All 55 counties announced school closures for Monday. About 20,000 teachers walked out February 22, keeping almost 277,000 students out of class. Union leaders say the teachers won't return to work until they get a 5% raise.
► From HuffPost — How tax cuts led to West Virginia's massive teacher strike — A decade ago, West Virginia began gradually winding down certain business taxes that could have helped pay for the across-the-board raises that teachers haven't seen in four years.
► From Newsweek — Teachers in Oklahoma might be going on strike next — As West Virginia's teachers strike enters its second week, educators in Oklahoma are considering walking out on the job, too. Teachers from the state's two biggest metropolitan areas — Oklahoma City and Tulsa — converged on Friday to discuss the possibility of going on strike to pressure the state legislators to enact what educators call long overdue pay raises.
---
TODAY'S MUST-SEE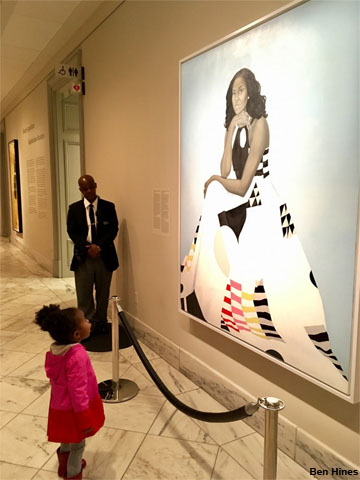 ► In the Washington Post — 'A moment of awe': Photo of little girl captivated by Michelle Obama portrait goes viral — Parker Curry, in her less than 36 months alive, has become a big admirer of the former first lady. She especially enjoyed seeing Obama dance on "The Ellen DeGeneres Show." After seeing the portrait, Parker thinks Obama is a "queen." (Curry's mother is not certain her daughter knows that Michelle's husband is former president Barack Obama or that he even ­exists.)
---
The Stand posts links to Washington state and national news of interest every weekday morning by 10 a.m.
WASHINGTON IS A UNION STATE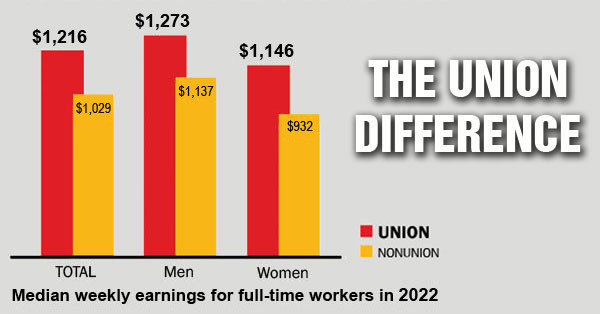 CHECK OUT THE UNION DIFFERENCE in Washington state: higher wages, affordable health and dental care, job and retirement security.
FIND OUT HOW TO JOIN TOGETHER with your co-workers to negotiate for better working conditions and respect on the job. Or go ahead and contact a union organizer today!