Full disclosure: Historic bills are passing!
Progressive policies finally getting votes, but a few still face today's cutoff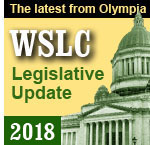 OLYMPIA (March 2, 2018) — While the commercial press has focused its attention (and advocacy) almost exclusively on the public disclosure bill (SB 6617), several truly historic pieces of legislation have passed in recent days that will improve state government and help working families. Progressive policy bills that for years have been killed by partisan obstruction are finally getting floor votes. And they are passing — often with bipartisan support.
These historic bills will address gender-based pay discrimination, promote fairer local elections, improve voter participation, increase pay for faculty at community and technical colleges, improve prevailing wage accuracy and consistency, protect the state's Dreamers who are pursuing college educations, begin to address mass incarceration in our state, work to protect farmworkers and communities from exposure to pesticides, and more! All that, plus this week Washington became the first state to pass its own net neutrality regulation in defiance of the Trump administration.
But, you know… public disclosure!
Here are some of the major floor votes that occurred this week on bills supported by the Washington State Labor Council, AFL-CIO. These bills have all now passed both houses of the Legislature and either head to Gov. Jay Inslee's desk for signature, or in some cases, must return to the opposite house for what are usually routine votes to concur with changes made.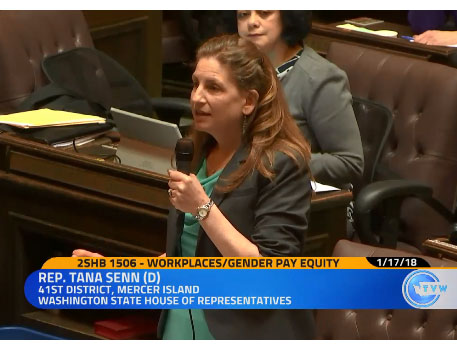 EQUAL PAY OPPORTUNITY ACT — HB 1506, sponsored by Rep. Tana Senn (D-Mercer Is.), updates the state's Equal Pay Act (for the first time since 1943) to prohibit employers from imposing pay secrecy policies; to ensure accessibility for low- and high-income employees, and small and large businesses, to remedies through administrative and civil pathways; and to prevent discrimination by gender in providing career advancements opportunities. It passed the House 69-28 on Jan. 17, and passed the Senate 37-12 on Thursday night.
FACULTY COLLECTIVE BARGAINING — After several years, longtime labor champion Rep. Mike Sells (D-Everett) has succeeded in passing HB 1237, which will allow community and technical colleges to utilize local funding sources in negotiations with faculty over wages and benefits, like four-year colleges do. Access to these local funds will help improve these underpaid faculty members' salaries and help our CTCs recruit and retain top educators. As it has in several years past, the bill passed the House 57-41 on Feb. 7, and on Tuesday night, it passed the Senate 27-21. (See The Stand's full coverage.)
DREAM ACT 2.0 — Rep. Drew Hansen's (D-Bainbridge Island) HB 1488 would ensure that undocumented students brought to the U.S. and Washington state as children can continue their college educations, even if President Trump succeeds in his effort to kill the Deferred Action for Childhood Arrivals program. HB 1488 would allow undocumented students who meet certain criteria to continue to qualify for the state's College Bound Scholarship program, even if DACA ends. The bill passed the House 56-42 on Feb. 13, and on Thursday night, it passed the Senate 34-15.
"When economic barriers are demolished for undocumented students we all win because we invest in future professionals and leaders,"said DACA recipient and WSLC's 2018 Legislative Intern Graciela Nuñez Pargas. "Passage of this bill sends a clear message to our vulnerable communities that Washingtonians believe in opening pathways to the American Dream."
IMPROVING ELECTIONS & VOTER PARTICIPATION — Advocates for fairer elections and making it easier to vote and improve turnout went 5-for-5 this session with the approval of the following bills:
WASHINGTON VOTING RIGHTS ACT — For the sixth time in as many years, the House passed the WVRA to create a path for local governments to change discriminatory voting systems without the need for costly lawsuits. SB 6002, sponsored by Sen. Rebecca Saldaña (D-Seattle), passed the House on a 52-46 vote Tuesday. It already passed the Senate 29-19. (See The Stand's full coverage.)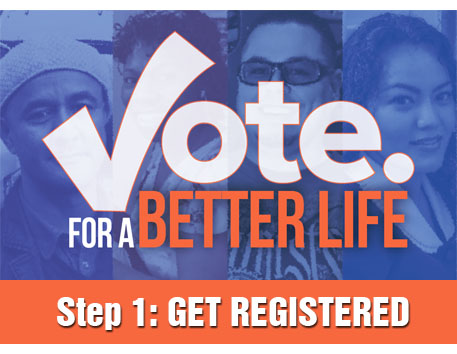 AUTOMATIC VOTER REGISTRATION (HB 2595), introduced by Rep. Zack Hudgins (D-Tukwila), passed the Senate 29-20 on Wednesday. Under the bill, beginning in 2019 anyone who applies for or renews an enhanced driver's license at the Department of Licensing will simultaneously be registered to vote.
"Voting is a right, not a privilege," said Sen. Sam Hunt (D-Olympia), who sponsored the Senate companion bill. "We need to make voting as easy as possible for every citizen in Washington and that starts with registration. We now have the technology to make it seamless, so why wouldn't we? Automatic voter registration will increase the opportunity to register and vote without endangering the security of the election process."
SAME-DAY REGISTRATION (SB 6021) — This bill by Sen. Patty Kuderer (D-Bellevue) will change the deadline for in-person voter registration from the current eight days before an election to 8 p.m. on Election Day starting in June 2019. Folks could register and vote at their county auditor's office — or wherever the auditor decides to make the process available — on the day of the election. Thirteen other states have made this change and experienced about a 10 percent boost in voter turnout. But apparently, making it easier to vote is a partisan issue these days. SB 6021, which passed the Senate 29-20 on Jan. 17, squeaked by on a party-line House vote of 50-48 on Tuesday, with all Democrats voting "yes" and all Republicans voting "no."
PRE-REGISTRATION (HB 1513), sponsored by Rep. Steve Bergquist (D-Renton), will allow 16- and 17-year-olds to pre-register to vote when they go to the Department of Motor Vehicles to get their drivers' licenses. That way, the day they turn 18, the will begin receiving ballots and participa1e in democracy. It passed the Senate 22-17 on Wednesday.
DISCLOSE ACT (SB 5991) — Legislation sponsored by Sen. Andy Billig (D-Spokane) aims to shed light on "dark money" or secret political spending by making sure that money spent through front groups must be publicly disclosed so voters can understand who is paying for election ads. It easily passed the Senate 32-17 last month and on Wednesday the House approved it 53-45.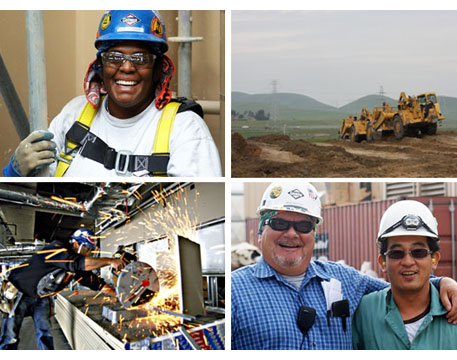 PREVAILING WAGE — SB 5493, sponsored by Sen. Steve Conway (D-Tacoma), establishes prevailing wage rates on public works projects based on collective bargaining agreements, or other methods if such agreements are not available. Already done in eight other states, this practice will provide more accurate and consistent pay rates and save the state money by replacing the current cumbersome survey process, which incentivizes employers to under-report wages. It passed the Senate 32-15 on Feb. 12 and passed the House 53-45 on Wednesday. Congratulations to Sen. Conway and the building trades unions that have advocated for this policy improvement for years.
INTERPRETERS — SB 6245, sponsored by Sen. Rebecca Saldaña (D-Seattle), will expand a successful model for ensuring clients have access to interpreter services from the Health Care Authority to other state agencies, such as the Department of Labor and Industries. It passed the Senate 31-16 on Feb. 9, and it passed the House 53-44 on Thursday night.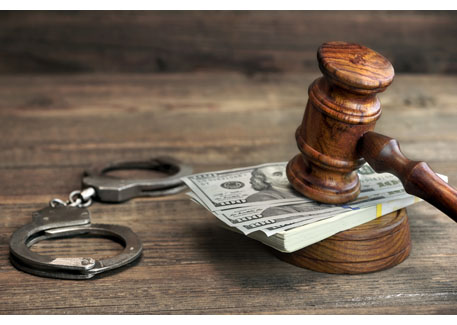 LEGAL FINANCIAL OBLIGATIONS — The Senate passed HB 1783 on a 32-17 vote Wednesday. Sponsored by Rep. Jeff Holy (R-Cheney) and Rep. Roger Goodman (D-Kirkland), this bill has been a priority for anti-poverty, criminal justice reform and labor organizations because of the positive impact this bill would have on formerly incarcerated people by addressing the so-called debtors' prisons. The bill would eliminate the 12% interest on non-restitution, requires assessment on the ability to pay at the time of sentencing, and prioritizes restitution to crimes' victims.
"We, as a labor movement, have strongly supported LFO reform to help break down the barriers to successful reentry in Washington state," said Eric González, WSLC's Legislative and Policy Director."We need to continue to work towards mass employment, and move away from mass incarceration."
FAIR CHANCE ACT — The idea behind HB 1298 by Rep. Lillian Ortiz-Self (D-Mukilteo) is that when formerly incarcerated persons have fulfilled their debt to society, they should be able to secure work. By "banning the box" and waiting until after an interview to ask about criminal history, they will have a fair chance to make their case to potential employers. HB 1298 passed the House 52-46; passed Senate 33-16 on Wednesday.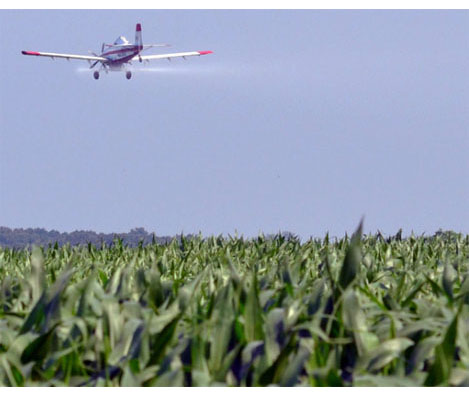 PESTICIDE WORKGROUP — SB 6529 passed the House 57-41 on Wednesday and now goes to the governor's desk. Sponsored by Sen. Rebecca Saldaña (D-Seattle), this bill started out as an implementable reporting/notification policy for pesticide use on farms. But by amending it to create a workgroup to study the issue and report back to the Legislature, the issue advanced further than ever before and many more legislators were educated about the health risks of pesticide drift. Passage of SB 6529 will help us continue building the case for why it's critically important to update our notification and pesticide use reporting systems to address health disparities that may exist as a result of exposure to harmful chemicals.
"In order to maintain a healthy agricultural economy, workers need healthy work environments and the proper protections," said the WSLC's González.
---
Cutoff is TODAY for policy bills!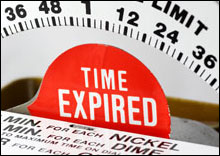 Although lots of labor-backed bills have passed, some key priority legislation still awaits final votes and time is almost up. Bills that aren't necessary to implement the budget must pass the opposite house by 5 p.m. TODAY (March 2). So the WSLC is strongly urging votes on the following bills today! (Click the bill number to check their status because they may have been voted upon since this story was posted):
CAMPUS POLICE ARBITRATION (HB 1559, Rep. Roger Goodman, D-Kirkland) — This bill provides binding interest arbitration for duly sworn police officers employed as members of a police force established by state and regional universities. Passed the House 82-13; passed both Senate Labor & Commerce and Ways & Means; and needs a Senate floor vote!
HOSPITAL WORKER BREAKS AND OVERTIME (HB 1715, Rep. Marcus Riccelli, D-Spokane) — Healthcare facilities should ensure that nurses and healthcare technical workers are guaranteed access to the breaks and overtime they have earned. This will ensure those providing the best care are healthy, rested, and less prone to mistake-causing fatigue. Passed the House 56-42; passed both Senate Labor & Commerce and Senate Ways & Means, and needs a Senate floor vote!
PSERS EXPANSION (HB 1558, Rep. Christine Kilduff, D-University Place) — Authorizing membership in Washington's public safety employees' retirement system for employees who provide nursing care to, or ensure the custody and safety of, offender, probationary, and patient populations in institutions and centers. These employees experience high numbers of injuries and this bill will do a lot to help recruit and retain workers in these high-risk positions. Passed the House 89-9; passed Senate Ways & Means; and needs a Senate floor vote!
TAXPAYER ACCOUNTABILITY ACT (HB 1851, Rep. Laurie Dolan, D-Olympia) — This bill would introduce some common-sense standards to increase transparency and accountability when a state agency considers outsourcing public work. Passed the House 52-45; passed Senate Committee on State Government, Tribal Relations & Elections; and needs a Senate floor vote!
WORKERS' COMP SOCIAL SECURITY OFFSETS (HB 1336, Rep. Steve Kirby, D-Tacoma) — As retired workers return to the workforce part-time to make ends meet, work injury rates among older workers have increased. HB 1336 would end the practice of offsetting time-loss wage replacement for injured workers who also collect Social Security benefits, as these workers already face financial challenges. Passed the House 65-33; passed Senate Labor & Commerce; and needs a Senate floor vote!
WASHINGTON IS A UNION STATE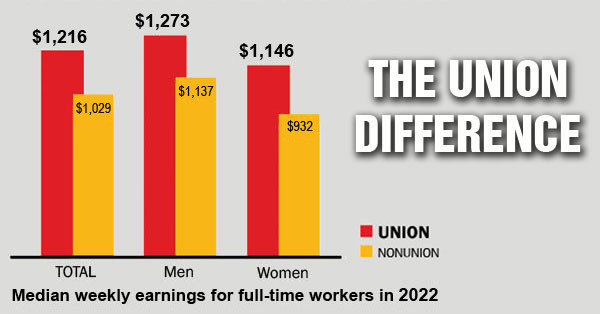 CHECK OUT THE UNION DIFFERENCE in Washington state: higher wages, affordable health and dental care, job and retirement security.
FIND OUT HOW TO JOIN TOGETHER with your co-workers to negotiate for better working conditions and respect on the job. Or go ahead and contact a union organizer today!