Child abuse as policy | Boeing defies employees | What's a fact?
Tuesday, June 19, 2018
---
AMERICA'S SHAME: CAGING CHILDREN

► From The Guardian — Families divided at the border: 'The most horrific immigration policy I've ever seen' — One month before Donald Trump's administration enacted a policy that allowed the government to take thousands of migrant children from their parents, the president twice told crowds at his rallies that immigrant gang members were not people. "These are animals," he said in May. Over the weekend, video and photos emerged of the cage-like detention centers where children, separated from their parents, are housed… Said Lee Gelernt, deputy director of the ACLU's Immigrants' Rights Project: "This is as shocking an immigration policy as we've seen from this Trump administration, but frankly, I've been doing this work for approaching three decades, and this is the most horrific immigration policy I have ever seen."
► From ProPublica — Listen to children who've just been separated from their parents at the border — The desperate sobbing of 10 Central American children, separated from their parents one day last week by immigration authorities at the border, makes for excruciating listening. Many of them sound like they're crying so hard, they can barely breathe. They scream "Mami" and "Papá" over and over again, as if those are the only words they know.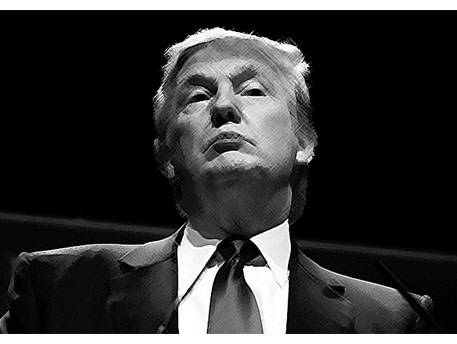 ► In today's NY Times — Trump resisting a growing wrath for separating migrant families — President Trump and two members of his cabinet mounted an aggressive defense on Monday of his policy of separating children from their parents at the border in response to a growing outcry from members of both parties. "They could be murderers and thieves and so much else," Trump said of the people crossing the border. "We want a safe country, and it starts with the borders, and that's the way it is."
► In today's Washington Post — Four Pinocchios for White House's claims on why families are being split at the border (Fact Checker) — The president and top administration officials falsely claim that U.S. laws or court rulings force them to separate families.
► In today's NY Times — When did caging kids become the art of the deal? (editorial) — Trump is choosing to torment the families of undocumented immigrants. Will his party go along?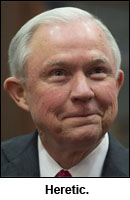 ► From The Guardian — Jeff Sessions got the Bible wrong. We care for strangers, not rob their rights. (by the Rev. William Barber and Dr. Liz Theoharis) — Last week, the attorney general, Jeff Sessions, used scripture to justify closing America's borders to those in need of refuge and tearing children away from their families… Sessions is operating from the same playbook of biblical heresy that was used to support the genocide of Native Americans, lock black people in chattel slavery and segregate people under Jim Crow. He's using old tricks that go all the way back to slave master religion. He's adding to this the sin of making children the prey – something the Bible clearly recognizes as evil.
► From The Hill — Hundreds of members at Sessions's church write formal complaint over immigration policy — More than 600 members of the United Methodist Church, including clergy and church leadership, accuse Sessions of child abuse, immorality, racial discrimination and dissemination of doctrines contrary to the standards of the doctrine of the United Methodist Church. They note in the letter that Sessions is a member of Ashland Place United Methodist Church, in Mobile, Ala.
► From Politico — 75 bipartisan former U.S. attorneys call on Sessions to end family separations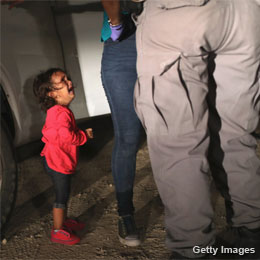 ► In today's Washington Post — Ten things Republicans could do instead of nothing (by Jennifer Rubin) — The only legislative vehicle so far to end the separation policy comes from Sen. Dianne Feinstein (D-Calif.), who has introduced the Keep Families Together Act. As of this writing, not a single Republican has signed onto the bill. (Both Sens. Patty Murray and Maria Cantwell are co-sponsors.) Republicans in Congress and the administration should stay off Twitter, TV, radio and other media and start doing something. Here are 10 suggestions for Republicans in various capacities who remain paralyzed… Unless Republicans are doing one or more of these things, they are doing nothing. They are perpetuating a monstrous policy that amounts to child abuse.
---
BOEING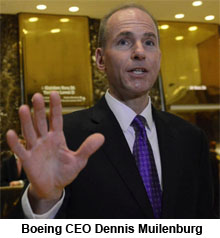 ► In today's Charleston Post-and-Courier — Boeing won't recognize union win at North Charleston site as it appeals vote — The Boeing Co. says it won't negotiate with the union that a group of North Charleston workers voted to join in May until its appeal of the election is decided, a move that could spark retaliation by the International Association of Machinists. Flight-line employees at the 787 Dreamliner campus voted 104-65 to have the IAM represent them in collective bargaining with the aerospace giant. The National Labor Relations Board certified the election last week, but Boeing said it plans to appeal an earlier NLRB decision that let the voting proceed in the first place… The IAM last week sent a letter to David Carbon, site director for the North Charleston plant, seeking wage, benefit, job description and other information about the local flight-line employees and work policies. Boeing said it won't provide the information.
PREVIOUSLY at The Stand — Boeing South Carolina unit votes to join together with IAM (June 1, 2018)
---
LOCAL

► In the Wenatchee World — Alcoa pays $62 million, permanently closes one potline — Hopes that Alcoa's Wenatchee Works plant will restart dimmed Monday. The aluminum maker announced it will pay the Chelan County PUD $62.4 million due as part of an amended power sales agreement and will permanently close one of four potlines at the Wenatchee Works facility. The smelter, which has been idle since 2015, has another three potlines and enough contracted power to run the plant, but the decision to pay the penalty is not hopeful, says Wenatchee Aluminum Trades Council President Kelley Woodard.
► In today's Spokesman-Review — Liberty Lake husband saved by Safeway employees (UFCW 1439) after heart attack — Guardian angels of the grocery store; that's what one Liberty Lake family says after their loved one had a heart attack outside the Safeway in Liberty Lake.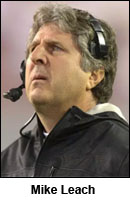 ► In today's Spokesman-Review — Leach launches air raid on truth with Trumpian Twitter post — Would it be too much to ask that the highest-paid employee (at more than $3 million/year) at Washington State University have an 8-year-old's understanding of what constitutes a fact? Or, failing that, would it be too much to wish that WSU, the institution that finances Mike Leach's football team, help him learn how to separate a lie from the truth? The poor, bedraggled, forgotten truth? Maybe so. Maybe the truth, like fiscal discipline, is something WSU has given up for football. On Father's Day, Leach went Trumpy on Twitter: Posting an obvious hoax video about President Obama and insisting in an extended back-and-forth that facts are just whatever someone says they are. Facts are matters of opinion. Just whatever dumb thing pops out of your mouth. Who's to say different? As Leach put it, "What's a fact?" What's a fact, indeed? A slogan for the times.
---
THAT WASHINGTON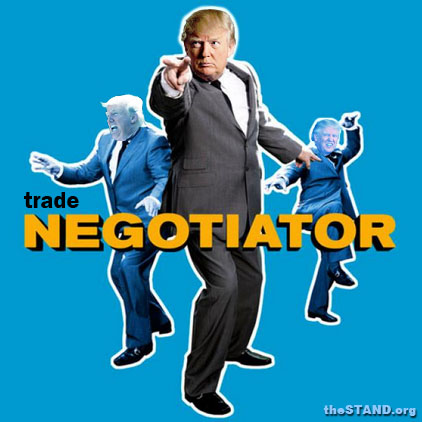 ► In today's Washington Post — Trump escalates China trade war, threatens tariffs on $200 billion in products — President Trump threatened Monday to levy tariffs on nearly all of China's products shipped to the United States unless Beijing agrees to a host of sweeping trade concessions, a dramatic escalation that would enlist American consumers in the brewing U.S.-China commercial conflict.
► From Reuters — Wall Street slides, Dow erases 2018 gains as trade spat intensifies — U.S. stocks slumped on Tuesday, with the Dow Jones Industrial Average erasing its gains for the year, as markets were rattled by a sharp escalation of the trade dispute between the United States and China.
► In today's (Everett) Herald — State jobs a battlefield in Trump's trade wars — Tit-for-tat tariffs between the U.S. and its trading partners will be felt sharply in Washington.
► In today's NY Times — Trump clears way for health plans with lower costs and fewer benefits — The Trump administration is poised to issue a sweeping rule that makes it easier for small businesses to band together to create health insurance plans that skirt many requirements of the Affordable Care Act, offering lower costs but also fewer benefits.
► In today's Seattle Times — Affordable Care Act is worth saving (editorial) — The Affordable Care Act has been difficult to kill. But that doesn't mean it hasn't been weakened by the Trump administration's repeated efforts to sabotage the program that made health care available and somewhat affordable for millions of Americans. Unfortunately, each attack pushes the ACA further onto shaky ground — and for no good reason.
---
NATIONAL
► In today's NY Times — How the Koch brothers are killing public transit projects around the country — In cities and counties across the country — including Little Rock, Ark.; Phoenix, Ariz.; southeast Michigan; central Utah; and here in Tennessee — the Koch brothers are fueling a fight against public transit, an offshoot of their longstanding national crusade for lower taxes and smaller government. At the heart of their effort is a network of activists who use a sophisticated data service built by the Kochs, called i360, that helps them identify and rally voters who are inclined to their worldview. It is a particularly powerful version of the technologies used by major political parties.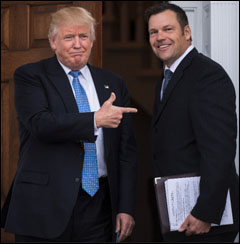 ► In today's Wichita Eagle — Judge strikes down Kansas voter law, orders Kobach to take classes — A federal judge has struck down a Kansas voter citizenship law that Secretary of State Kris Kobach had personally defended. Judge Julie Robinson also ordered Kobach, who is seeking the Republican nomination for governor, to take more hours of continuing legal education after he was found in contempt and was frequently chided during the trial over missteps.
► From KUOW — How the opioid crisis is depressing America's labor force — Even today, as employers add jobs at a furious pace, the workforce participation rate still hasn't recovered. And now researchers think they know one reason why: the opioid crisis. According to a report by the Organization for Economic Cooperation and Development, the percentage of people of prime working age – between 25 and 54 – who are employed or looking for work is well below the rate of other developed countries. The OECD report also states that opioid prescription rates tend to be higher in areas where labor force participation is lower.
---
The Stand posts links to Washington state and national news of interest every weekday morning by 10 a.m.
Short URL: https://www.thestand.org/?p=67608
Posted by
David Groves
on Jun 19 2018. Filed under
DAILY LINKS
. You can follow any responses to this entry through the
RSS 2.0
. Both comments and pings are currently closed.