Jaime goes hard right ● Tax bill an 'utter flop' ● The hardest part
Friday, June 22, 2018
NO JANUS DECISION TODAY — The U.S. Supreme Court released opinions today, but not in the Janus v. AFSCME case. That means there's a strong possibility that the Janus announcement will be this Monday, June 25. However, the Court has six decisions remaining, which most observers agree is too many for one day so they expect an additional day will be added next week to release decisions. We'll find out on Monday. Stay tuned and get ready!
---
IMMIGRATION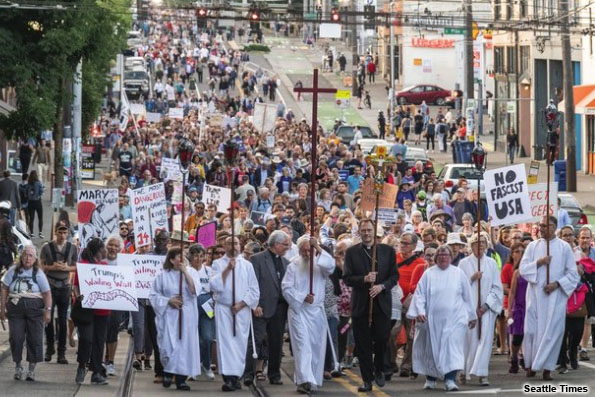 ► In today's Seattle Times — Hundreds march in Seattle to protest separation of immigrant families — Marchers went from from Saint Mark's Episcopal Cathedral to St. James Cathedral in Seattle to advocate for the children and families impacted by President Trump's "zero tolerance" policy.
► In today's Wenatchee World — Protesters demand action on immigration policies — Children drew with sidewalk chalk, read books and colored as adults held signs decrying President Donald Trump's immigration policies Thursday outside U.S. Rep. Dave Reichert's office in Wenatchee.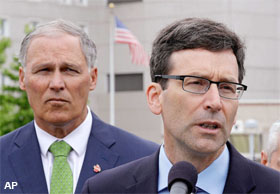 ► From AP — Washington, other states plan to sue over family separations — Washington, California and at least nine other states are planning to sue the Trump administration over its separation of immigrant families at the U.S.-Mexico border, saying the president's executive order halting the practice is riddled with caveats and fails to reunite parents and children who have already been torn apart.
► In today's Washington Post — Lawyers searching for migrants' children encounter 'a total labryinth' — Even though federal officials have stopped separating illegal border crossers from their children, many youths removed from migrant parents remain in shelters and foster homes. The government has done little to help with reunions, attorneys say, prompting a frantic effort to find the youths.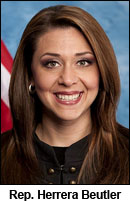 ► From The Hill — Hardline immigration bill fails in the House — On a 193-231 vote Thursday, the House rejected a hard-line immigration bill after leadership postponed a second vote on a compromise measure written with centrists. The bill would have provided funding for a wall along the southern border, ended the diversity visa lottery program, limited family-based visas, created an agriculture guest worker program requiring employers to use the E-Verify program, and allowed for the administration to cut funding toward sanctuary cities.
EDITOR'S NOTE — Rep. Jaime Herrera Beutler (R-3rd) voted "yes" on this bill. She was the only member of Washington's congressional delegation to do so.
► From The Hill — House GOP leaders push immigration vote to next week — House GOP leaders in a surprise move Thursday night pushed back a vote on a compromise immigration bill until next week, underscoring the difficulty they're facing in winning votes — and how the stakes have been raised by the crisis at the border.
EDITOR'S NOTE — The AFL-CIO strongly opposes both bills.
► From The Hill — Trump tells Republicans to 'stop wasting their time' on immigration — President Trump on Friday told Republican lawmakers to "stop wasting their time" on immigration legislation, even as the House grapples to reach a compromise.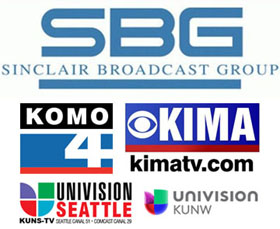 ► From Media Matters — Sinclair 'must-run' segment on family separation policy, child detention attacks 'liberal' media — Audiences across the country are watching a segment on their local news telling them that liberals in media had overblown reports of children separated from their parents and detained in cages near the border — all thanks to Sinclair Broadcast Group. In the segment, Sinclair Chief Political Analyst and former Trump adviser Boris Epshteyn, says: "While some of the concern is real, a lot of it is politically driven by the liberals in politics and the media."
EDITOR'S NOTE Sinclair stations in Washington include KOMO and KUNS (Univision) in Seattle/Tacoma and KIMA, KEPR (both CBS) and KUNW (Univision) in Yakima/Tri-Cities.
► In today's NY Times — Return of blood libel (by Paul Krugman) — The speed of America's moral descent under Donald Trump is breathtaking. In a matter of months we've gone from a nation that stood for life, liberty and the pursuit of happiness to a nation that tears children from their parents and puts them in cages. What's almost equally remarkable about this plunge into barbarism is that it's not a response to any actual problem. The mass influx of murderers and rapists that Trump talks about, the wave of crime committed by immigrants here, are things that simply aren't happening. They're just sick fantasies being used to justify real atrocities… The real crisis is an upsurge in hatred — unreasoning hatred that bears no relationship to anything the victims have done. And anyone making excuses for that hatred — who tries, for example, to turn it into a "both sides" story — is, in effect, an apologist for crimes against humanity.
---
LOCAL
► From KING TV — 'We're people too': Seattle domestic workers praise proposed bill of rights — A new bill of rights introduced in Seattle creates a new labor standard protecting housekeepers, nannies, gardeners, cooks and household managers. Seattle has approximately 30,000 domestic workers.
ALSO at The Stand — Breakthrough Domestic Workers Bill of Rights unveiled in Seattle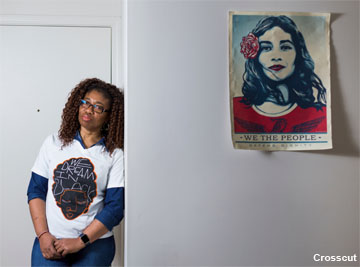 ► From Crosscut — Domestic workers: 'We're like the garbage they ask us to clean up' — Gilda Blanco's experiences as a domestic worker in the United States, coupled with sexual assault she says she endured back home, have taken their toll. Yet she has rallied. Today, Blanco, 47, is a lead organizer in the movement to establish rights for gardeners, nannies and house cleaners who work locally as domestic workers. "They know we're immigrants, they know we're undocumented, but they still think they have the right to have us there like their property to abuse us," Blanco said. "Many of these benefits are just humane no matter what type of job you're doing."
► In today's Tri-City Herald — Here's why the Kennewick School Board wants teacher contract negotiations public — and why the union doesn't — The latest move in the negotiations between school district leaders and the Kennewick Education Association came during Wednesday night's meeting, where more than 100 teachers filled the school board's meeting room to share their stories. School board member Ben Messinger proposed a resolution to unseal the normally private meetings between administrators and educators.
► In today's Tri-City Herald — Hanford contractor with 1,500 workers may get multi-million dollar extension — Plans are being made to extend one of Hanford's largest contracts for up to a year, the Department of Energy said on Thursday. CH2M Hill Plateau Remediation Co., now owned by Jacobs Engineering Group, holds a 10-year environmental cleanup contract that expires Sept. 30.
---
THAT WASHINGTON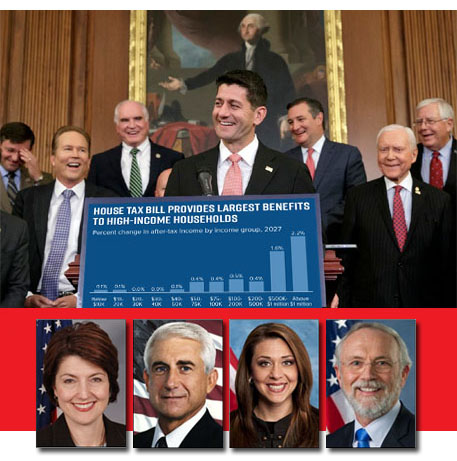 ► From The Hill — Six months in, GOP tax bill an utter flop (by Damon Silvers of the AFL-CIO) — Working people are still waiting for their $4,000 raise. Average hourly wages have actually gone down slightly, after adjusting for inflation, since the tax bill passed. So where did all the money go? Corporations are not reinvesting their tax windfall; they are paying that money out in the form of stock buybacks and dividends. The rest of the tax windfall from the new law — individual tax cuts — is also flowing into the pockets of corporate CEOs and other millionaires. Once fully phased in, 83 percent of the tax cuts in the new law will go to the richest 1 percent.
► In today's NY Times — Behind Trump's plan to overhaul the government: Scaling back the safety net — President Trump, spurred on by conservatives who want him to slash safety net programs, unveiled on Thursday a plan to overhaul the federal government that could have a profound effect on millions of poor and working-class Americans. It would reshuffle social welfare programs in a way that would make them easier to cut, scale back or restructure, according to several administration officials involved in the planning.
PREVIOUSLY at The Stand — GOP plans big Social Security, Medicare cuts

► In today's Washington Post — Nikki Haley: 'It is patently ridiculous' for U.N. to examine poverty in America — A United Nations official found that the United States led the developed world in multiple measures of poverty, eliciting a rebuke from the Trump administration.
► From Bloomberg — Domino's Pizza fixing potholes is an ominous sign (by Noah Smith) — Domino's Pizza is donating money to 20 U.S. cities, to be used for fixing potholes and cracked roads. Salesforce has donated $1.5 million to reduce homelessness in San Francisco. And Facebook is talking about renovating a defunct bridge that runs across the San Francisco Bay near its offices…. The fact that it's private companies taking these steps is an ominous sign for the nation. It suggests a breakdown in the government's ability or willingness to carry out one of its core functions — the efficient provision of public goods.
---
TRADE
► From AP — Trump hit world with tariffs, and now world strikes back in trade fight — The European Union is set Friday to slap tariffs on $3.4 billion in American products, from whiskey and motorcycles to peanuts and cranberries. India and Turkey have already targeted U.S. products, ranging from rice to autos to sunscreen. And the highest-stakes fight still looms: In two weeks, the United States is to start taxing $34 billion in Chinese goods. Beijing has vowed to immediately retaliate with its own tariffs on U.S. soybeans and other farm products in a direct shot at President Donald Trump's supporters in America's heartland. The tit-for-tat conflict between the United States and China — the world's two largest economies — is poised to escalate from there.
---
T.G.I.F.
► This one goes out to all the Janus Watchers out there.
---
The Stand posts links to Washington state and national news of interest every weekday morning by 10 a.m.
Short URL: https://www.thestand.org/?p=67748
Posted by
David Groves
on Jun 22 2018. Filed under
DAILY LINKS
. You can follow any responses to this entry through the
RSS 2.0
. Both comments and pings are currently closed.