Picketing Snohomish Jail workers haven't had contract since 2014
After this week's picket, the County Council voted to impose its final offer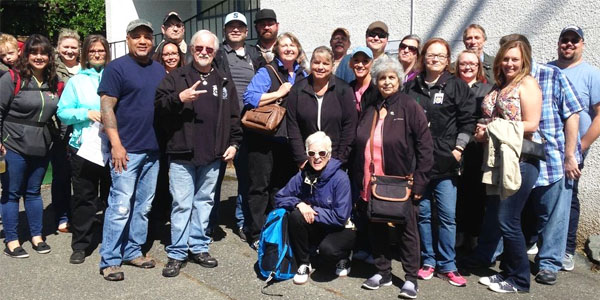 EVERETT (June 14, 2018) — This week they had a practice picket. After three-and-a-half years, if these workers don't get a fair contract soon, the Snohomish County Jail in downtown Everett may soon get the real thing.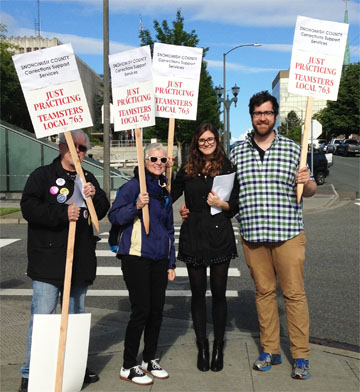 The Corrections Support Bargaining Unit at the jail, represented by Teamsters Local 763, has been working without a contract since Dec. 31, 2014. The approximately 95 employees process inmates and property, repair and maintain the jail and its various systems, provide medical and psychological care to inmates, track associated costs, sentencing, and other inmate needs. Since beginning negotiations for a new contract in September 2014, they have met with the county about 40 times, including 13 sessions with two different mediators.
On Monday, June 11, Corrections Support workers held a "Practice Picket" outside the jail to express their frustration with the county's intransigence at the bargaining table. And two days later, on Wednesday, June 13, the Snohomish County Council voted to implement the county's final contract offer.
"Despite many union proposals that have met the employer's stated financial requirements, the county has refused to move in any significant way over the course of 3½ years of bargaining," said Debi Humann, Teamsters Local 763 Business Agent, representing the Corrections Support bargaining unit. Here's how she reports recent bargaining sessions have played out:
The Union provided two proposals representing significant movement at the March 5 mediation. No counter was provided by the County, however, the general understanding was that the County would provide a counter proposal at the next mediation scheduled for April 26. At the April 26 meeting, instead of a counter, the County provided a notice of impasse.  The Union demanded additional mediation sessions be scheduled. At the next mediation (June 7, 2018), the Union again moved twice on economic issues in a good-faith attempt to reach resolution. No counter was provided by the County. On June 13, 2018, despite the Union's continued movement, the County Council approved a motion during the General Legislative Session to implement the County's last, best and final.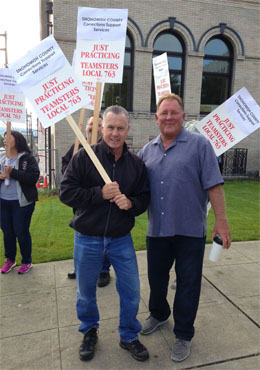 The Corrections Support workers partnered with management to conduct a wage study and found that the unit was approximately 11 percent behind their counterparts elsewhere, and again underpaid when compared to similar job classifications in other county bargaining groups. With those wage concerns, coupled with a health insurance plan that includes significant higher costs, Corrections Support workers feel their economic future is at risk.
Teamsters 763 reports that the county has made "basically the same economic proposal since September 2016, despite the result of the wage studies."
For more information, visit the Teamsters Local 763 website.
Short URL: https://www.thestand.org/?p=67482
Posted by
David Groves
on Jun 14 2018. Filed under
LOCAL
. You can follow any responses to this entry through the
RSS 2.0
. Both comments and pings are currently closed.