Teacher strike(s) ● Operators bargain ● The island of RTW (for less)
Tuesday, August 28, 2018
---
PAY OUR TEACHERS!

► In today's Daily News — Longview teachers march; negotiators meet — Longview students will not return to school as scheduled Wednesday after a long day of bargaining Monday failed to yield a contract agreement. But district and faculty union representatives plan another round of mediator-assisted negotiations on Wednesday.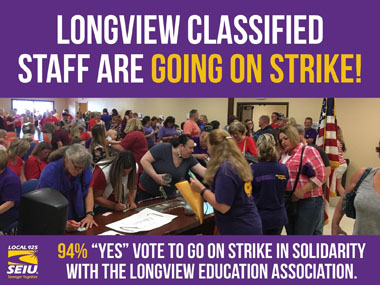 ALSO at The Stand — With 93% rejecting contract offer, Longview teachers strike — UPDATE: SEIU Local 925 members who work in the Longview School District have voted to strike in solidarity with Longview teachers. These members — who work as paraeducators and in transportation, nutrition services, custodial crews, maintenance, and other key positions — voted 94% to go on strike. It is the first official strike by an SEIU 925 chapter since 2001. SEIU 925 classified and instructional staff join the LCPEA administrative assistants in striking with teachers.
► In today's Spokesman-Review — Mead teachers set to receive 15 percent pay raises — In a vote that's certain to affect other negotiations throughout the region, teachers in the Mead School District voted overwhelmingly Monday night to ratify a new contract that provides them at least a 15 percent salary increase.
► In today's Seattle Times — Seattle teachers to vote Tuesday on whether to authorize a strike after contract talks fail to produce a deal — Teachers in Seattle will vote Tuesday on whether to authorize a strike after contract negotiations between their union and Seattle Public Schools failed to produce a deal over teacher pay. The planned vote on Tuesday and prolonged negotiations come on the eve of new district Superintendent Denise Juneau's first school year, with classes scheduled to resume Sept. 5.
► From KNKX — Why Seattle Public Schools says it hasn't come out ahead under state's education funding plan — The state's largest school district is getting about $102 million in extra state funding this school year, administrators say. But after that, expenditures will exceed revenue because of the limit on local tax levies.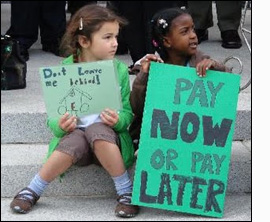 ► In today's (Everett) Herald — Teacher contracts update: Who has settled and who has not — Teachers in Lake Stevens public schools were expected Monday evening to ratify a new two-year contract, a move that would assure classes begin on schedule next week. Meanwhile, on Tuesday teachers in the Everett, Darrington, Snohomish and Edmonds school districts will be voting on their own new or amended contracts. But the news isn't as good everywhere. Several Snohomish County school districts still are in talks with teacher unions on new deals. They are hoping to reach tentative agreements before current contracts expire Friday to avoid any chance of a strike that might delay or disrupt the start of school.
► In today's Yakima H-R — Yakima teachers, students head back to class on time after strike averted over weekend — After teachers and the Yakima School District reached a tentative contract agreement over the weekend, school began as scheduled Monday — much to the relief of parents, students and employees.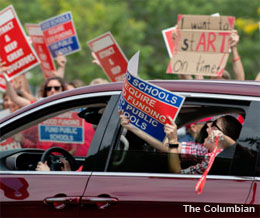 ► In today's Columbian — As first day of school approaches, no progress on negotiations — School is canceled Tuesday for many Clark County students, as teachers unions and school districts in Vancouver and Washougal failed to settle wage agreements in the final hours of bargaining before classes were scheduled to begin. Evergreen Public Schools, Clark County's largest district, announced early that it was canceling the first day of school in light of the Evergreen Education Association's vote last week to walk out if a salary agreement was not reached by then.
► In today's Columbian — Camas teachers approve strike — Camas Education Association members voted to approve a potential strike Monday night, with 95.7 percent of the 393 members in attendance at a general membership meeting voting in favor. The strike will only start if there is no new salary schedule for teachers in place by the first day of school, scheduled for Sept. 4.
► In today's Daily News — Kalama School Board expected to vote on teacher contracts — The Kalama Education Association Monday morning ratified a tentative agreement on teacher pay contracts.
► In today's Wenatchee World — Union members will 'wave for wages' — As the Public School Employees union and Wenatchee School District bargaining teams meet in the district office Tuesday, union members will rally on surrounding streets and outside the office to show their support for the union's counter-offer.
---
LOCAL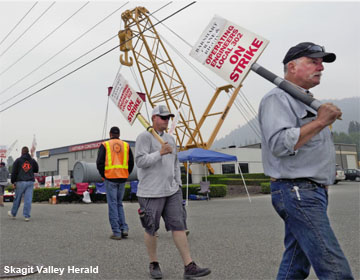 ► In today's Skagit Valley Herald — Engineers union returns to bargaining table — Negotiations resumed Monday to end a weeklong strike of IUOE Local 302. Construction projects countywide, including the demolition of Madison Elementary School in Mount Vernon, have been stopped or slowed by the strike.
ALSO at The Stand — Operating Engineers Local 302 on strike in Western Wash. — UPDATE: The IUOE 302 strike continues today. Daren Konopaski, International VP & Business Manager of IUOE 302, posted the following statement on Monday: "We met today with the Employers for the first time since the strike began. The parties exchanged their positions in an effort to reach an agreement. The meeting was short because the Employers' position has not changed from their last proposal. There are no scheduled negotiation dates but we offered our availability day or night."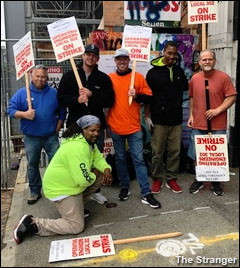 ► In The Stranger — Construction worker strike halts projects around Puget Sound — The strike started last Tuesday and impacts an array of construction workers, including engineers, crane operators, mechanics, surveyors, concrete pumpers, pavers, hoisting and materials handlers, and other heavy equipment operators on job sites around the region, including King and Whatcom Counties, the Olympic Peninsula, and Central Washington.
► In today's News Tribune — Study to look at deepening waterways to allow visits from megaships at Port of Tacoma — The Northwest Seaport Alliance will team with the U.S. Army Corps of Engineers to study deepening waterways to at accommodate bigger ships at Port of Tacoma. The alliance's obligation for the study is $1.5 million.
► In today's Ellensburg Daily Record — DOT worker conducting traffic control injured by speeding vehicle — A Department of Transportation Response Truck employee was injured in collision on Interstate 90 near Snoqualmie Pass on Sunday.
EDITOR'S NOTE — Please SLOW DOWN when driving in construction zones!
---
THAT WASHINGTON
► From the AFL-CIO — NAFTA negotiations on track but not done — Statement of five labor leaders: "NAFTA has had a devastating impact on workers for more than 25 years. We are aggressively engaged in pursuing an agreement that works for working people in all three countries, and we are not done yet. There is more work that needs to be done to deliver the needed, real solutions to NAFTA's deeply ingrained flaws."
ALSO at The Stand — 'NAFTA without Canada' deal incomplete (by Hillary Haden)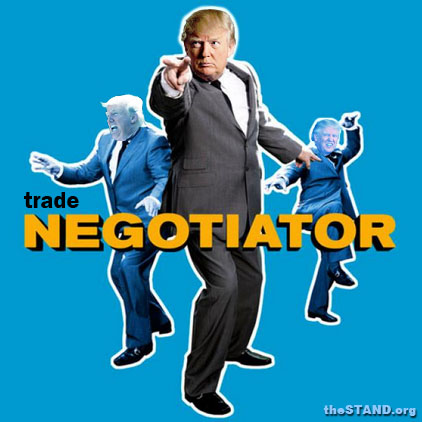 ► In today's NY Times — Trump reaches revised trade deal with Mexico, threatening to leave out Canada — President Trump said on Monday that the United States and Mexico had reached an accord to revise key portions of the NAFTA and would finalize it within days, suggesting he was ready to jettison Canada from the trilateral trade pact if the country did not get on board quickly.
► From The Hill — Toddler dies after ICE detainment, lawyer alleges substandard care — A migrant mother and her lawyers allege that substandard care at a detention facility run by Immigration and Customs Enforcement is to blame for her toddler's death six weeks after their release.
► From CNN — Arizona voters will choose GOP Senate candidate as the state mourns McCain — The national Republican establishment's preference, Rep. Martha McSally, faces two hard-line conservatives — former state Sen. Kelli Ward and former Maricopa County sheriff Joe Arpaio — in Tuesday's Senate primary.
---
NATIONAL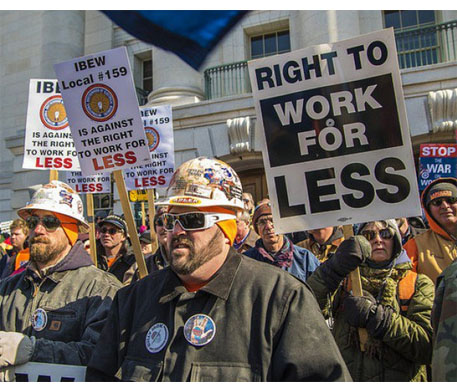 ► In the Toledo Blade — Ohio an island among 'right-to-work' states — Ohio is surrounded by "right-to-work" states on every border save one… Most experts agree that higher unionization leads to higher wages and better benefits and that right-to-work laws lead to lower union participation. "With the trade union movement in America and Ohio in particular, it was unions that set the bar for wages, whether you were a union worker or not," said Tim Burga, president of the Ohio AFL-CIO. "It's pretty clear when you look at the states that have gone right-to-work what it has done for wages and accidents in the workplace."
► In the Kansas City Star — 'Paycheck protection' labor reform faces court challenge from seven Missouri unions — A sweeping labor reform bill that added restrictions to most public-sector unions violates the Missouri Constitution by placing undue constraints on collective bargaining and speech, a coalition of unions argued in a lawsuit filed Monday.
► In today's NY Times — Federal court throws out North Carolina's congressional districts, again — A panel of three federal judges again declared North Carolina's congressional district map to be unconstitutional, ruling on Monday that it was gerrymandered to unfairly favor Republican candidates.
---
The Stand posts links to Washington state and national news of interest every weekday morning by 10 a.m.
Short URL: https://www.thestand.org/?p=69393
Posted by
David Groves
on Aug 28 2018. Filed under
DAILY LINKS
. You can follow any responses to this entry through the
RSS 2.0
. Both comments and pings are currently closed.