Pay our teachers! ● I-1000 to nix I-200 ● 'We are totally happy'
Wednesday, August 29, 2018
---
PAY OUR TEACHERS!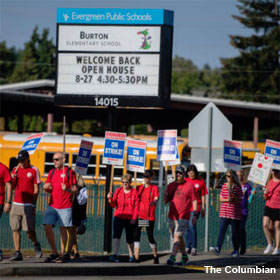 ► In today's Columbian — Evergreen, Washougal teachers on picket lines on first day of school — Teachers in the Evergreen and Washougal school districts headed to the picket lines Tuesday, kicking off what's expected to be widespread strikes across Clark County. Red-clad teachers across both districts marched in front of their home campuses, hoisting signs reading "ON STRIKE!" and waving at cars whose drivers honked as they passed.
► In today's Columbian — Tempers flare as teacher walkouts spread — An emergency meeting of the Vancouver Public Schools board of directors erupted into shouting and boos from a packed audience Tuesday. It was the flashpoint in a chaotic day of teacher strikes and demonstrations, as Vancouver teachers prepare to go to the picket lines Wednesday. Battle Ground, Ridgefield and Hockinson school districts will picket at their respective campuses, while strikes continue in Evergreen and Washougal.
► This morning's update from The Columbian — Vancouver, Battle Ground, Hockinson, Ridgefield teachers on pickets lines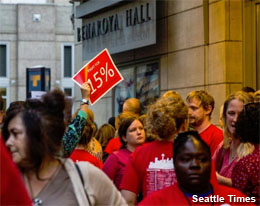 ► In today's Seattle Times — Seattle teachers and staff vote to authorize a strike — unless a deal is reached by Sept. 5 — Teachers and school staff in Seattle voted to authorize a strike Tuesday evening. The strike could take effect if negotiations with Seattle Public Schools don't result in a tentative contract by the first day of school, Sept. 5. In downtown Seattle, about 2,000 educators piled into Benaroya Hall for the vote, which took place during a general membership meeting of the Seattle Education Association, the union that represents roughly 6,000 Seattle school employees.
► In today's Olympian — Tumwater teachers authorize a strike as contract talks come down to the wire — With a week to go before the first day of school, Tumwater teachers have voted to authorize a strike amid contentious contract negotiations.
► In today's Skagit Valley Herald — Two Skagit teachers unions vote to strike
► In today's News Tribune — Will Tacoma teachers strike? What about Puyallup? Odds are increasing
► In today's Bellingham Herald — Here's what's happening at Whatcom schools — School will start as scheduled in Whatcom County with no teacher contract negotiations leading to threats of strike in Bellingham, Ferndale, Lynden, Blaine, Median, Mount Baker or Nooksack Valley schools.
► In today's (Everett) Herald — Teacher contracts update: Who has settled and who has not — The week before school starts, here's an accounting of where things stand in Snohomish County.
► In today's Peninsula Daily News — Port Angeles teacher-district talks continue this evening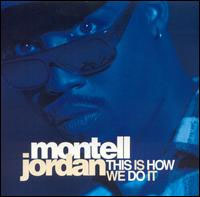 ► In today's (Everett) Herald — With new deal, Everett teachers still are state's best-paid — Teachers in Everett Public Schools overwhelmingly ratified a new two-year contract Tuesday that ensures the district will continue paying the highest salary in the state for veteran classroom instructors.
EDITOR'S NOTE — Many school districts like Everett's have stepped up and negotiated new contracts giving teachers significant double-digit wage increases, as intended by state legislators. For example, Bellevue teachers will get an average increase of 17.3 percent, Sedro Woolley 17.7 percent, Toppenish 18.3 percent, and in Skykomish 28.7 percent. See the Washington Education Association's PAY RAISE MAP for more. Here's today's news about more of them..
► In today's Spokesman-Review — Spokane teachers and school board reach salary deal — After weeks of talks and four days of mediated negotiations, Spokane Public Schools and the Spokane Education Association reached a tentative agreement Tuesday night on a new contract. Details won't be revealed until the SEA holds a meeting, probably on Thursday.
► In today's Tri-City Herald — Pasco teachers to vote on new contract. Will it match Kennewick and Richland? — Pasco teachers will decide Thursday night whether to adopt a new two-year contract. Pasco is the last Tri-City school district without a ratified teacher contract for the new school year.
► In today's (Longview) Daily News — Kalama teachers about to get 16.4 percent pay raise — Kalama's teachers union Monday approved a tentative contract that calls for a 16.4 percent raise.
► In today's Skagit Valley Herald — Burlington-Edison teachers approve contract — The contract calls for teachers in the district to receive a 16 percent increase in salary.
► In today's Skagit Valley Herald — La Conner teachers approve contract — That means school will start Wednesday as planned, and it makes them the best paid teachers in Skagit County.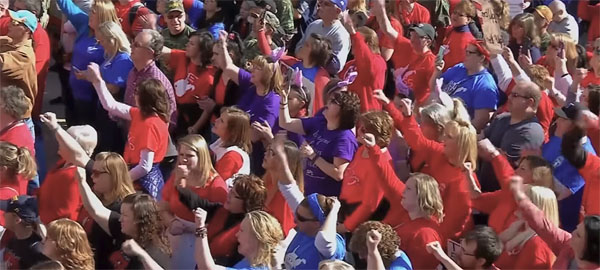 ► In the Washington Post — 2 in 3 Americans say public school teachers are underpaid — Most Americans say public-school teachers are underpaid and say they would support them if they went on strike for better wages, a new poll shows, offering backup for newly assertive educators.
---
LOCAL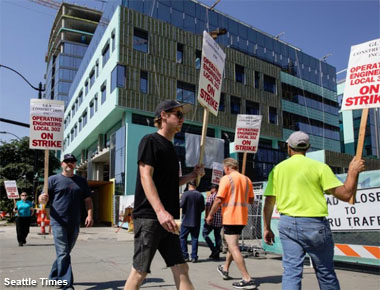 ► In today's Seattle Times — Seattle-area construction strike enters second week, with no movement at bargaining table — The construction worker strike that has slowed or halted projects across Western Washington entered its second week Tuesday, with no apparent movement between the union and management. The International Union of Operating Engineers Local 302, which includes crane operators, surveyors, road pavers, mechanics and other workers, walked off the job Aug. 21.
ALSO at The Stand — Operating Engineers Local 302 on strike in Western Wash. — UPDATE: The IUOE 302 strike continues today. Daren Konopaski, International VP & Business Manager of IUOE 302, posted the following statement on Tuesday: "We met today with the Employers for the second time since the strike began.  Unfortunately, there was no change from the Employer's position yesterday.  This is a serious situation and we are committed to coming to a resolution that will be approved by the membership.  To that end, we remain ready and available day or night."
► In today's Peninsula Daily News — Strike creates one-week delay for new elementary school in Port Townsend — The 480 students anticipating the first day of classes at the new Salish Coast Elementary School will have to wait until Sept. 11, one week later than students in the rest of Port Townsend School District because of an ongoing labor dispute.
► In today's Seattle Times — In breakthrough, Seattle's police union and city reach tentative agreement on a new contract — After more than 3 1/2 years without a contract, the Seattle Police Officers' Guild (SPOG) and the city of Seattle have reached a tentative deal. The union's board unanimously voted Tuesday to send the agreement to its membership of more than 1,300 officers and sergeants for a ratification vote.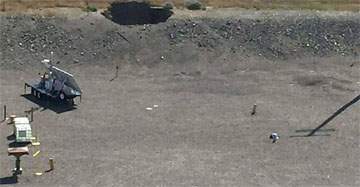 ► In today's Tri-City Herald — Second Hanford radioactive tunnel collapse expected. And it could be more severe — The possible collapse of a second Hanford tunnel storing radioactive waste is both more likely than thought a year ago and the effects potentially more severe, according to Hanford officials.
---
STATE GOVERNMENT
► In today's News Tribune — Western State Hospital patient stomps on staff member's head 8 times during assault, police say — A Western State Hospital patient stomped on the head of a staff member multiple times during an assault Sunday at the Lakewood mental health facility, according to Pierce County prosecutors. The 19-year-old man was charged Tuesday in Pierce County Superior Court with first-degree assault and third-degree assault.
---
ELECTION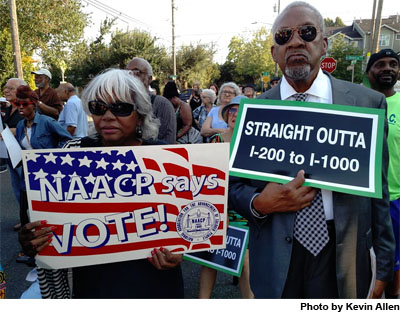 ► From KUOW — Affirmative action may return to Washington state — Former state Rep. Jesse Wineberry discusses Initiative 1000, a proposed Initiative to the Legislature that would repeal Washington state's I-200 ban on affirmative action policies: "Proponents of I-200 confused affirmative action with preferential treatment. It has hurt women and people of color and has been a black eye on Washington state's history. If Dr. King was here today the singular issue he would focus on is repealing I-200. So I-1000 is the response."
ALSO at The Stand — "Reflecting Back… Marching Forward" — A broad coalition commemorates the 55th anniversary of the March on Washington by recommitting to the struggle for racial and economic justice.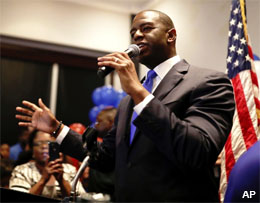 ► From Politico — Gillum's upset win in Florida swells the surge of black leaders — First Stacey Abrams romped to victory in Georgia's gubernatorial primary. Then came Ben Jealous in Maryland and, on Tuesday, Andrew Gillum. Five years after the rise of Black Lives Matter — and against the backdrop of a White House that has inflamed racial tensions nationwide — Gillum's upset win in the Democratic nomination for Florida governor laid bare the potency of a new generation of black leaders gradually coming to power within the Democratic Party.
---
THAT WASHINGTON
► From Bloomberg — Americans are making less money despite Trump's promises — President Trump heads into a midterm referendum on his presidency showing no real progress on a core promise: to raise the wages of America's "forgotten man and woman." Once the impact of inflation is included, ordinary Americans' hourly earnings are lower than they were a year ago.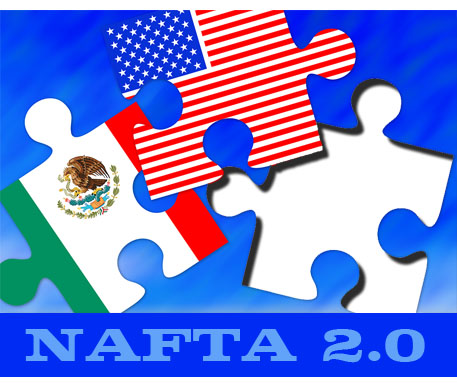 ► From NPR — AFL-CIO president likes where revised NAFTA deal is headed (audio) — David Greene talks to AFL-CIO President Richard Trumka, who's optimistic that a NAFTA replacement deal would better serve workers.
ALSO at The Stand — 'NAFTA without Canada' deal incomplete (by WFTC's Hillary Haden) — Trump promised trade deals that are good for U.S. workers. This one isn't — yet.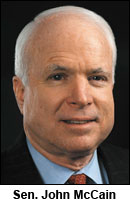 ► From The Hill — GOP eyes another shot at ObamaCare repeal after McCain's death — Senate Republicans say they would like Arizona Gov. Doug Ducey (R) to appoint a successor to the late Sen. John McCain (R-Ariz.) who, unlike McCain, would support GOP legislation to repeal ObamaCare. Republican lawmakers say they won't have time to hold another vote to repeal the law in 2018 but vow to try again next year if they manage to keep their Senate and House majorities.
► From The Onion — White House flag now moving minute to minute to indicate Trump's mood— Spokesman: "It's no secret that the president and the late senator had a contentious relationship, and President Trump wants the flag's position to be perfectly calibrated to his current sentiments about Mr. McCain so the nation knows exactly how he feels."
---
NATIONAL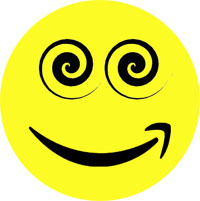 ► From AP — 'We are totally happy,' says paid Amazon workers on Twitter — Amazon is taking an out-of-the box approach to answering its critics — paying workers to be "ambassadors" and tweet full-time about how satisfied they were at their jobs. One tweeted that the air circulation at its warehouse is "very good." Another tweeted: "Mr. Bezos pays me a very comfortable wage." Another: "We are totally noraml and not bots and we are totally happy working for an amazing company." When one Twitter user suggested that Amazon employees organize a union, an Amazon ambassador responded: "The only thing I need to organize is my closet."
► In the Star Tribune — Target employees at store in New York to vote on union — Target employees at a store in New York will take a union vote next week after getting the green light from the NLRB. The action is rare among front-line workers at Target Corp., where none of the retailer's more than 1,800 stores are unionized.
---
The Stand posts links to Washington state and national news of interest every weekday morning by 10 a.m.
Short URL: https://www.thestand.org/?p=69441
Posted by
David Groves
on Aug 29 2018. Filed under
DAILY LINKS
. You can follow any responses to this entry through the
RSS 2.0
. Both comments and pings are currently closed.