What's the matter with SW WA? ● NAFTA 2.0 on track ● Tesla's &8
Thursday, August 30, 2018
---
PAY OUR TEACHERS!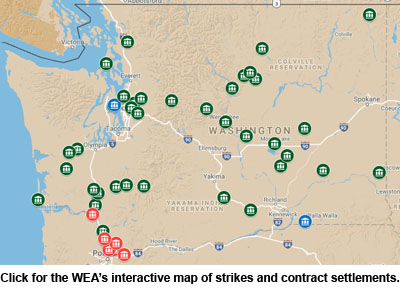 ► From the WEA — Unprecedented: Teachers strike in seven Southwest Washington districts — Teachers are on strike in Vancouver, Evergreen, Ridgefield, Hockinson, Battle Ground, Washougal and Longview. There never have been seven WEA locals on strike at the same time, and there never have been six locals in a single Washington county on strike.
► In the NW Labor Press — Teacher strike wave hits Washington — As many as 5,000 teachers are on strike in eight Southwest Washington school districts where school superintendents are trying to hold on to funds the Legislature granted for long-overdue teacher raises. In each case, the strikes were authorized by overwhelming majorities of teachers. The strikes resulted in the complete closure of whole school districts, postponing the school year's start for over 60,000 students.
► In today's Columbian — School across Clark County canceled as negotiations stall — With strikes going on in six Clark County school districts, union bargaining teams and districts are continuing to negotiate. Or, at least trying to.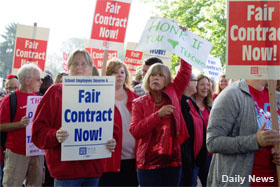 ► In today's Daily News — Longview teacher contract negotiations continue, to little effect — Longview teachers and the district made little apparent progress Wednesday in their attempts to end a week-old faculty strike. Classes are canceled for Thursday, but there was no word about holding school Friday. Teachers are planning a mass picketing event at noon Thursday along Ocean Beach Highway.
► In today's Daily News — Longview educators' unions host food drive during strike
► In today's Peninsula Daily News — Port Angeles teachers, district agree on salary schedule — A potential teachers strike was averted late Wednesday afternoon when the Port Angeles Education Association ratified a new salary schedule for the 2018-19 school year with the Port Angeles School District that will net starting teachers $47,000 a year.
► In today's Seattle Times — Kent schools restart on time after teachers approve deal; Seattle negotiators meet —  The Kent School District said schools will open as scheduled on Thursday, after it secured initial approval of the teachers union for a new contract.
► In today's Seattle Times — After teachers approve strike, parents question silence from Seattle Public Schools: 'You basically have to be an investigator' — While the potential of a teacher walkout next week prompted some families to coordinate emergency child-care plans, other parents wondered why they had heard nothing from Seattle Public Schools.
► In today's Spokesman-Review — Spokane Public Schools teachers to vote on TA Thursday
► In the Wenatchee World — School district, classified union talks to continue next week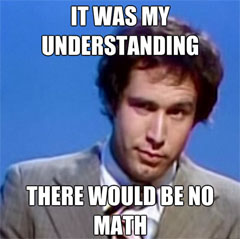 ► In today's KNKX — Republican lawmaker defends levy cap as school districts complain it creates budget problems — Both the Seattle and Tacoma school districts have said they face future budget shortfalls because the state has set limits on local tax levies. But state Sen. John Braun (R-Centralia), a key Republican lawmaker who helped craft the state's education funding system, defends the levy cap. "Some have been worked up by the union and, as a result, they're demanding increases that frankly aren't mathematically possible," he said.
► In today's (Everett) Herald — Trash, tests, training: Teachers had many issues besides pay — The many revisions (to the Everett teachers' contract approved this week) show teachers' workplace concerns include trash pick-ups, student testing and training of beginning instructors.
---
LOCAL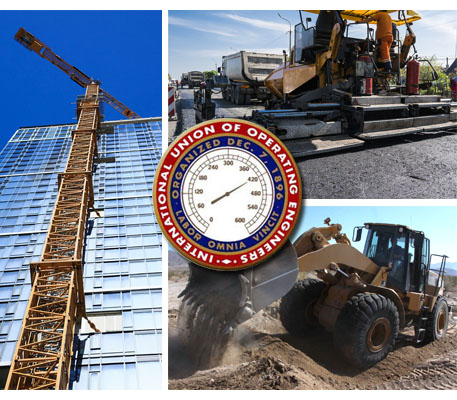 ► In today's News Tribune — Construction workers strike delays projects across Western Washington — Member of Operating Engineers (IUOE) Local 302 walked off the job Aug. 21. Its members had twice voted down tentative deals after their contract expired in June. In Tacoma, idled workers slowed progress on the M Street to Portland Avenue project on Interstate 5, which includes replacing the McKinley Way-D Street overpass.
ALSO at The Stand — Operating Engineers Local 302 on STRIKE in Western Wash. — UPDATE (Aug. 30, 2018) — As contractors that part of the Western Washington Master Labor Agreement have so far refused to improve the contract offer rejected by IUOE 302 members, the union reports: "The Local has been approached by numerous independent contractors that are interested in signing one independent agreement with significant economic increases for our membership.  The Local is currently meeting with contractors and their employees and may have agreements in place soon putting many of our members back to work. More updates will follow."
► In today's Daily News — In loss for Norpac, agency reverses tariffs on Canadian newsprint — In a blow to Norpac but a major win for the struggling U.S. newspaper industry, the U.S. Department of Commerce Wednesday reversed steep tariffs that had earlier been imposed on Canadian newsprint producers.
► In today's Seattle Times — Tentative deal: Seattle police officers would receive more than 17% in pay raises in exchange for reforms — The Seattle Police Officers' Guild has agreed to the removal of a stringent legal standard to fire officers for dishonesty; allow the city to add civilian internal investigators; and narrow the appeals process for disciplinary actions, according to sources.
► In today's Tri-City Herald — 100,000 jobs depend on them. A congressional committee is coming to Pasco to see if they're worth saving. — The U.S. House Natural Resources Committee has set a field hearing in Pasco to focus on the economic benefits provided by the Columbia and Snake river dams. The Sept. 10 hearing was scheduled at the request of Rep. Dan Newhouse (R-Wash.)
► In today's Seattle Times — Redmond CEO charged with fraud on more than 100 H-1B visa applications — The Justice Department charged Pradyumna Kumar Samal, the chief executive of Redmond firms Divensi and Azimetry, with using a tactic called "bench-and-switch" to fraudulently get high-tech visas.
---
THAT WASHINGTON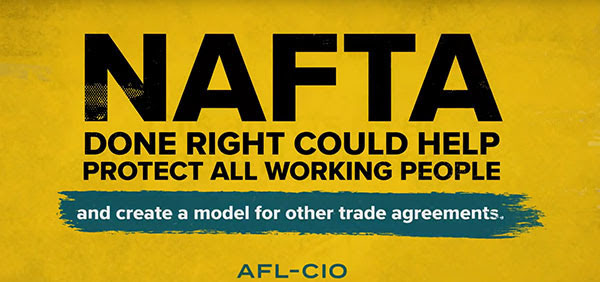 ► From the AFL-CIO — On track, but not done — In the wake of the latest NAFTA news, labor leaders noted that the pursuit of an agreement that works for workers was on track while cautioning that the work is far from over. In a joint statement, AFL-CIO President Richard Trumka, USW International President Leo W. Gerard, UAW President Gary Jones, IAM International President Robert Martinez Jr. and CWA President Christopher Shelton called for an agreement that addresses the NAFTA's "deeply ingrained flaws."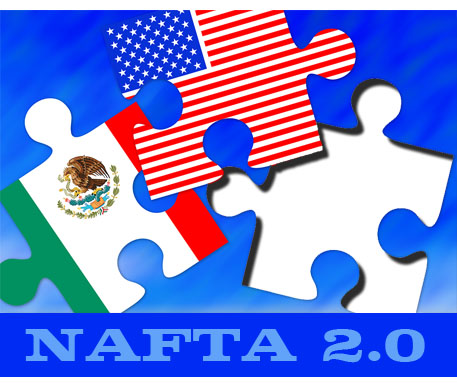 ► From Reuters — As clock ticks, Canada and U.S seek ways to salvage NAFTA — Talks between Canada and the United States are intensifying as the two countries push to hammer out a deal on a revamped North American Free Trade Agreement by a Friday deadline, with both sides upbeat about the progress made so far.
ALSO at The Stand — Trump's 'NAFTA without Canada' deal is still incomplete (by WFTC's Hillary Hagen) — The president promised trade deals that are good for U.S. workers. This one isn't — yet.
► From HuffPost — Rubio's new paid leave bill threatens the very idea of Social Security, report finds — The paid maternity and paternity leave bill proposed by Sen. Marco Rubio (R-Fla.) would offer meaningful benefits for new parents but only at a grave cost to Americans' retirement savings and the core idea of Social Security, according to a new analysis from the Urban Institute.
► In today's Washington Post — U.S. denies passports to Americans along the border, questioning their citizenship — The Trump administration is accusing hundreds, possibly thousands, of Hispanics along the U.S.-Mexican border of using fraudulent birth certificates since they were babies.
► In today's Washington Post — McCain's choices for days of tributes deliver a symbolic final rebuke to Trump — An NFL player and a Russian dissident will honor the late senator, reflecting a not-so-subtle trolling of the president. Even a gospel reading is a final call to arms against autocrats.
---
NATIONAL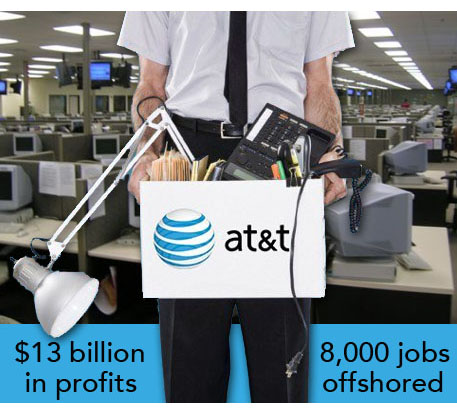 ► From The Guardian — 'They're liquidating us': AT&T continues layoffs and outsourcing despite profits — Cindy Liddick had worked at the AT&T call center in Harrisburg, Pennsylvania, for 12 years before it closed earlier this month. The former customer support specialist is among the more than 16,000 people in the United States who have lost their jobs at the communications giant since 2011, as it continues to shut down call centers to consolidate facilities within the U.S., or in favor of offshore alternatives in countries such as India, the Philippines and Mexico.
PREVIOUSLY at The Stand — AT&T outsourcing hurts workers, customers (by AT7T employee Carissa Curman-Moore on May 17, 2017)
► From The Hill — Microsoft will only partner with companies that offer employees 12 weeks of paid family leave — "We want to focus our resources on doing business with companies that share our values," said Dev Stahlkopf, Microsoft's corporate vice president and general counsel.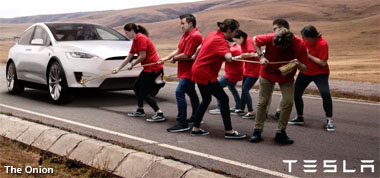 ► From The Onion — Elon Musk unveils new clean energy luxury car pulled by 8 Tesla employees — At the press event for the new "&8", Musk demonstrated the machine's octuply-redundant voice-activated navitainment system, which, like the powertrain, fully supports tethering, adaptable all-surface cartilaginous shock absorbers, and "torture mode" overdrive.
---
The Stand posts links to Washington state and national news of interest every weekday morning by 10 a.m.
Short URL: https://www.thestand.org/?p=69502
Posted by
David Groves
on Aug 30 2018. Filed under
DAILY LINKS
. You can follow any responses to this entry through the
RSS 2.0
. Both comments and pings are currently closed.