Big raises ● Where's the money ● Anonymous 2 ● Still ♥ Macy
Friday, September 7, 2018
---
LOCAL
► In today's Seattle Times — Deal reached to end 17-day strike that halted Western Washington construction — The tentative deal includes a total pay and benefits increase of 17.8 percent over three years, up from the 15 percent bump that had been rejected by union members last month, and an initial offer of 13.1 percent in July.
ALSO at The Stand — IUOE 302 strike ends in Western Washington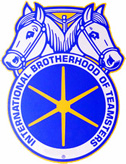 ► From the NW Labor Press — New Teamsters contract at AMR raises wages 21 percent over four years — Members of Teamsters Portland Local 223 and Vancouver Local 58 voted by an 86 percent margin to ratify a new four-year contract at American Medical Response. The deal raises wages 21.8 percent over the life of the agreement. The 600-plus-member bargaining unit provides ambulance service to Multnomah and Clackamas counties in Oregon, and Clark and Cowlitz counties in Washington.
EDITOR'S NOTE — Give yourself a raise! Join together with your co-workers and negotiate a fair return for your work. Contact a union organizer today!
► In today's Tro-City Herald — Controversial Hanford cleanup plan needs more hearings, say U.S. senators — More public hearings are needed on a proposal that could lead to some radioactive waste being left at the bottom of Hanford's underground tanks, say Washington state's U.S. senators. Sens. Patty Murray and Maria Cantwell made the request in a letter sent Thursday to the Department of Energy.
► In today's Seattle Times — Slow hiring of school-bus drivers in Seattle causes delays on 15 routes, some over an hour long — A school bus driver shortage caused delays up to 90 minutes on routes all over the city.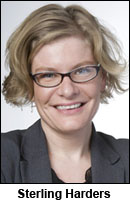 ► From SEIU 775 — Sterling Harders elected president of SEIU 775 as David Rolf reaches end of his term — Caregivers from Washington and Montana have elected Sterling Harders as the new president of SEIU 775, the long-term care workers' union, by an overwhelming majority. Harders' election comes after Founding President David Rolf reaches his officer term limits set when he and other members wrote SEIU 775's Constitution and Bylaws in 2003.
MORE coverage in today's Seattle Times.
---
PAY OUR TEACHERS!
► In today's Daily News — Longview district increases salary offer, cancels Friday classes — Longview students will miss their seventh day of school Friday after another long day of bargaining failed to end the teacher strike despite a school district proposal to boost its pay raise offer to 8.2 percent. The offer still is short of the faculty's demand for an 11 percent pay hike.
► In today's Columbian — Evergreen, Battle Ground last two local districts with picket lines — Only Evergreen and Battle Ground school district teachers remain on the picket lines in Clark County. With classes canceled Friday in both districts, students have been out of school for nearly two weeks.
► In today's News Tribune — Where's the money? As teacher strikes continue in Tacoma and Puyallup, debates over numbers reveal division — Tacoma teachers and school district leaders continued to negotiate Thursday, but the strike announced by teachers Wednesday showed no signs of ending. The school district posted an announcement at 5 p.m., informing parents that school would not start Friday — a ritual that could repeat itself in the coming days. The same pattern played out in the Puyallup School District, where teachers are also on strike.
EDITOR'S NOTE — Where's the money? Perhaps administrators in Tacoma and Puyallup should call their counterparts in some of the following districts — or the dozens of other school districts around the state that managed to find it.
ALSO at The Stand — WSLC grants strike sanction in Tacoma teachers strike
► In the Daily World — Aberdeen teachers union ratifies new contract with district
► In the Columbian — Washougal teachers unanimously ratify contract; school begins Friday
► In the (Everett) Herald — Stanwood district, teachers settle; school starts Monday
---
FOR THE LATEST on which school districts are on strike and which have reached contract settlements, visit the Washington Education Association's website or check out their interactive map.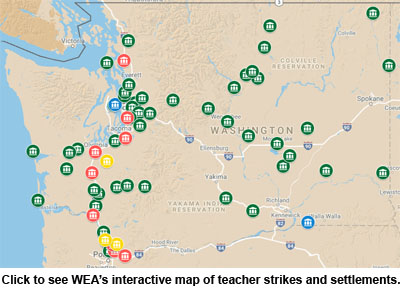 ---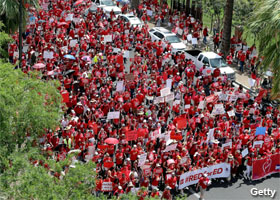 ► From the NY Times magazine — Arizona lawmakers cut education budgets. Then teachers got angry. (interactive) — Early on the morning of March 14, Kelly Berg went to her closet and picked out a bright red blouse. Until recently, she had rarely worn red, but she was heading to the Arizona State Capitol in Phoenix, and a red top would tell everyone exactly who she was: a teacher. Red shirts and blouses had emerged as the official uniform of teacher uprisings against low pay that were spreading from West Virginia to Oklahoma and Kentucky under the rallying cry "Red for Ed." Just one week earlier, a Facebook post by Noah Karvelis, a 23-year-old teacher in Phoenix, lit the spark in Arizona, asking teachers to wear red on March 7 to demand more money for the state's chronically underfunded public schools. Within days, 6,000 people clicked that they were on board.
---
BOEING
► In today's Seattle Times — 737 problems have grown in Renton despite Boeing's reassurances — As 737 jets continue to pile up at Boeing's assembly plant in Renton, employees are working long overtime and struggling to get planes finished. Management has assured Wall Street that it can fix the production issues by year end. Some of Boeing's frontline workers are skeptical.
---
THIS WASHINGTON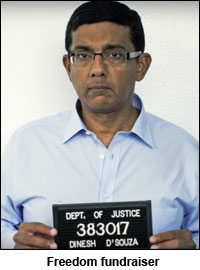 ► From the NW Labor Press — Trump-pardoned felon will raise anti-union funds — Far-right culture warrior Dinesh D'Souza — a campaign finance felon who received a Trump presidential pardon — will headline a $115-a-plate fundraiser for the anti-union group Freedom Foundation. D'Souza is now promoting a movie he produced that compares Democrats to Nazis. Seattle-area labor unionists are planning to picket the Sept. 28 event, which will take place at the Hilton in Bellevue.
EDITOR'S NOTE — Increasingly desperate for attention and Fox News air time, this week D'Souza raised the specter of Adolf Hitler in a bizarre criticism of Nike over its new ad featuring former NFL player Colin Kaepernick.
► In today's Daily News — Millennium sues Ecology, claiming bias against coal dock — The proponent of the giant Longview coal terminal has sued the state Department of Ecology and its director, contending they were biased and "intentionally" misapplied the federal Clean Water Act when they denied a permit for the $640 million project.
---
THAT WASHINGTON
► From The Stranger — Sen. Maria Cantwell Will Vote Against Brett Kavanaugh — Sen. Patty Murray committed weeks ago to opposing Supreme Court nominee Brett Kavanaugh.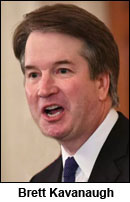 ► In today's NY Times — Kavanaugh will kill the Constitution (by Paul Krugman) — At a fundamental level, the attempt to jam Brett Kavanaugh onto the Supreme Court closely resembles the way Republicans passed a tax cut last year. Once again we see a rushed, nakedly partisan process, with G.O.P. leaders withholding much of the information that's supposed to go into congressional deliberations. Once again the outcome is all too likely to rest on pure tribalism: Unless some Republicans develop a very late case of conscience, they will vote along party lines with the full knowledge that they're abdicating their constitutional duty to provide advice and consent… So who is Brett Kavanaugh? If he looks like a right-wing apparatchik and quacks like a right-wing apparatchik, he's almost surely a right-wingapparatchik. Which brings us to the coming constitutional crises.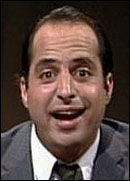 ► From Mother Jones — Five times Brett Kavanaugh appears to have lied to Congress while under oath — Supreme Court nominee Brett Kavanaugh has made declarations under oath during his current and past confirmation hearings that are contradicted by documents from his time as a counsel to the president and staff secretary in the George W. Bush White House. Newly released documents have undermined Kavanaugh's declarations to the Senate Judiciary Committee, contradictions that are drawing close scrutiny from many Democrats. Kavanaugh has denied making any misleading or false statements.
► In the Washington Post — Bernie Sanders introduces 'Stop BEZOS Act' in the Senate — Sen. Bernie Sanders (I-Vt.) on Wednesday introduced a Senate bill — the "Stop BEZOS Act" — that would require large employers such as Amazon.com and Walmart to pay the government for food stamps, public housing, Medicaid and other federal assistance received by their workers. The bill's name is a dig at Amazon chief executive Jeffrey Bezos and stands for "Stop Bad Employers by Zeroing Out Subsidies Act."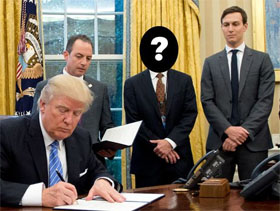 ► MUST-READ from Esquire — Just shut up and quit (by Charles P. Pierce to "Anonymous") — Don't stand on one leg waiting for your statue on the mall, Ace. Nobody elected you, whoever the hell you are. Nobody elected these other anonymous heroes, either… Yeah, his behavior in office has shocked the hell out of me, too. Who could've guessed that a raving know-nothing with a gold commode might turn out to be a tacky president? Enough of this stuff. Stand up in the light of day and tell your stories. All of them, right from the beginning. Admit that what you're confronting now is the end result of 40 years of conservative politics and all the government-is-the-problem malfeasance you've been imbibing since you were wingnuts in swaddling. The fire's licking at your ankles at last. Come out of the cupboards, you boys and girls. None of you are heroes.
► From The Onion — 'The Onion' has chosen to publish an anonymous op-ed from two sources close to Trump who think their dad is the best president ever
---
T.G.I.F.
► The Entire Staff of The Stand wishes Natalie McIntyre, better known as Macy Gray, a very happy belated birthday. (It was yesterday.) The 10th album by our favorite raspy diva is scheduled to be released later this month. If its first single is any indication, it'll be her best in years. But for now, let's enjoy some classic Macy…
---
The Stand posts links to Washington state and national news of interest every weekday morning by 10 a.m.
WASHINGTON IS A UNION STATE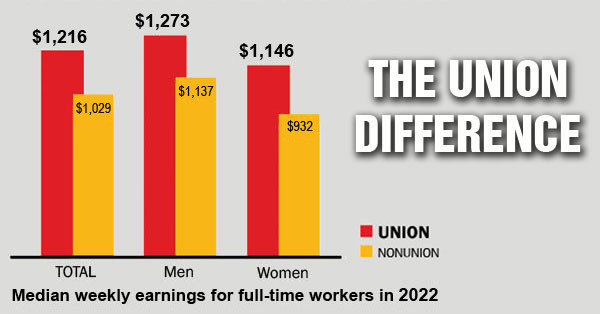 CHECK OUT THE UNION DIFFERENCE in Washington state: higher wages, affordable health and dental care, job and retirement security.
FIND OUT HOW TO JOIN TOGETHER with your co-workers to negotiate for better working conditions and respect on the job. Or go ahead and contact a union organizer today!