Strike solidarity ● SNAP subsidies ● Our land of liberty
Monday, September 10, 2018
---
PAY OUR TEACHERS!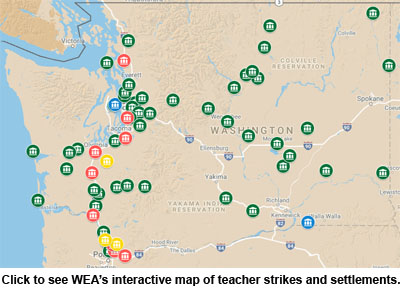 THE LATEST from the WEA — Striking teachers in Longview and Evergreen have reached tentative agreements. Teachers remain on strike in Centralia, Tumwater, Tacoma and Battle Ground. For more information, visit the Washington Education Association's website or check out their interactive map. And check out this MUST-SEE VIDEO from striking Battle Ground teachers.
► In the News Tribune — Tacoma school leaders seek state intervention to end teacher strike — but the surprise move could lengthen it — In a new and unusual effort to end a continuing teacher strike, Tacoma School District leaders announced Friday they would ask a state agency with expertise in labor relations to conduct a fact-finding hearing that would lead to non-binding arbitration. The district's decision means weekend negotiations with teachers are on hold.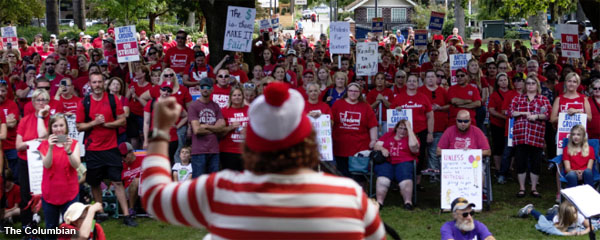 ► In the Columbian — Striking teachers, supporters rally in show of solidarity — Downtown Vancouver was awash in red Friday as thousands of educators rallied in Esther Short Park in what appeared to be the largest demonstration of teachers and their supporters since strikes began last week.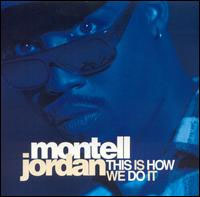 ► In the Daily News — Longview teachers, school secretaries approved tentative contract — After more than two weeks of negotiations and a strike, Longview teachers and school secretaries overwhelming approved a tentative contract hammered out Saturday. Union leaders said their members will return to work Monday, and students are scheduled to return to classrooms on Tuesday.
► In the News Tribune — School starts Monday for Puyallup students as teachers approve agreement with district — Puyallup teachers have voted to accept a contract with the Puyallup School District, ending three days of striking over competitive wages. School will start there Monday. The new contract offers an salary increase north of 10 percent — a jump from the 6.6 percent last offered by the district.
► In the Columbian — Evergreen teachers approve new contract; classes begin Monday — In a meeting book-ended by cheering, more than 1,000 Evergreen Public Schools teachers voted overwhelmingly to approve a contract that includes double-digit salary increases.
► In the Seattle Times — Seattle educators ratify new teachers union contract — The one-year contract gives the 6,000 members of the Seattle Education Association an across-the-board 10.5 percent pay hike and for the first time provides them with five days of paid parental leave.
► From KNKX — Teacher strikes end in Tukwila, Puyallup, Seattle educators OK contract
► In the Daily World — Aberdeen teachers ratify 18% salary hike in new 3-year contract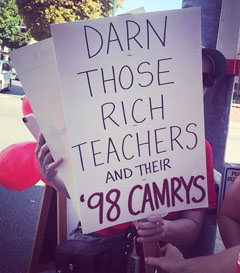 ► From AP — Successful teacher walkouts in red states emboldened unions in Washington, other blue states — "We saw everywhere from Arizona to West Virginia standing up for fair wages. Now that it's coming to Washington state, we don't feel isolated. We know we have the support of our local community," said Connie Vernon, an elementary teacher in the Washougal School District in southwest Washington, where a nine-day walkout ended Thursday.
► From KUOW — As teachers strike, union alleges 'wage theft' by school districts — As teachers in a record number of Washington school districts strike this week, a top official with their union says the unwillingness of superintendents and school boards to negotiate higher pay raises for teachers is a crime.
► From the AP — Judges: No penalties but Washington teacher strikes illegal — Judges in Washington state ruled against teacher unions for striking, though no penalties were imposed. School district leaders in Tumwater and Longview both filed injunctions after their respective teacher unions went on strike over pay raises.
---
LOCAL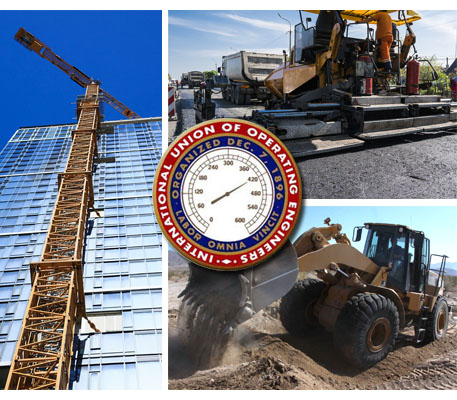 ► In the (Everett) Herald — Construction strike ends; work resuming on numerous projects — Heavy equipment operators and other construction workers put down their picket signs after union leaders reached a tentative labor agreement with contractors in Western Washington. Construction at many Snohomish County projects, idled by the labor dispute, is expected to resume this week.
ALSO at The Stand — IUOE 302 strike ends in Western Washington
MORE coverage in the Kitsap Sun.
► In today's Bellingham Herald — PeaceHealth is closing its inpatient rehab unit in Bellingham — PeaceHealth St. Joseph Medical Center is closing its 14-bed inpatient rehabilitation unit in Bellingham and moving it to Sedro-Woolley, where it is expected to open in 2019 with fewer beds.
---
THIS WASHINGTON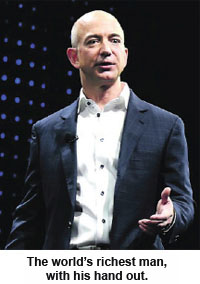 ► MUST-READ from Seattle Patch — Wealthiest companies in Washington state employ thousands on food stamps: DSHS — Some of the state's wealthiest corporations — including Amazon, Starbucks and Fred Meyer — employ thousands of low-wage workers who receive public food assistance. Experts say this is a phenomenon driven by low wages and tenuous employment arrangements, like seasonal or on-demand work. Through a public records request, Patch obtained a list from the state Department of Social and Health Services of the top 50 companies in the state according to how many employees receive SNAP (Supplemental Nutrition Assistance Program) assistance. Walmart ranked No. 1 with nearly 4,000 employees while Amazon, Safeway, McDonald's and Uber were among the nine companies that have at least 1,000 workers receiving SNAP.
► From the AP — Judge tosses case seeking refund of car-tab fees for transit — A Pierce County judge Friday dismissed a class-action lawsuit challenging Sound Transit's ability to collect millions of dollars in car-tab taxes that voters approved in 2016 for mass transit.
---
LAND OF LIBERTY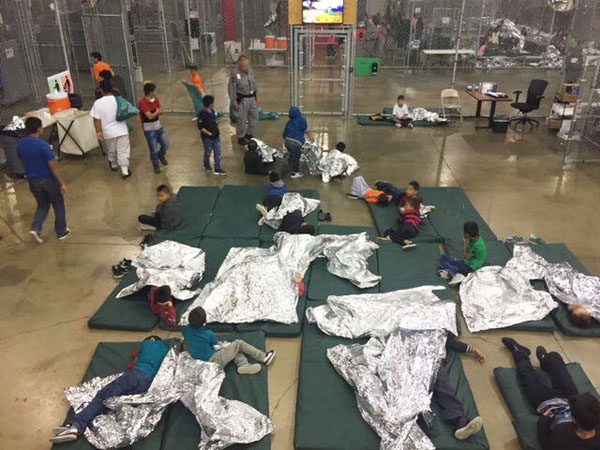 ► From ProPublica — Here's what happened to the 99 immigrant children separated from their parents and sent to Chicago — They were as young as 10 months, as old as almost 18. About one-third of the children who ended up in Chicago came from Guatemala. Others had fled Brazil, Honduras, El Salvador, Belize, Romania and India. All had at least one parent locked up, often hundreds of miles away. The children separated from their parents had often fled danger and arrived at the shelters scared and confused. But they tended to be younger and more traumatized by their detention. Suddenly alone, the children agonized over missing their parents and acted on their anguish by threatening to harm themselves or others.
► In today's NY Times — Don't let migrant kids rot (editorial) — On Thursday, the Department of Homeland Security proposed new regulations that would allow the government to detain migrant children indefinitely… While the Trump administration plays politics, the well-being of thousands of children who came to America seeking protection and safety will be put at risk — today and, developmentally, for the rest of their lives.
---
THAT WASHINGTON
► From Reuters — House Republicans target more tax cuts as elections near — Republicans in the U.S. House of Representatives plan to unveil another round of tax cuts this week. But experts say House Republican leaders could have trouble mustering the 216 votes needed to pass the measure, given the prospect of widening the federal budget deficit already swollen by a round of tax cuts in December.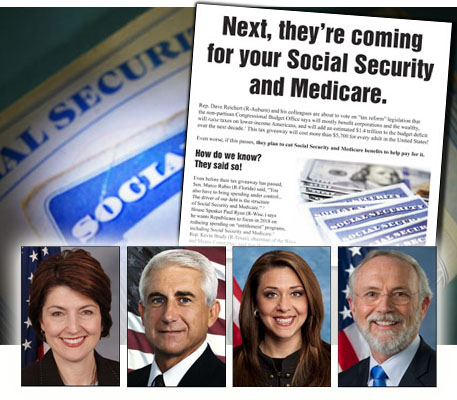 ► A related story from Think Progress — Republicans admit they'll slash Medicare, Social Security to pay for their tax cuts — Slowly but surely, Republicans that supported the trillion dollar Trump tax bill are revealing their true motivations: slashing Medicare and Social Security.
► In today's Washington Post — Blue-collar jobs surge in Trump strongholds — The biggest drivers of the blue-collar hiring surge are the rebound in oil prices, the need to rebuild after disasters such as Hurricanes Irma and Harvey, and rising demand generated by a growing economy.
► And yet, from CBS News — Almost half of Americans can't pay for their basic needs — Four in 10 Americans are struggling to pay for their basic needs such as groceries or housing, a problem even middle-class households confront, according to a new study from the Urban Institute.
► From TPM — Ford contradicts Trump tweet: Won't be moving Focus Active production back to U.S. — Ford won't be moving production of a hatchback wagon to the United States from China — despite President Donald Trump's claim Sunday that his taxes on Chinese imports mean the Focus Active can be built in America.
---
NATIONAL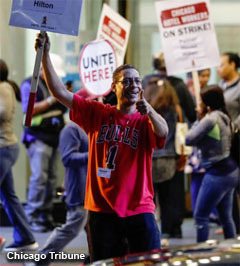 ► In the Chicago Tribune — Workers at 25 Chicago hotels go on strike — Workers at 25 hotels in downtown Chicago went on strike Friday to demand year-round health care as they negotiate new contracts, marking the first time their union has called a citywide hotel strike. UNITE HERE Local 1, which represents more than 15,000 hospitality workers across the Chicago area, said "thousands" of housekeepers, doormen, cooks and other hotel employees have stopped working.
► From HuffPost — Steelworkers vote to strike if they don't get piece of corporate windfall — Workers for U.S. Steel will head back to the bargaining table on Monday, armed with a nationwide strike authorization vote. With corporations awash in tax cuts and protected from competition by Trump administration tariffs, United Steelworkers (USW) leaders say members want a contract deal that provides them with a portion of that windfall.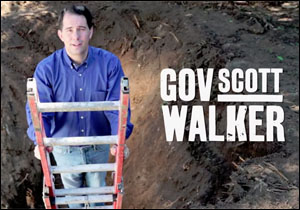 ► From Politico — 'Scott Walker fatigue' haunts Republicans — There's every reason to believe this is the beginning of the end for Scott Walker. His presidential bid crashed and burned. He's running for a third term as governor in what figures to be a hostile midterm for the Republican Party. Polling shows that the independent voters who were so critical to Walker's wins in the 2012 recall and 2014 reelection are breaking away from him.
EDITOR'S NOTE — Some of us have been suffering from this for years.
---
The Stand posts links to Washington state and national news of interest every weekday morning by 10 a.m.
Short URL: https://www.thestand.org/?p=69763
Posted by
David Groves
on Sep 10 2018. Filed under
DAILY LINKS
. You can follow any responses to this entry through the
RSS 2.0
. Both comments and pings are currently closed.