A win in Wenatchee ● Where's Jaime? ● Benevolent Bezos
Tuesday, September 18, 2018
---
LOCAL
► In today's Wenatchee World — Central Washington Hospital, union agree to contract — The hospital and union members have agreed to a contract that gives workers a 2 percent pay raise. Hospital workers who are partnered with the UFCW Local 21 received a pay raise of 2 percent in their new contract that was approved last week, according to union spokesman Tom Geiger. Around 200 workers will see a pay raise.
EDITOR'S NOTE — "Through solidarity and strength we were able to bargain a good contract that will improve recruitment and retention for our membership," said UFCW 21's CWH bargaining team.
► In today's Seattle Times — King County Council gives final approval to $135 million in public funds for Mariners ballpark — The vote caps 14 hours of debate and public comment at the council, which had to decide how to spend motel/hotel taxes that will be freed up starting in 2021.
► In today's (Everett) Herald — Boeing resumes South Carolina operations after Florence — Boeing resumed operations Sunday at its assembly plant in North Charleston, South Carolina after the facility was shut down for about five days.
---
ELECTION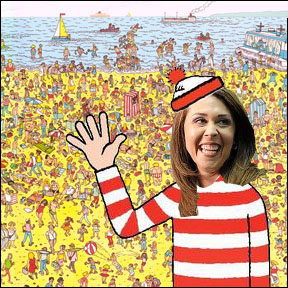 ► In today's Columbian — League of Women Voters cancels debate because Herrera Beutler didn't respond — The league announced Monday that it was canceling a scheduled October debate between Rep. Jaime Herrera Beutler (R-Battle Ground) and Democratic challenger Carolyn Long because Herrera Beutler never responded to their inquiries. Long's campaign plans to host its own town hall style debate for Long and Herrera Beutler to replace the League's event.
EDITOR'S NOTE — Rep. Herrera Beutler is notorious for refusing to host town hall meetings where she meets her constituents face to face and gives them the opportunity to ask questions. Instead, she holds telephone town halls that restrict callers from speaking.
► In today's Spokesman-Review — McMorris Rodgers, Brown set for town hall event in downtown Spokane on Wednesday — The candidates will appear at a Northwest Passages forum to be held at the Bing Crosby Theater, jointly hosted by The Spokesman-Review and KHQ-TV. The event will be televised live on KHQ beginning at 6 p.m. Tickets for the event were free and have already been claimed by the public.
► From The Stranger — Facebook continues to defy Washington state law on political ad disclosure — Facebook is already facing a lawsuit from Washington State Attorney General Bob Ferguson over an alleged decade of failure to comply with state disclosure laws when it comes to online political ads.
---
SUPREME COURT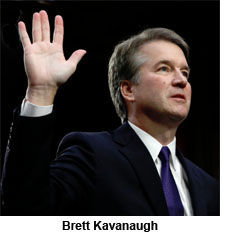 ► In today's Washington Post — Senate committee to hold public hearing with Kavanaugh, accuser after sexual assault allegation — Supreme Court nominee Brett M. Kavanaugh and the woman who has accused him of sexually assaulting her decades ago will testify publicly before the Senate on Monday, setting up a potentially dramatic and politically perilous hearing that could determine the fate of his nomination.
► In today's Washington Post — A former sex-crimes prosecutor analyzed Ford's allegations against Kavanaugh. Here's her take. — Christine Blasey Ford's account is credible, even though she can't remember several details.
► In today's Washington Post — This is what happens when you try to jam through a Supreme Court appointment (by Dana Milbank) — They will have a public hearing in which 11 Republicans on the Judiciary Committee — all men — question a woman who has alleged attempted rape. It's an unpalatable choice, but for a group that already tried hard to shield Trump's nominee from scrutiny, sweeping the matter under the rug wasn't an option.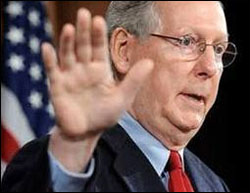 ► From Politico — McConnell works feverishly behind the scenes to save Kavanaugh — If Kavanaugh withdraws or loses, Republicans would likely try to push through another Supreme Court nominee during a lame-duck session, a move that would infuriate Democrats still furious over McConnell's decision to block Merrick Garland's nomination to the court.
► From Crooked — The Trump GOP will do horrible things for Brett Kavanaugh (by Brian Beutler) — For all the ink spilled debating whether Trump's presidency is a symptom of widespread racism or economic anxiety, there are reasons that the elite institutions of the right stuck with Trump after his own history of sexual assault became clear, and replacing Anthony Kennedy with someone like Kavanaugh was perhaps highest on the list. That ambition goes a long way toward explaining why Republicans chose to define themselves by a morally obscene calculation: that they will absolve rapists and other sexual abusers, and their ignore or smear their accusers, if they will help conservatives exert political power. That's why the Trump administration will stoop to unimaginable depths in the coming days. It's also why the pushback must be relentless.
---
THAT WASHINGTON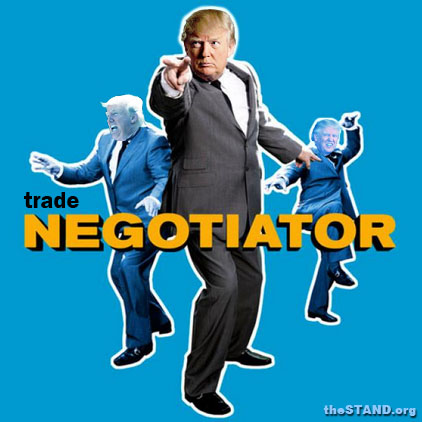 ► In today's Washington Post — China retaliates with tariffs on $60 billion in U.S. imports after Trump's latest move in trade war — Beijing will immediately retaliate against President Trump's new tariffs on $200 billion in Chinese imports, setting the stage for a protracted dispute that could raise prices of household goods in both countries.
► From the AFL-CIO — What's up with NAFTA, anyway? Some frequently asked questions (by Celeste Drake) — Why are they renegotiating the North American Free Trade Agreement? I thought NAFTA was bad. NAFTA is bad. But the reason NAFTA is bad is not because trade is bad, or even that trading with Mexico and Canada is bad. NAFTA is bad because it is a set of rules that gives advantages to employers over workers, multinational companies over local firms, and giant corporations over communities. It has cost jobs and pushed down wages in all three countries.
► From Bloomberg — NLRB general counsel's office calls for end to union email rule — The National Labor Relations Board should scrap its Obama-era rule that allows workers to use their employers' email systems to discuss unionization, the NLRB general counsel's office says.
---
NATIONAL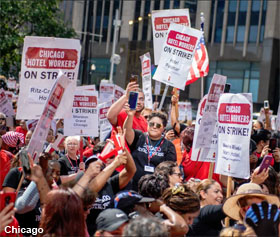 ► From WTTW — No end in sight for Chicago hotel workers' strike — Workers have been striking around the clock at more than two dozen Chicago hotels for nearly two weeks following the expiration of their contract. The 6,000 workers – which include housekeepers, bellmen, doormen, servers, bartenders and banquet servers – are seeking year-round health care coverage as many lose benefits when they're laid off during slower months. "The Chicago hospitality industry is doing extraordinarily well. Last year there were a record number of visitors: 55 million people. Chicago hotels raked in $2.3 billion in revenue last year," said Sarah Lyons, research analyst of UNITE HERE Local 1, the union representing the hospitality workers.
ALSO at The Stand — Seattle Westin (Marriott) hotel workers vote to OK strike
► From The Guardian — McDonald's workers walk out in 10 cities over 'sexual harassment epidemic' — On Tuesday Harrell and hundreds of other McDonald's workers will protest outside the fast-food giant's restaurants in 10 cities across the U.S., highlighting what they claim is an epidemic of sexual harassment for workers that they say the company has done little to address.
► From The Hill — Unions help address the unique needs of nonprofit workers (by Kayla Blado and John Schmitt) — While working at a mission-based organization can be extremely rewarding, it can carry its own unique set of challenges. Burnout is common in nonprofits, as wages are generally lower than in the public sector or in for-profit companies, and workers tend to feel emotionally invested in the nonprofit they work for, which can take a mental toll.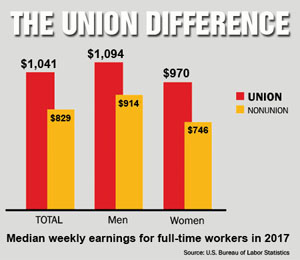 LEARN MORE ABOUT FORMING A UNION — If you don't have a union at your job, learn more about how to organize one. Today's economy is so out of balance — with all the economic gains going to the top — forming a union is how workers can stand together and negotiate for better wages, working conditions, and a voice on the job. You can make it happen at your workplace! Click here to get started.
► From The Guardian — I worked in an Amazon warehouse. Bernie Sanders is right to target them. (by James Bloodworth) — What I found while working for Amazon shocked me. I had done warehouse work previously when I was younger, along with a range of other poorly paid, manual jobs. In other words, my shock at the way workers were treated by Amazon was not a product of some wet-behind-the-ears naivety: I fully expected warehouse work to be tough. Yet what I witnessed at Amazon went far beyond that. This was a workplace environment in which decency, respect and dignity were absent.
---
TODAY'S MUST-READ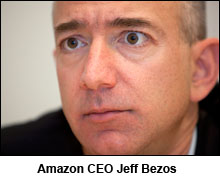 ► From The Guardian — If Jeff Bezos wants to help low-income people why not just pay them better? (by Marina Hyde) — The Amazon boss has launched something called the Day One fund, which feels like the will-this-do title for the will-this-do initiative it is. Bezos has long been criticised for his glaring lack of a philanthropic arm, long after he became the richest man in modern history. A year ago Jeff seemed at such a loss as to how not to be an unmitigated arse that he was asking internet users for ideas. He seems to have ignored all the respondents who said, "Stop treating your workers like rubbish." … Now Bezos has decided to help homeless people and low-income communities with donations and not-for-profit schools.
Off the top of my head, Jeff has already had two very clear chances to help homeless people and low-income families. The first was in Seattle, where Amazon is headquartered, and where the firm recently killed a proposed city tax on big firms to alleviate the homeless crisis by threatening to halt a building project. The second was by simply paying his own low-income workers better. As the old saying goes, charity begins in aisle 89 of the Amazon warehouse, where workers are so terrified of being docked points for nipping to the bathroom that they're pissing in bottles.
---
The Stand posts links to Washington state and national news of interest every weekday morning by 10 a.m.
Short URL: https://www.thestand.org/?p=70022
Posted by
David Groves
on Sep 18 2018. Filed under
DAILY LINKS
. You can follow any responses to this entry through the
RSS 2.0
. Both comments and pings are currently closed.