Teacher strikes end ● Cathy vs. 'entitlements' ● #BrettToo
Monday, September 17, 2018
---
ELECTION
► From KIRO 7 — Last teacher strike ends in WA as Tumwater reaches TA
► In the Columbian — Battle Ground teachers ratify contract, end strike — Battle Ground Public Schools' teachers on Sunday morning voted by an overwhelming margin of 99 percent to ratify a two-year contract, ending the state's longest teacher strike thus far this year… Casey Richard, a fourth-grade teacher at Captain Strong Primary School, burst into tears on seeing the new salary schedule. She estimates she'll see an $11,000 raise this year. "It is amazing," she said. "It's life changing for me."
---
LOCAL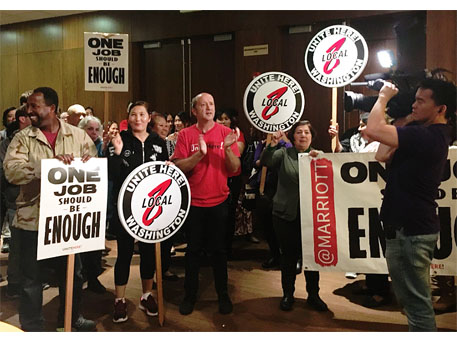 ► In the Seattle Weekly — Hotel workers vote to authorize strike — On Friday evening, The Westin Seattle workers joined hotel employees in five other cities throughout the nation by voting to authorize a strike against Marriott International. If a contract is not reached with the hospitality company, the strike would be the first one at The Westin Hotel in over 30 years.
ALSO at The Stand — Seattle Westin (Marriott) hotel workers OK strike
► From KNKX — How Washington's last coal plant could become state's largest solar project — The company that runs the plant, TransAlta, has plans to open a solar farm on one of the open-pit mines that used to provide coal to the plant. If plans hold, it would be the largest solar project in the state.
---
THIS WASHINGTON

► In the Olympian — How do 3% raises for state workers sound? (editorial) — The WFSE agreement still needs to be ratified by the union's more than 35,000 members who are affected by the potential deal. That online voting begins Monday, Sept. 17, and continues through month's end.
ALSO at The Stand — WFSE: Tentative deal reached on 2-year deal with 6% raises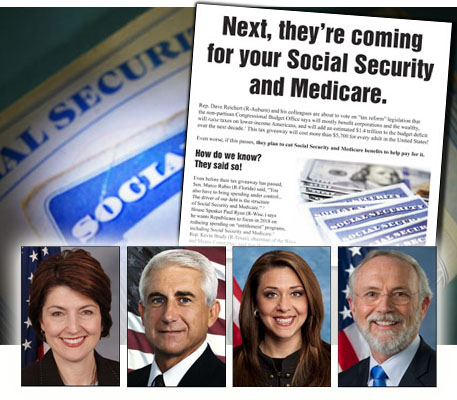 ► In the Spokesman-Review — Lisa Brown, Cathy McMorris Rodgers disagree on Social Security — Social Security is one of the key issues Democrat Lisa Brown is highlighting in her quest to unseat Republican incumbent Rep. Cathy McMorris Rodgers in Congress. She has pledged to "fight any cuts to Social Security and Medicare" while McMorris Rodgers is stressing that no changes to Social Security are imminent.
EDITOR'S NOTE — That's not what McMorris Rodgers' colleagues — the ones who aren't fighting for their political lives — are saying. Not only have they already proposed Social Security and Medicare cuts, Republican congressional leaders have warned that they will soon have to cut what they call "entitlements" that you have paid for your entire working lives. Sen. Marco Rubio (R-Florida) said, "You also have to bring spending under control… The driver of our debt is the structure of Social Security and Medicare." House Speaker and McMorris Rodgers bestie Paul Ryan (R-Wisc.) said he wanted Republicans to focus in 2018 on reducing spending on "entitlement" programs, including Social Security and Medicare. Rep. Kevin Brady (R-Texas), chairman of the House Ways and Means Committee, said that House Republicans will soon turn toward "tackling the entitlements." The truth is, McMorris Rodgers has already voted for a so-called "balanced budget amendment," conveniently voted upon right after the multi-trillion dollar deficit-exploding tax giveaway for corporations and the wealthy, that would require massive Social Security and Medicare cuts.
---
SUPREME COURT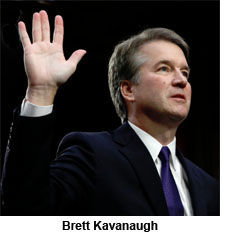 ► In today's NY Times — Brett Kavanaugh's confirmation at risk after accusation by Christine Blasey Ford — President Trump's bid to confirm Judge Brett Kavanaugh to the Supreme Court was thrown into uncertainty on Sunday as a woman came forward with explosive allegations that Kavanaugh sexually assaulted her when they were teenagers more than three decades ago.

► In today's Washington Post — Writer of confidential Kavanaugh letter speaks out about her allegation of sexual assault — "I thought he might inadvertently kill me," said Ford, now a 51-year-old research psychologist in northern California. "He was trying to attack me and remove my clothing."
► From TPM — Flake, Corker support delay of Kavanaugh vote to vet allegations
► In today's NY Times — Delay the vote — for Kavanaugh, for his accuser and for the court (by David Lat) — Christine Blasey Ford deserves to be heard. And the judge deserves a chance to clear his name.
---
NATIONAL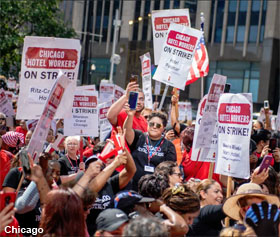 ► From Chicago magazine — Hotel workers have been on strike for one week — and restaurants are feeling the squeeze — Chicago's massive hotel worker strike has taken a toll on downtown restaurants, as cooks, dishwashers, bartenders, and servers employed at 26 Chicago hotels picket for hours on end alongside housekeepers and bellhops. Yesterday afternoon, the sixth consecutive day of strikes, some 3,000 workers and their allies crammed into Ogden Plaza across The Drake Hotel, waving signs and shouting over drums and whistles. "We are the face of this city," says Angel Castillo, organizing director for UNITE HERE Local 1, the union representing the workers. "[Tourists] get served by your servers, and bussers, and runners, and bartenders. We deserve better."
► From CNBC — U.S. union urges states to look into T-Mobile purchase of Sprint — The CWA, which opposes T-Mobile's proposed purchase of rival Sprint, has written to all 50 state attorneys general to highlight potential job losses from the proposed deal as well as antitrust concerns. In the Sept. 10 letter from CWA President Christopher Shelton, the CWA "expressed concern" about the deal and asked the attorneys general to investigate. The state attorneys general work with regulators and the federal government on deals they fear will cause harm locally.
► From KQED — Hundreds of workers strike outside Sun-Maid Raisin factory near Fresno, CA — Hundreds of members of Teamsters Local 431 have been on strike for one week, shutting down the Kingsburg raisin factory in Fresno County for two days before it re-opened last Wednesday with non-union workers. The dispute is over health care.
EDITOR'S NOTE — The strike continues today. Here's the latest update from the union and a video showing their solidarity and determination to win a fair contract…
---
The Stand posts links to Washington state and national news of interest every weekday morning by 10 a.m.
Short URL: https://www.thestand.org/?p=69989
Posted by
David Groves
on Sep 17 2018. Filed under
DAILY LINKS
. You can follow any responses to this entry through the
RSS 2.0
. Both comments and pings are currently closed.