Tacoma is a Union Town! ● A teacher in America ● Missing Amy
Friday, September 14, 2018
---
PAY OUR TEACHERS
► In today's News Tribune — Strike seemingly ends as Tacoma teachers and school district reach tentative agreement, and union sets vote — Striking Tacoma teachers and school district leaders reached a tentative agreement Thursday evening that appears to have ended a week-long strike, paving the way for schools throughout the city to open Monday. The union said members will vote Friday at 11 a.m. at Mt. Tahoma High School, the same location where they voted last week to go on strike. Terms of the deal were not available Thursday night, based on an agreement between the two sides.
EDITOR'S NOTE — The TA was reached not long after the teachers' supporters came out in force for a massive solidarity rally Thursday afternoon at People's Park in Tacoma. Here are some scenes from that event that proved Tacoma is a Union Town!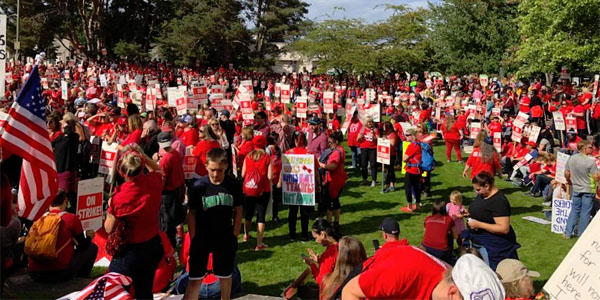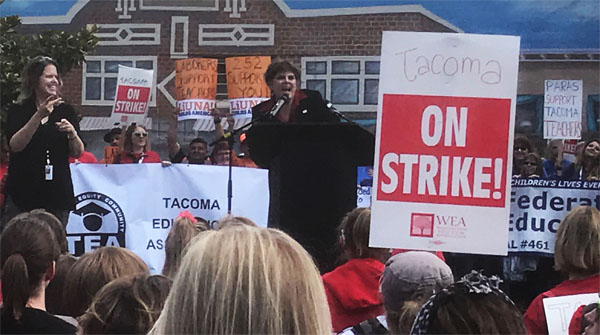 And check out this video posted by by a Tacoma teacher who's grateful for the solidarity of her community.
---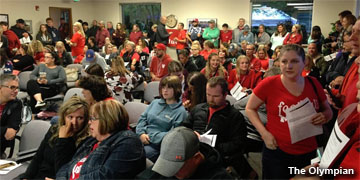 ► In today's Olympian — Jam-packed gathering shows support for Tumwater teachers — More than 100 people Thursday night crammed into a small meeting space and reiterated their support for striking Tumwater teachers who seek a new contract that improves pay, lowers class sizes and addresses classroom safety. Tumwater's teachers have been on strike since Sept. 1. The strike has since turned testy after the school district filed suit to force the teachers back to work. The district won that round on Wednesday, but teachers defied the court order and voted to remain on the picket lines. Now, the district says it plans to seek more legal action Friday so that it can fine the union a per-day rate of $2,329.
► In today's Columbian — Battle Ground Public Schools files for injunction — Battle Ground Public Schools filed for an injunction against its teachers union Thursday in an attempt to force them back to school. Clark County Superior Court Judge Scott Collier will hear the matter at 9:30 a.m. Friday. Teachers are in their 11th day of a strike. Battle Ground's teachers are the last in Southwest Washington to continue picketing.
---
TODAY'S MUST-READS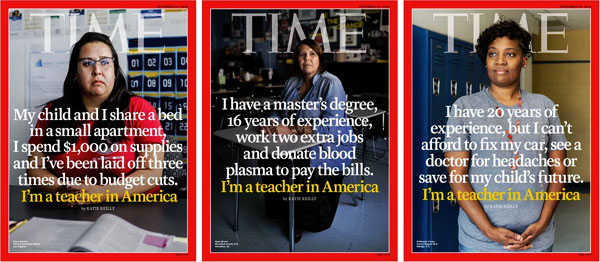 ► From Time magazine — 'I work 3 jobs and donate blood plasma to pay the bills.' This is what it's like to be a teacher in America — "I truly love teaching," says 52-year-old Hope Brown. "But we are not paid for the work that we do." That has become the rallying cry of many of America's public-school teachers, who have staged walkouts and marches on six state capitols this year. From Arizona to Oklahoma, in states blue, red and purple, teachers have risen up to demand increases in salaries, benefits and funding for public education. Their outrage has struck a chord, reviving a national debate over the role and value of teachers and the future of public education.
► From Daily Kos — Hundreds of teachers are running for office, and they're already making waves — The teacher uprising of early 2018 is poised to turn into teacher electoral wins in late 2018 and beyond. Hundreds of teachers across the country are running for office. Perhaps most prominently, in Connecticut, former teacher of the year Jahana Hayes is likely to become the first black member of Congress from the state.
---
LOCAL
► In today's Tri-City Herald — Hanford work to restart 9 months after spread of radioactive contamination — Work on one of Hanford's most hazardous projects could restart next week, nearly nine months after a spread of radioactive contamination forced a shutdown. Demolition of the nuclear reservation's highly contaminated Plutonium Finishing Plant was halted in December after a spread of radioactive particles was discovered for a second time last year.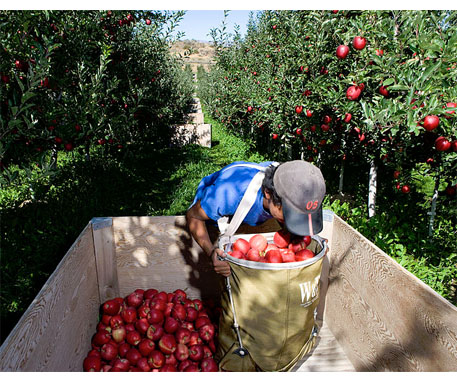 ► In today's Yakima H-R — More guest workers offering relief to growers this harvest season — An increasing reliance on H-2A guest workers appears to be bringing relief to growers, including those who aren't tapping the guest-worker program. An estimated 22,000 guest workers are expected in fields and orchards across the state this year, up from about 18,000 last year. The ranks have steadily grown since 2009, when about 3,000 guest workers came to the state.
► In today's Seattle Times — Bellevue IT firm ordered to pay employees $300,000 after violating H-1B visa rules — People Tech Group was ordered to pay 12 employees after the Department of Labor found it was underpaying skilled workers.
► In today's Yakima H-R — Ex-firefighter sues Yakima for injury he says was caused by understaffing — The accusation is part of a damage claim the former firefighter, Jerry Elmo Jr., submitted earlier this summer, asking the city for $450,000 in damages related to the injury.
---
THAT WASHINGTON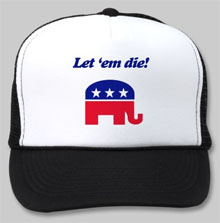 ► From the Hill — Medicaid rolls set to be slashed under Trump-approved work rules — The thousands of people who lost Medicaid coverage this month in Arkansas for not following newly implemented work requirements may be a sign of what's to come in other GOP-led states. Indiana and New Hampshire are slated to implement their Medicaid work requirements next year, and a slew of other states are awaiting approval from the Trump administration.
► From the Hill — Manafort expected to plead guilty to federal crimes — Special counsel Robert Mueller has filed a superseding criminal information against former Trump campaign chairman Paul Manafort, indicating a forthcoming guilty plea on charges related to his work lobbying for a pro-Russia political party in Ukraine. A guilty plea will allow Manafort to evade what was likely to be another explosive trial stemming from Mueller's sprawling investigation into Russian interference
► In today's LA Times — Trump fails to make inroads with organized labor despite populist message to working class — Despite his hard-hat rallies and other intermittent attempts to woo unions, however, Trump has had little success in loosening Democrats' grip on organized labor, according to polling data and interviews with people who follow the movement closely. "Unfortunately, to date the things that he's done to hurt workers outpace what he's done to help workers," said AFL-CIO President Richard Trumka.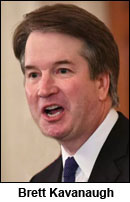 ► In the Washington Post — Brett Kavanaugh misled the Senate under oath. I cannot support his nomination. (by Sen. Patrick Leahy) — Last week, I uncovered new evidence that Supreme Court nominee Brett M. Kavanaugh misled the Senate during his earlier hearings for the D.C. Circuit Court by minimizing and even denying his involvement in Bush-era controversies. I gave him the opportunity to correct his testimony at his hearing last week; he chose instead to double down. I make no claim that Kavanaugh is a bad person. But when his prior confirmation to our nation's "second highest court" was in jeopardy, he repeatedly misled the Senate when the truth might have placed that job out of reach.
► From Politico — U.S. official: Canadian marijuana users, workers and investors risk lifetime border ban — Canadians who work in the marijuana industry — and those who invest in the booming pot sector — risk a lifetime ban on travel to the U.S., according to a senior official overseeing U.S border operations.
---
NATIONAL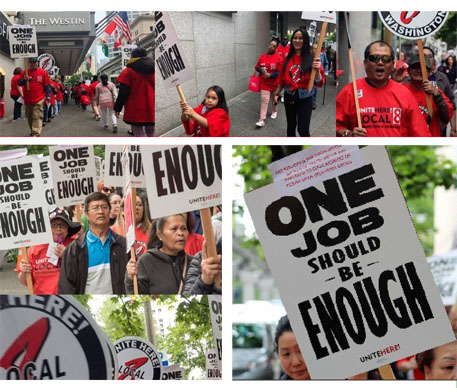 ► In today's Boston Globe — Hotel workers authorize strike — Union hotel workers Wednesday voted to authorize a strike at eight Marriott Hotels in Boston, with more than 1,000 workers, or 96 percent, in favor. The union, Unite Here Local 26, which represents more than 1,800 employees of Marriott International, has been in negotiations with the company for months and is focused on how technology and environmental programs will affect workers.
EDITOR'S NOTE — Hotel workers at the Seattle Westin (Marriott) are taking a strike authorization vote today. Stay tuned…
► From Reuters — Millions of Americans still trapped in debt-logged homes ten years after crisis — About 5.1 million other U.S. homeowners are still living with the fallout from the real estate bust that triggered the epic downturn. As of June 30, nearly one in 10 American homes with mortgages were "seriously" underwater, according to one analysis, meaning that their market values were at least 25 percent lower than the balance remaining on their mortgages.
---
T.G.I.F.
► Amy Winehouse would have turned 35 today. Here's a reminder off what a loss it was when she died at 27 after years of struggling with eating disorders, depression, and drug/alcohol addiction. What a loss.
---
The Stand posts links to Washington state and national news of interest every weekday morning by 10 a.m.
Short URL: https://www.thestand.org/?p=69944
Posted by
David Groves
on Sep 14 2018. Filed under
DAILY LINKS
. You can follow any responses to this entry through the
RSS 2.0
. Both comments and pings are currently closed.