Time to vote! ● We are the worst ● Cathy's shame ● More militancy
Thursday, October 18, 2018
---
ELECTION
► In today's Tri-City Herald — Ballots hit mailboxes this week. Postage is prepaid.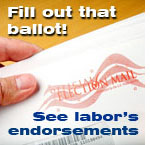 ► In the (Everett) Herald — Time to vote: Ballots are in the mail (editorial) — Ballots for the Nov. 6 election will be mailed Thursday.
EDITOR'S NOTE — Union members and their families should check out the list of candidates who have earned the Washington State Labor Council's endorsement, and see the WSLC's candidate-comparison flyers explaining why.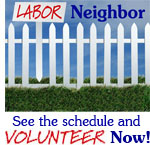 ALSO at The Stand — It's an even BIGGER weekend to make a BIG difference — Last weekend was big, but this weekend is BIGGER because union members and their families will have ballots! This Saturday, Oct. 20, Labor Neighbor volunteers will conduct neighborhood walks in legislative districts near Everett, Spokane and Vancouver, and have the annual Ballot Drop Walk and BBQ at the UA 32 Hall in Renton. On Sunday, Oct. 21, there will be a second walk in Everett. Check out the schedule for details on all of these events.
► In today's Seattle Times — King County, Washington state election officials see a surge in voter registration — Midterm elections often draw more voters than off-year elections, but 2018 is seeing many more voter registering online than in 2014.
---
LOCAL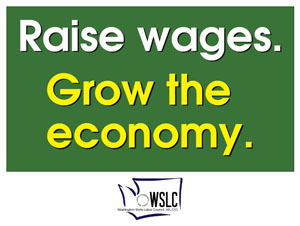 ► In today's Tri-City Herald — Some Pasco school workers are getting a raise. In other districts, employees push for 'livable wages' — The district's secretaries, paraeducators and food service workers have approved a deal with the district that gives them a $1.53 per hour increase this school year. Similar negotiations over teacher and support staff pay also have played out in other districts across Washington as a result, including in the Tri-Cities.
► In today's Yakima H-R — Naches Valley School District, teachers reach tentative agreement — The Naches Valley School District and its certified staff union reached a tentative contract agreement late Tuesday night after the union warned the district it would strike if the two sides didn't reach an agreement by Nov. 5.
► In today's Yakima H-R — Yakima School District classified staff push for pay raise at board
► In the Spokesman-Review — Spokane City Council considering restricting Border Patrol access to Spokane Intermodal Center — The Spokane City Council is expected to vote soon on an ordinance that would bar immigration enforcement agents from accessing nonpublic city property without a criminal warrant unless officers obtain the mayor's permission.
EDITOR'S NOTE — The Spokane Regional Labor Council was among the organizations that signed a letter to the city last month asking for additional protections for undocumented people on city property.
---
THIS WASHINGTON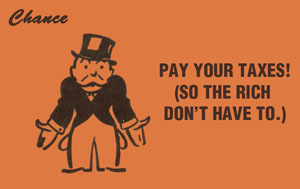 ► From KUOW — How bad are Washington state taxes? The worst in the country, apparently — Washington State's tax system is widening the gap between the rich and the poor. That's according to the Institute on Taxation and Economic Policy based in Washington, D.C. It says Washington state is number one on its "terrible ten" list of states whose tax systems make the poor poorer. The institute found the poorest in Washington state lose 18 percent of their incomes to local governments, while the richest lose just 3 percent.
► In the Seattle Times — Report: Washington foster kids sent to Iowa were abused in facility run 'like a correctional institution' — Washington state foster youth sent to an Iowa facility were allegedly physically abused and kept largely segregated from the outside world, a possible violation of state and federal laws and their constitutional rights, according to a report released Wednesday… The agency faces a shortage of in-state providers to help high-needs foster youth, according to the statement. DCYF attributed that to inadequate pay rates for companies that would provide those services.
EDITOR'S NOTE — You get what you pay for.
---
THAT WASHINGTON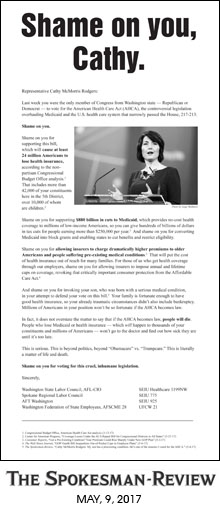 ► Today from Politico — House GOP leader McMorris Rodgers faces Obamacare backlash — Cathy McMorris Rodgers got an earful about health care on a recent Friday afternoon knocking on doors in the suburban Balboa neighborhood of Spokane. McMorris Rodgers, the top-ranking Republican woman in the House facing the toughest reelection contest of her career, heard one resident complain his wife's monthly insurance premiums have swelled to over $700 per month. Another agonized about affording long-term care for her elderly mother. Yet another worried whether Medicare would go bankrupt. In past election cycles, the seven-term lawmaker might have had an easy talking point: Repeal and replace Obamacare. But like other Republicans who suddenly find themselves on the defensive on health care, she avoids mentioning her party's long-standing pledge to eliminate the 2010 law.
PREVIOUSLY at The Stand — Unions to McMorris Rodgers: Shame on you (May 25, 2017) — McMorris Rodgers was the only member of Washington's delegation who voted "yes" on the American Health Care Act. The nonpartisan Congressional Budget Office analysis of the health care bill confirms the harm the legislation would do: at least 23 million fewer people with insurance over the next decade, steep premium increases for older people and price hikes for many people with pre-existing conditions, and an $834 billion cut in Medicaid to finance $664 billion in tax cuts for corporations and high earners.
► From Reuters — McConnell says Senate Republicans might revisit Obamacare repeal — Republicans could try again to repeal Obamacare if they win enough seats in U.S. elections next month, Senate Republican Leader Mitch McConnell said on Wednesday, calling a failed 2017 push to repeal the healthcare law a "disappointment."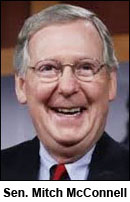 ► From Newsweek — McConnell calls for Social Security, Medicare, Medicaid cuts after passing tax cuts, massive defense spending — After instituting a $1.5 trillion tax cut and signing off on a $675 billion budget for the Department of Defense, Senate Majority Leader Mitch McConnell said Tuesday that the only way to lower the record-high federal deficit would be to cut programs like Medicare, Medicaid and Social Security.
► From Bloomberg — Trump administration taking on overtime pay, franchise liability — The Trump administration plans to tackle two important labor policy issues in the coming months: overtime pay and "joint employer" liability for companies in staffing and franchise relationships.
ALSO at The Stand — State moves to restore overtime pay protections
---
NATIONAL
► From KWCH — SPEEA members approve 6-year contract with Spirit AeroSystems — SPEEA says nearly 1,000 engineers it represents at Spirit in Wichita, Kan., approved the contract "by a significant margin." It provides annual raises, increased overtime pay and a $4,000 signing bonus.Employees also agreed to changes to medical plans that phase-in during the contract.
► In the Pittsburgh Post-Gazette — Union reaches tentative deal on new contract with U.S. Steel — After weeks of negotiations in Pittsburgh, the United Steelworkers have reached a tentative agreement for a new four-year labor contract covering about 14,000 workers at U.S. Steel, the union and company announced on Monday.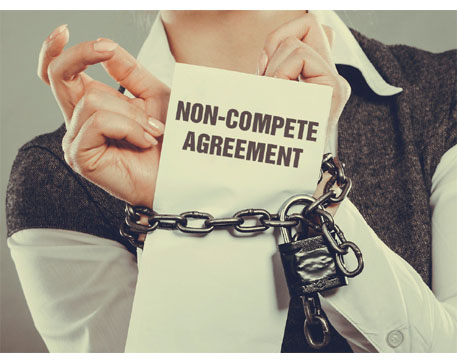 ► In today's Washington Post — Even janitors have non-competes now. Nobody is safe. — What this is all about: whether workers are allowed to leave for greener pastures or their bosses are given the green light to put up such high fences around them that they're forced to stay. In other words, it's about power: who has it and who doesn't. Or, more precisely, whom we give it to and whom we don't. If we create a legal framework that puts workers on an equal footing, then they can go get a raise without having to wait for their employers to deign to give it to them. But if we don't, then those bosses, secure in the knowledge that their employees can't easily leave, can get away with offering only minuscule pay increases, if that. You might think that there couldn't be a more absurd example of a company using noncompetes to hold down wages than going after a janitor, but you'd be wrong. Amazon.com used them for warehouse workers. Jimmy John's for sandwich-makers. Camp Bow Wow, a doggy day care chain, for dog-walkers.
► In the Atlanta Journal-Constitution — Black senior citizens ordered off Georgia bus taking them to vote — Government officials in an east Georgia county told about 40 African-American senior citizens to get off a bus taking them to vote Monday, leading to complaints of voter suppression.
► From MassLive — Rapper, actor Common crosses picket line of striking Boston Marriott workers — First, it was the New York Yankees. Now, it's the rapper and actor Common. Striking Marriott workers in Boston are calling out big names who cross picket lines.
---
TODAY'S MUST-READ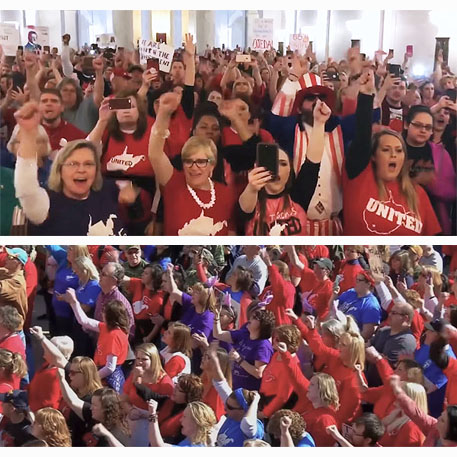 ► From the Christian Science Monitor — Labor-union militancy revives, from hotels to schools and steel mills — Since the strike at seven of its hotels in Boston two weeks ago, Marriott has seen union workers walk off the job at hotels in five other major cities as well as two Hawaiian islands. It's part of a growing militancy within the ranks of labor. Whether from desperation born of recent reversals in the courts or opportunism in a strong economy, union and nonunion workers alike are demanding more. "Workers are a little more emboldened, feel a little stronger," says Robert Bruno, director of the Labor Education Program at the University of Illinois. "There is a desire to fight back." Part of the activism stems from economic desperation as costs rise faster than pay.
EDITOR'S NOTE — Experience the power of collective action to get higher pay, better benefits, safer workplaces and respect at work. Contact a union organizer today and find out how you and your co-workers can join together to bargain for a fair return on your work.
---
The Stand posts links to Washington state and national news of interest every weekday morning by 10 a.m.
Short URL: https://www.thestand.org/?p=70642
Posted by
David Groves
on Oct 18 2018. Filed under
DAILY LINKS
. You can follow any responses to this entry through the
RSS 2.0
. Both comments and pings are currently closed.