Doc leads Dino ● Split happens ● Motel 6 pays up
Wednesday, November 7, 2018
---
STATE ELECTIONS
LAST NIGHT at The Stand — Dems gain in Washington, but how much?
---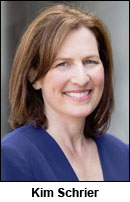 ► In today's Seattle Times — Kim Schrier leads Dino Rossi in 8th Congressional District — With about 196,000 votes counted Tuesday night, Issaquah pediatrician Kim Schrier (D) had 53 percent to former state senator Dino Rossi's (R) 47 percent. Schrier's strongest showing was in King County.
► In today's Columbian — Herrera Beutler ahead in 3rd Congressional District — With 221,270 votes counted districtwide, Rep. Jaime Herrera Beutler (R) ended Tuesday with 52.25 percent of the vote, to Carolyn Long's (D) 47.75 percent, a lead of 10,000 votes.
► In today's Spokesman-Review — McMorris Rodgers wins 8th term with decisive victory over Brown
► From AP — Maria Cantwell cruises to 4th term in U.S. Senate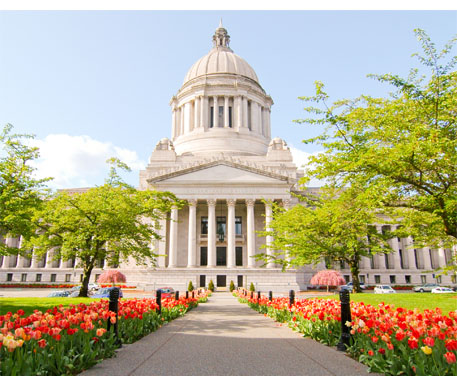 ► In today's Seattle Times — Democrats leading in several key races for the Washington State Legislature — The results on Tuesday put Democrats in position to extend their narrow legislative majorities. If the numbers hold, Democrats would pick up seven seats in the House and two in the Senate. But Democratic hopes of gaining as many as 20 seats — based on the August primary which brought the party surprising leads around the state — appeared to fade as some traditionally conservative districts returned to the Republican fold.
► In today's Seattle Times — It turned out there were two waves, not one, and our urban-rural divide just got wider (by Danny Westneat) — A blue wave hit the suburbs, while a red one hit the rural areas even stronger than usual. The result around here was a wipeout of Republicans in King County, and an ever growing urban-rural divide.
► In today's Seattle Times — State voters reject carbon-fee initiative — Voters in Tuesday returns rejected I-1631, the proposed carbon fee initiative, which would have raised more than $1 billion annually by 2023, with spending decisions to be made by a governor-appointed board as well as the state's utilities.
► In today's Seattle Times — I-940, modifying law regulating police use of deadly force, passes with strong support — Tuesday's release of ballots showed I-940 was passing by 62 percent to 38 percent statewide, with support focused in Western Washington.
► In today's Seattle Times — Initiative to ban local soda and grocery taxes leading
► In today's Seattle Times — Seattle's $600 million-plus education levy OK'd by wide margin
► In today's Spokesman-Review — Spokane voters back $495 million school bond with 67% approval
---
NATIONAL ELECTIONS
► In today's Washington Post — Democrats flip House as GOP expands Senate majority — Democrats leveraged fury with President Trump to capture the House on Tuesday after a hard-fought election that saw Republicans expand their majority in the Senate, a split verdict that set the stage for divided government and partisan conflict that will shape the rest of Trump's first term. The dramatic conclusion of the most expensive and consequential midterm in modern times fell short of delivering the sweeping repudiation of Trump wished for by Democrats and the "resistance" movement. But Democrats' takeover in the House still portended serious changes in Washington, as the party prepared to block Trump's agenda and investigate his personal finances and potential ties to Russia.
► In today's NY Times — Women lead parade of victories to help Democrats win House
► In today's Washington Post — A great day for democracy (editorial) — The Democrats' return to control over the House of Representatives is much more than a victory for one party. It is a sign of health for American democracy.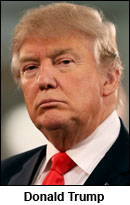 ► In today's NY Times — Despite loss of House, Trump claims 'big victory' and threatens Democrats — Even as he claimed victory, he quickly went on offense against the newly elected Democratic House, threatening to retaliate if the opposition uses its new subpoena power to investigate him for corruption and obstruction of justice in an early foreshadowing of the bitter partisan warfare that could dominate the next two years.
► From HuffPost — Democrats made big gains at the state level Tuesday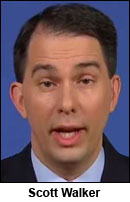 ► In today's NY Times — Tony Evers wins Wisconsin governor's race, beating Scott Walker — Gov. Scott Walker, who moved Wisconsin to the right over the last eight years, cutting taxes and sharply diminishing the power of labor unions, was defeated on Wednesday by the Democrat, Tony Evers, the state schools superintendent, The AP reported. The advantage for Evers was razor thin, a little over 1 percentage point. With more than 2.6 million votes cast and 99 percent of precincts reporting, Evers led by about 30,000 votes.
► From the AFL-CIO — Trumka statement on Scott Walker Defeat — AFL-CIO President Richard Trumka: "Scott Walker was a national disgrace."
► From HuffPost — Medicaid wins big on Election Day — Voters in Idaho, Nebraska and Utah on Tuesday defied their GOP state leaders and approved ballot initiatives to expand Medicaid, which would provide access to health coverage for about 300,000 working adults.
► From the AP — Oregon voters keep first-in-nation immigrant sanctuary law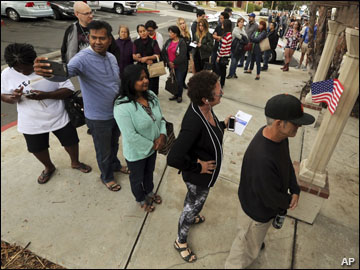 ► From HuffPost — Midterm voters significantly expanded the right to vote — After Tuesday's election, approximately 1.4 million people with felony convictions in Florida will regain the right to vote. It will be much easier for people in Michigan to vote. Nevadans will be automatically registered when they conduct business with the state Department of Motor Vehicles unless they opt out. Lawmakers in Michigan, Colorado and Missouri (and potentially Utah) will no longer be able to draw electoral districts that severely benefit one party. Voters in Maryland will get to register to vote on Election Day. Democrats took control of the state Senate in New York, giving them a chance to do something about the state's antiquated voting laws. In Kansas, Kris Kobach, who championed perhaps the most restrictive voting law in the country and led President Donald Trump's voter fraud commission, lost the race for Kansas governor to Democrat Laura Kelly.
PREVIOUSLY at The Stand — 
Voters get more 'Access to Democracy'
 (from WSLC's 2018 Legislative Report) — Gov. Jay Inslee signed a package of five bills — dubbed the Access to Democracy package  — to improve voter access and strengthen democracy in Washington state. One of them was the long-sought Washington Voting Rights Act.
► Meanwhile, from The Onion — Georgia election worker assures black man ballot scanner supposed to sound like shredder
---
LOCAL


► In today's Seattle Times — Boeing to warn 737 MAX operators of a potential instrument failure that could cause the jet to nose-dive — Following the fatal crash of a Lion Air jet in Indonesia last week, Boeing was preparing Tuesday evening to warn all airlines operating its new 737 MAX of the potential for an instrument failure that could result in the plane entering a dangerous dive.
► In today's Spokesman-Review — Spokane City Council votes to require Spokane Fire Fighters, Police Officers to only work with city dispatchers — City Council President Ben Stuckart, who sponsored the ordinance, said it was designed to reassure city employees and maintain city control over dispatch services in the face of a potential region-wide communications integration.
► In today's Seattle Times — Kitsap Transit launching Kingston-to-Seattle fast ferry service after Thanksgiving — The new route will join Kitsap Transit's Bremerton Fast Ferry, which launched service last year, after Kitsap County voters narrowly approved a 0.3 percent sales tax to fund the new fleet of passenger ferries.
► In today's News Tribune — Census Bureau will be hiring hundreds in Tacoma — At least 300 temporary jobs are available ahead of the 2020 Census. Pay ranges from $16.50 an hour to $20.50 an hour.
► In today's (Everett) Herald — Everett Massacre's details not fully known, but new sources may help (by Julie Muhlstein) — On Sunday, the eve of the 102nd anniversary of Everett's waterfront gun battle, Christopher Summit gave a talk titled "A Problem With Sources." The program was at the Anchor Pub, near where gunfire erupted on what became known as Everett's Bloody Sunday.
---
NATIONAL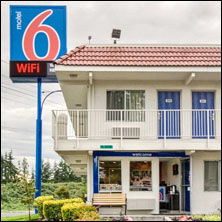 ► In today's Washington Post — Motel 6 agrees to pay up to $7.6 million to settle claim it helped ICE target Latino guests — After a nationwide class-action lawsuit against Motel 6, the chain agreed to pay as much as $7.6 million to guests who said their private information was given to U.S. immigration agents, according to court records. Former guests sued Motel 6 over privacy violations earlier this year, alleging that the chain handed over their personal information to U.S. Immigration and Customs Enforcement agents.
EDITOR'S NOTE — State Attorney General Bob Ferguson was among those who filed suit against Motel 6 for violating guests' privacy here in Washington.
► In today's NY Times — Was Amazon's headquarters contest a bait-and-switch? Critics say yes — What a farce. That was one of the immediate reactions when word leaked out on Monday that Amazon's much-ballyhooed search for a second headquarters outside of Seattle would result in not one, but two new locations. On Twitter, people used farce, sham or stunt to describe what had happened.
► In today's Seattle Times — Big Tech pushes back against 'dramatic increase' in H-1B visa denials — Industry group Compete America said in a letter to U.S. Citizenship and Immigration that the agency's approach to deciding who gets an H-1B was "leaving employers with a disruptive lack of clarity about the agency's practices, procedures, and policies."
---
The Stand posts links to Washington state and national news of interest every weekday morning by 10 a.m.
WASHINGTON IS A UNION STATE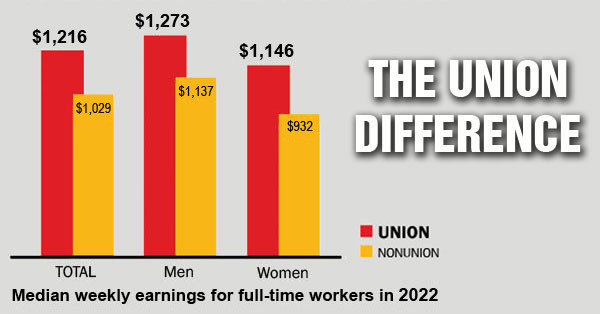 CHECK OUT THE UNION DIFFERENCE in Washington state: higher wages, affordable health and dental care, job and retirement security.
FIND OUT HOW TO JOIN TOGETHER with your co-workers to negotiate for better working conditions and respect on the job. Or go ahead and contact a union organizer today!