A 'win-win' investment of union pension dollars in Seattle
Local leaders celebrate as the AFL-CIO Building Investment Trust breaks ground on a 100% union-built tower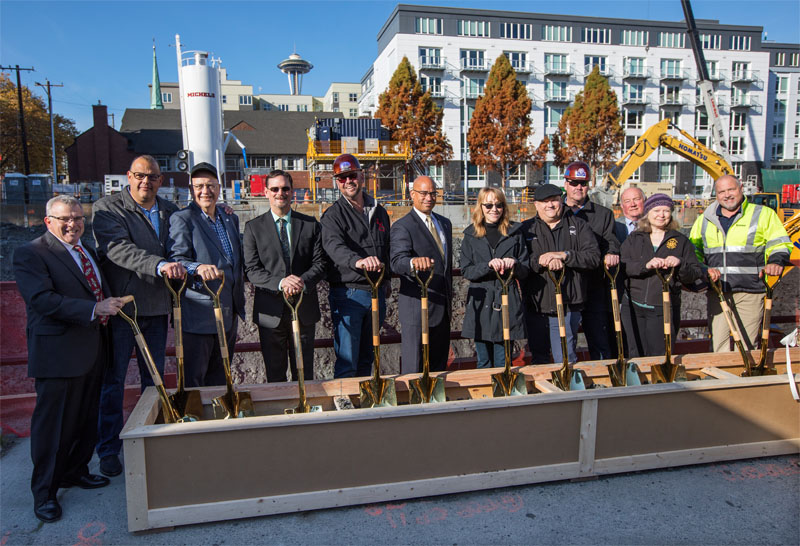 SEATTLE (Oct. 29, 2019) — Local labor and business leaders gathered Monday to celebrate the ground-breaking for the Waverly Apartments, a 28-story multifamily development tower in downtown Seattle that is a joint venture between the AFL-CIO Building Investment Trust, Turner Construction, and Greystar Real Estate Partners. Its construction, plus its servicing and maintenance during development, will be performed by 100 percent union labor.
The AFL-CIO Building Investment Trust (BIT), a bank collective trust for which PNC Bank serves as trustee, provides competitive risk-adjusted returns for qualified union pension plans through investments in commercial real estate. At the same time, the BIT provides important collateral benefits, including union job creation and economic development.
"This is an exciting example of union pension dollars investing in our community and making sure good union jobs are created in the process," said Larry Brown, President of the Washington State Labor Council, AFL-CIO. "We thank the AFL-CIO Building Investment Trust and its partners for their work on the Waverly Apartments project. It's truly a win-win for the participating pension funds and the union families in our community."
"We are extremely proud, standing here today, to be able to build another union funded project in Seattle and the Northwest," said said Paul Gurewitz, Vice President for Business Development and Client Services (AFL-CIO ITCF), at Monday's ground-breaking. "The BIT was founded in 1988 by the AFL-CIO executive council as a core commercial real estate fund. Our mission at that time and especially today continues to be two-fold, to protect and grow the retirement capital of union workers, and to continue to create good paying union jobs through prudent investments like The Waverly Apartments."
Located in the South Lake Union neighborhood of downtown Seattle adjacent to Denny Park, the Waverly Apartments will feature 374 rental units; 243 parking stalls and 111 bike spaces in a four-level below grade parking structure; and property amenities that include concierge, a fitness center with outdoor sports court, and a large rooftop deck with panoramic views of downtown Seattle, Lake Union and the Space Needle. Residents will have convenient access to I-5 and Route 99, plus other local transportation options including the Seattle Streetcar and Link Light Rail. Its estimated completion date is late January 2022.
"Greystar is excited to be a part of this tremendous project that we are calling Waverly," said Doug McNiesh, Senior Director of Construction for Greystar Real Estate Partners. "It has not been easy to get where we are today, but I attribute our ability to navigate all challenges to the team we have assembled: PNC Bank our lender, Turner our contractor, Weber Thompson our architect, KPFF our structural engineer, and our MEP team of Sequoyah Electric and Hermanson. I am confident that this team can resolve any challenges and with the craftspeople we will be putting to work, I know that we will all be proud of what we are about to build."
"We look forward to a brighter future – not just in buildings like this being completed in Seattle, but in seeing similar union construction projects developed statewide where our members can continue to apply their craft," said Monty Anderson, Executive Secretary of the Seattle Building and Construction Trades Council. "Through the AFL-CIO BIT and these vital union-funded projects, our members can benefit for years to come with retirement security from their own investments."
"It's critically important to have trusted partners in this market and that's what we've got for the Waverly project," said Dan Kahn, Vice President for Turner Construction. "Teamwork, commitment, patience and integrity will be the keys to our success here, and Turner is honored to be a part of this effort to enhance our community."
The AFL-CIO BIT invests exclusively in U.S. markets and has developed and implemented one of the most comprehensive written union labor policies in the industry. In its 30-year history, the BIT has invested over $7.3 billion for the development and acquisition of more than 200 office, retail, multifamily, hotel, warehouse, and mixed-use properties across the country. Since its inception in 1988, the BIT has invested in five projects in the Pacific Northwest with a combined net asset value of $327 million.
Nationwide, these investments have generated approximately 80 million hours in union construction work and created thousands of union jobs in the service, maintenance and operations of facilities owned by the BIT.
Short URL: https://www.thestand.org/?p=81158
Posted by
David Groves
on Oct 29 2019. Filed under
LOCAL
. You can follow any responses to this entry through the
RSS 2.0
. Both comments and pings are currently closed.