WSNA, UFCW 21 strike votes set at Providence Sacred Heart
The following is from the Washington State Nurses Association and UFCW 21:
SPOKANE (Oct. 14, 2019) — More than 1,900 registered nurses of the Washington State Nurses Association and 1,280 service and maintenance workers of UFCW 21 have joined together in solidarity in scheduled strike votes against Providence Sacred Heart Medical Center. These workers are fighting for safe staffing and to keep earned paid time off and earned sick time.
Nurses and service workers at Sacred Heart want safer staffing and fair benefits to ensure they can take care of Spokane's families and their families at home. Providence is trying to force workers to accept substantial cuts to earned benefits even as its multi-state system is collecting record profits and giving extravagant raises to executives.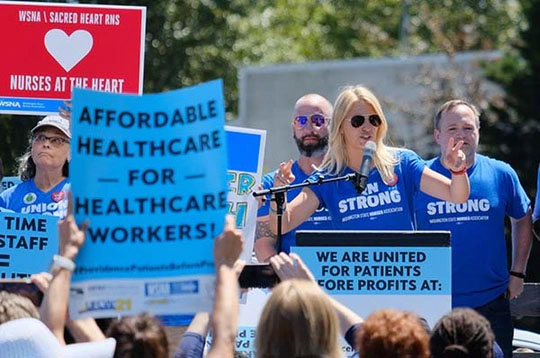 WSNA is holding a strike authorization vote Oct. 24 and 25. UFCW 21 will be holding a strike authorization vote for represented workers at Sacred Heart on Oct. 24, followed by votes for members at Providence Holy Family in Spokane, Providence St. Mary's in Walla Walla, Providence Regional Medical Center in Everett, Providence Centralia Hospital and Providence St. Pete's in Olympia.
"Providence is literally stealing our earned benefits and pocketing them to add to the nearly $1 billion in profits it has already collected this year," said Stevie Lynne Krone, a cardiac medical nurse at Sacred Heart and member of the bargaining team. "Providence's proposal relies on cuts to nurses' benefits while taking from the state's new family and medical leave law, which is funded by working taxpayers. Nurses pay more and get less while Providence pockets even more in profits. It's not a fair deal. We are getting ready to strike if we have to."
UFCW 21 service and maintenance workers at Sacred Heart and other Providence hospitals also face cuts to sick time and are fighting for competitive compensation to recruit and retain the best workers and affordable, accessible health care.
"UFCW 21 and WSNA members across the state are standing up to Providence to protect our benefits and wages. We care for our patients every day, and Providence should care for us," said Austen Louden, a UFCW 21 member at Sacred Heart Medical Center.
Nurses and other health care workers are also considering a strike because of Providence's numerous unfair labor practices. Illegal actions against nurses include interfering with nurses' right to concerted activity and failing to bargain in good faith.
While nurses and service and maintenance workers at Sacred Heart continue fighting for safe staffing and basic benefits, Providence CEO Rod Hochman collected more than $10 million in 2017. In fact, Hochman got a 157 percent pay increase between 2015 and 2017. Under Hochman's leadership, Providence has raised the ire of nurses and health-care workers across the West Coast for pushing policies that strip workers of basic benefits and for resisting common-sense approaches to staffing that will allow them to provide safe, excellent care to their patients.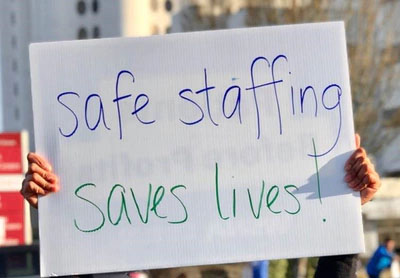 Sacred Heart nurses represented by WSNA have been fighting at the negotiating table for nearly a year to keep basic staffing levels and benefits, to ensure safe staffing and to secure competitive compensation that will attract and retain nurses. They have held 14 negotiating sessions including three sessions with federal mediators. Still, nurses and Providence are far apart. The next negotiating session is scheduled for October 29.
Sacred Heart service and maintenance workers represented by UFCW 21 have been bargaining for months to secure safe staffing levels, sick leave to care for employees and their families, competitive compensation and affordable access to health care. On August 22, UFCW 21 members voted down management's inadequate contract offer.
Short URL: https://www.thestand.org/?p=80917
Posted by
David Groves
on Oct 14 2019. Filed under
LOCAL
. You can follow any responses to this entry through the
RSS 2.0
. Both comments and pings are currently closed.