VOTE! ● Mercury's non-competes voided ● Unions deliver financial security
ELECTION DAY


Tuesday, November 5, 2019
---
VOTE!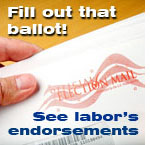 Find that ballot and VOTE! It must be mailed — postage free! — and postmarked TODAY to count. Or you can deposit it in a ballot drop box by 8 p.m. tonight. Visit your county auditor's website for more information about where those drop boxes are, and how you can still vote if you've misplaced your ballot.
ALSO TODAY at The Stand — Haven't voted? Do it today on Election Day!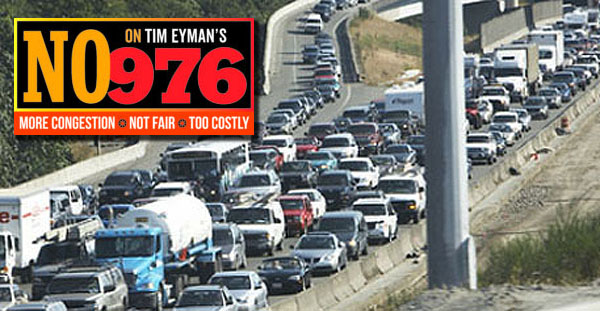 ► In today's (Everett) Herald — Too many could throw their vote away today (editorial) — As of Monday morning, the day before Election Day, a little less than 16 percent of registered voters in Snohomish County — 75,813 of 476,073 who were sent ballots — had returned those ballots by mail or ballot drop boxes… Your vote is needed, especially regarding Initiative 976. (I-976 gets a big honking no from us, by the way.) Not to nag, but ask yourself: Are jammed highways, potholed roads, lost jobs and a hobbled economy issues that two-thirds of you really don't consider important enough to bother with?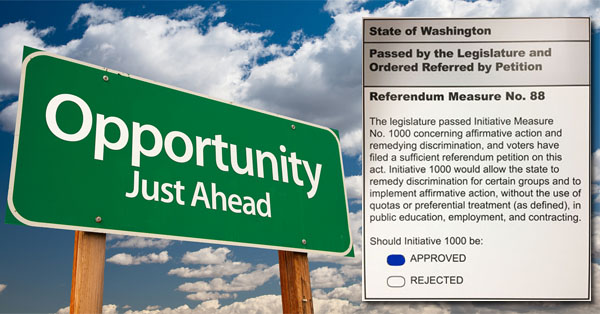 ► In the P.S. Business Journal — Yes vote on I-1000 will increase veteran entrepreneurship (by Daniella Young) — Veterans have many of the traits that make for successful entrepreneurs, including creativity, leadership skills and a willingness to take risks. They also face unique barriers to becoming successful entrepreneurs, but we can fix that, starting with a yes vote to I-1000 and an inclusive community mindset.
ALSO at The Stand — Let's vote for opportunity, not division (by April Sims)
---
THIS WASHINGTON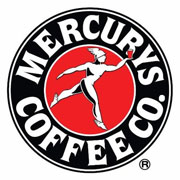 ► From KING 5 — King County coffee chain must void 'unfair' non-compete agreements with all employees — The Attorney General found that Mercury's Coffee ordered its employees to sign agreements preventing them from working in another coffee shop within 10 miles. The requirement also extended for 18 months after the person left the company, essentially preventing someone from working at most coffee shops in King County. Mercury's Coffee filed several lawsuits against workers who found employment at other coffee shops, the AG found. Over the last five years, the company has employed more than 700 people, all or most of whom had to sign the non-compete agreement.
► In today's (Longview) Daily News — County blasts Ecology over methanol plant permit — Cowlitz County officials blasted the state Department of Ecology on Monday for holding the proposed $2 billion Kalama methanol refinery to a higher standard than other projects and for asking for information the agency has already been given.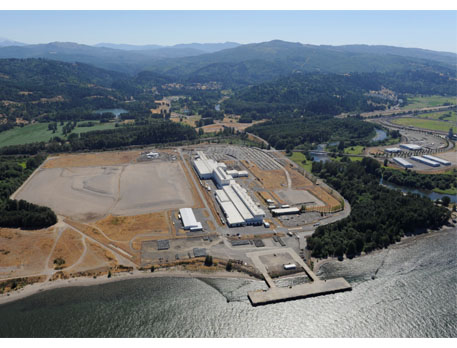 ► ICYMI in the Seattle Times — Kalama methanol plant is about more than just much-needed jobs (by Larry Brown, Mike Bridges, and Mark Riker) — The women and men of the labor movement are committed to growing our economy in an environmentally responsible way. That's why we join in coalition with others in the environmental and progressive communities to promote solutions that protect our environment and create and maintain quality, family-sustaining jobs. We work to meet the needs of our people and our economy by confronting climate change. That's why we supported enacting zero-carbon electricity standards in the last legislative session. And it's why we support Northwest Innovation Works' proposed methanol manufacturing facility in Kalama.
► In today's Seattle Times — Better food and health care needed at Washington state prisons, new report finds — Washington corrections officials should improve health care and food quality in state prisons and provide more opportunities to better prepare inmates to re-enter society, a new report recommends.
---
LOCAL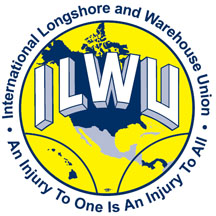 ► In today's Oregonian — Jury awards $93.6 million to former operator of Port's Terminal 6 for losses due to dock workers' unlawful labor practices — A federal jury Monday awarded $93.6 million to the former operator of the Port of Portland's container terminal, finding the dock workers union sabotaged shipping traffic and caused productivity to plummet through years of labor slowdowns and stoppages… After the jury returned the verdict, ILWU's attorney Susan Harriman urged the judge to formally delay entering the judgment. The union intends to argue that the damage award would impose a heavy financial burden with serious consequences, including possibly bankrupting the longshore workers union. The judge allowed both sides to submit briefs on the matter and said he'd wait until next Tuesday before entering a judgment.
► In today's Yakima H-R — Reports lay out staffing challenges at Astria Health hospitals — Staffing shortages have continued to be an issue, especially for Astria Regional Medical Center in Yakima, the largest of the three Astria hospitals.
---
BOEING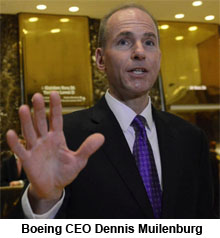 ► From CNBC — Boeing CEO Dennis Muilenburg gets vote of confidence, offers to forgo bonuses amid 737 Max crisis — Boeing's new chairman gave Dennis Muilenburg a vote of confidence on Tuesday and said the embattled CEO has offered to forgo all bonuses this year as the company grapples with the fallout of two crashes of the 737 Max. Lawmakers on Capitol Hill last week railed against Muilenburg over his compensation of $23.4 million, including a $13.1 million incentive bonus, in 2018, despite the crash of a 737 Max in Indonesia in October 2018, while some lawmakers urged him to resign.
---
THAT WASHINGTON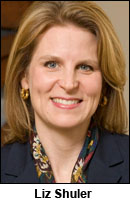 ► From KVEO — Labor unions turn their back on US-Mexico-Canada trade agreement — Despite some optimism from the White House and the business community, labor union leaders refuse to back the U.S.-Mexico-Canada Agreement. The USMCA would replace the existing NAFTA, which predates e-commerce and has been criticized for shortcomings in environmental and labor protections. "The new NAFTA is not a policy we support at this time," said AFL-CIO Secretary-Treasurer Liz Shuler during a visit to El Paso last week. "The lack of enforcement, the lack of resources committed by the country of Mexico are not adequate. … As we stand now, NAFTA 2.0 does not have the assurances we need for fair trade policies that work for the working people."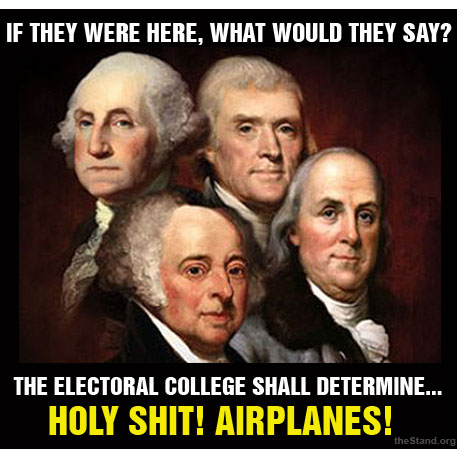 ► In today's Washington Post — One year out from vote, Trump trails Democrats by wide margins, poll shows — Democrats' current margins in the Washington Post-ABC News poll point to a substantial popular-vote advantage, but the party still faces obstacles when it comes to the electoral college.
► In today's LA Times — Food trucks and Amazon deliveries in national parks are a horrific idea (editorial) — We might laugh it off as fantasies of avaricious business people were it not for the fact that it fits into a pattern of efforts by the Trump administration to privatize services provided by federal agencies such as Veterans Affairs and the U.S. Postal Service. (Privatization) is in direct conflict with the raison d'etre of the of national parks. You can't simultaneously conserve and exploit a natural resource.
---
IMPEACHMENT
► From HuffPost — Another term For Trump's quid pro quo? Extortion. — Former federal prosecutors say the president's interactions with Ukraine also amount to extortion, as defined by the Hobbs Act.
► In today's Washington Post — So this is why Trump doesn't want officials to testify (by E.J. Dionne) — Now we see why the Trump administration doesn't want officials to testify in the impeachment inquiry. The first batch of transcripts from the closed-door depositions have been released, including that of Marie Yovanovitch, the U.S. ambassador to Ukraine removed from her post by Trump at the urging of his lawyer, Rudy Giuliani. If this is a sign of what's to come, Republicans will soon regret forcing Democrats to make impeachment proceedings public.
► From Vox — Impeachment, explained — The ultimate guide to the Trump impeachment saga.
---
NATIONAL

► In today's LA Times — Gig firm Instacart, facing revolt by its workers, joins Uber's campaign to reduce pay (by Michael Hiltzik) — The gig economy firms Uber and Lyft have acknowledged that their business model is based on treating their workers as independent contractors, not employees. But when it comes to exploiting its front-line workers, the grocery delivery service Instacart may be in a class by itself. At least, that's the conclusion one could draw from the gig company's history of worker relations. Instacart, which relies on non-employees to assemble supermarket baskets on order and deliver them, is currently undergoing a worker walkout for the fourth year in a row.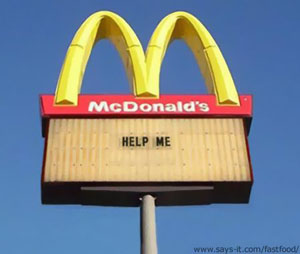 ► From Vox — The firing of McDonald's CEO won't solve the chain's sexual harassment problem (by Alexia Fernández Campbell) — The CEO of McDonald's was booted from the company Friday after the board of directors discovered that he had a consensual romantic relationship with an employee. And yet the move seems like an empty gesture in light of the serious allegations of sexual harassment that McDonald's restaurant employees have reported over the years.
► From Politico — Newsom has an organized labor problem — Some of California's most powerful unions are openly denouncing Gov. Gavin Newsom less than a year into his tenure, exposing early fractures in the Democratic governor's base after he spurned proposals they considered a bellwether of his support for labor.
► From WTOP — Northern Va. Metrobus driver strike enters its second week with no end in sight — The drivers (ATU 689) are striking against Transdev, which is a private company contracted by Metro to operate its Cinder Bed Road bus facility in Lorton, Virginia.
► From ABC News — Strike possible this week for General Mills employees — Workers for General Mills in Cedar Rapids, Iowa, could go on strike this week. Last Friday was the deadline for contract negotiations between the company and union workers.
---
TODAY'S MUST-READ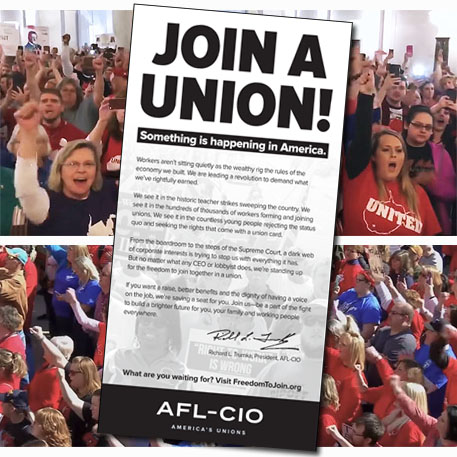 ► From Forbes — Unions — not companies — deliver real, sustainable financial security (by Christian Weller) — Real employee financial security – higher wages, better benefits and more stable jobs – does not come from employers' goodwill, but from workers negotiating for it, typically through a union… Union members are more likely to enjoy a range of benefits at work. They have more health insurance, retirement benefits, life insurance and financial education at work. They also enjoy higher wages and, at least as important, they have more stable jobs. All of these factors contribute to higher levels of wealth than is the case for non-union members.
EDITOR'S NOTE — The good news for those of you working in Washington: you live in a state with the strongest unions in the country! So, if you don't have one yet, get more information about how you can join together with co-workers and negotiate a fair return for your hard work. Or go ahead and contact a union organizer today!
---
The Stand posts links to Washington state and national news of interest every weekday morning by 10 a.m.
WASHINGTON IS A UNION STATE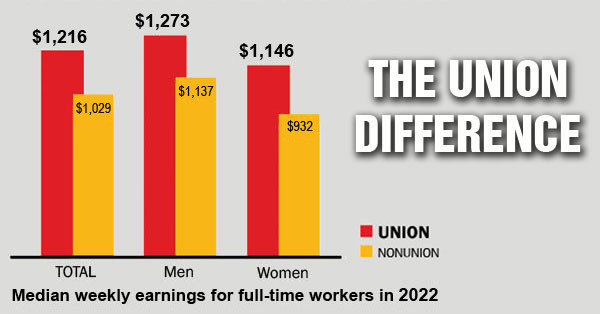 CHECK OUT THE UNION DIFFERENCE in Washington state: higher wages, affordable health and dental care, job and retirement security.
FIND OUT HOW TO JOIN TOGETHER with your co-workers to negotiate for better working conditions and respect on the job. Or go ahead and contact a union organizer today!