Countdown at Clark ● Bad Boeing ● PRO vote ● Sir Rod's 75
Friday, January 10, 2020
---
LOCAL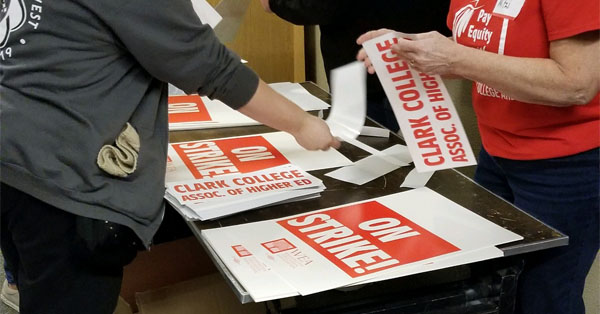 ► In today's Columbian — Clark College to cancel Monday classes if faculty strike — Clark College will cancel classes if its faculty go on strike Monday, the interim president announced in an email to students. It's news that's seemed likely for days, as full- and part-time faculty represented by the Association for Higher Education hurtle toward a planned walkout Monday morning if a tentative agreement is not reached. Rich Wood with the Washington Education Association said the announcement "seems premature" with additional bargaining sessions slated through the weekend.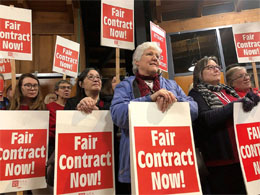 ► From the Redmond Reporter — Lake Washington School District office professionals authorize strike — Office professionals who work in the Lake Washington School District (LWSD) voted unanimously to authorize a strike Tuesday night at a general membership meeting held at Redmond High School. Members of the Lake Washington Education Support Professionals (LWESP) union voted to authorize the union's executive board to call a strike "in our fight for competitive pay and a fair contract," according to a release. "The timing of the strike will be determined by the executive board in consultation with the LWESP bargaining team."
ALSO at The Stand — Lake Washington school ESPs, bus drivers authorize strike
► In today's Yakima H-R — Sudden shutdown: Secret court motion offers no clues about Astria Regional closure — Astria started winding down inpatient services at Astria Regional Medical Center in Yakima on Thursday, and will cease operations there entirely within two weeks. The 463 employees who worked at Astria Regional were only told about the closure Wednesday, as were the unions who represent many of them. "We are as shocked as you are. We learned of Astria's plan just this afternoon when notified by their bankruptcy lawyer," wrote Sally Watkins, executive director of the Washington State Nurses Association, which represents more than 100 nurses at Astria Regional.
► In today's Yakima H-R — Astria Regional closure has ripple effects on region's health care providers
► From Q13 Fox — 1 killed in trench collapse at wind farm in Thurston County — According to the sheriff's office, two employees were working at the Skookumchuck Wind Energy Project when a trench collapsed on top of them. Crews rescued one person who was partially buried. The other person was completely covered and died.
PREVIOUSLY at The Stand (Oct. 1, 2019) — An economic boost… gone with the wind? — Unions say RES Americas is not delivering on the promise of good local clean-energy jobs at Skookumchuck Wind Energy Project. RES Americas refuses to communicate with local unions and is proceeding to hire non-union contractors on an accelerated construction schedule. And a recent report in the (Centralia) Chronicle notes that at the job site, "Washington license plates are few and far between."
---
BOEING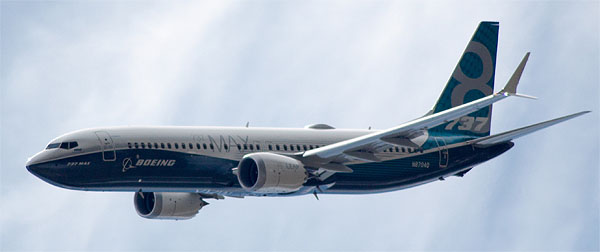 ► In today's Seattle Times — Boeing apologizes as internal memos reveal how workers spoke of deceiving regulators, airlines — Boeing released more than 100 pages of documents to Congress on Thursday detailing internal messages that reveal how, during certification of the 737 MAX, company employees spoke of deceiving international air safety regulators and Boeing's airline customers, and successfully fought off moves over several years to require anything but minimal pilot training for the new airplane. The documents also confirm that Boeing rejected a proposed system safety upgrade to the MAX on the grounds that doing so would add cost by triggering a need for all pilots to have flight-simulator training. Just this week, Boeing finally relented and is now recommending flight-simulator training for all pilots before the MAX returns to service.
► From Bloomberg — Boeing faces $5 billion tab on 737 Max simulator training — Boeing's costs would rise an estimated $5 billion if pilots need to get simulator training before flying the 737 Max, according to Bloomberg. That would nearly double the $5.6 billion that Boeing had committed to cover costs from last year's grounding of the jetliner.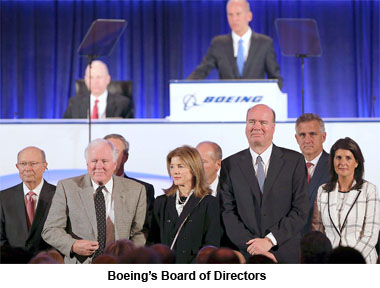 EDITOR'S NOTE — About 13 months ago — after the crash of a Lion Air 737 MAX — the bullish Boeing board voted to raise its dividend 20 percent and boost its stock buyback plan to $20 billion. As Michael Hiltzik of the Los Angeles Times recently wrote: "The most striking indication of the board's dereliction of duty isn't that the crashes and their underlying factors occurred in the first place, but that the directors didn't leap into action after the first crash, in October 2018, or immediately after the second, in March. That suggests that the Boeing board didn't view its responsibilities as extending beyond the company's bottom line to its other stakeholders – including the airlines as its direct clients and the flying public as its ultimate customers."
► From Reuters — China's bid to challenge Boeing and Airbus falters — Development of China's C919 single-aisle plane, already at least five years behind schedule, is going slower than expected, a dozen people familiar with the program told Reuters, as the state-owned Commercial Aircraft Corporation (COMAC) struggles with a range of technical issues that have severely restricted test flights.
► From BBC — Iran plane crash: Western powers suggest missile downed jet
► From the AP — Verified videos show plane in Iran struck before fiery crash
---
THIS WASHINGTON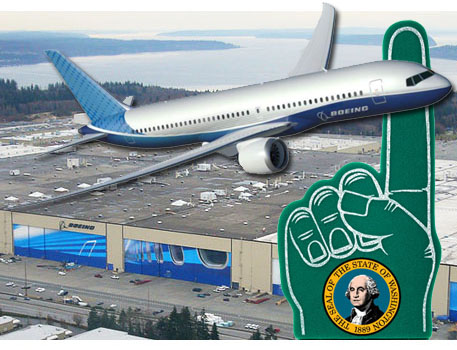 ► From KUOW — Inslee to Boeing: the next plane gets built in Washington or you lose — Gov. Jay Inslee says Boeing's next new airplane must be built in the state of Washington, or lawmakers could discontinue billions of dollars in tax incentives. "When it comes time, and we hope that it will, for Boeing to make the next airplane, the mid-market airplane, and I hope that time will come, the Boeing company is going to need to realize that they have been given a very, very generous benefit and we expect that airplane to be built in the state of Washington," he said. "And they need to be aware of that. And if they seek to maintain their favorable tax treatment we need to have that plane built in the state of Washington. And I hope they are aware of that."
► In today's (Longview) Daily News — High court upholds DNR denial of sublease for Longview coal dock — The state Supreme Court has upheld a state agency's denial of a sublease to Millennium Bulk Terminals, dealing yet another potentially fatal blow to the proposed Longview coal export dock.
► In today's Seattle Times — Inslee's budget priorities don't include K-12 education. Can anyone change that? — Missing from the legislative preview and Inslee's budget request is the $5.6 billion that a state work group thinks schools need to hire nurses, psychologists and other non-teaching staff — positions that districts rely on local levies to fill. Also absent: Increased funding for teacher salaries, homeless students, school construction and other spending priorities pushed by the state associations for parents, educators and school boards.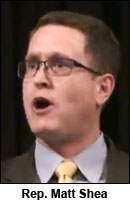 ► In today's Spokesman-Review — Calls for Shea resignation continue but House leaders don't have backup plan — Legislative leaders of both parties repeated their calls Thursday for Rep. Matt Shea to resign but did not agree on a next step if he continues to insist he won't. Gov. Jay Inslee also said the six-term Spokane Valley lawmaker should step down, contending voters in the district "need a full-time, functioning, effective person."
► In today's Seattle Times — Washington lawmakers vow to let Supreme Court public-records ruling stand this legislative session — Legislative leaders said Thursday that when they meet for the 2020 legislative session, they won't curtail the state Supreme Court's ruling that lawmakers must disclose documents under the Public Records Act.
► In today's Seattle Times — 'Please leave the chair.' Inslee makes Eyman a punchline after anti-tax activist interrupts Q&A.
► From Crosscut — Democrats did well in Washington in 2018. They look even stronger in 2020 (by Stuart Elway) — Washington Republicans begin this election year leaning into headwinds that are even stronger than usual.
---
THAT WASHINGTON

► From The Intercept — Under pressure from Democratic caucus, House leadership promises to bring pro-labor bill to floor — In an unusual show of frustration, 76 Democratic members of the House, led by freshmen serving in swing districts, sent a letter on Thursday to Speaker Nancy Pelosi, Majority Leader Steny Hoyer, and Majority Whip James Clyburn urging them to bring a popular and comprehensive labor reform bill to the floor for a vote. The Protecting the Right to Organize Act — or the PRO Act, as it's commonly referred to — passed the House labor committee on September 25, but progressives and union leaders were frustrated that it wasn't brought to the floor for a full vote before the holiday break… In response to a request for comment on the letter, a spokesperson for Hoyer said "Mr. Hoyer strongly supports the bill and looks forward to bringing it on the Floor before the President's Day district work period."
EDITOR'S NOTE — The members of Washington's delegation who signed the letter were Reps. Denny Heck, Pramila Jayapal, Rick Larsen, and Adam Smith. All seven Democrats from Washington are among the 218 co-sponsors of the legislation. The Senate version of the bill is sponsored by Sen. Patty Murray and co-sponsored by 40 senators, including Sen. Maria Cantwell.
► From Bloomberg — NLRB paves way for employers to ward off union emails — Employers can likely bar their employees from sending union-related emails without unlawfully discriminating against unions as a result of a pair of recent NLRB rulings, management attorneys said.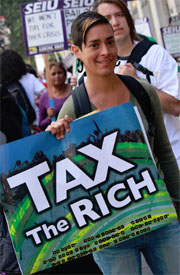 ► From Reuters — Majority of Americans favor wealth tax on very rich: Reuters/Ipsos poll — Among the 4,441 respondents to the poll, 64% strongly or somewhat agreed that "the very rich should contribute an extra share of their total wealth each year to support public programs" – the essence of a wealth tax. Results were similar across gender, race and household income. While support among Democrats was stronger, at 77%, a majority of Republicans, 53%, also agreed with the idea.
---
NATIONAL
► From Vox — A new study finds increasing the minimum wage reduces suicide — The evidence that minimum wage laws increase wages for employed people is pretty solid at this point. But four recent studies suggest another crucially important effect: They might save lives, too. The newest of the papers examined monthly data across the U.S. from 1990 to 2015 and estimated that a $1 increase in the minimum wage led to a 3.4 to 5.9 percent decline in suicides among adults with a high school education or less. The authors also estimated that over the 26-year period, a $1 increase in each state's minimum wage could have prevented 27,550 suicide deaths, or about 1,059 per year.
► In today's NY Times — The minimum wage is rising, but these workers are being left behind — Many workers are still scraping by with subminimum wages. They are mostly employees who rely on tips and are exempt from minimum wage rules. Under a New Deal-era federal labor law, employers are allowed to pay as little as $2.13 an hour — unchanged since 1991 — to about 2.6 million waiters, bartenders and others who get tips, so long as the total of their tips and wages meets the federal minimum.
EDITOR'S NOTE — In Washington state, there is no tip penalty. Workers who earn tips must be paid the state minimum wage, which is now $13.50 per hour.
---
T.G.I.F.
► Happy 75th birthday to Sir Roderick David Stewart! Having sold more than 120 million records worldwide — tying him with the likes of Fleetwood Mac and the Bee Gees — Rod Stewart is one of the best-selling music artists of all time. Back in 1993, Stewart reunited for the first time in 20 years with fellow Faces band member Ronnie Wood (also of Rolling Stones fame) for this memorable Unplugged… And Seated performance. Enjoy this clip.
---
The Stand posts links to Washington state and national news of interest every weekday morning by 10 a.m.
Short URL: https://www.thestand.org/?p=82823
Posted by
David Groves
on Jan 10 2020. Filed under
DAILY LINKS
. You can follow any responses to this entry through the
RSS 2.0
. Both comments and pings are currently closed.