Support Clark College strikers ● 2,800 jobs vs. $62M ● Trump's Happy Meal
Tuesday, January 14, 2020
---
LOCAL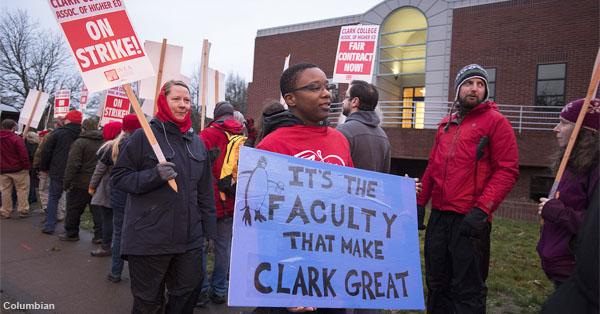 ► In today's Columbian — Clark College instructors strike at Vancouver school — Never in Clark College's 87-year history have faculty gone on strike. That changed Monday, as teachers took to the picket line before the sun rose. The Association for Higher Education, which represents more than 400 part- and full-time faculty at the Vancouver community college, is on strike until a deal can be made with the college over salaries.
ALSO at The Stand — Clark College faculty on strike for fair pay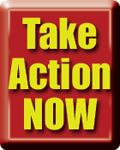 TAKE A STAND — All union members and community supporters are urged to email Jane Jacobsen, Paul Speer and the rest of the Clark College Board of Trustees and tell them to negotiate a fair contract that provides competitive, equitable pay for all faculty members. As the college's leaders, they have the power and responsibility to settle a fair contract. Please email them now!
JOIN PICKETERS — As the strike continues, all union members and community supporters are invited to join the CCAHE members on the picket lines outside Clark College at 1933 Fort Vancouver Way. There will be pickets every day Monday through Friday until there is a fair contract. The morning shift is from 8 a.m. to 2 p.m. and the evening shift is 4 to 6 p.m. Even if you can show up for a half an hour, come show support for Clark College faculty. Learn more here.
► In the Wenatchee World — Faculty union issues 'vote of no confidence' in WVC president — Wenatchee Valley College faculty members are calling on the Board of Trustees to replace WVC President Jim Richardson, saying he is responsible for the current financial crisis that has led to layoffs and staff furlough days.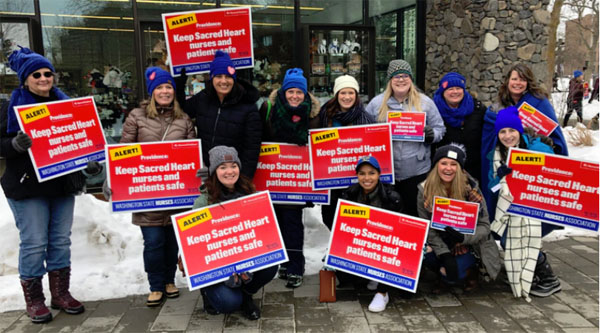 ► In the Spokesman-Review — Sacred Heart nurses win big with tentative agreement; members vote on ratification next week — Nurses at Providence Sacred Heart Medical Center say they got what they fought for after months of negotiations that nearly culminated in a strike earlier this month. If nurses ratify next week a tentative agreement reached this week between their union and Providence, Sacred Heart nurses will see no changes to their earned illness time or paid time off, as well as receive a 10% wage increase over the next three years. Full- and part-time nurses will also get a $2,100 bonus if and when the contract is ratified. Negotiations between nurses represented by the Washington State Nurses Association and Providence lasted 14 months. At the close of 2019, three unions representing more than 13,000 workers at Providence hospitals statewide united in their potential strike efforts.

Stevie Lynne Krone, a nurse and WSNA bargaining team member, said morale on the floor is high and that members feel empowered: "We were able to make history because we've never done this – have three unions working together. We were able to make history not only for ourselves but for the future. The biggest thing I could stress we are feeling is for nurses and health care workers, both old and new, we basically are able to say that solidarity does work, and together we can make a difference."
EDITOR'S NOTE — Win big! Form a union! Find out more information about how you can join together with co-workers and negotiate a fair return for your hard work. Or go ahead and contact a union organizer today!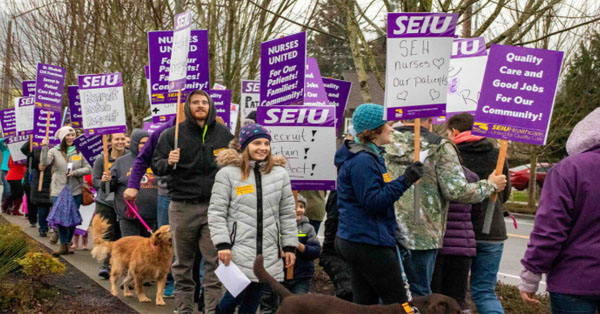 ► From the Patch — Enumclaw nurses reach tentative agreement on new contract — More than 100 Enumclaw nurses (SEIU Healthcare 1199NW) have reached a tentative agreement with St. Elizabeth hospital, winning better pay and avoiding cuts that were initially proposed. "With this victory we've shown that nurses at St. Elizabeth can stand together as a team and with our community — it's truly all for all," said Kelly Patton, a nurse at St. Elizabeth.
► In the News Tribune — Enumclaw nurses approve new contract amid flurry of labor actions in state — "The agreement includes safer staffing so patients receive the care they deserve, substantial raises to recruit and retain qualified staff, and none of the dangerous cuts that executives had originally proposed," according to SEIU 1199NW.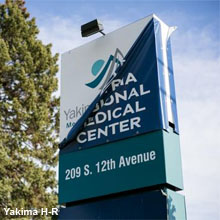 ► In today's Yakima H-R — Astria Regional nursing staff mourn loss of hospital, worry about impact on patients — The Washington State Nurses Association, which represents 140 nurses at Astria Regional Medical Center, filed an emergency motion Friday, asking a judge to reconsider the immediate closure of the Yakima hospital. The union said the hospital's closing would leave Yakima Valley with a significant gap in health care and that the union had not had an adequate opportunity to object. The judge granted the hearing, which will take place at 9:30 a.m. Tuesday. (Read more from WSNA.)
ALSO from SEIU1199NW — Standing in unity through the closure of Astria Regional Medical Center in Yakima
► From KUOW — Dozens of layoffs ahead as Seattle Times closes main printing plant — At one time, the massive plant in Bothell had close to 140 press operators printing papers around the clock. There are just 18 operators today running half of the presses in the middle of the night. One of them is Tyrone Love, a shop steward who has worked at the plant since 1996… Love's last day at the plant in North Creek will be March 2, the date Seattle Times said it will close for good.
---
BOEING
► In the Wichita Eagle — Spirit AeroSystems will lay off 2,800 workers after Boeing 737 MAX halt — Wichita's largest employer, Spirit AeroSystems, announced Friday that it will lay off 2,800 workers due to uncertainty about production of the Boeing 737 MAX. All 2,800 employees work in Wichita. The layoffs will be followed by further cuts later this month at the company's Tulsa and McAlestar, Okla., locations. Hourly workers will start leaving the company Jan. 22 followed by salaried employees, who start leaving the company Feb. 7.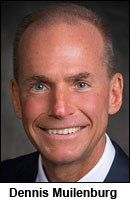 ► In the Washington Post — Boeing's departing CEO leaves with $62 million amid supplier layoffs — The airplane manufacturer announced Dennis Muilenburg's exit package on the same day one of the largest suppliers of the 737 Max sent layoff notices to roughly 2,800 employees.
► In the Seattle Times — Beyond pilot trash talk, 737 MAX documents reveal how intensely Boeing focused on cost — All the messages from the leaders of the MAX program "are about meeting schedule, not delivering quality," one employee laments in a 2018 email.
► From Bloomberg — Boeing thwarted Lion Air 'idiots' who wanted 737 Max training — Indonesia's Lion Air considered putting its pilots through simulator training before flying the Boeing 737 MAX but abandoned the idea after the plane-maker convinced them in 2017 it was unnecessary. Doing simulator training would have undercut a critical selling point of the jet: that airlines would be able to allow crews trained on an older 737 version to fly the MAX after just a brief computer course.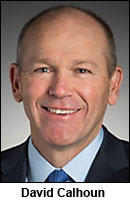 ► From Bloomberg — Boeing's new CEO takes reins with company's culture and strategy in doubt — The opening gambits by Boeing's new boss show the risks Dave Calhoun is willing to take to reset the deeply troubled planemaker. Calhoun, who officially took charge Monday, pushed to release humiliating internal messages last week even though they may darken public perception for years to come. He also was heavily involved in the decision to drop Boeing's long-held opposition to simulator training for MAX pilots, said people close to the company.
---
THIS WASHINGTON

► In today's (Everett) Herald — History made: Washington gets its first woman House speaker — On Monday's opening day of the 2020 legislative session the spotlight was trained on the House of the Representatives where Democratic Rep. Laurie Jinkins of Tacoma was sworn in as speaker, the first woman and the first lesbian to ever occupy the powerful post.
► In the Seattle Times — Here's what to expect from Laurie Jinkins — She's not going to push the House to pass more ambitious or progressive legislation unless her fellow House Democrats demand it. "When you become speaker, for me, that's about me not imposing my will on the caucus," Jinkins said. "That's about me hearing what the will of the caucus is and, when I think we may be going down a bad path or that we're missing a great opportunity, I do have to become an advocate and try to convince people."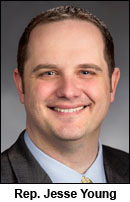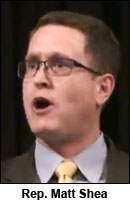 ► In the News Tribune — Gig Harbor legislator calls for GOP unity. He should be calling out domestic terrorism. (editorial) — Rep. Jesse Young (R-Gig Harbor) is calling for party unity among his fellow Republicans… (but) it seems clear the real motive behind his letter was to muster support for Rep. Matt Shea, a Spokane area lawmaker on the hot seat after an independent investigation unearthed troubling revelations related to domestic terrorism… This is a watershed moment for our state. There's no mistaking how it mirrors ugly divisions in the other Washington, where a president fights against impeachment while supporters rally to his defense under the banner of party unity. But if there's one thing that Republicans (and Democrats) should unite behind, it's giving no quarter to domestic terrorism.    
---
THAT WASHINGTON

► In today's Washington Post — Trump planning to divert additional $7.2 billion in Pentagon funds for border wall —  Trump is preparing to divert an additional $7.2 billion in Pentagon funding for border wall construction this year, five times what Congress authorized him to spend on the project in the 2020 budget. The Pentagon funds would be extracted, for the second year in a row, from military construction projects and counternarcotics funding.
PREVIOUSLY at The Stand (Sept. 5, 2019) — Trump's border-wall military cuts hit home at Naval Base Kitsap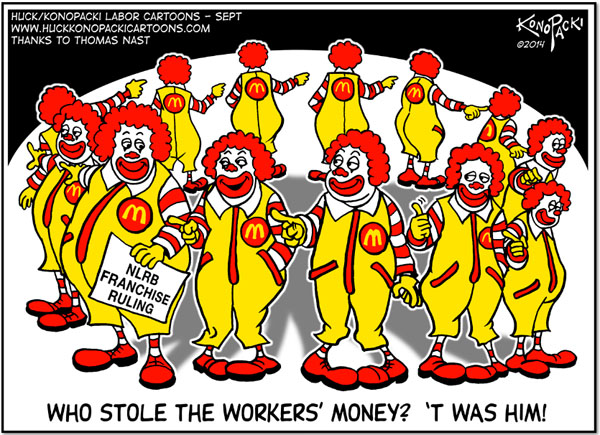 ► From HuffPost — Trump serves up another Happy Meal for the fast-food industry — The Department of Labor issued a rule on Sunday that makes it harder to prove that companies are responsible when individual franchise owners or contractors violate wage laws. The rule is set to go into effect 60 days after Sunday. The Trump administration's "joint employer" rule, as it's known, raises the bar for workers to prove that two employers are responsible for their working conditions. A worker at a franchised McDonald's store, for example, would therefore have a tougher time suing McDonald's ― as opposed to just the franchisee ― over minimum wage or overtime violations.
► In today's Washington Post — Trump's trade deal with China won't give many U.S. companies relief, as most tariffs will remain — Even as the White House celebrates the president's negotiating accomplishment, the "phase one" deal offers little relief for countless American businesses — including chemical makers, apparel retailers and auto parts manufacturers — that will still face the same punishing tariffs they have confronted for some time.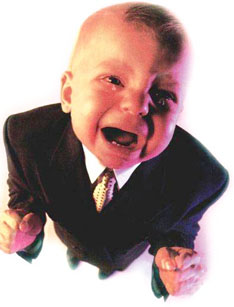 ► From The Hill — Big Pharma looks to stem losses after trade deal defeat — The powerful pharmaceutical industry is trying to cope with a rare loss in the North American trade deal now moving through the Senate. Drug companies are protesting the elimination of a provision that would have given them 10 years of market exclusivity for an innovative type of drug called biologics. That measure was dropped from the USMCA at the behest of House Democrats, who warned it could have locked in higher drug prices.
---
NATIONAL
► From the AP — CNN agrees to record $76M settlement over labor dispute — CNN has agreed to pay $76 million in backpay as part of a record settlement with the federal labor board after the cable television network terminated the contracts of unionized camera operators in 2003.
► In today's NY Times — WNBA makes 'big bet on women' with a new contract — The league and its players' union have agreed in principle on a new collective bargaining agreement that would nearly double the maximum salary and provide paid maternal leave.
---
The Stand posts links to Washington state and national news of interest every weekday morning by 10 a.m.
Short URL: https://www.thestand.org/?p=82859
Posted by
David Groves
on Jan 14 2020. Filed under
DAILY LINKS
. You can follow any responses to this entry through the
RSS 2.0
. Both comments and pings are currently closed.