Deal on HB 1888? ● Dems go PRO ● Jaime spins hard ● EGOT for Erivo?
Friday, February 7, 2020
---
STATE GOVERNMENT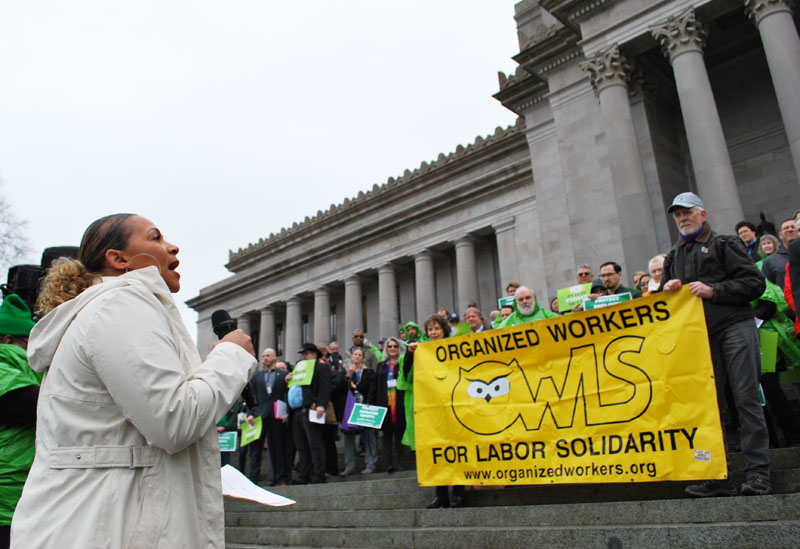 ► In today's Olympian — Media would retain access to employee birth dates under new version of bill — Journalists would continue to have access to the birth dates of state and local government employees under the state Public Records Act, but other people would not, under a bill that a House of Representatives committee is expected to vote on Friday… The agreement was reached on the same day that public-sector union members rallied on the steps of the Legislative Building to urge state legislators to approve the bill, expressing concern about identity theft, stalkers, and others who may want to target them at home. "We know in 2020 that if someone has your name and your birth date, they can easily get your home address and other private information. That's why we are demanding passage of HB 1888," April Sims, Secretary Treasurer of the Washington State Labor Council, AFL-CIO, told about 300 union members who gathered in the rain.
ALSO TODAY at The Stand — Hundreds rally to protect safety and privacy
► In the Tri-City Herald — Immigrants, refugees, and advocates come to the Capitol to make their voices heard — About 250 people from around the state flocked to Olympia for Immigrant and Refugee Advocacy Day on Wednesday.
► In the Spokesman-Review — House committee approves bill that would restrict immigration agents around courts — A House committee had approved a bill that would not allow civil arrests inside or near state court facilities unless it's to comply with federal law. Judges and prosecutors would not be allowed to collect immigration or citizenship status unless it is for a criminal investigation. Another proposal would require nonprofit health insurers to pay three percent of their excess reserves to fund premium subsidies and foundational public health services.
► From KNKX — Big insurers rack up billions in surpluses, now lawmakers may take a bite of the pie — One bill would allow the state's Office of the Insurance Commissioner to take into account surpluses when setting rates – something other states allow, including Oregon, but not Washington.
► In today's News Tribune — Washington lawmakers approve change to business tax to fund college affordability — The Legislature has passed a bill changing the business-and-occupation tax to increase funding for a new program to make college more affordable to students across Washington. Democratic House lawmakers Wednesday night approved SB 6492, 52 to 45. The measure, which has passed the Senate, now heads to Gov. Jay Inslee. If he signs it, the law would take effect April 1.
► In today's Seattle Times — House investigation finds former state Rep. Jeff Morris likely engaged in harassment and intimidation of staff — A Washington House-commissioned investigation in 2019 found that former state Rep. Jeff Morris likely violated personnel policies against harassment and intimidation with his behavior toward staff.
---
BOEING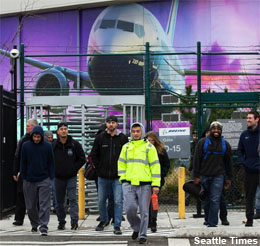 ► In today's Seattle Times — Facing 737 MAX crisis and other challenges, local aerospace suppliers hold tight, try to minimize layoffs — With production of Boeing's 737 MAX halted last month, hundreds of aerospace suppliers in Washington state are struggling to hold on and avoid layoffs, banking on private indications from Boeing that it hopes to restart ordering 737 parts next month. The smaller suppliers are the most vulnerable. With their income from Boeing slashed, they need to have cash on hand to keep going.
► From Bloomberg — Boeing fixing new software bug on MAX; key test flight nears — Boeing has discovered a new software problem on the grounded 737 MAX, but the company said the flaw won't set back the goal of returning the plane to service in mid-2020.
► From Quartz — Boeing's troubles mean Airbus should be soaring—here's why it isn't — While its 2019 orders far outstripped Boeing's, sales were still down from a year earlier. A combination of slowing economic growth, rising trade tensions, and self-inflicted problems that have prevented Airbus from capitalizing on its spot at the top.
---
LOCAL

► From Crosscut — How will the new hardline leader of the Seattle police union change its place in the labor community? — Before losing his job as president of the Seattle Police Officers Guild, Kevin Stuckey had spent his tenure cultivating a relationship with King County's broader labor community. Amid national tension between the pro-union progressive movement and law enforcement, the close ties have stood out. But Stuckey this week was swept aside by his own members, losing his bid for reelection in a landslide to a hardline replacement, Mike Solan. His loss leaves the future of the relationship with labor an open question.
---
THAT WASHINGTON
► In today's Washington Post — House passes bill to rewrite labor laws and strengthen unions — One of the most significant bills to strengthen workers' abilities to organize in the past 80 years passed the House on Thursday, the latest sign of momentum for the labor movement. The bill is unlikely to be taken up by the GOP-controlled Senate, but whatever the bill's fate, it highlights the growing push to reexamine the country's decades-old labor laws.

ALSO TODAY at The Stand — House passage of PRO Act hailed as 'win for workers everywhere' — Washington Reps. Suzan DelBene (D-1st) Rick Larsen (D-2nd), Derek Kilmer (D-6th) Pramila Jayapal (D-7th), Kim Schrier (D-8th), Adam Smith (D-9th) and Denny Heck (D-10th) all voted "yes," and Reps. Jaime Herrera Beutler (R-3rd), Dan Newhouse (R-4th) and Cathy McMorris Rodgers (R-5th) voted "no."
► From The Hill — House approves pro-union labor bill — The Protecting the Right to Organize Act (PRO Act) was approved in a 224-193 vote. The bill is said to be one of the most comprehensive labor packages put forth in years.
► From Government Executive — House votes to end controversial USPS payments for future retirees' health care — The House on Wednesday voted to end the U.S. Postal Service's mandatory payments toward the health benefits for future retirees, advancing a measure that would eliminate a controversial requirement the cash-strapped mailing agency has defaulted on for years.
EDITOR'S NOTE — All members of Washington's congressional delegation, both Democratic and Republican, voted to pass this labor-backed bill.
► From The Hill — Trump stirs trade concerns with new tariffs on metals — Trump is scheduled to enact new tariffs on steel and aluminum this weekend, a politically risky move that threatens to revisit trade tensions in an election year. "This latest action was significant because, explicitly for the first time, Trump was imposing new tariffs to help an industry suffering because of his previous tariffs," said one trade expert.
► In today's Washington Post — Secret Service has paid rates as high as $650 a night for rooms at Trump's properties — The payments contradict claims that the company charges the government little or nothing for overnight stays.
---
NATIONAL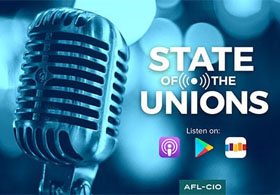 ► From the AFL-CIO — 'State of the Unions' podcast: A refugee's journey — Podcast co-host Tim Schlittner talks with AFL-CIO Executive Vice President Tefere Gebre (UFCW) about his journey from being an Ethiopian refugee to success in the labor movement in Orange County, California, and in Washington, D.C., and the people and institutions that helped him along the way.
► From The Guardian — 'I'm not a robot': Amazon workers condemn unsafe, grueling conditions at warehouse — Employees under pressure to work faster call on retail giant to improve conditions – and take their complaints seriously.
---
IMPEACHMENT
► From The Guardian — 'It was all bullshit': Donald Trump delivers mocking, vitriolic speech after acquittal — Trump delivered a triumphalist, mocking, vitriolic and vulgar speech in the White House on Thursday afternoon in celebration of the acquittal at his impeachment trial the night before in the U.S. Senate.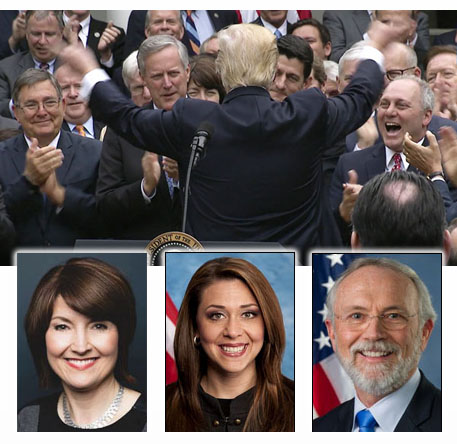 ► In today's Columbian — Rep. Jaime Herrera Beutler backs Senate vote, calling impeachment process flawed — "The House Democratic leadership should have pumped the brakes and taken the time to ask the tough questions and compel testimony from firsthand sources — full stop — so that we aren't questioning the results," Herrera Beutler said. "There are real questions Americans have about this and they didn't get answered, so I don't think we can trust the results."
EDITOR'S NOTE — Firsthand witnesses DID testify in the House. Those who didn't ignored House subpoenas because Trump ordered them to. We don't recall Rep. Herrera Beutler calling for the arrest of potential witnesses and compulsory testimony back when that was happening. Meanwhile, Senate Republicans could have heard from some of those firsthand witnesses, but voted to block their testimony. Once again, by adhering to assigned talking points, Rep. Herrera Beutler and her Republican colleagues from Washington state have chosen to put party politics before the country, the Constitution, and their oaths of office.
► In today's Washington Post — I believe the president, and in the president (by George Conway) — I believe the Senate is right to acquit the president. I believe a fair trial is one with no witnesses, and that the trial was therefore fair. I believe the House was unfair because it found evidence against him. I believe that if the president does something that he believes will get himself reelected, that's in the public interest and can't be the kind of thing that results in impeachment… I believe the president is truthful. I believe the Fake News media lied each of the 16,241 times they have said he has made a false or misleading claim.
---
T.G.I.F.
► It probably won't win — because you know, it's the Oscars® — but this inspirational anthem sung and co-written by Cynthia Erivo for the soundtrack of Harriet, the Harriet Tubman biopic, is an Academy Award nominee for Best Song. The Entire Staff of The Stand looks forward to seeing her perform it at this Sunday's awards show. "I really want it to feel like a moment," Erivo said. "I want people to be connected, I want people to feel uplifted!" Erivo already has an Emmy, a Grammy and a Tony, so if she wins, she becomes an EGOT, the grand slam of show business only achieved by 21 people so far. Good luck, Cynthia!
---
The Stand posts links to Washington state and national news of interest every weekday morning by 10 a.m.
Short URL: https://www.thestand.org/?p=83817
Posted by
David Groves
on Feb 7 2020. Filed under
DAILY LINKS
. You can follow any responses to this entry through the
RSS 2.0
. Both comments and pings are currently closed.