House passage of PRO Act hailed as 'win for workers everywhere'
WASHINGTON, D.C. (Feb. 7, 2020) –The U.S. House of Representatives on Thursday passed the Protecting the Right to Organize (PRO) Act, comprehensive labor legislation would strengthen workers' right to organize a union and bargain for higher wages, better benefits, and safer working conditions. The 224-193 vote was mostly along partisan lines with Washington Reps. Suzan DelBene (D-1st) Rick Larsen (D-2nd), Derek Kilmer (D-6th) Pramila Jayapal (D-7th), Kim Schrier (D-8th), Adam Smith (D-9th) and Denny Heck (D-10th) all voting "yes," and Reps. Jaime Herrera Beutler (R-3rd), Dan Newhouse (R-4th) and Cathy McMorris Rodgers (R-5th) all voting "no."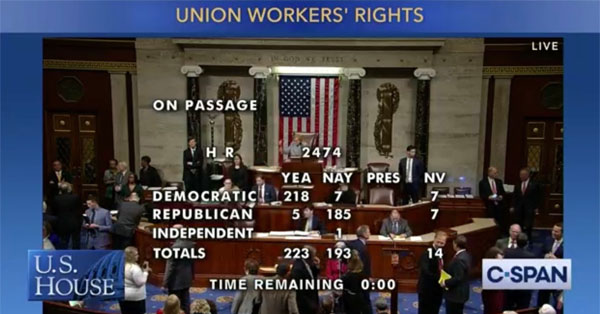 "Make no mistake, this is the most significant step Congress has taken to strengthen labor laws in the United States in 85 years and a win for workers everywhere," said AFL-CIO President Richard Trumka. "America's labor laws are no longer an effective means for working people to have our voices heard. The long overdue PRO Act will provide significant protections for workers exercising our legal right to form a union, a right that's been trampled on for decades by union-busting consultants and anti-worker politicians."
Rep. Pramila Jayapal and Sen. Patty Murray (D-WA), both lead sponsors of the PRO Act, hailed its passage on Thursday.
"I've heard from too many workers in my state who feel powerless when trying to bargain with their employers for better benefits, safe working conditions, and fair wages — so I'm thrilled the House has passed my PRO Act to help restore workers' power and improve their economic security," Murray said. "The next step is the Senate and I'm going to be pushing hard for Leader McConnell and Republicans to allow us to do our job and pass this bill for workers across the country."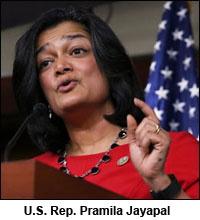 "We are ensuring and expanding workers' right to organize," Jayapal said on the House floor. "Let's be clear that benefits everybody. Unionized women earn wages that are 23 percent higher, Black workers' wages are 14 percent higher, and Latinx workers' wages are 21 percent higher than in non-unionized workplaces. Young unionized workers more often have health insurance, higher pay and a retirement plan. That's why workers' approval for unions keeps rising."
"The economy is working for corporations and the wealthy while wage growth for the average worker has remained largely stagnant," said Rep. Adam Smith. "This legislation will reestablish the conditions necessary for restoring fairness to the economy."
Specifically, the PRO Act would:
●  Establish penalties on predatory corporations that violate workers' rights, and combat misclassification of workers as supervisors and independent contractors.
●  Strengthen workers' right to strike for basic workplace improvements, including higher wages and better working conditions.
●  Create a mandatory mediation and arbitration process to ensure corporations and newly formed unions reach a first contract.
●  Authorize unions and employers to negotiate agreements that allow unions to collect fair-share fees that cover the costs of representation.
●  Streamline the National Labor Relation Board's (NLRB) procedures to secure worker freedoms and effectively prevent violations.
●  Protect the integrity of union elections against coercive captive audience meetings.
Short URL: https://www.thestand.org/?p=83828
Posted by
David Groves
on Feb 7 2020. Filed under
NATIONAL
. You can follow any responses to this entry through the
RSS 2.0
. Both comments and pings are currently closed.