AFGE urges Congress to protect Defense workers' union rights
The following is from the American Federation of Government Employees (AFGE):
WASHINGTON, D.C. (Feb. 20, 2020) — The American Federation of Government Employees is urging members of Congress to protect the rights of Department of Defense workers to join a union after President Trump authorized DoD to end collective bargaining wherever it sees fit, citing absurd reasons like flexibility and security — as if workers having a voice in their life at work is a national security threat.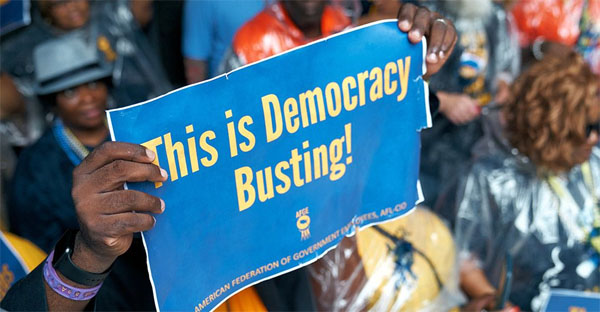 Trump's Jan. 29 memorandum authorizes the Secretary of Defense to eliminate collective bargaining in DoD and to delegate such authority to any Senate-confirmed official of the Department of Defense.
"The substance of this memorandum is unprecedented and is clearly meant not as an effort to protect national security, but as an instruction to carry out the administration's ongoing effort to undermine federal sector collective bargaining," AFGE said in a letter to members of Congress.
The fact is public sector unions have existed in DoD for nearly 60 years, over several administrations of different parties, during the courses of many international conflicts and national emergencies. In all cases, the civilian workforce has proven to be agile, willing, and able to adapt quickly to support the warfighter and meet mission needs. In fact, the presence of unions in DoD has actually benefited national security.
Unionized law enforcement civilian employees, for example, have played an integral role in foiling terrorist attacks, and placing their lives at risk to protect members of the military and their families, such as occurred at Fort Hood.
The unionized workforce at Rock Island Arsenal during Operation Iraqi Freedom worked with management to provide the combatant commanders needed armor kits for vehicles, which were completed and on a plane within one week. A similar project took private industry two months to complete.
Unions identify safety and health hazards in the workplace, which is crucial to DoD's mission.
Congress as recently as the FY 2016 and FY 2017 National Defense Authorization Acts specifically recognized the importance of continuing collective bargaining agreements during any departmental reorganization of the cyber-security mission.
"There are few missions more important to national security than the cyber-security mission. That Congress explicitly recognized the importance of continuing existing collective bargaining agreements for this mission should apply equally to other missions within the Department," AFGE added.
Ending collective bargaining at DoD would put national security at risk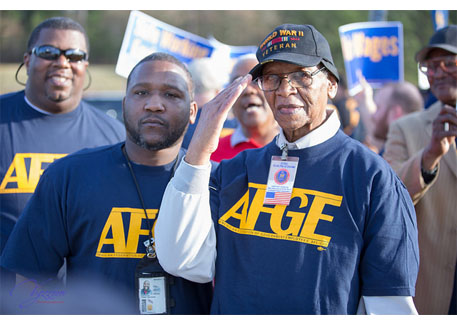 Unions play a crucial role in protecting national security, including making sure DoD employees have enough resources they need to do their jobs.
Unionized nurses, for example, ensure adequate quality of care to military members and their families. Staffing shortages that increase the risk of medical errors are more likely to be covered up by management in the absence of the protection afforded by unionized medical professionals who work 12-hour shifts and are required to be on call in short-staffed facilities.
"We are talking about our active duty soldiers who need to be prepared for readiness to deploy. We're talking about their families. So, while military personnel are overseas fighting our wars and protecting our lands, their families are being subjected to these types of environments," said Felicia Sharp, the newly elected Defense Conference (DEFCON) chair. "The union is here to ensure that not only is management doing appropriate practices in the workplace but also making sure that they are safe for our employees and the people that they are taking care of."
Unions make sure that employees have the training they need to do their jobs.
A union contract for the Air Force Materiel Command (AFMC), for example, specifies that aircraft mechanics must be adequately trained before being allowed to work on aircraft. This is especially important due to DoD's chronic staffing shortages. The Trump administration's plan to cut even more staffing at DoD this year would make matters even worse — and without a union enforcing the training provision of their contract, unskilled aircraft mechanics could make dangerous mistakes, putting our soldiers' lives at risk.
"Without us, they're not going to have time to train employees. It will be on the job training, and it would put that aircraft at risk," said Troy Tingey, president of Council 214 representing AFMC and Air Force Special Operations Command employees.
The same is true for other occupations supporting and protecting our troops, including civilian security personnel guarding military bases, police officers, firefighters, depot maintenance technicians, and many others.
Tingey said if employees don't have the union to turn to in order to voice their concerns or make sure they have the resources they need to do their jobs, morale would plummet and people would leave, making DoD's understaffing problem worse.
High turnover hurts military readiness as it takes months or even years to hire, train, and get new employees up to speed. DoD would be wasting taxpayers' dollars by hiring and training people just to see them leave within months.
Against public interest
Sharp said attacking collective bargaining at DoD is against the public interest and not cost efficient because most of the directors of DoD facilities are active duty members who move around every two years. Without a labor-management contract in place, this constant shift would create chaos and instability – the last thing the department tasked with protecting national security wants.
"A union contract carries things over and standardizes workplace arrangement. That is the foundation of why collective bargaining is in the public interest," Sharp added.
AFGE is working with members of Congress to prevent this dangerous policy from being implemented.
Sen. Susan Collins (R-Maine) recently spoke at our legislative conference and disputed President Trump's reasoning that collective bargaining rights conflict with the Pentagon's need for "maximum flexibility."
"The work done by AFGE members is important and you have earned the right to be treated with fairness, respect, and gratitude," Collins said. "Please know that I will work with my colleagues from both sides of the aisle to protect the right of DoD civilian employees to engage in collective bargaining."
Short URL: https://www.thestand.org/?p=84240
Posted by
David Groves
on Feb 20 2020. Filed under
NATIONAL
. You can follow any responses to this entry through the
RSS 2.0
. Both comments and pings are currently closed.