Voters back our schools ● GOP aspirations ● Americans STRIKE!
Wednesday, February 12, 2020
---
SCHOOLS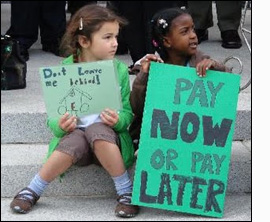 VOTERS BACK SCHOOL LEVIES, BUT MAJORITIES AREN'T ENOUGH TO KEEP OUR SCHOOLS SAFE
Washington voters are once again strongly supporting public schools. According to early results, voters have passed all school district operating levies in Chelan/Douglas, Clallam, Grays Harbor, Jefferson, King, Skagit, Spokane (but very narrowly in Central Valley), Thurston, and Walla Walla/Columbia and Yakima counties (though the City of Yakima is a nail-biter). Operating levies also passed in Bremerton, Vancouver and Washougal. In Whatcom County, they passed in Bellingham, Blaine, Lynden, Meridian, Mount Baker and Nooksack; but failed in Ferndale. In Lewis County, levies passed in Adna, Chehalis, Morton and Pe Ell; but failed in Centralia. In Cowlitz County, they passed in Longview, Kelso, Castle Rock and Toutle(!), but failed in Kalama and Woodland.
Bellevue appears to have approved it's largest school construction bond ever, as have a handful of other school districts across the state.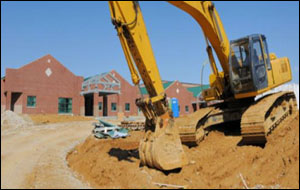 But once again, because of the extraordinary 60% supermajority threshold for school construction/renovation bonds, too many were falling short, including in Marysville (59.6%), Mukilteo (59.3%), South Aberdeen (58.42%), Elma (58.6%), Ridgefield (58.4%), Rochester (54.6%), Edmonds (54.1%), and Arlington (51.7%). Why do we let a minority of conservative anti-government voters control whether we allow our school facilities to crumble into inefficient, unsafe conditions? It's past time for the Legislature to end this super-majority requirement for bonds. It's holding our education system back!
---
LOCAL
► In today's Yakima H-R — From nursing to emergency medicine, educational institutions feel the effect of Astria Regional's closure — On-site training is a critical part of medical education, and the closure of Astria Regional tightens local capacity for clinical rotations and residencies.
► From the AP — Commissioner: Officials overzealous in Iranian border stops — U.S. Customs and Border Protection Acting Commissioner Mark Morgan said Tuesday that border officials in Washington state "got a little overzealous" when they detained Iranian and Iranian-American travelers at the U.S.-Canada border last month.
EDITOR'S NOTE — Ya think? Detained for as long as 12 hours. Just a little?
---
BOEING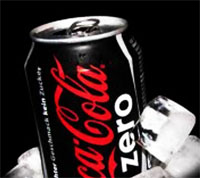 ► In today's Seattle Times — In an all-time low, Boeing wins zero orders and delivers just 13 jets in January — While January is typically a very slow month for both Airbus and Boeing as they take a breath after the always-frenetic pace of jet orders and deliveries at the end of the year, this opening month for 2020 — in the midst of the 737 MAX crisis — is a new low. Airbus by comparison had a big order month, winning net orders for 274 commercial aircraft.
---
THIS WASHINGTON

► In today's Tri-City Herald — State reverses course on some nasty Hanford nuclear waste. Alternative was worse. — After a bitter fight nearly 15 years ago to exclude Hanford from a new federal law for reclassifying some radioactive waste, the state of Washington now sees that law as the best alternative to ensure adequate cleanup of the nuclear reservation.
► In today's (Everett) Herald — New House speaker is hands-off when it comes to committees — Are you ready for long caucuses followed by longer floor sessions in the House and Senate? That's what in store for the Legislature in the coming week. Both will be in full bill-passing mode ahead of a Feb. 19 deadline to kick legislation to the opposite chamber.
---
THAT WASHINGTON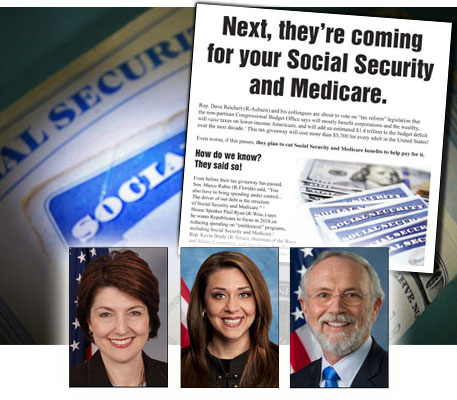 ► From the AFL-CIO — The Trump budget: The other shoe drops — The president proposes to cut $2 trillion from safety net programs, which is about the same amount as the cost of the 2017 tax bill. His budget plan would cut $1 trillion from Medicaid and subsidies for the Affordable Care Act. The Labor Department gets whacked by $1.3 billion. Adjustment assistance for people who lose their jobs to imports is slashed by nearly $400 million, and a program to help U.S. manufacturing companies create jobs is eliminated. The budget plan also eliminates subsidized student loans and the public service student loan forgiveness program.
EDITOR'S NOTE — Told you so.
► From Politico — Republican Senate Budget Committee chair won't hold hearing on Trump budget — Senate Budget Chairman Mike Enzi said he will not hold a hearing on Trump's $4.8 trillion budget, warning that it will turn into a "diatribe against the president." Trump's budget for fiscal year 2021 offered a conservative outline for spending levels — but is merely an aspirational document.
EDITOR'S NOTE — You see, Republicans merely aspire to cut Social Security, Medicare, Medicaid, Hanford cleanup, food assistance and the rest of the social safety net. These cuts are needed to permanently preserve the billions of dollars in tax breaks for international corporations and the 1% wealthiest Americans. But don't worry. It's just aspirational.
---
NATIONAL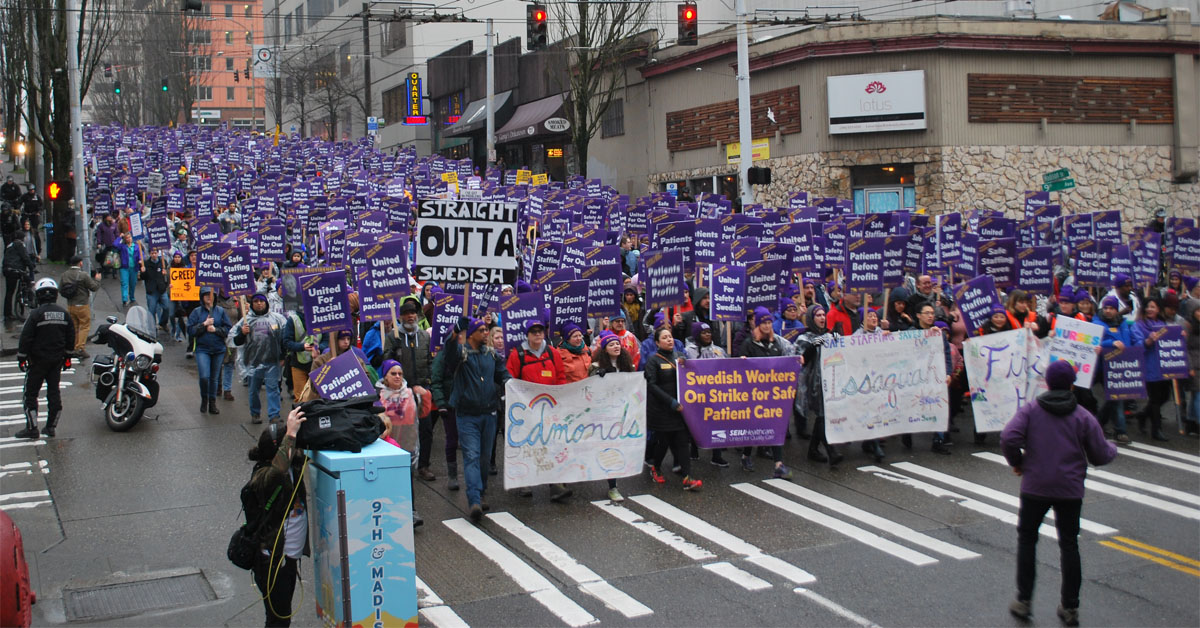 ► From the AFL-CIO — 2019 strike numbers represent a sea change in America — "In 2019, nearly half a million workers sacrificed the comforts of today for the progress of tomorrow," said AFL-CIO President Richard Trumka. "Working people — completely fed up with an economic and political system that does not work for us — are turning to each other and using every tool at our disposal to win a better deal. Because of the courage of every worker who said enough is enough, we all stand on a stronger foundation today. Solidarity works. And we're just getting started."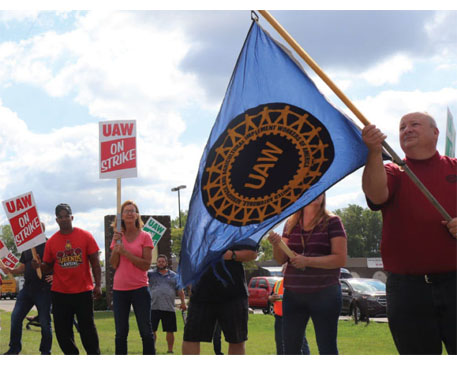 ► From HuffPost — American workers are going on strike in huge numbers — The U.S. saw 25 work stoppages involving at least 1,000 workers last year, according to data released Tuesday by the Bureau of Labor Statistics. That was the most of any year between 2010 and 2019, a time span in which the average was 15. The number of strikes is largely a reflection of the tight labor market, which has shifted leverage from employers to workers, coupled with the relatively slow growth in wages. Unions feel more emboldened to carry out strikes when many companies can afford to meet their demands and may have a difficult time finding replacement workers due to low unemployment.
► From WFUV — Two big teachers unions call for rethinking student involvement in lockdown drills — AFT President Randi Weingarten says making schools "safe and welcoming" is her membership's "number one priority." "Those terrifying and traumatizing drills — they have no basis in fact and they harm more than they have ever helped."
► In the Financial Times — Uber fails to block California gig economy law — Uber has failed in an attempt to block a new Californian law that seeks to give gig economy workers stronger employment rights.A judge in Los Angeles disagreed with Uber's claim that it and delivery company Postmates, a co-plaintiff, were being unfairly targeted by Assembly Bill 5, which came into force at the start of the year. The companies had sought a preliminary injunction preventing AB5's enforcement while it is being challenged in the courts.
► From the New York Intelligencer — Virginia Democrats kill pro-union bill after learning CEOs oppose it — Last week, its General Assembly — now under Democratic control — passed a bill establishing a right to collective bargaining for Virginia's public-sector employees. But the right-to-work repeal did not fare so well. It lost support after a fiscal estimate, based largely on a survey of CEOs, predicted it would cost the state millions of dollars.
---
The Stand posts links to Washington state and national news of interest every weekday morning by 10 a.m.
Short URL: https://www.thestand.org/?p=83973
Posted by
David Groves
on Feb 12 2020. Filed under
DAILY LINKS
. You can follow any responses to this entry through the
RSS 2.0
. Both comments and pings are currently closed.