Enticed at CWU ● Boeing asks to pay more taxes ● Cut off DINOs' dollars
Thursday, February 20, 2020
---
LOCAL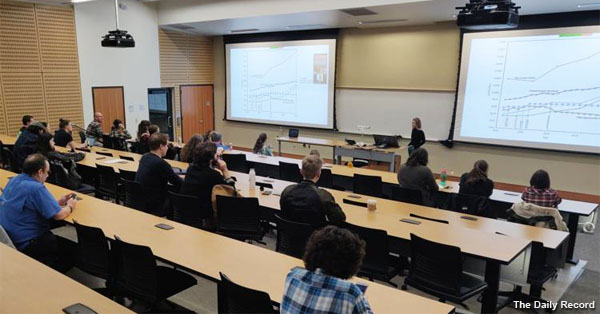 ► In today's Ellensburg Daily Record — Central Washington University grad students talk unionizing — Around 20 interested graduate students gathered in CWU's Discovery Hall on the President's Day holiday to discuss organizing to improve their compensation as teachers assistants. The students heard from two representatives who had gone through a similar process at the University of Washington. Dan Hart from the Union of Academic Student Employees and Postdocs (UAW 4121) said the process netted the students he represents a 50% pay raise, along with year-long health insurance with zero premiums and zero deductibles. For CWU grad assistants, those prospects are enticing.
EDITOR'S NOTE — Does that sound enticing to you? Get more information about how you can join together with co-workers and negotiate a fair return for your hard work. Or go ahead and contact a union organizer today!
► In today's News Tribune — Federal agency with more than 300 workers moving headquarters to Tacoma from Auburn — On Wednesday, the City of Tacoma announced that U.S. General Services Administration Northwest/Arctic Regional Headquarters would be moving its offices from Auburn to the Columbia Bank Center, 1301 A St. in Tacoma. Mayor Victoria Woodards issued an official welcome to the agency and the 320 existing jobs it is moving to the city.
► In today's Olympian — Intercity Transit ridership grows 20 percent in first month of zero-fare bus service — IT's ride-the-bus-for-free service took effect Jan. 1.
► In today's Bellingham Herald — Major investment could mean 40 more jobs for Bellingham waterfront manufacturer — A solar panel company's multi-million dollar investment in its Bellingham operations could mean an additional 20-40 jobs.
► In the NW Labor Pres — Union volunteers help enforce laws against construction wage theft on Multnomah County projects — On Jan. 21, the Multnomah County Commission heard a first report back about a pilot program in which union and community volunteers help County officials police construction work sites to make sure public works contractors are obeying labor laws, such as paying prevailing wage and overtime, not exceeding the mandated apprentice-to-journeyman ratio, and not misclassifying construction workers into lower-paid job classifications.
---
THIS WASHINGTON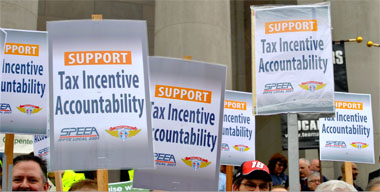 ► In today's Seattle Times — Boeing may give up its major Washington state tax break to avoid European tariffs — Two state legislators on Wednesday introduced bills in the Senate and House that would remove the main aerospace tax break passed 16 years ago to benefit Boeing. The dramatic shift will help resolve — to Boeing's advantage — an international trade dispute at the WTO and avert the potential for the European Union to impose retaliatory trade tariffs that could affect not only sales of airplanes but also the state's agricultural products. In a statement, Boeing said "we fully support and have advocated for this action."…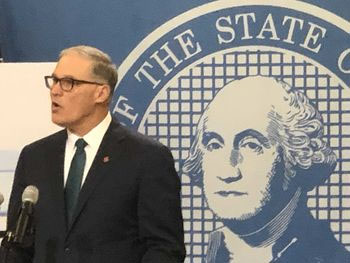 One wrinkle is that the bills call for a process that could reinstate the tax incentives if the U.S. and EU come to an agreement that settles their trade dispute and allows some subsidies. Gov. Jay Inslee made clear Wednesday that this possibility of restoring the tax breaks after such a trade deal is not something Boeing can take for granted. Unions and others have sharply criticized how the aerospace tax incentives, while intended to preserve Boeing jobs in Washington, did not commit the company to any employment levels. Said Inslee: "Lawmakers and I have discussed this and we agree today's bill is just a starting point. I will be working with the company, its machinists, engineers and others to get this done in a timely fashion."
► From the AP — Revenue forecast brings good news for Washington lawmakers — State revenues look to increase by about $606 million more than expected through the middle of the current two-year budget cycle that ends mid-2021. The state is projected to have about $4.1 billion in total reserves in that time frame. About half of the revenue increase was due to an unexpected increase in estate taxes.
► In today's (Everett) Herald — Rising revenues may be a problem for Democratic leaders — We'll get a better idea Monday of how leaders of the majority party in each chamber wants to expend each of those dollars. That's when supplemental budgets are due out and the conversation gets underway among legislators.
► From KIRO 7 — Lack of funding for ferry worries Anacortes — The Elwha ferry will be retired from service if the state Legislature cuts funding for it, a move that would impact the Anacortes to Sidney, British Columbia, route and further strain the Washington State Ferries system.
► In today's Olympian — Affordable housing bills remain alive in Legislature — Cities would have to allow up to two accessory dwelling units on all lots with a single-family house, duplex, triplex, fourplex, rowhouse, townhome, or apartment building under a bill that the Washington state Senate approved Wednesday.
► In today's Olympian — Bill to restore felons' voting rights faster dies on Senate floor — A bill that would make felons automatically eligible to vote once they are released from state prison died on the Senate floor Wednesday after a rancorous debate.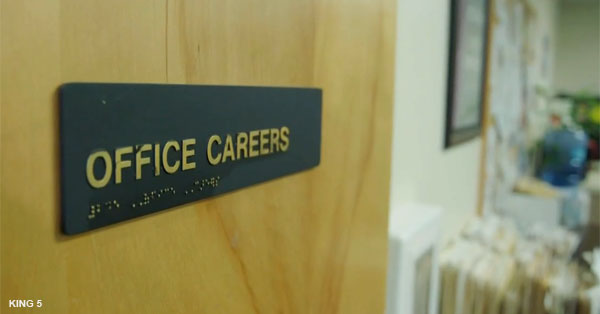 ► From KING 5 News — Judges slam Washington's use of unaccredited school to retrain injured workers — Injured workers, cut off from their benefits after attending a questionable online school paid for by the state, have won their appeals 100% of the time.
---
BOEING
► From KING 5 News — Exclusive: Boeing's new CEO talks transparency and issues facing 737 MAX — Boeing's new CEO Dave Calhoun talks about the latest issue facing the 737 MAX and the company's ongoing mission to regain the public's trust.
---
THAT WASHINGTON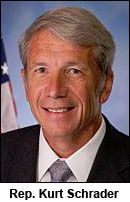 ► From Politico — CWA tells DCCC to cut off House Democrats who voted against labor bill — The Communications Workers of America told House Democrats Tuesday to deny campaign funds to the seven Democrats who voted against final passage of the Protecting the Right to Organize (PRO) Act, saying the seven House Democrats "voted against a core and fundamental principle of the Democratic Party." They are Reps. Stephanie Murphy of Florida, Lucy McBath of Georgia, Kendra Horn of Oklahoma, Kurt Schrader of Oregon, Joe Cunningham of South Carolina, Henry Cuellar of Texas and Ben McAdams of Utah.
► From KUOW — Report: Most Americans (wrongly) think the citizenship question is still on the census — A new report by the Pew Research Center shows that 56% of surveyed adults thought they would be asked about their citizenship on the 2020 Census. They won't be. That's because the U.S. Supreme Court struck that question from the survey in a ruling last year.
► In today's NY Times — When Donald Trump is the law (editorial) — If there is anything useful to draw from Trump's degradation of the rule of law and the powers of his office, it's that he is exposing a critical vulnerability in the Constitution's design, which anticipated presidents behaving badly, but not this badly. To be fair, the founders did include two backstops to guard against a lawless chief executive: One is impeachment. The other is a quadrennial election.
---
NATIONAL
► From The Hill — Kickstarter union seen as breakthrough for tech activism — The decision by employees at crowdfunding company Kickstarter to unionize is a historic first in the tech industry, highlighting the growing trend of worker activism in Silicon Valley. Kickstarter staff on Tuesday became the first white-collar tech workers to unionize, the culmination of more than a year of organizing.
EDITOR'S NOTE — Join the movement. Get a union! Find out more information about how you can join together with co-workers and negotiate a fair return for your hard work. Or go ahead and contact a union organizer today!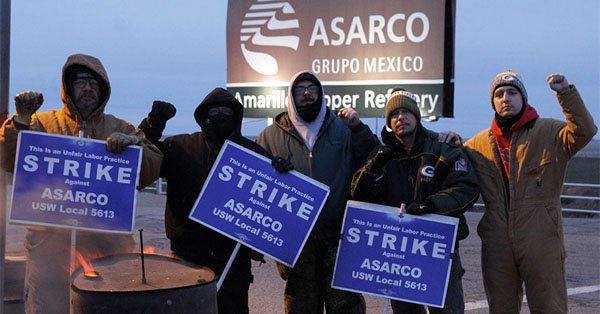 ► From the Texas Observer — In Amarillo, copper workers' strike enters 4th month with no end in sight — On a normal day, the men might be working at the refinery, turning 2,000-degree molten metal into thick slabs and coils suitable for manufacturing. Instead, for four months, they've taken shifts standing along that highway, cheering as passing tractor-trailers honk in support, or jeering as a few colleagues arrive to go to work. In the Republican stronghold that is the Texas Panhandle, these are union workers, and they're on strike.
► From WAMU in Washington, DC — Union reaches TA with Giant as Safeway negotiations continue — UFCW Local 400, representing thousands of Giant and Safeway workers in the region, has reached a tentative contract agreement with Giant late Tuesday night, after more than five months of negotiations. But the union says it remains far apart from Safeway in negotiations, and could vote on March 5 to authorize a strike.
► From Forbes — What went right with the Chicago Laborers' Fund? Another multiemployer pension case study — Time for some good news, for a change, or, rather, a bit of a case study with a multiemployer plan that is not headed toward insolvency, and is in fact in the "green zone" that designates healthy plans.
---
The Stand posts links to Washington state and national news of interest every weekday morning by 10 a.m.
Short URL: https://www.thestand.org/?p=84237
Posted by
David Groves
on Feb 20 2020. Filed under
DAILY LINKS
. You can follow any responses to this entry through the
RSS 2.0
. Both comments and pings are currently closed.