Where pro-worker legislation stands at the State Capitol
Minimum train crew sizes, other pro-worker bills approved before cutoff


UPDATE (March 9, 2020) — Friday was the cutoff for bills to pass both houses of the Washington State Legislature. Among the bills that beat the deadline and passed Friday were long-sought legislation to establish minimum train crew sizes and important legislation on housing affordability. (See the "new" updates below to see the bills that passed Friday.)
The legislative session is schedule to end this Thursday. Still in question is whether lawmakers will include any accountability language in the legislation to end the aerospace tax breaks at Boeing's request. It's not too late to contact your legislators and urge them to include strong accountability language on jobs and investment in Washington state as part of any "snapback" provision in HB 2945 and SB 6690.
---
(March 6, 2020) — ESSB 5457, reducing "bid shopping" by listing more subcontractors in bids for major public works projects, passed the House on Thursday. The Domestic Workers Bill of Rights passed the Senate, but it was amended to exclude au pairs from discrimination protections. (?!) Also passing Thursday were racial equity bills to establish the Washington State Office of Equity and to improve access to Temporary Assistance for Needy Families (TANF).
---
(March 5, 2020) — On Wednesday, the Public Employee Privacy bill (HB 1888) passed the Senate and now heads to the governor's desk for signature. Also Wednesday, SB 6217, authorizing the Port of Seattle to raise wage standards for airline catering workers at Sea-Tac Airport, passed the House.
---
OLYMPIA (March 4, 2020) — Monday was the cutoff deadline for bills to advance from policy and fiscal committees in their opposite house to their respective Rules committees. And this Friday is the deadline for those bills to get floor votes in the opposite house — except for measures necessary to implement the budget. This short 60-day session is scheduled to end next Thursday, March 12, so the action is fast and furious at the State Capitol right now.
Here is a status report on the legislation that was listed in the 2020 Shared Prosperity Agenda of the Washington State Labor Council, AFL-CIO, and/or covered here at The Stand. Click on the bill numbers to check their very latest status. Also, please be aware that there are plenty of other bills not listed here that are supported (and opposed) by the WSLC and its affiliated unions.
Call the Legislative Hotline at 1-800-562-6000 to leave a message for your state legislators in support of these important bills.
---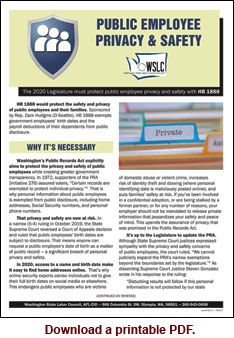 PUBLIC EMPLOYEE PRIVACY & SAFETY (PDF) — Our state has robust public disclosure laws, and that's a good thing. But it exposes the personal and financial information of public workers to scam artists. HB 1888 takes common sense steps to safeguard personal data—like birth days and data that reveal addresses—to protect public workers' privacy and safety.
HB 1888 was amended to exempt birth days from disclosure, but allow media to retain access. The amended version passed the House 91-7 and passed Senate 36-10 on Wednesday.
HEALTH SYSTEM TRANSPARENCY (PDF) — As our state continues to promote access to affordable quality health care, we lack the information we need to do so. Actions of health systems are complex and too often hidden. HB 2036 creates more transparency to provide oversight and accountability for investments in health care.
HB 2036 was amended and passed the House 56-42. The amended version passed the Senate Health & Long Term Care, and appeared to pass the Ways & Means Committee on a voice vote on Monday "subject to signatures." But when committee members signed the boards to make that vote official, two Democratic Sens. Mark Mullet and Kevin Van De Wege joined all committee Republicans in voting "no," and Sen. Christine Rolfes did not vote, so the bill failed to advance.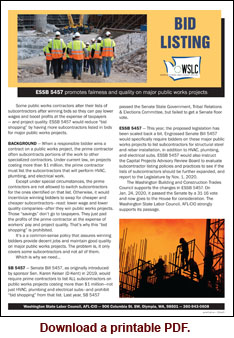 BID LISTING (PDF) — Some public works contractors alter their lists of subcontractors after winning bids so they can pay lower wages and boost profits at the expense of taxpayers — and project quality. ESSB 5457 would reduce "bid shopping" by listing more subcontractors in bids for major public works projects.
ESSB 5457 passed the Senate 31-16, and passed the House 97-0.
CANNABIS WORKPLACE STANDARDS (PDF) — As the cannabis industry grows in our state, lawmakers should take steps to ensure that this industry promotes and supports workers and our communities. HB 2361 / SB 6393 would establish licensing guidelines that support cannabis businesses that uphold strong standards — like a living wage, health care, workplace safety, community engagement, social equity and a right to organize. Its passage would be good for workers, families, communities and our state's economy.
SB 6393 advanced from the Senate Labor & Commerce, but failed to advance from the Ways and Means.
WORKER PROTECTION ACT (PDF) — We have many great workplace protections—wage and hour, equal pay, health and safety, and anti-discrimination laws. But enforcement agencies often have years-long backlogs. HB 1965, the Worker Protection Act, creates a pathway for workers to blow the whistle when current laws are violated, while generating resources for stronger state enforcement.
HB 1965 was pulled from House Rules, but failed to get a floor vote before Wednesday's cutoff.
HEALTHY FAMILIES, HEALTHY COMMUNITIES

AFFORDABLE HOUSING — Housing affordability is a statewide crisis for workers in urban and rural communities, and for first time buyers and renters alike. The WSLC will support strategies to increase housing stock, to adopt smart land-use standards to promote housing options, and to support tenants burdened by extreme rental costs. HB 1590 would allowing a local sales and use tax for affordable housing to be established by a councilmanic authority.
HB 1590 passed the House 52-46, and passed the Senate 27-21.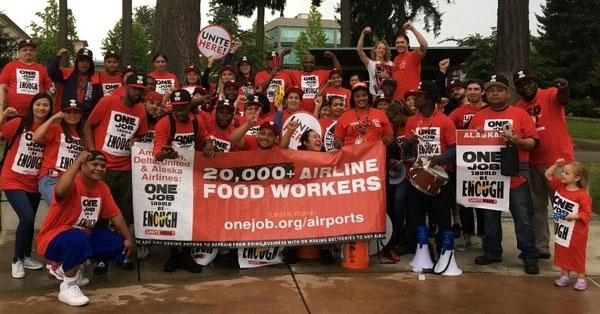 AIRPORT LABOR STANDARDS — About 68 percent of airline catering workers at SeaTac Airport earn less than $16.34, the wage required of many other airport employers by the City of SeaTac. While airlines and their subcontractors have been unwilling to address worker concerns, UNITE HERE Local 8 and the Port of Seattle are promoting SB 6217 to help tackle the crisis of low wages and inequality among airport workers. It would authorize the Port of Seattle to raise wage standards for airline catering workers to equal those of other transportation and hospitality workers in the City of SeaTac.
SB 6217 passed the Senate 33-15 and passed the House 58-39.
BUY CLEAN, BUY FAIR — Through construction contracts, Washington state funds billions of dollars of infrastructure per year to improve our roads and bridges, and to build public facilities. However, much of the materials used in these projects are produced in places without quality environmental standards, adding toward our climate crisis. HB 2744 would promote the purchase of building materials manufactured here in Washington under some of the best environmental standards in the world.
HB 2744 passed the House State Government & Tribal Relations, but failed to advance from the Appropriations Committee.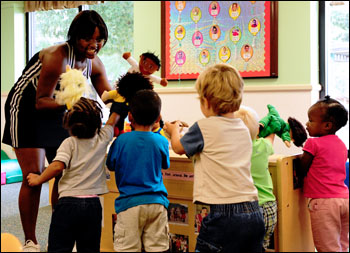 CHILD CARE — Lack of access to quality, affordable childcare limits working families' job opportunities and work hours. As the state works to improve access, it must also strengthen the existing workforce by ensuring providers are fairly compensated, have benefits, and the right to join and participate in a union. WSLC-backed bills included: HB 2556 would create new community-based training pathways for licensed child care providers; HB 2814 would establish the Child Care Workforce Commission to develop best practice standards and related budget requests; and SB 6253 was an omnibus bill talking several steps to  create a comprehensive statewide early care and education system.
HB 2556 passed the House 97-0, and passed the Senate 48-0. HB 2814 failed to advance from House Labor & Workplace Standards. SB 6253 passed Senate Early Learning & K-12 Education, but failed to advance from Ways & Means.
CLIMATE POLLUTION LIMITS — HB 2311 takes the critical step of updating Washington's greenhouse gas limits to reflect current science. It also clearly establishes a net-zero greenhouse gas emissions target for 2050 for state government, and for the state as a whole.
HB 2311 passed the House 55-41, and passed the Senate 28-21. 
DOMESTIC WORKERS BILL OF RIGHTS — HB 2511 would prohibits those employing or hiring domestic workers from engaging in certain conduct, such as discrimination and taking adverse action against domestic workers exercising their rights.
HB 2511 passed the House 59-39, and passed the Senate 48-1, but it was amended to exclude au pairs from discrimination protections. (?!)

FIRE LIFE SAFETY — Modern fire codes for HVAC systems are designed to save lives, but required inspections are often unenforced. HB 2701 would establish strategies to ensure compliance with important building standards.
HB 2701 passed the House 97-0, and passed the Senate 45-0.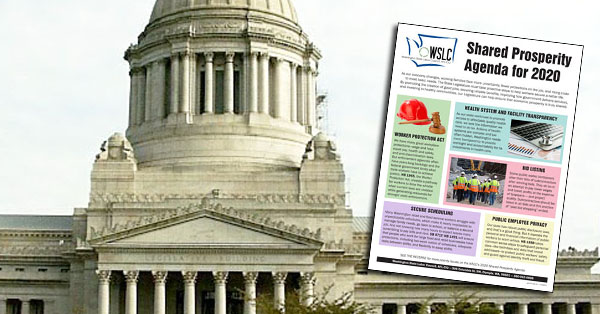 JOB TITLE REPORTING — HB 2308 would add the reporting of occupational classifications or job titles to employers' quarterly Employment Security reports. This information will be kept confidential, but will help track educational and certification workforce placements and provide better information to workers and students making decisions about education and training.
HB 2308 passed the House 60-38, and passed the Senate 34-14.
SAFE PIPELINES — HB 2518 supports utilities in addressing the growing challenge of methane leaks in the natural gas distribution system—the pipes carrying natural gas to our homes and businesses—by increasing utilities' certainty regarding cost recovery, instituting reporting on leaks, and incorporating that data into Washington's greenhouse gas emissions inventory. Repairing leaks curbs methane pollution—an extremely potent greenhouse gas—while creating family-sustaining jobs.
HB 2518 passed the House 87-8, and passed the Senate 41-7.

PUMP STORAGE PROJECT — HB 2819 would promote clean energy policies and good jobs by designating certain pumped storage projects along the Columbia River as projects of statewide significance. It is backed by the labor and environmental groups that comprise the Climate Alliance for Jobs and Clean Energy.
HB 2819 passed the House 96-0, and passed the Senate 43-5.
SECURE SCHEDULING — Many retail and food service workers struggle with unpredictable schedules that make it difficult to manage family needs, attend school, or balance a second job. And not knowing how many hours to expect leaves many scrambling to pay bills and rent. SB 5717 / HB 1491 ensures that people who work for large food and retail businesses have protections: two-week notice of schedules, adequate rests between shifts, and flexibility to swap shifts.
Both bills failed to advance from committee.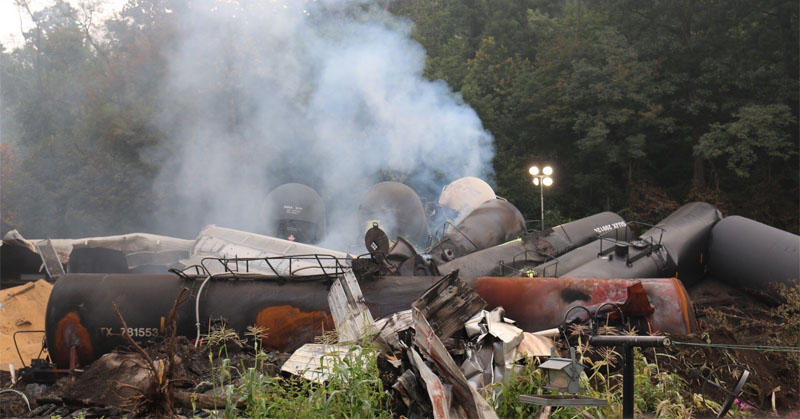 TRAIN CREWS — Railroad companies have been implementing policies to limit train staffing to single person crews, and have even been exploring automated train operation without immediate human oversight. HB 1841 establishes minimum train crew sizes to protect communities put at risk by these staffing cuts.
HB 1841 passed the House 65-30, and passed the Senate 34-15.
PROTECTING WORKERS' RIGHTS
ADMINISTRATIVE LAW JUDGES AND BAILIFFS COLLECTIVE BARGAINING (HB 2017, HB 1333, SB 6367) — ALJs at the Office of Administrative Hearings and bailiffs for King County courts are denied the right to join together and collectively bargain, despite their counterparts at DOL, DOC, and the BIIA having those rights. The state should resolve this inequity by allowing these workers to come together to form a union.
HB 2017 passed the House 57-40 and passed the Senate 29-18. HB 1333 passed House Appropriations, but failed to advance from House Rules. SB 6367 failed to advance from Senate Labor & Commerce.
PLUMBING CODE MODERNIZATION — SB 6170 would ensure that the state modernizes the plumbing code to improve public health and safety, and ensure that workers are well-trained for the jobs they are doing.
SB 6170 passed the Senate 95-0 and passed the House 97-0.
UNEMPLOYMENT INSURANCE FOR CAREGIVERS — Job search requirements for unemployed workers who care for loved ones often require those workers to take jobs that do not allow them to provide care. SB 5473 updates these standards so workers are not forced to choose between an uncommon shift and caring for their family.
SB 5473 was amended to study the economic impacts of granting unemployment benefits to caregivers for certain voluntary quits and passed the Senate 40-6. It passed the House 57-40.
WAGE LIENS (HB 1514 / SB 6053) — When workers' wages have been stolen, some employers dissolve their businesses and form new LLCs to avoid paying up. HB 1514 will implement wage liens, providing all workers with an avenue to secure their owed wages, just like construction workers and farm workers can through mechanics and crop liens.
HB 1514 failed to advance from House Rules. SB 6053 passed Senate Labor & Commerce but failed to advance from Ways & Means.
JUSTICE FOR INJURED WORKERS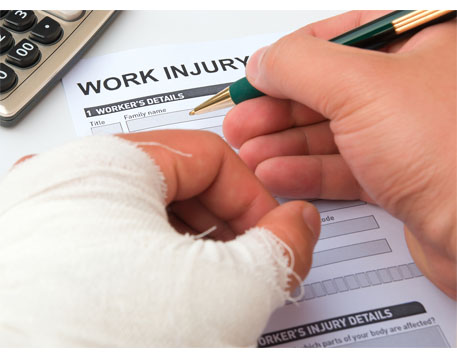 INDEPENDENT MEDICAL EXAM REFORM — Too often employers and the Department of Labor and Industries require unnecessary and invasive Independent Medical Exams for injured workers trying to heal and return to work. SB 6440 would limit how often IMEs can be requested when other sufficient medical information is available.
SB 6440 was amended to create a work group to make recommendations for reforming the IME system and passed the Senate 45-2, and it passed the House 97-0.
THIRD PARTY ADMINISTRATOR REFORM — TPAs are supposed to provide case management expertise for self-insured employers and Retrospective Rating program participants. Unfortunately, they are often used to suppress workers' compensation claims and undermine injured workers' ability to get the wage replacement and medical benefits they are due. HB 2409 would increase penalties for employer misconduct in workers' compensation and specify their responsibility of fair conduct.
HB 2409 passed the House 52-44, and passed the Senate 39-9.

STATE OFFICE OF EQUITY — HB 1783 would establish the Washington State Office of Equity to promote access to equitable opportunities and resources that reduce disparities and improve outcomes statewide across all sectors of government. It requires all state agencies to designate a diversity, equity, and inclusion liaison; create diversity impact analyses and report annually to the Equity Office on them; develop plans for diversity, equity, and inclusion and for language access; provide data and information to the Equity Office; and collaborate with the Equity Office to develop performance measures.
HB 1783 passed the House 56-41, and passed the Senate 28-21.
IMPROVING ACCESS TO TANF — HB 2441 would improve access to Temporary Assistance for Needy Families (TANF) by directing DSHS to conduct outreach to families whose benefits have terminated due to time limits and who appear to otherwise meet the expanded time-limit extension criteria and to encourage them to reapply for assistance.
HB 2441 passed the House 57-41, and passed the Senate 32-17.
OPEN COURTS FOR ALL — HB 2567 would ensure open courts for everyone by protecting all people from warrantless civil immigration arrests at courthouses. It prohibits court staff and prosecutors from using state and local justice resources to report people for federal immigration enforcement, and requires courts to collect data on immigration agents' surveillance of courthouses in Washington. These measures will build community trust in local courts, prohibit immigration agents from interfering in local court functioning, and preserve access to our courts for all.
HB 2567 passed the House 55-43 and passed the Senate 28-20.
PROHIBITING HAIR DISCRIMINATION — HB 2602 addresses hair discrimination by defining race as inclusive of traits historically associated with race, including hair texture and protective hairstyles, including braids, locks, and twists.
HB 2602 passed the House 87-10, and passed the Senate 38-9.
PROHIBITING DISCRIMINATION BASED ON CITIZENSHIP STATUS — SB 5165 would prohibit discrimination based on immigration or citizenship status in Washington state. It does not does not supersede federal law, but rather allows the state to maximize protections against discrimination.
SB 5165 passed the Senate 26-20, and passed the House 57-39.
---
MORE EFFECTIVE, ACCOUNTABLE GOVERNMENT
BALANCE OUR TAX CODE — The legislature must identify new, progressive sources of revenue to pay for the services our citizens need.
Stay tuned.
TRANSPARENCY AND ACCOUNTABILITY IN GOVERNMENT CONTRACTING — HB 1521 requires state agencies and local governments to evaluate the cost of outsourcing work to private contractors and to conduct follow-ups to ensure contractors meet their obligations. It also calls for accountability if companies fail to perform their duties.
HB 1521 passed the House 65-22, and passed the Senate 31-18.
RETIREMENT SECURITY

STATE RETIREE PENSION INCREASE — HB 1390 would grant a one-time 3% increase to the retirement benefits of PERS 1 and TRS 1 retirees.
HB 1390 passed the House 98-0, and passed the Senate 49-0.
Short URL: https://www.thestand.org/?p=84655
Posted by
David Groves
on Mar 4 2020. Filed under
STATE GOVERNMENT
. You can follow any responses to this entry through the
RSS 2.0
. Both comments and pings are currently closed.