Commemorate this year's Worker Memorial Day safe at home
(April 23, 2020) — Fifty years ago, Congress passed the Occupational Safety and Health Act, promising every worker the right to a safe job. Working people have fought hard to make that promise a reality — winning protections that have made jobs safer and saved thousands of lives.
But 50 years later, the safety of our entire nation is at stake because workplaces are not safe. Every day, 275 American workers die from on-the-job accidents and illnesses, while millions more suffer injury or illness. Thousands more workers' lives are being tragically and needlessly lost to COVID-19 because workers are not getting the protections they need to be safe at work — protections that would save lives and stop the spread of this deadly virus.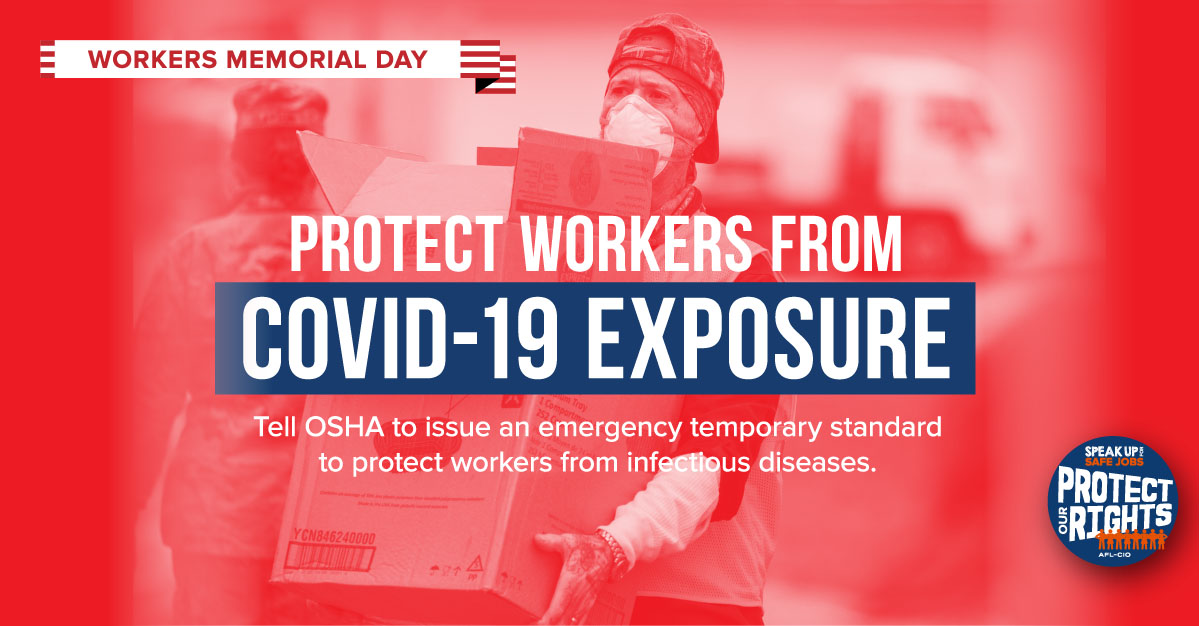 April 28 is when working people gather to commemorate Worker Memorial Day. It is a day to honor the workers who lost their lives on the job and to renew the call for safer workplaces. Commemorations are usually held in multiple cities across Washington state, but because of the stay-home restrictions due to the coronavirus, many of these events will not be held in a year that they are more important than ever. But some are happening online.
Here is how you can commemorate Worker Memorial Day while you stay home and stay safe:
► The Snohomish & Island County Labor Council made the following video in lieu of its usual commemoration at the Workers Memorial in Everett's Mission Courtyard.
"This time of year is always bittersweet as it is time to observe our fallen brothers and sisters," said SICLC Secretary Treasurer Leonard Kelley. "I am sad that we are not able to do this in person this year, but hopefully this video will bring some closure for some and remind all of us that are left behind that in times like right now, we need to pick up the torch and move forward and remind employers and the government that the well-being and safety of their employees comes first, so one day when this observance comes around we will not have any names to read."
► The University of Washington's Department of Environmental and Occupational Health Sciences will hold its 2020 Workers Memorial Day commemoration via Zoom webinar on Monday, April 27 from 11:30 to 1 p.m. The keynote address, "Sacrificing on the Frontlines During COVID-19," will be delivered by Bianca Frogner, Director of the UW Center for Health Workforce Studies, and Marissa Baker, Assistant Professor for the UW DEOHS. Other speakers will include April Sims, Secretary Treasurer of the Washington State Labor Council, AFL-CIO; Kim England, Harry Bridges Endowed Chair in Labor Studies and Director of the Harry Bridges Center for Labor Studies; and a representative of the UW chapter of United Students Against Sweatshops. Please click here to register for this Zoom webinar.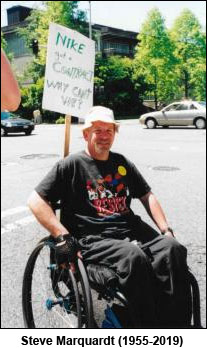 ► The University of Washington Harry Bridges Center for Labor Studies has posted a Tribute to Steve Marquardt (1955-2019), who passed away on July 5, 2019, from complications due to a longstanding workplace injury he suffered in 1987. Marquardt was a distinguished labor researcher and activist who played a foundational role in the early days of UW's Harry Bridges Center for Labor Studies. This Worker Memorial Day, honor Steve and his lifetime of work devoted to workers' rights and safety.
► The Northwest Washington Central Labor Council, which traditionally conducts an event at the Worker Memorial Monument outside the Bellingham City Library, plans to conduct its Worker Memorial Day commemoration via Facebook live at noon on Tuesday, April 28. Click here to participate.
Short URL: https://www.thestand.org/?p=86803
Posted by
David Groves
on Apr 24 2020. Filed under
W.S.L.C.
. You can follow any responses to this entry through the
RSS 2.0
. Both comments and pings are currently closed.