Senate Dems seek COVID-19 'Heroes Fund'
First responders, other essential workers would get hazard pay increase of up to $25,000 in 2020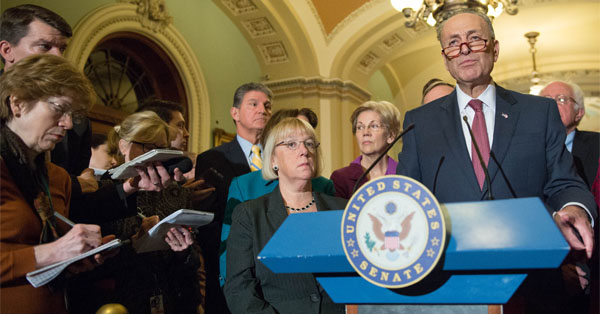 WASHINGTON, D.C. (April 8, 2020) — Senate Democratic Leader Chuck Schumer (D-NY), Sen. Patty Murray (D-WA) and other Senate Democrats on Tuesday unveiled the COVID-19 "Heroes Fund," a proposal of pandemic premium pay to reward, retain, and recruit essential workers. Doctors, nurses, fire fighters, police and other first responders, plus "essential workers" such as grocery store clerks, transit workers, postal employees and other public-facing federal employees, would get up to $25,000 in premium pay increases, equivalent to a raise of $13 per hour from the start of the public health emergency through Dec. 31, 2020. Also, a $15,000 essential worker recruitment incentive would be paid to attract and secure the workforce needed to fight the public health crisis.
The pay increases are intended not only to reward essential workers' for their great personal sacrifices, but also to ensure the retention of essential workers who are working grueling hours on the frontlines of this crisis, as well to recruit additional workers who will be needed in the months ahead.
"Thousands of workers report to the frontlines of our nation's pandemic response each and every day, placing themselves squarely in harm's way to serve the needs of others," Schumer said. "Senate Democrats' proposed 'Heroes Fund' would provide premium pay to these essential workers — the doctors and nurses, grocery store workers, transit workers, and more who are central to fighting this crisis — and would establish an incentive system to retain and recruit the workforce needed for the long months to come. Essential frontline workers sacrifice daily for our collective health and well-being, and Senate Democrats are fully committed to supplying these heroes the financial support they deserve."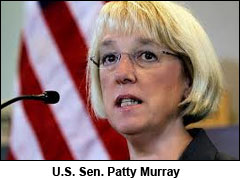 "The frontline workers who are literally putting their lives on the line every single day to keep us healthy, keep us fed, and to keep us safe — deserve our most profound gratitude. But we all know that gratitude isn't enough," Murray said. "As we continue our coronavirus response, ensuring frontline workers receive premium pay during this pandemic is the least our country can do to honor these true heroes."
Under the COVID-19 Heroes Fund proposal, all essential frontline workers would get $13/hour premium pay on top of regular wages for all hours worked, retroactive to the declaration of a Public Health Emergency on Jan. 27, through the end of 2020. The total maximum premium pay would be capped at $25,000 for each essential frontline worker.
In order to recruit the additional health care workers, home care workers, and first responders needed over the coming months, the plan would provide a one-time $15,000 premium for signing on to do essential work. Eligibility for this incentive premium would be limited to essential health and home care workers and first responders that are experiencing severe staffing shortages impeding the ability to provide care during the COVID-19 pandemic.
Senate Democrats will continue to seek input on the universe of "essential workers" to be covered. The definition of essential frontline workers for purposes of both the premium pay increase and the recruitment-retention incentive will be the subject of debate.
"This proposal is not meant to exclude any worker from this conversation," reads the Senate Democrats' summary of the proposal. "Rather, we hope this proposal will encourage a discussion about how large and diverse this universe of workers truly is. Our goal is to make federal, state, tribal, local and private sector essential workers that are at risk eligible for this benefit."
The new federal fund would partner with entities designated as an "eligible employer" — states, localities, tribes, and certain private sector employers — to issue the funds premium payments to eligible workers.
Frontline federal employees would also be granted the new benefit of up to $25,000. Coverage would be expansive to capture all federal employees with public-facing positions, including Title 5 employees and employees of all other federal personnel systems (e.g., employees of the Postal Service, TSA, VA, FAA, District of Columbia, and federally-funded Indian programs).
A summary of Senate Democrats' COVID-19 "Heroes Fund" proposal can be found here.
Short URL: https://www.thestand.org/?p=86041
Posted by
David Groves
on Apr 8 2020. Filed under
NATIONAL
. You can follow any responses to this entry through the
RSS 2.0
. Both comments and pings are currently closed.