The USPS needs a cash infusion amid COVID-19 crisis. But Trump is blocking it.
WASHINGTON, D.C. (April 13, 2020) — Postal workers are keeping our country moving and U.S. economy working during the coronavirus pandemic — getting prescriptions delivered to people who are sheltering in place, making e-commerce possible, and keeping families connected. It is America's emergency distribution system when our country is in crisis.
But the volume of the kind of mail that pays the agency's bills — first-class and marketing mail — has withered during the pandemic. Our U.S. Postal Service needs an infusion of money or it could run out of money as early as June.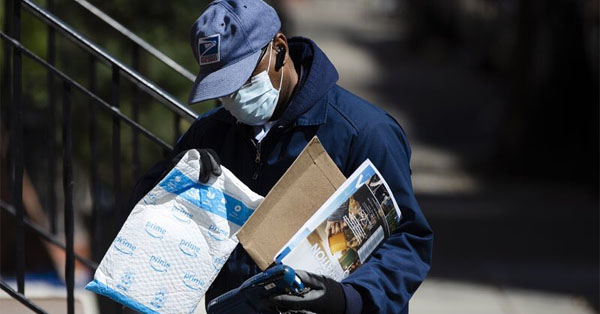 Instead, the Trump administration and those who want to privatize the USPS are actively working to starve it from resources. The Washington Post reports that the president blocked potential emergency funding for the agency that employs around 600,000 workers by threatening to veto the $2 trillion CARES Act if the legislation contained any grant money for the USPS.
TAKE A STAND — The loss of the USPS would shatter our response to the coronavirus pandemic, hit already weakened businesses, and ravage communities. Send a message to Congress NOW, telling them that our public Postal Service needs all American leaders — Democrats and Republicans alike — to provide urgent and ongoing financial support from the federal government during this public health and economic crisis.
Here is the template letter, prepared by the American Postal Workers Union, that will be sent if you take action today — although all are urged to edit the letter using their own words:
The USPS is the nation's only universal delivery and communications network, connecting 160 million homes and businesses in every corner of the country. The Coronavirus crisis has put a huge strain on the Postal Service with dramatic falls in revenue and increased costs.
The Postal Service needs both urgent and ongoing support from the Federal Government or Americans everywhere will suffer from the loss of postal services. We need Congress to:
Invest $25 billion now in the Postal Service to help it weather the pandemic and the deep recession it is causing.
Keep our Postal Service running during the crisis with quarterly payments to cover the Postal Service's increased costs and decreased income.
Treat the Postal Service like other employers by funding the cost of Covid-19 related sick leave and family medical leave introduced by the Families First Coronavirus Response Act.
Any legislation to provide and fund Covid-19 related hazard pay must include postal workers, who face heightened exposure risks to the virus on a daily basis.
Stop the Treasury department from forcing operational and policy changes on the Postal Service as a condition for borrowing, and remove the annual limit on borrowing authorities.