Kroger workers win bonus ● Yakima strikes about respect ● Airplanes don't make you sick
Monday, May 18, 2020
---
LOCAL
► LIVE from the Seattle Times — Coronavirus daily news update, May 18 — The most recent count of COVID-19 cases in Washington totals 18,433 infections (up 145 from yesterday) and 1,001 deaths (up one), according to the state Department of Health. King County's new directive on face coverings goes into effect today, and so does Sea-Tac Airport's requirement that passengers wear them.
► From KUOW — We've reached 1,000 lives lost to coronavirus in Washington state. Here are some of their stories.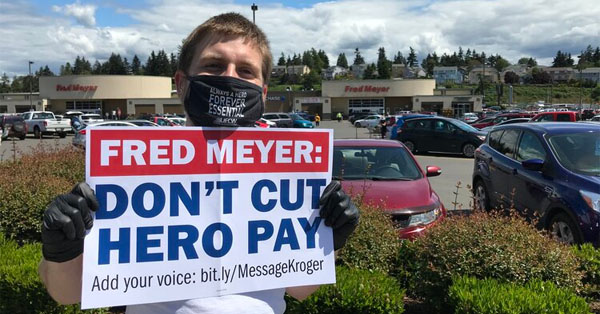 ► From UFCW 21 — Under pressure, Kroger offers new one-time bonuses; UFCW 21 continues to stand up for $2/hour hero pay — On Friday, UFCW 21 grocery workers held rallies with community allies outside two Fred Meyer stores in North Bellingham and Burien calling on Kroger not to cut hero pay, and other UFCW locals held actions as well. After these actions, Kroger announced they will be paying out a $400 bonus to full-time workers/$200 bonus to part-time workers. UFCW 21 will keep up the pressure on Kroger, as they have a lot more work to do to show essential workers that we are valued and safe at work. But this decision shows grocery workers can have an impact when we take action together. Eli from North Bellingham Fred Meyer, says: "The fight isn't over by a long shot, but today's victory feels very good!"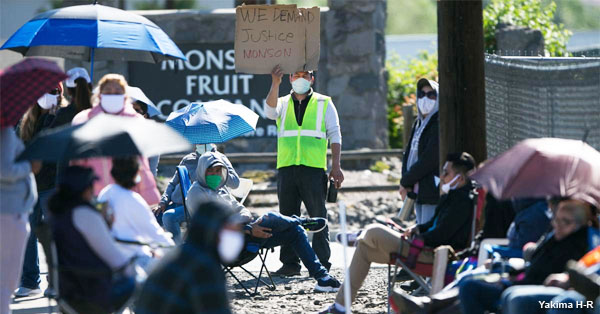 ► From the Yakima H-R — Through strikes, fruit packing workers gain opportunity to negotiate with employers — A strike at Monson Fruit entered its third day Friday, one of six at Yakima Valley fruit packing houses this week. A seventh strike reported by workers at Roche Fruit in Yakima ended quickly after managers agreed to provide additional pay. Managers maintain the gathering was a planned meeting. With many of the strikes now several days old, workers are focused on talks with corporate management. In the last two days, management from Monson Fruit and Matson Fruit in Selah, Frosty Packing in Yakima and Allan Bros. in Naches have held meetings with a handful of workers serving as representatives for striking workers. The discussions have provided an opportunity for workers to articulate detailed issues. Common concerns include a lack of available personal protective equipment, a lack of communication about positive COVID-19 cases and a desire for hazard pay.
The Stand (May 13) — Solidarity is contagious right now in the Yakima Valley — You can support these workers by following and sharing #EssentialWorkers news via FUJ's Facebook and Twitter pages and C2C's Facebook page. You can also give the gift of solidarity by making a donation to this GoFundMe strike fund for Yakima Valley ag workers, or to FUJ here and/or C2C here.
► From KIMA TV — Strikes at fruit packing companies are about respect, activists say — Workers have gone on strike at Hansen fruit and at least six other fruit packing companies in Yakima County demanding safer working conditions and more pay. As the labor movement continues to gain momentum, activists providing food and water to the striking workers said the workers have been neglected for years.
► From the Tri-City Herald — Half of workers positive for COVID-19 at Tyson plant near Tri-Cities had no symptoms — Almost one in five of the 1,482 workers at the Tyson Fresh Meats plant south of Pasco tested positive for COVID-19 since the start of the pandemic, according to testing information released Friday. More than half of those who tested positive had no symptoms at the time of testing… Only enough workers had returned to work at the Wallula plant as of Friday to operate the plant at a little over half of normal production. Some workers had COVID-19, others were in isolation because of potential infection with the new coronavirus, and some may have stayed home out of fear of infection, according to Tyson officials.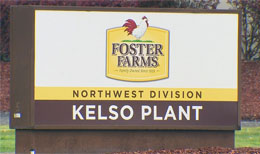 ► From the (Longview) Daily News — Latino civil rights group seeks more info Kelso Foster Farms outbreak — A Latino American civil rights group says the Kelso Foster Farms plant has refused to answer questions about its Hispanic employee population and specific coronavirus safety measures following the small outbreak of cases there. At least 16 employees tested positive for the virus last month, when the Cowlitz County COVID-19 Incident Management Team (IMT) conducted mass tests of about one-third of the employees. A company official declined to comment further about whether more cases arose after the county IMT wrapped up its testing at the plant April 30. The IMT no longer releases information connecting new confirmed cases to the plant.
► From the Seattle Times — Caught between coronavirus and racial profiling, some Seattle residents use masks warily — Nationally, mask wearing has become a flash point, with retail and service workers — who are disproportionately people of color — being left to enforce new rules on wearing masks indoors, sometimes leading to violent confrontations. The cruel irony is that the people most at risk for the virus are also the ones most likely to experience the dangers of racial profiling. One man, Aaron Thomas, put it this way on Twitter, "[As a Black man] I want to stay alive but I also want to stay alive."
► From Crosscut — When checkout lines become the front lines — In the first episode of our new series The New Normal, grocery store employee Erin Simmons adapts to the risks of being an essential worker.
---
THIS WASHINGTON

► From the Seattle Times — What to do if your name is used by unemployment fraudsters taking advantage of coronavirus crisis — Since the system has been overwhelmed by legitimate claims, fraudsters have been taking advantage, siphoning off a portion of the benefits by filing phony claims using other people's names and personal information. So, what should you do if someone uses your name and information to file a phony unemployment claim? You'll find yourself reporting it to a lot of different organizations.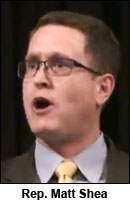 ► From the Spokesman-Review — Shea won't run for re-election, leading to shuffle in area races — Embattled Spokane Valley Republican Matt Shea will not seek reelection to the legislative seat he has held for 12 years. Shea did not file a petition of candidacy for his 4th District House seat Friday, the last day available for people seeking offices in the 2020 election. He was rumored to be considering a run for Congress against fellow Republican Cathy McMorris Rodgers, but he did not file for that position either before the deadline passed.
---
THAT WASHINGTON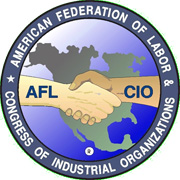 ► From Axios — AFL-CIO sues feds over coronavirus workplace safety — The AFL-CIO says it is suing the federal agency in charge of workplace safety to compel them to create a set of emergency temporary standards for infectious diseases. The lawsuit against the U.S. Labor Department's Occupational Safety and Health Administration is expected to be filed on Monday in the U.S. Court of Appeals in Washington, D.C.
TODAY at The Stand — AFL-CIO sues OSHA for emergency temporary standard to protect workers
► From Roll Call — House narrowly passes $3 trillion coronavirus aid bill — Near party-line vote sends massive relief bill to the Senate, where GOP leaders say they won't take it up without major changes.
► From Pensions & Investments — House relief act comes with multiemployer changes – and controversy — Multiemployer and union groups welcomed many of the HEROES Act changes but are divided on a provision allowing for new composite plans that combine defined benefit and defined contribution features. Based on legislation first introduced in 2018, the Give Retirement Options to Workers (GROW) Act would allow for freezing benefit accruals in the original plan and sharing more investment risk with plan participants.
► From the NY Times — Freed by court ruling, Republicans step up effort to patrol voting — Officials seek to recruit 50,000 poll watchers and spend millions to fight voter fraud. Democrats say the real goal is to stop them from voting.
► From the NY Times — DeVos funnels coronavirus relief funds to favored private and religious schools — Education Secretary Betsy DeVos, using discretion written into the coronavirus stabilization law, is using millions of dollars to pursue long-sought policy goals that Congress has blocked.
► From The Hill — Removed watchdog was looking into whether Pompeo made staffer perform personal errands
---
NATIONAL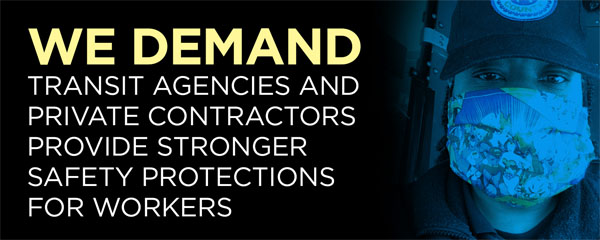 ► From the Washington Post — Transit workers are paying a heavy price during the pandemic — Across the country, an estimated 430,000 public transit workers, including train operators and bus drivers, have kept systems operating, moving essential workers such as doctors, nurses and first responders who have been hailed as heroes. By comparison, the lower-paid and largely minority transit workers said they are often abused by riders and insufficiently protected by their employers… No transit system in the nation has been as hard hit by the pandemic as New York City's and its 74,000 workers. At least 10,000 Metropolitan Transit Authority employees have been quarantined during the outbreak. By one count, 129 of them have died of COVID-19… As offices, stores and restaurants reopen in the coming days and weeks, trains and buses will almost certainly see more passengers. For transit workers, the return to normal life only exacerbates their fears.
The Stand (April 15) — Join ATU in demanding Safe Service policies for transit workers
► From the Seattle Times — Nearly one-third of Americans dealing with lower income due to pandemic, survey shows — Since the outbreak began, 30% of respondents say they've experienced a decrease in household income, according to a new survey. About 1 in 5 workers has applied for unemployment since March 13, and the unemployment rate surged to 14.7% in April.
► From the NY Times — Who's enforcing mask rules? Often retail workers, and they're getting hurt — As more parts of the country reopen businesses, many retail workers have reluctantly turned into de facto enforcers of public health guidelines, confronting customers who refuse to wear masks or to maintain a wide distance from others. The risk of a violent reaction now hangs over jobs already fraught with health perils.
► From the NY Times — Autoworkers are returning as carmakers gradually crank up factories — After being idle for nearly two months, G.M., Ford and Fiat Chrysler will restart assembly plants on Monday with masks, gloves and curtains.
---
TODAY'S MUST-READ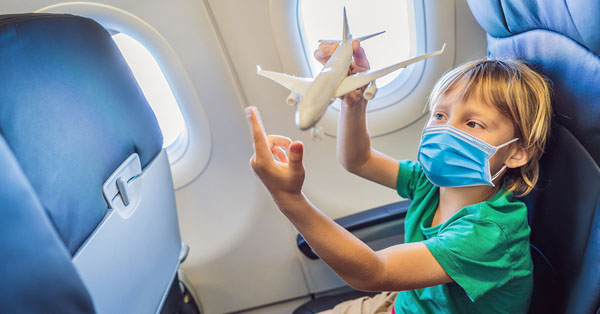 ► From the Washington Post — Airplanes don't make you sick. Really. (by Joseph Allen) — You don't get sick on airplanes any more than anywhere else. Really, you don't. If you think this is preposterous or even dangerous to suggest during a pandemic, consider this fact: The ventilation system requirements for airplanes meet the levels recommended by the Centers for Disease Control and Prevention for use with covid-19 patients in airborne infection isolation rooms. Before we go any further, let's make one thing clear: Airplanes are certainly vectors of disease, efficiently transporting infectious people around countries and the globe. This is obviously critical in terms of outbreak control for covid-19. But the fact that airplanes help spread disease across geographies does not mean that you are necessarily at risk during flight. There are fairly simple things you can do, if you do need to travel, to reduce the odds of getting sick… If the necessary precautions are taken, and people do their part and behave according to rules, there is a path back to air travel. But we should all consider this a privilege — one that can be revoked quickly if conditions change or if crowds do not act appropriately.
---
The Stand posts links to Washington state and national news of interest every weekday morning by 10 a.m.
Short URL: https://www.thestand.org/?p=87778
Posted by
David Groves
on May 18 2020. Filed under
DAILY LINKS
. You can follow any responses to this entry through the
RSS 2.0
. Both comments and pings are currently closed.