Tacoma schools to slash jobs, give superintendent a raise
UPDATE (June 26, 2020) — From KING 5 — Tacoma school district to cut 104 paraeducators and reduce hours for over 300 more — Hundreds of paraeducators in Tacoma Public Schools who work closely with special needs students will lose their jobs or face reductions in hours, as the district expects fewer students on campuses in the fall… Parents who streamed the school board meeting Tuesday night said they were not only upset at the layoffs but that a vote to increase the salary of superintendent Carla Santorno by 3% also rubbed them the wrong way. As of 2018, Santorno's annual salary was more than $290,000. "It was a gut punch," said paraeducator Rhonda Stinson, who said the district will cut her hours and, consequently, her health benefits.
Jazmyn Daniels, a paraeducator who works with special needs children between the ages of 3 and 5 at Fernhill Elementary School, said the paraeducators' union is prepared to continue fighting the cuts: "Maybe we just need to take it to the public and the staff and say 'Do we have confidence in the superintendent? Do we have confidence in our board?' This isn't over. It's just begun."
---
Sign the petition, send comments urging against these cuts to basic education
TACOMA (June 24, 2020) — More than 2,000 community members have signed a petition calling on the Tacoma Public School Board to protect, not cut, basic education in Tacoma schools. This petition was launched in response to the district's proposals for reductions in hours, transfers, and layoffs for 80 percent of the more than 600 paraeducators represented by Tacoma Federation of Paraeducators (TFP), AFT Local 461. The decision to support or reject these proposed cuts to basic education will be made by the Tacoma Public School Board at its meeting on Thursday, June 25.
TAKE A STAND — If you haven't already, sign the petition! It will be presented to the Tacoma School Board at its meeting on Thursday. Members of the public are encouraged to voice their support for basic education, and the paraeducators who provide it, by submitting statements to the board 24 hours in advance of the meeting. That means today (Wednesday, June 24). You can also comment during the Facebook Live coverage of Thursday's board meeting at 6 p.m.
The Tacoma Public School District decided to cut frontline workers earlier this month, sending nearly 100 paraeducators layoff notices and reducing hours for an additional 108 paraeducators such that they will lose access to their employee-based health care during a global pandemic. Since then, community members have been reaching out to Tacoma Public School Board of Directors advocating for Tacoma students and their families. Unlike Tacoma, most school districts in the state have not moved to cut frontline workers in the middle of an unprecedented pandemic-recession.
Rebecca Badger, whose two children attend northeast Tacoma schools, is concerned about the effects these cuts will have on her children and is advocating for other parents to get involved.
"I signed the petition because the paraeducators are important for all students' success, but it is critical for my child who needs the extra support the paraeducators provide," Badger said. "Everybody I've talked to about signing the petition understands how critical the frontline support is to students across the district. If the School Board chooses to go forward with these cuts, it will be extremely impactful not only for my child, but for every student in the district."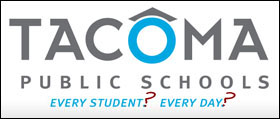 "The School Board are elected public officials. We expect them to act in the best interest of our community, which means maintaining the relationships our paraeducators have with students in Tacoma Public Schools. If they choose to sever these relationships, they are putting the future of our students in jeopardy," said TFP President Glory Tichy. "Tacoma Public School's motto is 'Every Student. Every Day.' and if the School Board supports the administration's decision to cut back services to our students, then they are not upholding the promise they made to Tacoma families."
At Stanley Elementary in Tacoma's Hilltop neighborhood, Melissa Roach has been a paraeducator for five years. When asked how the cuts will affect her students, she said:
"If the Tacoma Public School Board approves of the proposed reductions, my hours providing services to students will be reduced by 60 percent for the 2020-2021 school year. Many of these students don't have much support at home and I have watched these kids become amazing students because I have been with the same class for so long. One such student's mother died last year after months of hospitalization. I was able to tell, with a glance of his eyes, that he was needing emotional support. I would gesture him back to my table, let him put his head down, talk if he needed or to go for a walk if he wanted to pull himself together away from his peers. The teacher isn't able to catch every difficult moment that, before we got it under control, led to extremely escalated behavior and would make teaching the rest of the students near impossible. I am a constant in this student's life and he is so desperate for more support that he is not getting at home. Now that my hours have been reduced so drastically, who will provide this support if his safety net is not available?"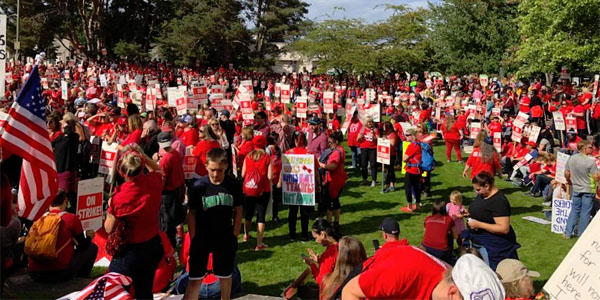 The Tacoma Education Association, the union which represents the Tacoma Public Schools teachers, organized a week-long strike in September 2018.
"Our paraeducators are a vital link in supporting students and making sure students have access to the best education possible," the TEA wrote in a statement. "As we return to school in the fall, our students are going to need extra support after the considerable disruption due to the COVID-19 school closure. The drastic cuts to projected staffing for paraeducators raises huge concerns in how students will be supported and education will be delivered."
Short URL: https://www.thestand.org/?p=89200
Posted by
David Groves
on Jun 24 2020. Filed under
LOCAL
. You can follow any responses to this entry through the
RSS 2.0
. Both comments and pings are currently closed.