Whole Foods censors Black Lives Matter; sign employees' petition
UPDATE (June 28, 2020) — Please sign this petition urging that Whole Foods stop retaliating against workers who support Black Lives Matter.
---
Support workers facing retaliation for wearing BLM gear at Seattle event Friday
SEATTLE (June 26, 2020) — Employees at Whole Foods in South Lake Union faced retaliation from store managers after wearing Black Lives Matter facemasks to work on Juneteenth. Unlike Starbucks, which swiftly reversed its ban on employees wearing BLM masks and pins following public outcry, the Amazon-owned Whole Foods store continues to enforce the restriction. So now, the employees are asking for support from the community and organized labor.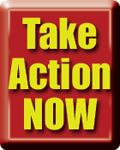 TAKE A STAND — Join Whole Foods employees and their supporters, including UFCW 21, at a Support #BlackLivesMatter and Whole Foods Workers Leaflet/Caravan on Friday, June 26 from 3 to 6 p.m. outside the South Lake Union store, 2210 Westlake Ave. Participants will be passing out leaflets, holding signs, and sharing pictures on social media. This action will be outside and social distancing will be encouraged, but as with all in-person actions at this time, please be careful and follow all best practices: wear a mask, bring hand sanitizer, practice social distancing, and do not attend if you are feeling unwell or are in a high-risk category for COVID-19. Click for details. 
If you are unable to attend, please share this information and amplify the Whole Foods workers' demands on social media. Follow Whole Foods Workers Seattle on Twitter and use #WFMSaysNoToBLM.
Amazon, which owns Whole Foods, has taken corporate actions in recent days like donating to racial equity organizations and putting "Black Lives Matter" on its homepage. But when a group of workers at the South Lake Union store decided together to wear facemasks that said Black Lives Matter on Juneteenth, they were told by management to take them off or clock out. Management also took down the store's Pride flag when workers asked why the store could visibly support Pride, but not Black Lives Matter. And on Thursday, a Whole Foods worker at the Westlake store was reportedly ordered to remove their pronoun pin (They/Them).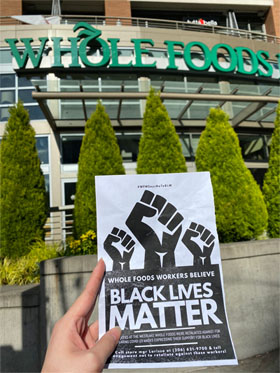 "It seems retaliation is escalating and taking different forms against workers who stand for Black Lives Matter," tweets Whole Foods Workers Seattle.
These workers are demanding that Whole Foods respect the freedom of speech and the right to wear Black Lives Matter gear without retaliation; give back pay of lost wages to workers who have been retaliated against; rid the store of armed forces; and restore the company's "hazard pay" for working amid the COVID-19 pandemic and continue relaxed time and attendance policies.
Workers at the Roosevelt location were also told they could not post anything or wear anything that said Black Lives Matter, and community supporters protested outside that location last weekend. Other Whole Foods workers have faced similar issues this month, including workers in Philadelphia and New Hampshire.
For more information, see the following media coverage:
► From The Stranger — Whole Foods workers say management told them to take off their BLM masks or leave
► From GeekWire — Whole Foods workers protest after grocer prohibits employee-worn Black Lives Matter masks
► From KIRO 7 — Whole Foods employees in Westlake protest over Black Lives Matter masks
Short URL: https://www.thestand.org/?p=89330
Posted by
David Groves
on Jun 26 2020. Filed under
LOCAL
. You can follow any responses to this entry through the
RSS 2.0
. Both comments and pings are currently closed.