Until NALC food drive can be rescheduled, please contribute to food banks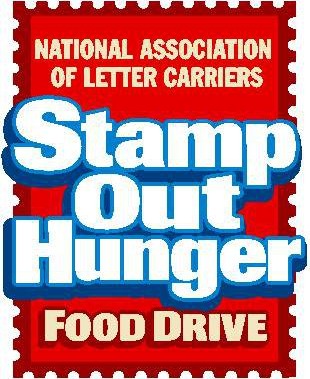 (July 1, 2020) — Normally, local food banks and church shelves around the country would be well-stocked this time of year, having benefited from the 70 million-plus pounds of food received from the National Association of Letter Carriers (NALC) annual Stamp Out Hunger Food Drive, held in May for the past 27 years.
But 2020 is anything but normal.
Due to the COVID-19 pandemic, May came and went without this year's food drive because Letter Carriers aren't yet able to safely collect and distribute food. The NALC still plans to schedule the 28th annual Stamp Out Hunger food drive when it is safe to do so. But until then, with millions of Americans out of work or having reduced work hours, the need for food assistance is more urgent than ever.
That's why the NALC, AFL-CIO and other unions want to give everyone the opportunity to continue to help meet that need. The timing is key, because winter holiday and spring donations have dwindled from food pantries and homeless shelters, and school meal programs are not available in summer.
All union members and community supporters are being urged to make contributions directly to their local food banks. (See the list of Washington's below.)

"Union members in Washington state have always stepped up in a big way to support the Letter Carriers Food Drive," said Larry Brown, President of the Washington State Labor Council, AFL-CIO. "We are asking them to do so again in 2020 by donating directly to the local food banks during this time of extreme need."
Here is the NALC's list of local food banks around Washington state. Follow the links for information about how to contribute. (If you know of a local food bank that's not on this list, feel free to contribute directly to them as well.)
Asotin County Food Bank — 1546 Maple St, Clarkston, WA 99403
Backpack Brigade — 831 Seattle Blvd S, Seattle, WA 98134
Ballard Food Bank — 5130 Leary Ave NW, Seattle, WA 98107
Bellingham Food Bank — 1824 Ellis St., Bellingham, WA 98225
Blaine Food Bank Association — 500 C St, PO Box 472, Blaine, WA  98231
Blue Mountain Action Council — 921 W. Cherry St., Walla Walla WA 99362
Bremerton Foodline — 1600 12th St., Bremerton, WA 98337
Central Kitsap Food Bank — 3537 NW Anderson Hill Rd, Silverdale, WA 98383
Clark County Food Bank — 6502 NE 47th Ave, Vancouver, WA 98661
Covington Store House — 26201 180th Ave SE, Covington, WA 98042
Des Moines Area Food Bank — 22225 9th Ave S, Des Moines, WA   98198
Eloise's Cooking Pot Food Bank — 3543 McKinley Ave E, Tacoma, WA 98404
Emergency Food Network (EFN) — 3318 92nd St S, Lakewood, WA 98499
Ferndale Food Bank — 1671 Main St., Ferndale, WA 98248
Food Bank @ St. Mary's — 611 20th Ave S, Seattle, WA 98144
Food Lifeline — 815 S. 96th St., Seattle, WA 98108
Helping Hands Food Bank — 9386 Fruitdale Rd, Sedro-Woolley, WA 98284
Helpline House — 282 Knechtel Way NE, Bainbridge Island, WA 98110
Highline Area Food Bank — 18300 4th Ave. S, Burien WA, 98148
HopeSource — 110 N Pennsylvania Ave., Cle Elum, WA 98922
Inter-Faith Treasure House — 91 C St, Washougal, WA 98671
Kent Food Bank — 515 W. Harrison St. #107, Kent, WA 98032
Multi-Service Center — 1200 S. 336th St., Federal Way, WA 98003
North County Community Food Bank — 17 NE 3rd Ave, PO Box 2106, Battle Ground, WA 98604
North Helpline —  12736 33rd Ave NE, Seattle, WA 98125
North Kitsap Fishline — 19705 Viking Way NW, Poulsbo WA 98370
Northwest Harvest — P.O. Box 12272, Seattle, WA 98102
Nourish Pierce County — 1702 South 72nd St, Suite E, Tacoma, WA 98408
Plateau Outreach Ministries — 1806 Cloe Street, Enumclaw, WA 98022
Rainier Valley Food Bank — 4205 Rainier Ave S, Seattle WA 98118
ROOF Community Services — PO Box 312, Rochester, WA 98579
Second Harvest — P.O. Box 3068, Pasco, WA 99302
Second Harvest of Spokane — 1234 E. Front Ave., Spokane, WA 99202
Serve Wenatchee Valley — 12 Orondo Ave., Wenatchee, WA 98801
ShareNet Food Bank — 26061 United Rd. NE, Kingston, WA 98346
Snohomish Co. Food Bank Coalition — 1330 Ferguson Park Rd, Snohomish, WA 98290
Snoqualmie Valley Food Bank — 122 East 3rd St, North Bend, WA 98045
Thurston County Food Bank — 220 Thurston Ave NE, Olympia, WA 98501
University District Service League dba University District Food Bank
— 5017 Roosevelt Way NE, Seattle WA 98105
Volunteers of America Western Washington — P.O. Box 839, Everett, WA 98206
West Seattle Food Bank — 3419 SW Morgan St., Seattle WA  98126
White Center Food Bank — 10829 8th Ave SW, Seattle, WA 98146