No mask, no service ● Mosqueda jumpstarts Seattle ● Short cuts
Tuesday, July 7, 2020
---
COVID-19
► LIVE from the Seattle Times — Coronavirus daily news update, July 7 — The latest count of COVID-19 cases in Washington totals 36,985 infections (7-day average of new infections per day: 580) and 1,370 deaths (7-day average of deaths per day: 7)
► From the News Tribune — It's the law: No mask, no service begins today across Washington — Businesses across the state won't be allowed to serve customers who aren't wearing a facial covering starting Tuesday, July 6. Some say it will make it easier to enforce mask policies they already have in place. "This is not an optional plan for businesses," Gov. Jay Inslee said last week. "This is a legal requirement."
► From the Wenatchee World — Columbia Fruit: 31 packing facility workers test positive for COVID-19 — A total of 31 workers at Columbia Fruit's packing facility in East Wenatchee recently tested positive for COVID-19.
► From the Tri-City Herald — Franklin County infection rate one of worst on West Coast — Franklin County's COVID infection rate was the second worst on the West Coast late last week, according to the Harvard Global Health Institute. And Yakima County was third, with the only worse spot in California.
► From KNKX — UW Interfraternity Council says 140-plus residents have COVID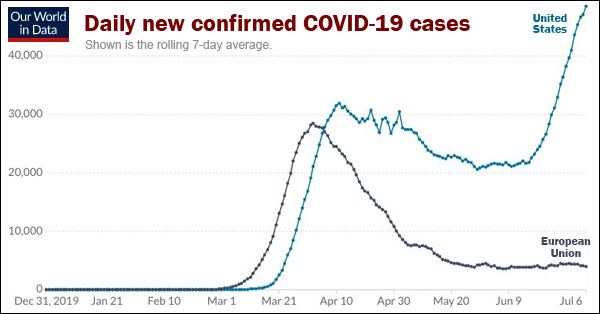 ► From the Washington Post — States mandate masks, begin to shut down again as coronavirus cases soar and hospitalizations rise — The pandemic map of the United States burned bright red Monday, with the number of new coronavirus infections during the first six days of July nearing 300,000 as more states and cities moved to reimpose shutdown orders.
► From HuffPost — As COVID-19 cases surge, Fauci says U.S. is still 'knee-deep' in first wave — Dr. Anthony Fauci said the U.S. is in a "serious situation" that needs to be addressed immediately as states experience surges in coronavirus cases.
► From Politico — Hundreds of health groups petition against Trump — The leaders of public health authorities and activist groups come together to defend the CDC and demand an end to political interference.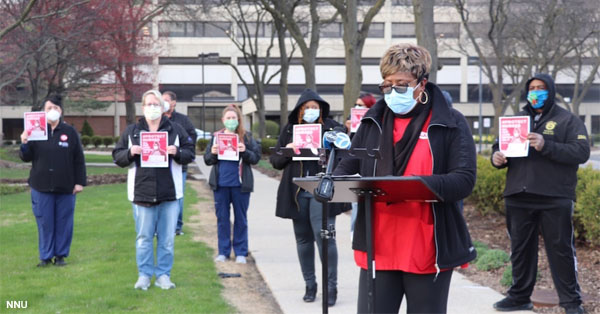 ► From the AP — Protective gear for medical workers begins to run low — The personal protective gear that was in dangerously short supply during the early weeks of the coronavirus crisis in the U.S. is running low again as the virus resumes its rapid spread and the number of hospitalized patients climbs. A national nursing union is concerned that gear has to be reused. "We're five months into this and there are still shortages of gowns, hair covers, shoe covers, masks, N95 masks," said Deborah Burger, president of National Nurses United. "They're being doled out, and we're still being told to reuse them."
► From the Miami Herald — 'OSHA is AWOL': Critics say federal agency is where workplace COVID-19 complaints go to die –OSHA, charged with enforcing health and safety in the American workplace, has received more than 6,000 complaints nationwide about unsafe work conditions related to COVID-19. And yet, on June 9, Labor Secretary Eugene Scalia told lawmakers that OSHA, which his department oversees, had issued just one citation related to the coronavirus. "Essentially, OSHA is AWOL," said David Michaels, a former head of OSHA under the Obama administration who now teaches at George Washington University's school of public health.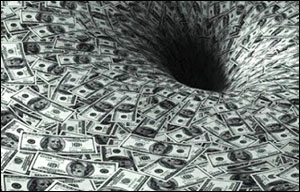 ► From the Washington Post — Treasury, SBA data show small-business loans went to private-equity backed chains, members of Congress —  Data released Monday by the Small Business Administration shows that businesses owned by members of Congress and the law practice that represented President Trump were among the hundreds of thousands of firms that received aid from the agency. As part of its $660 billion small-business relief program, the SBA also handed out loans to private schools catering to elite clientele, firms owned by foreign companies and large chains backed by well-heeled Wall Street firms. Nearly 90,000 companies in the program took the aid without promising on their applications they would rehire workers or create jobs.
EDITOR'S NOTE — We're going to go out on a limb here and suggest that maybe this money should have gone to hospitals and states that are furloughing employees rather than Mitch McConnell's wife, the Ayn Rand Institute, and Kanye.
---
LOCAL
► From KNKX — Two police killings in Pierce County get renewed attention amid protests, state review — Two cases in which police in Pierce County shot and killed Black men in their 20s are getting renewed attention. Bennie Branch, 24, and Said Joquin, 26, were shot and killed in separate incidents eight months apart. The focus on Branch and Joquin comes after activists, in a series of vigils and protests, drew public attention to the killing of Manuel Ellis by Tacoma police in March, prompting Gov. Jay Inslee to order a new investigation into the case.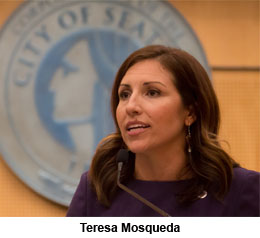 ► From the Seattle Times — Seattle City Council passes 'JumpStart' tax on high salaries paid by big businesses — The Seattle City Council passed a new tax on big businesses Monday that's expected to fund economic relief and core services during the coronavirus crisis and raise more than $200 million per year for housing, local business assistance and community development in the long term. The "JumpStart Seattle" tax championed by Councilmember Teresa Mosqueda will target companies with highly paid employees, like Amazon. "This is a huge win," Mosqueda said. "This is about caring for Seattleites." Monday's 7-2 vote represents a breakthrough in a long-running debate at City Hall about how to address the housing and homelessness crises that have in recent years accompanied Seattle's tech-business and construction boom.
---
THIS WASHINGTON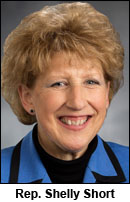 ► From the Seattle Times — Gov. Jay Inslee's budget cuts barely scratched the surface (by Rep. Shelly Short, R-Addy) — To his credit, Gov. Jay Inslee previously reduced program spending before signing this year's budget. Unfortunately, it wasn't enough… Republican lawmakers have repeatedly called on the governor to halt this year's 3% raise for Washington state public employees beginning this month. The governor announced he would allow this year's 3% pay increase for state employees to continue but will require these employees to take furloughs for the remainder of the calendar year to reduce state spending.
EDITOR'S NOTE — Not mentioned: Rep. Short and her fellow legislators got a 7.8% raise on July 1. Also not mentioned, Short's home of Stevens County is the No. 2 most subsidized county in Washington, collecting $2 in public services for every $1 residents pay in taxes. If counties like hers paid their fare share, she wouldn't have to devote so much time and energy advocating pay and service cuts for everybody else.
---
THAT WASHINGTON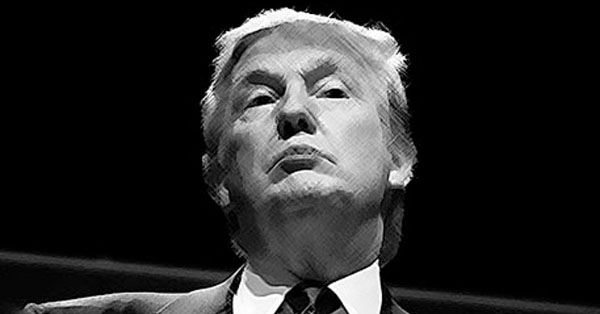 ► From The Hill — Trump expected to refile paperwork to end DACA this week — The decision to refile on DACA was widely expected after the Supreme Court ruled last month that the administration failed to give an adequate justification for terminating the program as required by federal law. But the court made clear Trump had the authority to rescind the program, essentially forcing the president to try again or risk the appearance of backing down.
► From Politico — Trump administration bars international college students if their school's classes are all online — International students who attend college in the United States on visas will be barred from staying in the country if their school's classes are entirely online during the fall semester, the Trump administration said Monday.
► From Salon — Trump administration uses faulty data to speed up meatpacking production — A recent investigation found that Team Trump may have used unsuitable data to analyze worker safety to promote a rule that allows meatpacking plants to eliminate federal limits on how quickly workers can slaughter hogs.
► From The Hill — Gallup: Trump's job approval rating erodes among key groups — Trump's job approval rating is hovering near the low point of his presidency as core groups that propelled his 2016 run grow dissatisfied with his performance in office.
► From Roll Call — House Democrats adopt caucus rule to encourage diverse hiring — Caucus rule adopted Monday encourages Democratic offices to identify and interview diverse applicants for staff vacancies.
EDITOR'S NOTE — Maybe newspapers like The Columbian should try that.
---
NATIONAL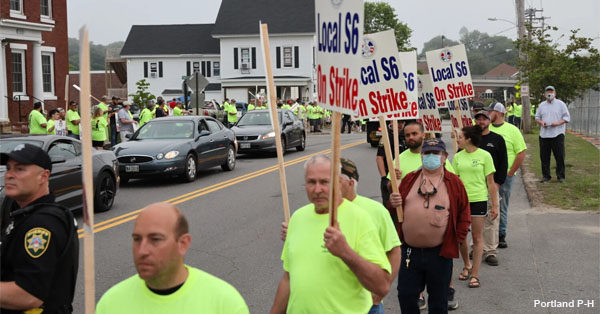 ► From the Portland Press-Herald — Striking Bath Iron Works union meets with federal mediator — As the largest union at Bath Iron Works, one of the state's largest employers, launches its third week on strike, union officials met with a federal mediator Monday in the hopes of restarting negotiations soon. Machinists Local S6, which represents 4,300 of the shipyard's 6,700 employees, began striking June 22 after rejecting the three-year contract proposal over disagreements about the company's plans to continue hiring subcontractors and proposed changes to worker seniority privileges.
► From the Seattle Times — Pilots were once in short supply. Now they're losing their jobs. — The profession is still stacked with older aviators, but airlines are expected to make deep cuts in the coming months, and the pilots most at risk are those who are just starting out.
---
The Stand posts links to Washington state and national news of interest every weekday morning by 10 a.m.
Short URL: https://www.thestand.org/?p=89656
Posted by
David Groves
on Jul 7 2020. Filed under
DAILY LINKS
. You can follow any responses to this entry through the
RSS 2.0
. Both comments and pings are currently closed.