Aviation unions urge extension of Payroll Support Program
WASHINGTON, D.C. (July 27, 2020) — Unions representing U.S. aviation industry workers are calling on Congress to extend the CARES Act Payroll Support Program (PSP). The current program, which allocated grants to commercial airlines and airline contractors for the exclusive purpose of keeping employees on payroll with wages and benefits, is set to expire on Sept. 30. To date, PSP funding has kept hundreds of thousands of airline workers employed and covered under their healthcare plans during the pandemic. Without an extension of PSP funding, mass layoffs in the aviation industry are inevitable.
"Congress passed the PSP in March and it has been an overwhelming success," writes the Association of Flight Attendants (AFA/CWA). "It's kept workers connected to their jobs, healthcare, and out of the unemployment line. But although air travel is beginning to pick back up, bookings for travel will remain at historic lows at least through the end of 2020. We must extend the program or risk mass layoffs in October."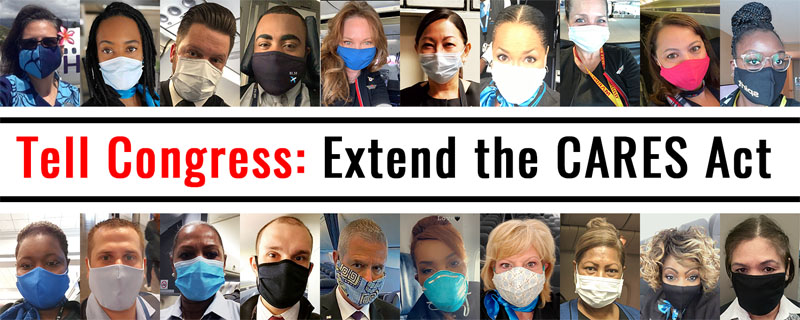 TAKE A STAND — Click here to send a message to Congress to extend the CARES Act Payroll Support Program protecting hundreds of thousands of aviation workers.
Although the program doesn't expire until the end of September, layoff notices are beginning to be sent to workers. For example, United Airlines has warned 36,000 employees and American Airlines has warned 25,000 that they could lose their jobs this fall when the PSP expires.
The AFA/CWA proposes that Congress pass a clean six-month extension of the PSP through March 31, similar to the extension Congress passed for the Payroll Protection Program. A PSP extension would allow the program to continue as intended under the current statute and would not require additional conditions, applications, or agreements by Treasury or the carriers.
In a July 21 letter to U.S. senators, labor leaders throughout the aviation industry strongly urged this extension of the PSP.
"The PSP is the principal component of the airline worker relief provisions in the CARES Act," the letter reads. "This extremely successful program, which provides aid exclusively for employee payroll, has ensured that nearly one million airline employees remain employed with their health insurance during this crisis while also preserving collective bargaining rights and prohibiting furloughs… (A PSP extension) is the simplest and fast way to maintain Congress' historic commitment to keep aviation workers on payroll — many of whom are on the front lines of this deadly virus. Waiting is not an option. Absent immediate Congressional action mass layoffs will begin on October 1, 2020."
The letter was signed by Joe DePete, President, Air Line Pilots Association; Eric Ferguson, President, Allied Pilots Association; Julie Hedrick, National President, Association of Professional Flight Attendants; James P. Hoffa, General President, International Brotherhood of Teamsters; Pedro Leroux, President, NetJets Association of Shared Aircraft Pilots; Sara Nelson, International President, Association of Flight Attendants-CWA; Sito Pantoja, General Vice President for Transportation, International Association of Machinists and Aerospace Workers; Mike Perrone, National President, Professional Aviation Safety Specialists; Paul Rinaldi, President, National Air Traffic Controllers Association; John Samuelsen, International President, Transport Workers Union; Christopher M. Shelton, President, Communication Workers of America; Jonathan L. Weaks, President, Southwest Airlines Pilots Association; and Larry I. Willis, President, Transportation Trades Department, AFL-CIO.
Short URL: https://www.thestand.org/?p=90349
Posted by
David Groves
on Jul 27 2020. Filed under
NATIONAL
. You can follow any responses to this entry through the
RSS 2.0
. Both comments and pings are currently closed.