The Washington State Labor Council, AFL-CIO will be hosting a Pass the HEROES Act virtual town hall meeting with U.S. Sen. Maria Cantwell (D-WA) at 11:30 a.m. Thursday, July 30. Click here to register to participate via Zoom video conferencing.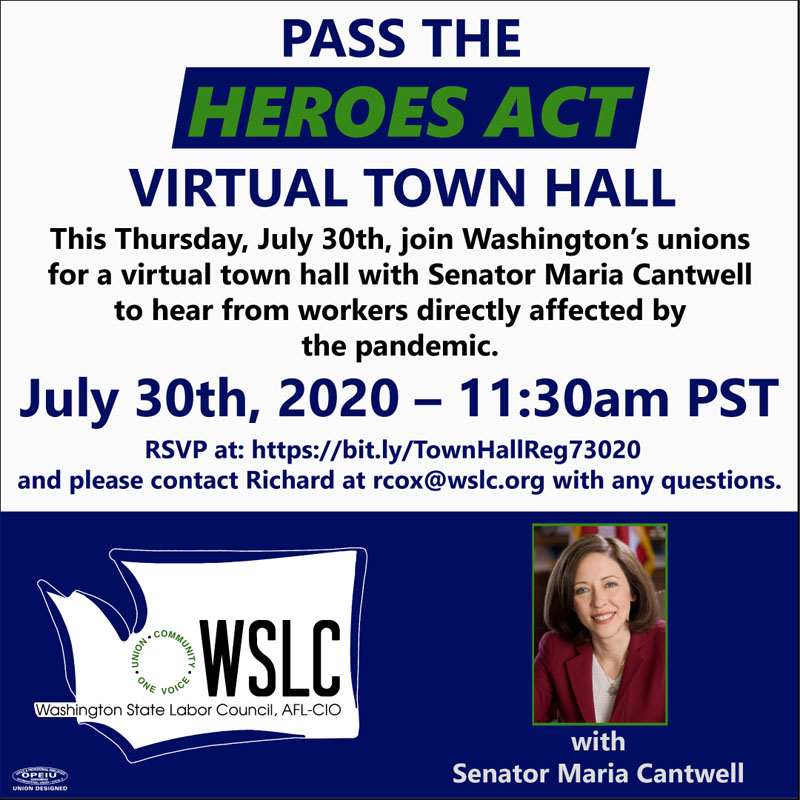 As the COVID-19 pandemic continues, working people are demanding a comprehensive coronavirus relief package that would address America's Five Economic Essentials and confront the three crises facing America: a public health pandemic, an economic free fall and long-standing structural racism. On May 15, House Speaker Nancy Pelosi and the U.S. House of Representatives passed the HEROES Act. Sadly, more than 70 days have passed and instead of voting on the HEROES Act, Senate Republicans have been vacationing.
Now, working people are demanding action.
This Thursday, July 30 at 11:30 a.m., join Washington's unions for a virtual town hall with Sen. Maria Cantwell to hear from workers directly affected by the pandemic. To join the Washington State Labor Council, AFL-CIO's Virtual Town Hall, click here to register for the Zoom meeting.
Posted by
David Groves
on Jul 27 2020. Filed under
NATIONAL
. You can follow any responses to this entry through the
RSS 2.0
. Both comments and pings are currently closed.