Washington appeals: Save the Postal Service
Labor leaders express confidence in USPS' ability to handle election mail, but call on Senate to approve funding
(Aug. 26, 2020) — Hundreds of U.S. Postal Service supporters in Washington state — and thousands across the nation — rallied outside their local post offices on Tuesday to demand an end to deliberate efforts by the Trump administration and Postmaster General Louis DeJoy to slow the mail and cut USPS services. "Save the Postal Service" rallies were held in Bellingham, Burien, Elma, Everett, Mt. Vernon, Ocean Park, Omak, Quilcene, Richland, Seattle, Spokane, Tacoma, and other post offices across the state.
Many have expressed concerns that the Trump administration's efforts to slow the mail and deny the Postal Service additional COVID-19 funding are politically motivated and are intended to undermine confidence in the USPS's ability to handle the increased number of mail-in ballots during the pandemic. Labor leaders expressed confidence in the Postal Service and its employees, but are urging funding to protect the popular agency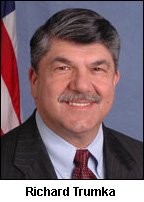 AFL-CIO President Richard Trumka said:
"The U.S. Postal Service, which traces its roots to 1775, is one of America's greatest institutions. It connects everyone all across the country—urban, suburban, rural. It's a beloved and effective agency because of dedicated public servants who work for it. These are quality jobs that support working families and contribute to our communities. I know Donald Trump is trying to get people to believe you can't trust the mail—but in the labor movement, we know we can trust our brothers, sisters and friends in the Postal Service to get our mail-in votes delivered. People need to not be confused or scared—ask for a mail-in ballot and send it in promptly. But make no mistake about it: The labor movement is fighting right now to protect the Postal Service, starting with the nearly 450,000 postal union members who are standing up to President Trump and Postmaster General Louis DeJoy every day."
Since being appointed postmaster general in May, DeJoy, a Trump donor and political loyalist with no experience working for the Postal Service, has used the agency's COVID-related financial struggles as an excuse to make changes that are slowing mail delivery and jeopardizing the Postal Service's constitutionally mandated mission. In July, DeJoy eliminated all overtime, restricted work hours, reshuffled at least 23 senior postal officials and ordered late-arriving mail to be left behind, a policy change that violates federal law. Subsequently, there were widespread reports of significantly delayed mail nationwide.
DeJoy has since claimed those changes have been "suspended" until after the election, the unions representing postal workers have urged Congress to approve the $25 billion in funding that the agency needs to sustain service through the COVID-19 pandemic. On a bipartisan vote Saturday, the U.S. House of Representatives approved that funding and Democratic leaders are calling on the Republican-controlled Senate to allow a vote on that measure.
TAKE A STAND — Call your Senators today to tell them to support at least $25 billion in funding for our public Postal Service. Dial (844) 402-1001 or use this form.
The U.S. Postal Service is America's most popular federal agency, with an overwhelming 91 percent of respondents having a favorable view of the USPS. That's because postal workers are absolutely committed to their mission of serving the public. The USPS processes nearly 500 million pieces a day, significantly more every year as Christmas approaches. Even if every single one of the 158 million registered voters across the United States mailed their election ballot on the same day, the Postal Service would have no problem handling it.
---
Here is some local coverage of Tuesday's Save the Post Office rallies:
► From the News Tribune — Here's what we know about Tacoma's USPS sorting machines and mail-in voting — On Tuesday, members of the Puget Sound Area Local APWU stood out front of the Tacoma office at 4001 S Pine St. with signs in support of the workers there, sharing flyers about the decommissioned machines. "This is unprecedented — I've never seen anything like it," Carol Mesford, a letter carrier in Tacoma for 40 years, said of the changes.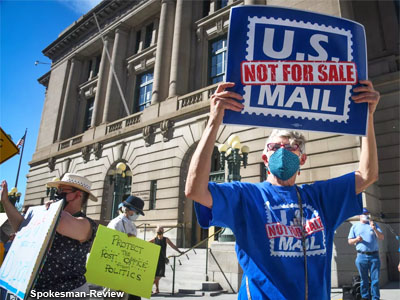 ► From the Spokesman-Review — USPS 'not to be messed with': Postal workers, protesters gather at Spokane post office — A group of about 30 people gathered around the U.S. Post Office in downtown Spokane on Tuesday calling for public support and criticizing Postmaster General Louis DeJoy for causing delays in mail. They also criticized Rep. Cathy McMorris Rodgers in response to her vote against a bill providing emergency funding to the Postal Service, while more than two dozen Republicans aligned with Democrats to pass the bill. Rodgers voted against the legislation, "even though her district is in rural Eastern Washington and would be the very first to see cut backs to service," according to a news release from the APWU.
► From The Stranger — Washington sues Trump over USPS cutbacks: Not just harmful, they're illegal — State Attorney General Bob Ferguson has joined about a dozen other states in suing Donald Trump, Louis DeJoy, and America itself over Republicans' escalating attacks on the post office. The USPS is required to get approval from the Postal Regulatory Commission before making changes like these. The USPS is acting "ultra vires" — outside of their legal ability — the states claim.
Short URL: https://www.thestand.org/?p=91173
Posted by
David Groves
on Aug 26 2020. Filed under
NATIONAL
. You can follow any responses to this entry through the
RSS 2.0
. Both comments and pings are currently closed.