Boeing bombshell ● Smoke brings clarity ● Airlines' mass furloughs
Wednesday, September 30, 2020
---
BOEING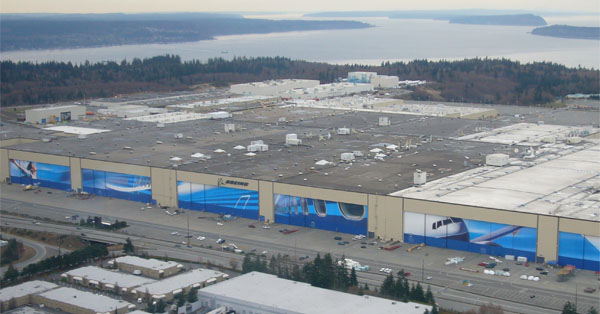 ► From the Seattle Times — Boeing will consolidate 787 production in S.C., leaving Everett, WSJ reports — Boeing is set to announce this week that it will consolidate all 787 Dreamliner production in North Charleston, S.C., stripping Everett of its most significant jet assembly line, the Wall Street Journal reported Tuesday evening. Rep. Rick Larsen (D-Everett) issued a statement saying that "Boeing's decision to pull its 787 production out of Washington state is shortsighted and misplaced." The news will be a tremendous blow to Boeing's Everett workforce. South Carolina was heavily favored to win because of lower costs, since much of the plane's fuselage is already assembled there. The state's anti-union culture is another advantage in the eyes of the Boeing board.
► From Flight Global — Analysts warn of Boeing talent drain, question company's long-term strategy — A cadre of departing mid-level Boeing staff has raised questions about whether the company could find itself short of critical expertise needed to advance future commercial aircraft programmes, say aerospace experts. Bloomberg reported last week that 170 Boeing vice-presidents and other middle-tier staff, including 70 commercial aircraft employees, have taken buyouts.
EDITOR'S NOTE — Dear Analysts: The Chicago-based company is also losing thousands of aerospace engineers and machinists, not just mid-level executives, and therefore could find itself short of critical expertise needed to BUILD AIRPLANES.
► From the AP — Lawmakers upset over Boeing MAX approval propose new rules — Lawmakers who criticized regulators over the way they approved the Boeing 737 MAX will propose changing the way that the FAA certifies new plane designs and uses private-sector employees to perform safety analysis.
► From the PSBJ — Boeing's new communications czar lands $2.2M restricted stock package
---
COVID-19
► LIVE from the Seattle Times — Coronavirus daily news update, Sept. 30 — The latest count of COVID-19 cases in Washington totals 87,042 infections (7-day average of new infections per day: 470) and 2,124 deaths (7-day average of deaths per day: 8)
► From the Columbian — Clark County COVID-19 activity moves farther into 'high' range — Clark County's COVID-19 activity level moved farther into the "high" range Tuesday, further pushing back the timeline for school reopening, according to the latest data reported by public health officials.
► From the NY Times — Pandemic hits Black, Latino families harder financially, poll finds — More than 60 percent of households with children in the U.S. reported serious money problems in a new survey, but Blacks and Latinos bore the brunt of the pain.
---
THIS WASHINGTON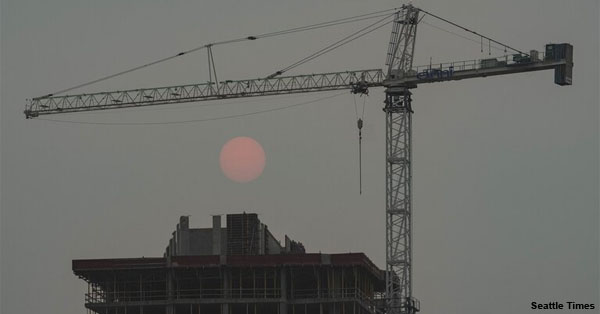 ► From the Seattle Times — Wildfire smoke brings clarity on climate (by Amy Markezich and the WSLC's Vlad Gutman-Britten) — We do have a choice, to choose solutions to address the climate crisis. We can electrify our transportation system and reduce our reliance on cars through transit and planning that supports walkable, connected communities… We must focus solutions in those places where they will do the most good, returning clean air to neighborhoods who haven't had it in decades. We can ensure the workers building our clean future are in family-sustaining jobs that protect their right to fair wages, fair benefits and to organize… The smoke brings the clarity: To address climate change we need to change the political climate. It's on all of us to bring more accountability, both leading up to and after the election, if we're going to accelerate solutions at every level.
► From KING 5 — Wildfire smoke may cause hazy Washington skies on Wednesday
---
LOCAL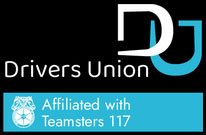 ► From the Seattle Times — Seattle to require minimum wage for Uber and Lyft drivers — The Seattle City Council on Tuesday unanimously backed a new pay formula for Uber and Lyft drivers meant to ensure they make the same $16.39 per hour minimum wage as other workers in the city. The new rules require ride-hailing companies to pay drivers rates high enough to account for a wide range of expenses and for the time drivers spend waiting for rides and heading on their way to pick up passengers, not just the time when a passenger is in the car.
The Stand (TODAY) — Uber, Lyft drivers celebrate Fair Pay passage
► From the Oregonian — Portland police union chief introduces 2022 ballot initiative to limit right to assemble
---
LOCAL ELECTIONS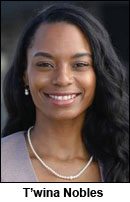 ► From the News Tribune — We endorse: In West Pierce County, T'wina Nobles for Senate, 3 others for House (editorial) — The 28th is a swing district that lately has swung away from the right. T'wina Nobles is a powerful voice for that transformation, speaking up for working families in the era of coronavirus and other hardships. We endorse Nobles for a four-year term representing West Tacoma, Lakewood, University Place, Fircrest, DuPont, Steilacoom and local island communities. Nobles, 38, is a 15-year resident of the district who came to the area as a JBLM military spouse. Now in her second term on the University Place School Board, she has a clear-eyed view of public education challenges. Likewise, her three years as president and CEO of the Tacoma Urban League make her well grounded on business and social service issues, particularly for people of color.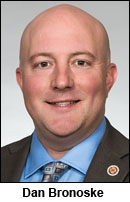 For House Position 1 in the 28th District, Rep. Mari Leavitt (D-University Place) has earned a second term. Among her achievements are pay raises for National Guard members fighting wildfires and commercial driver licenses waivers for veterans transitioning out of the military. And voters would do well to entrust retiring Rep. Christine Kilduff's Position 2 seat to fellow Democrat Dan Bronoske. He would give Lakewood a seat in the statehouse for the first time in years. The West Pierce Fire & Rescue engine company captain has an impressive grasp of public policy issues and a master's degree in public administration.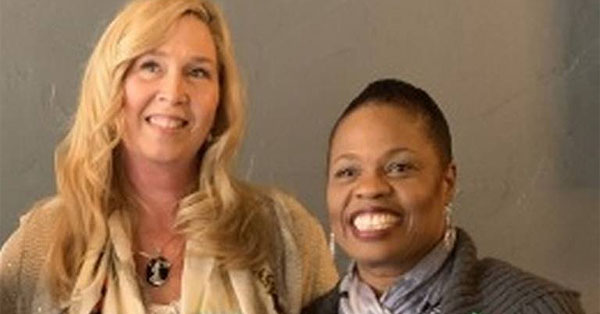 Across the Narrows Bridge in the 26th Legislative District, the time has come for a clean sweep of incumbents; a pair of Gig Harbor Democrats stand ready with new ideas and energy. We're sticking with our primary election picks of Carrie Hesch over Rep. Jesse Young (R-Gig Harbor) for Position 1, and Joy Stanford over Rep. Michelle Caldier (R-Pot Orchard) for Position 2. Hesch, 48, is a Washington corrections professional with keen insights on how to reform the prison system and prevent marginalized women from becoming repeat offenders.
The Stand (May 14) — Teamsters' Carrie Hesch seeks House seat in 26th District
---
NATIONAL ELECTION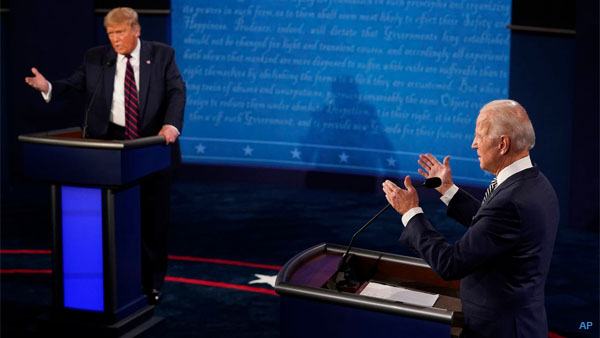 ► From the NY Times — With cross talk, lies and mockery, Trump tramples decorum in debate with Biden — Interrupting Joe Biden nearly every time he spoke, Trump made little attempt to reassure swing voters about his leadership. Biden hit back: "This is so unpresidential."
The Stand (TODAY) — AFL-CIO: Debate confirms Biden the only choice for working people — AFL-CIO President Richard Trumka: "Joe is the only presidential candidate who shares our values, supports our issues and has a plan to finally defeat the coronavirus so we can save workers' lives and livelihoods."
► From the Washington Post — Trump refused to condemn white supremacists and militia members in presidential debate marked by disputes over race — He called out one far-right group, using words that some of its members embraced as a call to arms rather than a denunciation. "Proud Boys — stand back and stand by," Trump said after Democratic rival Joe Biden challenged him to decry far-right supporters who have taken to the streets in recent months brandishing weapons, and cited the Proud Boys. "But I'll tell you what, somebody's got to do something about antifa and the left."
► From The Hill — Proud Boys celebrate online after Trump's debate 'stand back and stand by' comment — The far-right neo-fascist Proud Boys immediately shared a new logo online that included the phrase "stand back and stand by."
► From TPM — Kamala Harris calls Trump's refusal to condemn white supremacy 'dog whistling through a bullhorn' — Harris: "The President of the United States, in the year of our lord 2020, refuses to condemn white supremacists. This is a president, you know, people talk about dog whistling. Dog whistling through a bullhorn is what he is doing."
---
THAT WASHINGTON



► From Reuters — U.S. airlines strap in for bailout suspense a day before furloughs — A day before mass furloughs, U.S. airline workers said they were gearing up for a full-court press to persuade Congress to pass a fresh $25 billion bailout that would protect jobs for another six months. With an airline payroll support package expiring at midnight, the clock is ticking.
► From Roll Call — House Democrats readying new virus aid package if GOP counter falls short — House Democrats are holding out hope for a bipartisan coronavirus aid deal but are preparing for a quick vote as soon as Wednesday on the $2.2 trillion aid package they unveiled Monday if an expected White House counteroffer falls short.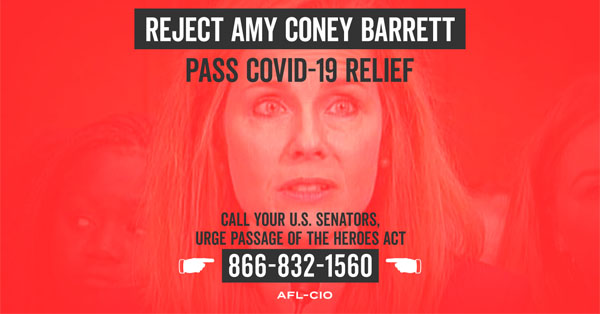 ► From Politico — Republicans plot out Barrett confirmation blitz — The elaborate rituals of a Supreme Court nomination, which usually unfold over weeks or months, are being compressed to mere days under the Republican schedule. Barrett's confirmation would be both rapid by historical standards and the closest ever to a presidential election. On Tuesday, in between quick meetings with Barrett, Senate Republicans said they were on track to install her before the Nov. 3 election — and they had few, if any, qualms about doing so.
---
FOX NEWS: WE LIE

► From KUOW — You literally can't believe the facts Tucker Carlson tells you. So say Fox's lawyers. — That assertion is not coming from Carlson's critics. It's being made by a federal judge in the Southern District of New York and by Fox News's own lawyers in defending Carlson against accusations of slander. It worked, by the way. Just read U.S. District Judge Mary Kay Vyskocil's opinion, leaning heavily on the arguments of Fox's lawyers: The "'general tenor' of the show should then inform a viewer that [Carlson] is not 'stating actual facts' about the topics he discusses and is instead engaging in 'exaggeration' and 'non-literal commentary.'" She wrote: "Fox persuasively argues, that given Mr. Carlson's reputation, any reasonable viewer 'arrive[s] with an appropriate amount of skepticism' about the statement he makes."
---
The Stand posts links to Washington state and national news of interest every weekday morning by 10 a.m.
Short URL: https://www.thestand.org/?p=92082
Posted by
David Groves
on Sep 30 2020. Filed under
DAILY LINKS
. You can follow any responses to this entry through the
RSS 2.0
. Both comments and pings are currently closed.