Food insecurity ● Clear choice: Reykdal ● Mitch's mission of misery
Tuesday, October 13, 2020
---
COVID-19
► LIVE from the Seattle Times — Coronavirus daily news update, Oct. 13 — The latest count of COVID-19 cases in Washington totals 93,035 infections (7-day average of new infections per day: 515) and 2,190 deaths (7-day average of deaths per day: 6)
► From the Baltimore Sun — White House blocked CDC from requiring masks on public transportation, sources say — The Centers for Disease Control and Prevention drafted a sweeping order last month requiring all passengers and employees to wear masks on all forms of public and commercial transportation in the United States, but it was blocked by the White House, according to two federal health officials.
EDITOR'S NOTE — "Remember Our Fallen" from the Amalgamated Transit Union.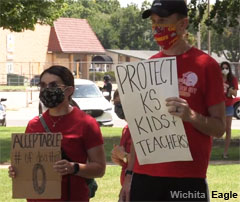 ► From the Wichita Eagle — 'It is not sustainable': Kansas' online teachers are overworked and quitting — Public schools in Kansas are asking a lot from remote teachers this year. They must figure out how to shift their lessons online — without the wiggle room granted in the spring. Teachers need to learn new technology. Students need help getting their new computers and tablets working, too. All that must happen while teaching twice as many kids to compensate for the split between in-person and online classes. Some educators warn that they can't do right by students — or their own families — under the current conditions. Unions said teachers are already leaving.
► From NPR — A crisis within a crisis: Food insecurity and COVID-19 — Over the course of covering the global health crisis that began earlier this year, I have heard many worries from people across the country: about getting sick, losing a job or a business, losing health insurance, depleting savings. But not until I saw people standing in line for food did it strike me that at the most basic level, all these could lead to the same thing: being hungry, or at least, not having enough food, or the right kind of food, when you need it.
EDITOR'S NOTE — Two ways you can help, make a donation to the Foundation for Working Families or to your local food bank…
---
ELECTION



► From KNKX — In Washington, voters need to sign carefully to avoid rejection of their ballots — Two-thirds of ballots rejected in Washington state are because the signature doesn't match the one election officials have on file. The other third are because ballots were postmarked after the deadline.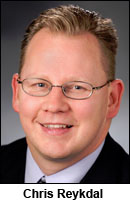 ► From the Columbian — Reykdal is the clear choice for state superintendent (editorial) — Chris Reykdal has been a public school teacher, spent 14 years as an executive in the community and technical college system and served six years in the Legislature before being elected as superintendent in 2016. He has performed well over the past four years in making continuing advancements for Washington schools, with expansions to early learning; a legislative fix to the McCleary decision regarding school funding; and increased emphasis on closing inequities to ensure each Washington student receives a high-quality education… Challenger Maia Espinoza, on the other hand, offers a less cohesive vision for public education. She supports a voucher of $2,500 per student that could be used at private schools, saying the money could be found in current budgets.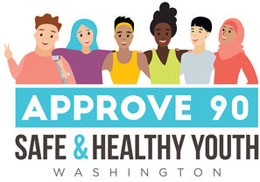 ► From the Inlander — Approve Referendum 90: Students deserve to have the tools they need to build healthy relationships (by Mandy Manning, 2018 National Teacher of the Year) — We need to make sure our youth have what it takes to make good decisions. One way that is proven to work is to provide them with accurate, age-appropriate, health and sex education. Students deserve to have a safe forum to get the information and tools they need to build healthy relationships, avoid unintended pregnancy and sexually transmitted disease, and to prevent themselves from being perpetrators or victims of sexual abuse.
EDITOR'S NOTE — The WSLC is urging union members to approve Ref. 90.
► From the Seattle Times — Vote yes for Seattle Proposition 1 for bus service (editorial) — Seattle voters should approve the city's Proposition 1, authorizing a sales tax to fund additional Metro bus service… Although ridership fell because of the pandemic and may take time to recover, having a robust urban-transit system remains a necessity. It should also help the city and downtown recover from the economic downturn.
► From the Courier — Biden touts jobs for union workers — "My dad was an automobile man," Biden said to United Auto Workers members in Toledo. The former vice president employed his trademark empathy as he compared auto industry hard times from his childhood to more recent times. Biden promised to "reward work, not wealth," by raising taxes on corporations and the "super-wealthy" and by adding higher paying unionized jobs.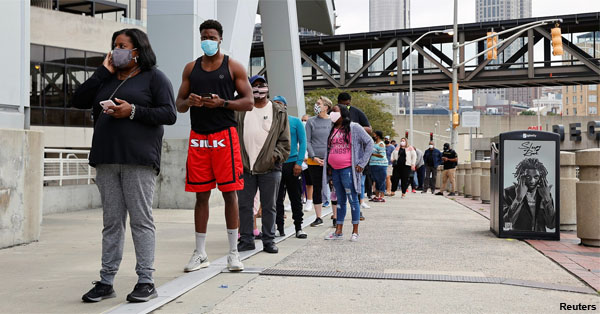 ► From NBC News — Early voting begins in Georgia with long lines, high turnout — Early voting kicked off in Georgia on Monday with hourslong waits at some polling locations amid what election officials said was a record high turnout. Fulton, Cobb, DeKalb and Gwinnett counties, counties with large nonwhite populations, all reported long lines. Studies show that race is one of the strongest predictors of how long a person waits in line to vote. In 2019, researchers used smartphone data to quantify the racial disparity in waiting times at polls across the country. Residents of entirely-Black neighborhoods waited 29 percent longer to vote and were 74 percent more likely to spend more than 30 minutes voting.
Now at 11hrs in line but we are next! A long journey but wouldn't be anywhere else! Please vote everyone! pic.twitter.com/ifRcbK1XRm

— Johnta Austin (@johntalsr) October 12, 2020
---
AEROSPACE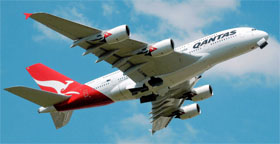 ► From Reuters — French Airbus workers sign key restructuring deal — Major French unions on Monday signed a keenly awaited labor deal with Europe's Airbus covering job reductions and furloughs for production workers affected by coronavirus-blighted demand for passenger jets. After three months of talks, unions representing a majority of the planemaker's French workers signed an agreement paving the way for 4,200 job reductions in France, including 3,400 in Toulouse. Unions say the agreement will prevent compulsory redundancies, although Chief Executive Guillaume Faury recently warned staff that voluntary measures would not be enough.
► From the Seattle Times — WTO approves European tariffs on Boeing jets and other U.S. goods — It parallels an earlier ruling against the EU allowing U.S. tariffs that for the past year have increased the price of many European products sold here, including Airbus jets. The ruling raises the possibility that, just as Boeing scrambles to ramp up 737 MAX jet deliveries early next year, the EU could slap a 15% tariff on MAXs delivered to Ryanair and other European airlines.
► From the PSBJ — Boeing reveals fate of Dreamlifter in Everett after moving 787 production to S.C. — It will continue to fly over the Puget Sound region because it plays a role in moving other non-787 Boeing airplane parts across the country.
---
LOCAL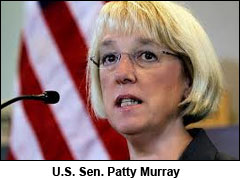 ► From the PSBJ — Northwest Seaport Alliance lands federal grant for Terminal 5 shipping facility — The Northwest Seaport Alliance is getting a $10.7 million federal government grant to complete major infrastructure upgrades at Terminal 5 at the south end of the Seattle Harbor as part of long overdue modernization efforts. Once renovated, Terminal 5 will be able to serve two 18,000-TEU ships, some of the world's largest container vessels, Sen. Patty Murray said.
---
THAT WASHINGTON
► From Reuters — Desperate Americans hit by pandemic beg Congress, Trump to pass economic relief bill — Sylvia Padilla spent last Thursday checking food pantries in Lubbock, Texas for groceries to feed herself, her daughter and three-year-old grandson. "This is like a nightmare I can't wake up from," Padilla said, resting her face in her hands. "It really feels like a nightmare, but it's our reality."
► From the NY Times — Mitch McConnell's mission of misery (by Paul Krugman) — Senate Majority Leader Mitch McConnell (R-Ky.) and company are also the main reason we don't have a deal to help Americans survive the economic effects of the pandemic… They aren't worried that a relief package would fail; they're worried that it might succeed, showing that sometimes more government spending is a good thing. Indeed, a successful relief package might pave the way for Democratic proposals that would, among other things, drastically reduce child poverty.
► From The Hill — McGrath: McConnell 'can't get it done' on COVID-19 relief
McConnell's gleeful laugh when McGrath talks about his failures on COVID is…something pic.twitter.com/axoFqqGG8D

— Don Moynihan (@donmoyn) October 13, 2020
EDITOR'S NOTE — Meanwhile, here's what McConnell can get done…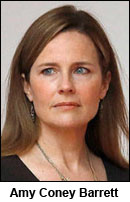 ► From the Associated Press — A look at Judge Amy Coney Barrett's notable opinions, votes — Barrett wrote a 2019 decision that upheld the dismissal of a workplace discrimination lawsuit by Terry Smith, a Black Illinois transportation employee who sued after he was fired. Smith's claims included that he was called a racial slur by supervisor Lloyd Colbert. "Smith can't win simply by proving that the word was uttered," she wrote. "He must also demonstrate that Colbert's use of this word altered the conditions of his employment and created a hostile or abusive working environment."
EDITOR'S NOTE — Translation: Barrett doesn't believe the being called the n-word by a supervisor at work is sufficient evidence to prove a hostile work environment.
► From The Hill — Democrats warn of ObamaCare threat from Barrett, Trump — Democrats on Monday painted Judge Amy Coney Barrett as an existential threat to the Affordable Care Act, allowing them to go on offense in the fight over the Supreme Court and the fast-approaching election.
► From The Onion — Amy Coney Barrett promises Catholic faith won't interfere with court's crushing of the poor, downtrodden — "While I deeply believe in the Catholic virtue of mercy in my personal life, compassion has no place in my courtroom," she says.
---
NATIONAL
► From Labor Press — Nonprofit employees and other young professionals are the future of the labor movement (by Katie Barrows) — My union the Nonprofit Professional Employees Union (NPEU) is contacted almost daily by young, nonprofit workers interested in forming unions. So far this year, nonprofit employees at 14 organizations have formed unions with us, four more have asked for (or are working on) voluntary recognition, and many others are in the process of unionizing with us. NPEU has continued to organize during the pandemic because we know that having a union is all the more important during uncertain times.
EDITOR'S NOTE — Want to protect your job and your safety during these uncertain times? Get a union! Find out more information about how you can join together with co-workers and negotiate a fair return for your hard work. Or go ahead and contact a union organizer today!
► From Forbes — Airlines used CARES Act funds to pay workers. Airline contractors took the money and let workers go, report says — In the months after Congress allocated billions of dollars to keep airline industry employees working, passenger airlines applied for shares of that money and then laid off less than 1% of their workers, until the funding ran out. Airline contractors similarly applied for money and then laid off about 58,000 people, about 35% of their workers, a new report says.
► From Politico — California poised to reject affirmative action measure despite summer of activism — Polls suggest the Legislature may have miscalculated when it placed a measure on the November ballot to reinstate affirmative action.
► From The Hill — Wisconsin says Foxconn factory touted by Trump has failed to deliver on jobs — Officials in Wisconsin on Monday informed Foxconn, the Taiwan-based company that pledged to create 13,000 jobs across the state, that it has missed employment targets necessary for being approved for state tax credits for the second year in a row.
EDITOR'S NOTE –Dear Washington state legislators:
Employment targets. It's a thing.
Sincerely,
The Entire Staff of The Stand
---
The Stand posts links to Washington state and national news of interest every weekday morning by 10 a.m.
WASHINGTON IS A UNION STATE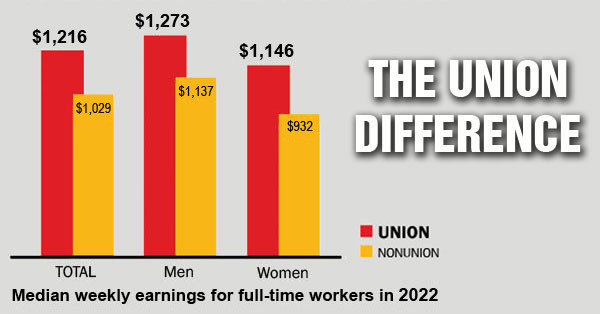 CHECK OUT THE UNION DIFFERENCE in Washington state: higher wages, affordable health and dental care, job and retirement security.
FIND OUT HOW TO JOIN TOGETHER with your co-workers to negotiate for better working conditions and respect on the job. Or go ahead and contact a union organizer today!