Defend Democracy: WSLC training Nov. 5 on post-election actions
Election Day is finally here! Americans are turning out in record numbers to restore democracy, justice for all, and a nation where every one of us is respected no matter what we look like, where we come from, or how we live. But before a single vote has been counted, Donald Trump and his attorneys have already vowed to challenge the will of the voters by blocking votes from being counted and undermining the people's election.
The labor movement understands that, for democracy to work for all of us, every voter must have our voice heard and our vote counted. That's why union members in Washington state and across the country are preparing to defend democracy. We know it will take longer than past elections to count the extraordinary number of mail ballots cast during the COVID-19 pandemic, and we need to be prepared to demand that this election is decided by the voters — not by the courts or by the Trump administration's intervention.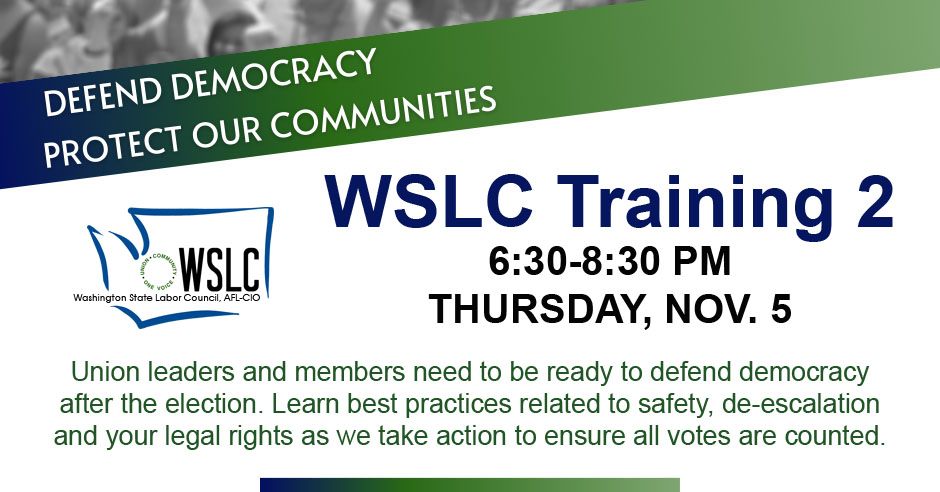 TAKE A STAND — The Washington State Labor Council, AFL-CIO invites leaders, staffers and rank-and-file activists from all affiliated unions to attend the second training in our series, "Defend Democracy: Protect Our Communities" from 6:30 to 8:30 p.m. on Thursday, Nov. 5 via Zoom video conferencing. Join WSLC President Larry Brown and WSLC Secretary Treasurer April Sims in preparing Washington's labor movement with best practices related to safety, de-escalation and your legal rights for union members looking to take action in the streets, from home or in the workplace. We will also be recruiting peacekeepers and focus part of the training on how to perform that role at upcoming protests. We need to be ready no matter what the outcome, but particularly if the presidential election results are contested or unclear. Click here to register for this training.
In preparation for Thursday's training, make sure that you have taken the Defend Democracy Pledge, a WSLC survey where everyone has the opportunity become a Democracy Defender and receive alerts, training opportunities and invitations to take various forms of action to defend our democracy in the wake of this critical election.
We know what keeps us safe: living in communities where people of every color and background have fair wages, great schools, and affordable health care, where we address problems with proven solutions like social supports instead of ever more militarized police. This is why we are turning out in record numbers to elect leaders who we can hold to account to respect our rights and govern for every single one of us.
But Trump is deliberately inciting violence because he hopes to distract us from the fact that he is likely to lose this election and has destroyed millions of lives by failing to prevent and protect us from COVID-19. He has empowered white nationalists and domestic terrorists, and has placed Americans in danger of vigilante violence, with his agenda of hate.
We know what keeps us safe – and it starts with coming together to defend democracy and make sure that every vote is counted and he will of the people is respected.
For more information about Thursday's training, email Ingrid Chapman or call her at 206-566-3067.
Short URL: https://www.thestand.org/?p=92911
Posted by
David Groves
on Nov 3 2020. Filed under
W.S.L.C.
. You can follow any responses to this entry through the
RSS 2.0
. Both comments and pings are currently closed.