Grocery hazard ● Prime union-busters ● GOP taps RTW sponsor ● Crazy Train
Thursday, December 3, 2020
---
COVID-19
► LIVE from the Seattle Times — Coronavirus daily news update, Dec. 3 — The latest count of COVID-19 cases in Washington totals 170,342 infections (7-day average of new infections per day: 2,494) and 2,850 deaths (7-day average of deaths per day: 18)
MORE COVID-19 coverage from the Daily World, Bellingham Herald, Columbia Basin Herald, Columbian, Ellensburg Daily Record, (Everett) Herald, Daily News, Olympian, News Tribune, Peninsula Daily News, Skagit Valley Herald, Spokesman-Review, Tri-City Herald, Wenatchee World, and the Yakima H-R.
► From the Kitsap Sun — Nine infected in COVID-19 outbreak among Port Orchard Fred Meyer employees — The nine, who are "self-quarantining" per company protocols, are a part of a team of 330 workers at the store, which remains open, at a time when COVID-19 cases are spiking around the state.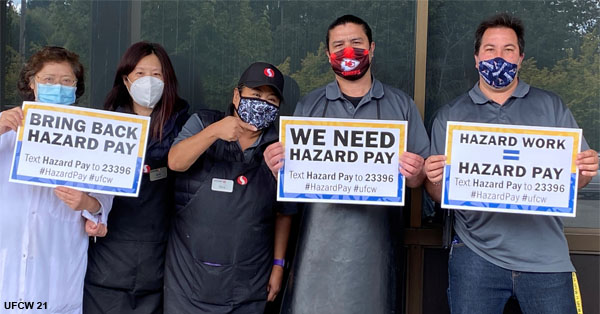 ► From UFCW 21 — Puget Sound grocery store workers speak out for hazard pay, staffing and safety — Grocery store workers here in Washington and around the nation continue to go to work every day, risking exposure to the deadliest virus in over one hundred years. Despite these risks and the dramatic increase in sales and profits that grocery stores have recorded since the beginning of the pandemic, the hazard pay that had been put in place in March was cut by early summer. Workers are also feeling a lack of sufficient staffing at a time when the need for sanitizing and breaks are paramount. Unionized workers have continued to press for the hazard pay and improved safety procedures. With the recent new spikes of exposure, positive cases and deaths, workers are re-doubling efforts for safety, staffing and hazard pay.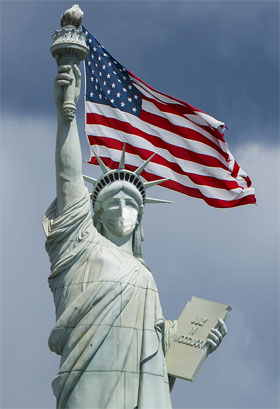 ► From The Hill — U.S. reports 3,100 COVID-19 deaths in one day, surpassing previous record by 20% — The U.S. saw its highest single-day coronavirus death toll to date on Wednesday with 3,157. The number was 20 percent higher than the previous single-day high of 2,603 on April 15, and brings the total U.S. death toll to 273,799, according to data from Johns Hopkins University. The record high came the same day new hospitalizations exceeded 100,000 for the first time ever.
► From The Hill — CDC director: Winter could be 'most difficult time in the public health history of this nation' — The U.S. could see another 200,000 coronavirus deaths in the next three months if people don't take mitigation measures such as mask-wearing and physical distancing seriously, says CDC Director Robert Redfield.
► From The Hill — American association: 911 system at 'breaking point'
---
AMAZON
► From Willamette Week — Workers risking COVID-19 outbreak at Amazon's Troutdale warehouse signed a strict confidentiality agreement — Entry-level workers at Amazon's Troutdale warehouse — the site of one of the largest workplace COVID-19 outbreaks in Oregon — have been required to sign nondisclosure agreements, legally binding contracts restricting what information employees can and cannot share publicly. Nondisclosure agreements are rare for warehouse workers. And this one is unusually stringent.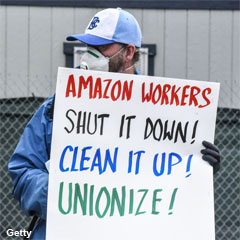 ► From Jacobin — Amazon is facing an unprecedented union vote in the right-to-work South — Workers at Amazon's new Bessemer, Alabama, warehouse have filed for a union election. They're taking on one of the most virulently anti-union companies in the United States.
► From Business Insider — Private spies reportedly infiltrated an Amazon strike, secretly taking photos of workers, trade unionists, and journalists. Now a union is taking legal action.
EDITOR'S NOTE — Amazon workers! Get more information about how you can join together with co-workers and negotiate a safer workplace and a fair return for your hard work. Or go ahead and contact a union organizer today!
---
BOEING
► From the Seattle Times — In a boost for Boeing, Ryanair adds 75 MAXs to its existing order — Irish low-cost carrier Ryanair on Thursday placed a firm order for 75 additional Boeing 737 MAX airplanes, increasing its MAX order book to 210 jets. As the first new MAX sale since the plane was ungrounded, the deal provides a much-needed boost for the commercial airplane giant as it struggles to revive its fortunes.
► From the AP — Waiting for passengers, American puts Boeing MAX in the air — American Airlines is likely to be the first carrier to put passengers on MAX jets, beginning Dec. 29.
► From Reuters — American Airlines goes full throttle to restore Boeing MAX fleet — American Airlines' maintenance team is scrambling to complete safety changes to its fleet of Boeing 737 MAX jets ahead of a phased return to service, while deliveries of new jets are set to begin as early as this week.
---
LOCAL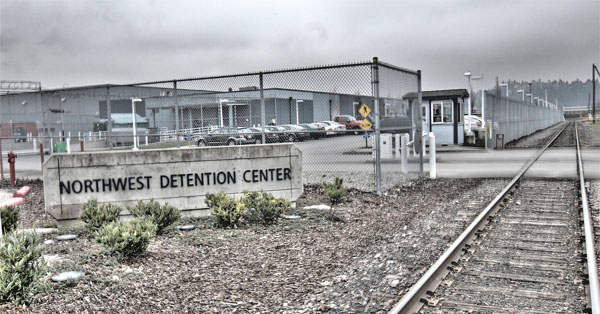 ► From CrossCut — New details of a death at Tacoma ICE facility raise questions over care — Documents provided to Crosscut show a facility where officials do not follow their own policies and raise questions about how they protect the lives in their care.
► From the Seattle Times — King County's largest behavioral health contractor to lay off 25 employees, cut 31 other positions — Sound, the Tukwila-based nonprofit and King County's largest behavioral health services provider, plans to lay off 25 administrative employees and cut an additional 31 vacant clinical positions amid shortfalls driven "by the COVID-19 pandemic and the new King County funding model."
---
THIS WASHINGTON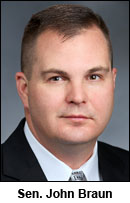 ► From the News Tribune — John Braun of Centralia elected state Senate Minority Leader — Sen. John Braun (R-Centralia) will step into the position of state Senate Minority Leader, succeeding Sen. Mark Schoesler. The 105-day session is scheduled to start Jan. 11. The state Senate has shared its plan for a primarily virtual session, while the House has not yet formally announced the details of its plan.
EDITOR'S NOTE — Braun is the only Republican in the Senate to sponsor legislation to make Washington a so-called "right-to-work" state. His bill failed without a hearing, but his ascendance to GOP leadership shows how aggressively his party would oppose workers' freedom to join together in unions, if they ever regain a majority.
► From the Olympian — Many questions, few details about who will get a COVID-19 vaccine when, DOH officials say — Anticipation is building around the potentially imminent arrival of limited doses of a COVID-19 vaccine — that much was clear at a virtual briefing with Washington state health officials Wednesday.
► From the Seattle Times — Time for Employment Security Department to come clean (editorial) — There is no justification for the beleaguered employment department's lack of transparency. A thorough, and independent, accounting of what happened is necessary to protect against future theft and restore the public's trust.
► From the Seattle Times — Lawsuit: DOC fired guard trainee for wearing 'Black Lives Matter' shirt after others wore 'Police Lives Matter' shirts
---
THAT WASHINGTON
► From the Washington Post — Pelosi, Schumer say $908 billion economic relief package should be starting point for talks — The top Democratic congressional leaders on Wednesday embraced a $908 billion coronavirus relief framework — a massive concession meant to prod Trump and Senate Republicans into accepting a compromise as cases spike and the economic recovery shows signs of faltering ahead of the holiday. And potentially building even more momentum behind the plan, at least one new Republican senator offered measured support for the idea.
► From Politico — Last-minute snags complicate massive spending deal — The renewed push for coronavirus relief and unresolved budget issues are complicating the massive $1.4 trillion spending deal, with lawmakers saying they need to reach an agreement in the coming days in order to pass the measure by next week's deadline.
► From Politico — Rep. McMorris Rodgers will make history as first woman at top of Energy and Commerce — Next year, McMorris Rodgers will make history when she becomes the first woman from either party to assume a top spot on the powerful House Energy and Commerce Committee — and she'll become the committee's ranking GOP member as a record-breaking number of Republican women join the House.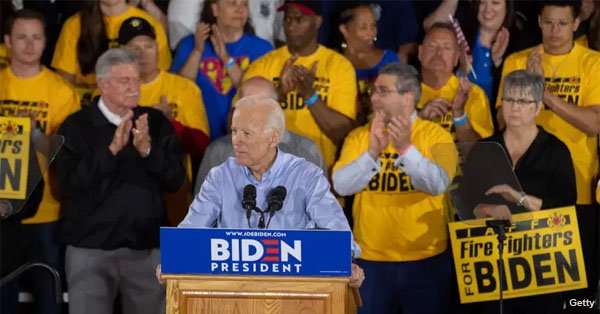 ► From CNBC — Biden promises to be 'the most pro-union president' — and union members in Congress are optimistic — Reps. Mark Pocan (D-Wisc.) and Donald Norcross (D-NJ), both of whom are union members (IUPAT and IBEW, respectively), have announced the creation of the Labor Caucus. Both longtime union members, the pair hope to represent the interests of organized labor in the House and estimate that the caucus will include at least 50 of their colleagues and four other co-chairs. "People ultimately want to make sure they have safe working conditions and good benefits and wages and the ability to have some say in their workplace," says Pocan. "Unions are the best way to deliver that." … Biden supports for the Protecting the Right to Organize Act's (PRO Act) and his website includes numerous union-friendly policies including promises to enact financial penalties on companies that interfere with workers' organizing efforts, provide a federal guarantee for public sector employees to organize and ban "right to work" laws.
► From the Pittsburgh Post-Gazette — In battling COVID-19, Biden eyes stricter OSHA enforcement of workplaces — Unions like the Pittsburgh-based United Steelworkers and some public health experts have pushed for federal standards to protect essential workers and those who have been called back to the job — a move the Trump administration has declined to take. Now, President-Elect Joe Biden, could deploy federal OSHA officials to ratchet up pressure on all employers to have a COVID-19 response plan.
► From Roll Call — Census delays could push apportionment to Biden administration — Internal census documents reveal errors involving more than 900,000 records nationwide.
► From the LA Times — Canceling student debt should be a slam dunk. Here's why. (by Michael Hiltzik) — Canceling student debt will yield huge benefits for individual borrowers and for the economy at large, and the more the better.
---
NATIONAL
► From the AP — U.S. jobless claims remain high at 712,000 as virus escalates — The number of Americans applying for unemployment benefits fell as the nation celebrated Thanksgiving last week to a still-high 712,000, the latest sign that the U.S. economy and job market remain under stress from the intensified viral outbreak.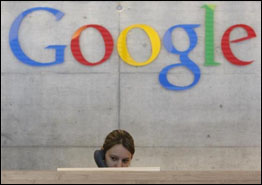 ► From NPR — Google illegally fired and spied on workers who tried to organize, labor agency says — Google illegally fired two employees involved in labor organizing last year, the National Labor Relations Board alleged in a complaint on Wednesday. The tech giant also violated federal labor law, the agency said, by surveilling employees who viewed a union organizing presentation, interrogating others, unfairly enforcing some rules and maintaining policies that "discourage" workers from protected organizing activities.
► From Bloomberg — Elon Musk takes Tesla's war on labor unions to Germany — The powerful 2.3 million-member IG Metall labor union is on a collision course with the billionaire that threatens to either undermine Musk's ambitions to build its first European car factory. Or it could diminish the power of an organization that's long had an outsize role in the country's auto industry with its demands for better wages and shifts in strategy, backed up by the very real threat of strikes.
---
ELECTION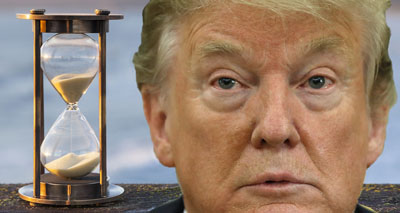 ► From the AP (four years too late, but finally telling it like it is) — In video, Trump recycles unsubstantiated voter fraud claims — Increasingly detached from reality, Trump stood before a White House lectern and delivered a 46-minute diatribe against the election results that produced a win for Democrat Joe Biden, unspooling one misstatement after another to back his baseless claim that he really won.
► From Politico — Pro-Trump legal crusade peppered with bizarre blunders — Spelling errors, misplaced states and client mix-ups are the main results so far of Sidney Powell's legal efforts to overturn the election.
► From the Washington Post — Trump is said to be livid at Barr, with one official suggesting termination possible — The AG could be fired, not just for his public comments undercutting Trump's unfounded claims of election-shifting fraud, but also for steps he did not take on a probe of the FBI's 2016 investigation into Trump's campaign.
---
T.G.I.T.
► The Entire Staff of The Stand is taking tomorrow off. So today's TGIT video goes out to:
1) Ozzy Osbourne, the former Black Sabbath frontman who (defying all odds) turns 72 today!
2) Anyone who is still buying Trump's fundraising grift that he somehow won the election he lost decisively.
---
The Stand posts links to Washington state and national news of interest every weekday morning by 10 a.m.
Short URL: https://www.thestand.org/?p=93594
Posted by
David Groves
on Dec 3 2020. Filed under
DAILY LINKS
. You can follow any responses to this entry through the
RSS 2.0
. Both comments and pings are currently closed.