Unions helped win key Georgia victories, pro-worker Senate
With Dems poised to take control, labor calls for quick passage of the PRO Act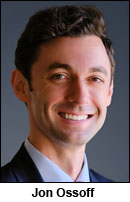 (Jan. 7, 2021) — Two pro-union champions of working people, the Rev. Raphael Warnock and Jon Ossoff, have won this week's runoff elections for U.S. Senate in Georgia thanks to major boosts from America's unions, which mobilized across America — including here in Washington state — to get out the vote on their behalf.

Union volunteers for the Labor Neighbor program of the Washington State Labor Council, AFL-CIO and across the nation have been calling Georgia voters and writing them postcards for weeks to urge support for Warnock and Ossoff in these critical races to determine control of the U.S. Senate. Thanks to these and other mobilization efforts, more than 1.3 million Georgians voted early and nearly 70,000 new voters were registered for this election.
With their victories, the U.S. Senate is now tied 50-50 between Democrats and Republicans. Vice-President-elect Kamala Harris will serve as the tie-breaking 51st vote, giving Democrats control of the chamber for the first time since 2015. When President-elect Joe Biden takes office on Jan. 20, Democrats will have unified control of government — holding the White House, the Senate, and the House of Representatives — for the first time since 2011.
And organized labor will be pushing for immediate action to restore the freedom to form unions in America.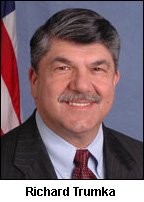 "After delivering the 2020 election for President-elect Joe Biden and Vice President-elect Kamala Harris," said AFL-CIO President Richard Trumka, "America's labor movement regrouped and remobilized to keep the momentum going in Georgia — so our elected officials will no longer profit from our pain, but fight for real COVID-19 relief and economic empowerment. It won't be easy, but we now have a generational opportunity to work with a pro-union president, a pro-worker House of Representatives and now, a new Senate that will have the courage and conviction to take on issues critical to our lives and livelihoods. And this starts with the PRO Act, so workers who want to form a union can do so freely and fairly; and it includes workplace safety, voting rights, infrastructure investment, pensions, paid family leave and more. Today, we celebrate, and tomorrow we can once again get back to working and fighting like hell for all of America's working families."
The Protecting the Right to Organize (PRO) Act is comprehensive labor legislation would strengthen workers' right to organize a union and bargain for higher wages, better benefits, and safer working conditions. Specifically, the PRO Act would:
●  Establish penalties on predatory corporations that violate workers' rights, and combat misclassification of workers as supervisors and independent contractors.
●  Strengthen workers' right to strike for basic workplace improvements, including higher wages and better working conditions.
●  Create a mandatory mediation and arbitration process to ensure corporations and newly formed unions reach a first contract.
●  Authorize unions and employers to negotiate agreements that allow unions to collect fair-share fees that cover the costs of representation.
●  Streamline the National Labor Relation Board's (NLRB) procedures to secure worker freedoms and effectively prevent violations.
●  Protect the integrity of union elections against coercive captive audience meetings.
Last year, the House voted 224-193 to pass the PRO Act on mostly partisan lines. Washington Reps. Suzan DelBene (D-1st) Rick Larsen (D-2nd), Derek Kilmer (D-6th) Pramila Jayapal (D-7th), Kim Schrier (D-8th), Adam Smith (D-9th) and Denny Heck (D-10th) all voted "yes," and Reps. Jaime Herrera Beutler (R-3rd), Dan Newhouse (R-4th) and Cathy McMorris Rodgers (R-5th) voting "no." But Senate Majority Leader Mitch McConnell (R-Ky.) blocked the PRO Act from consideration in the Senate. With Democratic control of the U.S. Senate in 2021 and President-elect Joe Biden's strong support for the PRO Act, America's unions are calling for its passage into law as soon as possible.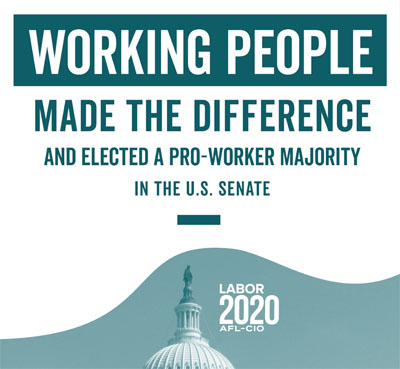 Meanwhile, labor leaders in Georgia thanked union members across the country who participated in the unprecedented labor mobilization to get out the vote there.
"I want to take a moment and thank each and every union member who has contributed to this campaign over the past months," said Georgia AFL-CIO President Charlie Flemming, immediately before the election took place. "Whether you phone-banked, sent postcards or distributed literature, every single one of you made a real difference. That's why I know we're going to get this win next week, because I've been watching it unfold in real time. Georgia's labor movement will never, ever forget this. Thank you so much, and I hope everyone has a safe and healthy new year."
Short URL: https://www.thestand.org/?p=94214
Posted by
David Groves
on Jan 7 2021. Filed under
NATIONAL
. You can follow any responses to this entry through the
RSS 2.0
. Both comments and pings are currently closed.