Labor celebrates BHM | School reopening | Unsafe at Amazon
Wednesday, February 17, 2021
---
BLACK HISTORY MONTH

Each day during Black History Month, the unions that comprise the Washington State Labor Council, AFL-CIO are honoring Black leaders, past and present. Please share the following post on Facebook and Twitter as #LaborCelebratesBHM!
It's Black History Month, and we join our local labor family as #LaborCelebratesBHM!

We spotlight Mary Eliza Mahoney (1845-1926), who broke barriers to become the first African-American professionally trained nurse in 1879, featuring our fellow member Gloria Martin, RN. (1/3) pic.twitter.com/Su9yRvPnha

— SEIU Healthcare 1199NW (@SEIU1199NW) February 16, 2021
► From the AFL-CIO — An interview with Actor and Activist Danny Glover — Few artists have contributed more to the growth and development of our society than actor Danny Glover. A civil rights leader and labor activist to his core, Glover has transcended the silver screen to become part of our cultural identity as Americans. As we celebrate this year's Black History Month, the AFL-CIO spoke with him about the history of the labor movement and the civil rights movement, and where we go from here.
---
LOCAL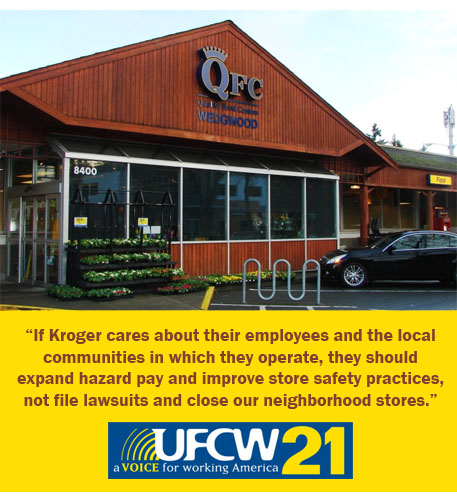 ► From the Seattle Times — QFC to close two Seattle stores, blames city's new $4 hazard pay law — The heated debate over Seattle's $4-an-hour hazard pay law for grocery workers escalated sharply this week. On Tuesday, QFC announced it would close two Seattle locations by April 24 — and blamed the move, in part, on the new law. Although QFC acknowledged that both locations were "underperforming," the decision to close them was "accelerated" by Seattle's hazard pay law, which the City Council approved Jan. 25.
TODAY at The Stand — UFCW 21 decries Kroger's 'greed, bullying' — As profits soar, the company plans to close two Seattle QFC stores in retaliation for the city's hazard pay law.
► From the Seattle Times — Amazon grocery store likely to open at former New Seasons site in Seattle — Amazon is likely opening yet another Seattle-area grocery store, according to a permit for a security system installation at the former New Seasons Market location in Ballard.
---
SCHOOL REOPENING



► From KUOW — Washington K-12 schools can 'safely' reopen for in-person learning, Inslee says — Washington Gov. Jay Inslee on Tuesday announced that K-12 schools across the state can reopen for in-classroom instruction. The push to reopen schools comes amid fierce debates about the risks of sending kids and educators back into school buildings during the Covid-19 pandemic.
► From the Olympian — Inslee: COVID-19 testing in schools expands, vaccine supply likely to increase — A Washington state initiative to offer COVID-19 testing in schools is expanding into nearly 50 more districts, Gov. Jay Inslee announced Tuesday. The service is part of the state's effort to get more students back to learning in-person with safety precautions in place.
► From HuffPost — Most teachers say they're comfortable going back to school, but only with strict safety measures — A new poll from the American Federation of Teachers finds that teachers support school reopenings, but only if certain conditions are met, including vaccine prioritization.
► From the NY Times — Oregon is vaccinating teachers. It might not be enough to reopen schools. — Oregon is a case study in how Pacific Coast cities are lagging the country in resuming in-person teaching.
---
THIS WASHINGTON

► LIVE from the Seattle Times — Coronavirus daily news update, Feb. 17 — The latest count of COVID-19 cases in Washington totals 329,746 infections (7-day average of new infections per day: 1,070) and 4,709 deaths (7-day average of deaths per day: 9)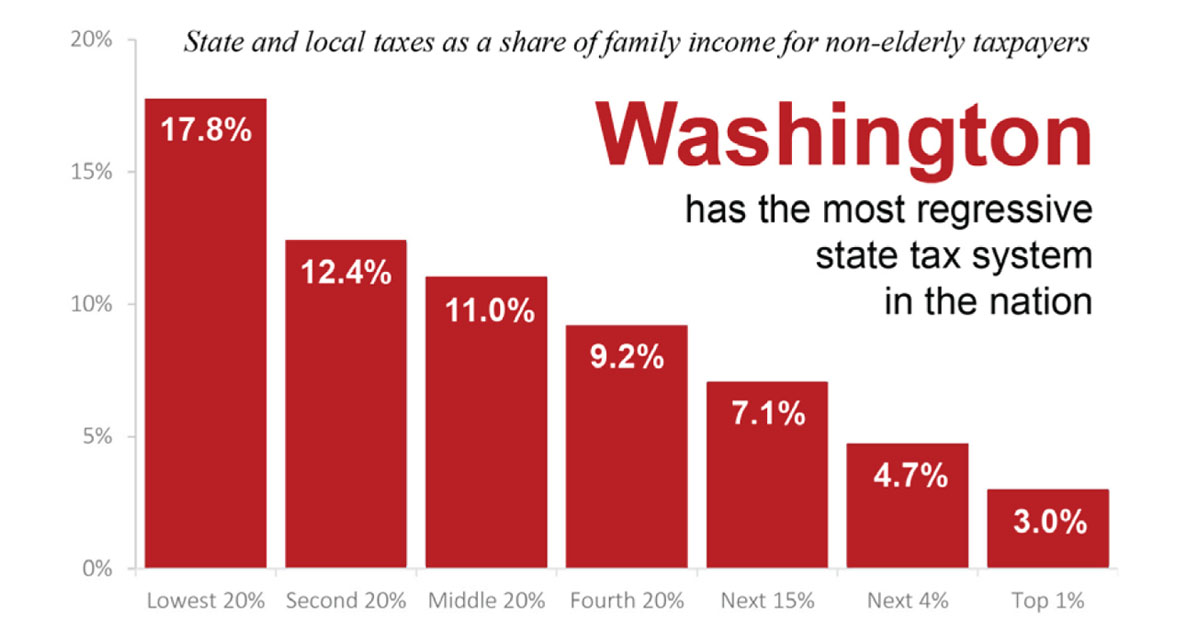 ► From the Crosscut — Tracking plans to tax the rich in the 2021 Washington Legislature — Democrats in Olympia want to enact new taxes that target the wealthy — and they're floating multiple proposals in 2021 to try to make that happen. Wealth tax, capital gains tax, payroll tax — what's the difference? We break it down.
TODAY at The Stand — Senate panel advances capital gains tax to fund child care — Thank the senators who supported this step toward fixing broken tax system.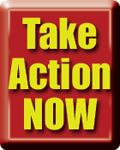 TAKE A STAND — Click here to send a thank-you message to the following Ways and Means Committee members who supported SB 5096: Sens. Christine Rolfes, David Frockt, June Robinson, Reuven Carlyle, Steve Conway, Jeannie Darneille, Manka Dhingra, Bob Hasegawa, Sam Hunt, Karen Keiser, Marko Liias, Jamie Pedersen, and Lisa Wellman.
► From the Yakima H-R — How cracks in the child care system could fail Central Washington's youngest learners — Reliable child care in Central Washington and beyond has always been hard to find. But with the onset of the COVID-19 pandemic, providers considered essential to restarting the economy have struggled to keep their doors open amid mounting costs and plummeting paychecks.
► From the Yakima H-R — 13% of child care providers in state have closed due to pandemic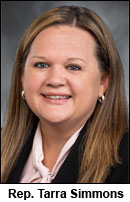 ► From the Seattle Times — Legislature should remove voting barrier for ex-felons (editorial) — Rep. Tarra Simmons (D-Bremerton), the first ex-inmate elected to the Washington Legislature is a fitting leader for a reform of how the state treats former offenders. Washington should join 18 other states in restoring voting rights for all felons not in prison.
► From the (Everett) Herald — Unpaid traffic tickets shouldn't bring loss of jobs (editorial) — Suspension of driver's licenses for unpaid fines forces inequitable economic hardships on many.
► From the Columbian — Eyman out to make a buck with bunco (editorial) — Even our state's grassroots initiative system requires guardrails to protect the public from being swindled. While Eyman has presented himself as a defender of that public, in truth he has been a charlatan.
► From the PS Business Journal — Report: Washington now has almost 20K cannabis jobs — Seattle-based Leafly's Jobs Report 2021 shows Washington now supports 19,873 cannabis jobs. The report, released Tuesday, notes the state gained gained 524 cannabis jobs last year. "If Washington's wholesale cannabis crop were counted alongside other agricultural commodities such as apples, cherries, and wheat, it would rank in the top 10 in economic value," the report read.
EDITOR'S NOTE — Want your cannabis industry job to pay a living wage? Get more information about how you can join together with co-workers and negotiate for a fair return for your hard work. Or go ahead and contact a union organizer today!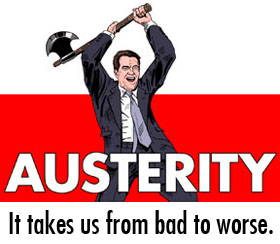 ► From KNKX — How would Republicans budget if they controlled Olympia? A pair of spending blueprints offer clues — Senate Republicans would take the dramatic step of eliminating the state's business and occupation (B&O) tax on manufacturing companies. House Republicans would direct temporary B&O tax relief to restaurants and other businesses. Their plan also calls for, among other things, cutting the headquarters budgets of large state agencies by 10 percent, consolidating state pension systems and canceling bonuses for teachers who get their National Board certification.
---
THAT WASHINGTON
► From the Washington Post — Biden to host labor leaders in Oval Office to discuss coronavirus relief, infrastructure — President Biden plans to host labor leaders at an Oval Office meeting Wednesday to discuss two of his leading priorities: his $1.9 trillion coronavirus relief package, which is pending in Congress, and investing in the nation's infrastructure. The White House meeting comes amid a stepped-up focus on the pandemic.
► From Roll Call — Small-business tax cuts eyed as sweetener for minimum wage boost — House and Senate may go to conference to iron out differences, but they don't have much time.
► From Roll Call — Visa changes face tougher road in immigration overhaul efforts — Biden's bill will address legal status for undocumented residents but likely avoid revamping H-1B and other work-based visa programs.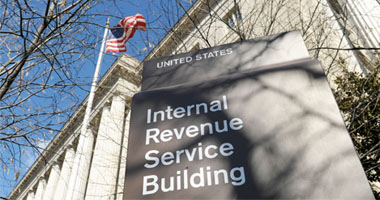 ► From Politico — Please hang up and try again: IRS phone lines already swamped — IRS phones are ringing off the hook even more than usual as tax filing season gets underway, but odds are slim — about 11-to-1 — that anyone's answering, a frustration for taxpayers that's sure to continue all year long.
► From ProPublica (December 2018) — How the IRS was gutted — An eight-year campaign to slash the agency's budget has left it understaffed, hamstrung and operating with archaic equipment. The result: billions less to fund the government. That's good news for corporations and the wealthy.
► From The Hill — Biden balks at $50K student loan forgiveness plan — The president on Tuesday balked at forgiving $50,000 in student loan debt, saying he doesn't have the power to do so unilaterally.
---
NATIONAL
► From the Washington Post — Millions of jobs probably aren't coming back, even after the pandemic ends — Millions of jobs that have been shortchanged or wiped out entirely by the coronavirus pandemic are unlikely to come back, economists warn, setting up a massive need for career changes and retraining in the United States. The coronavirus pandemic has triggered permanent shifts in how and where people work. Businesses are planning for a future where more people are working from home, traveling less for business, or replacing workers with robots. All of these modifications mean many workers will not be able to do the same job they did before the pandemic, even after much of the U.S. population gets vaccinated against the deadly virus.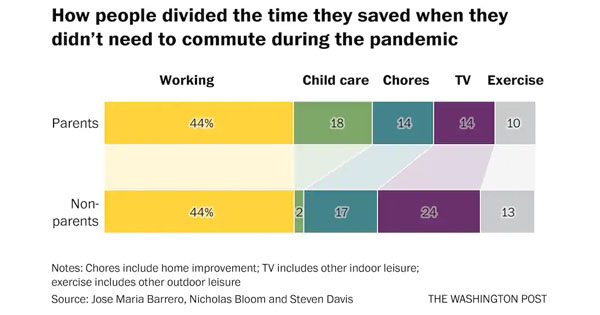 EDITOR'S NOTE — The chart above is from another new story in the Washington Post, which analyzes data about how Americans are spending their extra time "cooped up" with their families in the past year. For those fortunate enough to be able to work from home, the biggest percentage of time they are saving by not commuting is being allocated to more work. No wonder businesses like the work-from-home idea.​
► From KXLH — Opponents, supporters pack hearing on Montana right-to-work bill — Union members – and some big corporations employing union workers – lined up Tuesday to oppose a bill to make Montana a "right-to-work" state, arguing it would lower wages and needlessly undermine organized labor here. The pro-labor forces squared off against the National Right to Work Committee and other free-market lobbyists, which said it's time for Montana to become the 28th right-to-work state.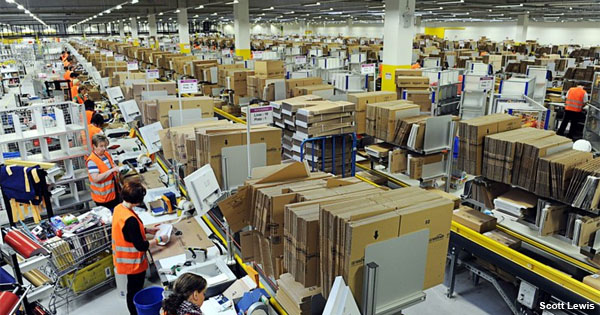 ► From The Hill — New York sues Amazon over worker pandemic safety issues — New York's attorney general moved Tuesday to sue Amazon over alleged "flagrant disregard" of workplace safety codes and for allegedly retaliating against employees who spoke out. In a press release, Attorney General Letitia James accused the company of failing to create a reasonably safe workplace, including what she said were insufficient steps to protect workers from the spread of COVID-19.
► From Vice — California bill aims to regulate Amazon's relentless warehouse worker quotas — One of California's most influential legislators has introduced a bill that would regulate warehouse productivity quotas from Walmart, Amazon, and other major retailers.
EDITOR'S NOTE — Hey, Amazon warehouse workers (and everybody else out there): YOU have the power to demand safe, reasonable workplace conditions. Get more information about how you can join together with co-workers and negotiate for better conditions and a fair return for your hard work. Or go ahead and contact a union organizer today!
► LIVE from the NY Times — Bitter cold strains America's power grids, and a new storm arrives — Millions in Texas were still without electricity, while more snow and ice was expected to sweep across the South and East in the coming days.
► From the NY Times — Texas blackouts hit minority neighborhoods especially hard — As the freak winter storm raged, historically marginalized communities were among the first to face power outages, experts say.
► From the Washington Post — Texas mayor tells residents to fend for themselves during power outage: 'Only the strong will survive' — "No one owes you [or] your family anything," Colorado City, Tex., Mayor Tim Boyd wrote on Tuesday in a now-deleted Facebook post. "I'm sick and tired of people looking for a damn handout!"

Here are three Texas Republicans mocking California power outages last year and my Dallas bathtub this morning, a literal block of ice pic.twitter.com/ViGZuTZz40

— Brandon Friedman (@BFriedmanDC) February 16, 2021
---
WORKERS' COMP AND WEED

► From MarketWatch — Fewer older employees file workers' compensation claims in states where marijuana is legalized — In states that legalized full adult recreational marijuana use between 2010 and 2018, fewer older workers filed workers' compensation claims and when they did, the payouts tended to be smaller, according to new research distributed by the National Bureau of Economic Research. "Once marijuana becomes legal for recreational use among adults, many people use it for medicinal purposes," researchers found.
---
The Stand posts links to Washington state and national news of interest every weekday morning by 10 a.m.
WASHINGTON IS A UNION STATE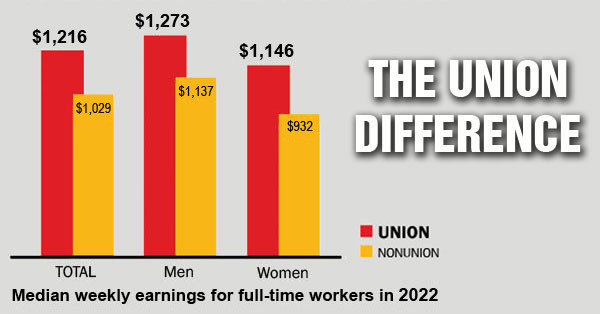 CHECK OUT THE UNION DIFFERENCE in Washington state: higher wages, affordable health and dental care, job and retirement security.
FIND OUT HOW TO JOIN TOGETHER with your co-workers to negotiate for better working conditions and respect on the job. Or go ahead and contact a union organizer today!