'Heroes' without vaccines | Manmade misery | Leading the way on diversity
Thursday, February 18, 2021
---
BLACK HISTORY MONTH

► Each day during Black History Month, the unions that comprise the Washington State Labor Council, AFL-CIO are honoring Black leaders, past and present. Today, WSLC Vice President Kevin Allen of APRI and CBTU honors his AFSCME Brother, the legendary Claude Burfect. Please share the following post on Facebook and Twitter as #LaborCelebratesBHM!
► AFL-CIO Black History Month profiles — Wilfred Arceneaux of UNITE HERE
---
COVID-19



► LIVE from the Seattle Times — Coronavirus daily news update, Feb. 18 — The latest count of COVID-19 cases in Washington totals 330,807 infections (7-day average of new infections per day: 1,038) and 4,759 deaths.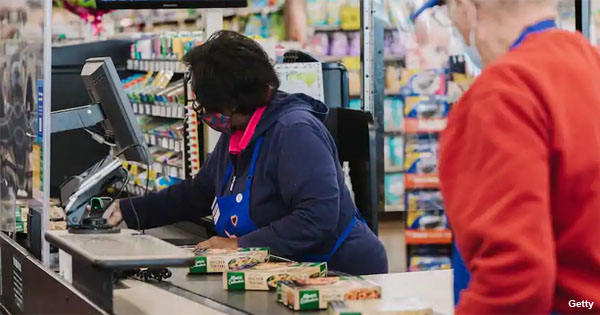 ► From the Washington Post — Grocery workers say they can't get vaccines, even as they help distribute them — Workers at a Kroger-owned supermarket near Seattle breathed a sigh of relief last fall when they learned a coronavirus vaccine was around the corner. Months later, they're still waiting. Though more than 100 vaccinations a week are given at Quality Food Centers' in-house pharmacy, most store employees have yet to schedule theirs. Some workers, including baggers and produce clerks, say they've been pulled into the distribution effort and told to monitor newly inoculated customers for side effects without proper training, protection or extra pay. "Once again, grocery workers have been put on the back burner and forgotten about," said one QFC clerk, who spoke on the condition of anonymity because he fears losing his job. "People are frustrated, to say the least. We have a vaccine program, but nobody knows what's going on."
Though hailed as "heroes" early in the pandemic, the nation's 3 million grocery workers lag other essential workers when it comes to vaccine priority. Just 13 states — including Maryland, Virginia, California, New York and Pennsylvania — have begun inoculating such employees as the broader vaccine rollout is hampered by widespread delays, according to the UFCW.
► From the NY Times — Scientists call on CDC to set air standards for workplaces, now — The agency has not fully reckoned with airborne transmission of the coronavirus in settings like hospitals, schools and meatpacking plants, experts said.
► From the AFL-CIO — AFL-CIO welcomes leading scientists' letter supporting stronger workplace protections for COVID-19
► From Reuters — Most U.S. firms hit with COVID-19 safety fines aren't paying up — U.S. workplace safety regulators have announced more than $4 million in penalties on more than 300 employers they say put workers at risk during the COVID-19 pandemic. But about two-thirds of these employers aren't paying up.
EDITOR'S NOTE — Another example of why workers need MORE than government agency enforcement to protect their safety and basic rights. They need the right to take action on their own!
---
LOCAL
► From the Washington Post — Kroger to close more stores instead of giving workers hazard pay — Grocery giant Kroger plans to close two stores in Seattle after the city passed a $4-an-hour hazard pay mandate for grocery workers, drawing sharp rebukes from local officials and worker advocates who point to the company's booming sales as the pandemic continues to claim more than 2,000 lives a day. Kroger, which recorded one of its more profitable years due to strong demand during the pandemic, blamed the closures on the city's new mandate, saying it would raise costs at the two Quality Food Centers (QFC), which were already underperforming.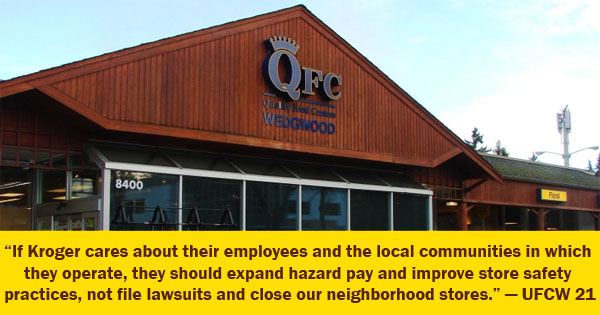 The Stand (Feb. 17) — UFCW 21 decries Kroger's "greed, bullying" — As profits soar, company plans to close two Seattle QFC stores in retaliation for city's hazard pay law.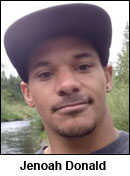 ► From the Columbian — Residents press Clark County Council for policing changes in wake of Jenoah Donald shooting — Momentum appears to be building toward body-worn cameras for Clark County sheriff's deputies. Public pressure has intensified, including during a Clark County Council meeting Tuesday night, in the wake of two recent shooting deaths of Black men by deputies.
EDITOR'S NOTE — On Feb. 4, 30-year-old Jenoah Donald was pulled over for a defective taillight less than a mile from where Clark County deputies fatally shot Kevin Peterson Jr., a 21-year-old Black man, about three months ago. The situation somehow escalated and Donald was shot by Clark County deputies. He remains in an intensive care unit and his family has been told there is nothing more they can do to save his life. It took nearly a week for the police to make their version of the shooting public. The family and the community still have many unanswered questions about how this could have happened.
► From the Yakima H-R — Dozens gather to raise awareness and honor missing and murdered Indigenous people — More than 40 people stood on a slushy sidewalk in Toppenish in remembrance of the Indigenous people who have been murdered or have gone missing on and around the 1.3-million-acre Yakama Reservation over decades.
---
AEROSPACE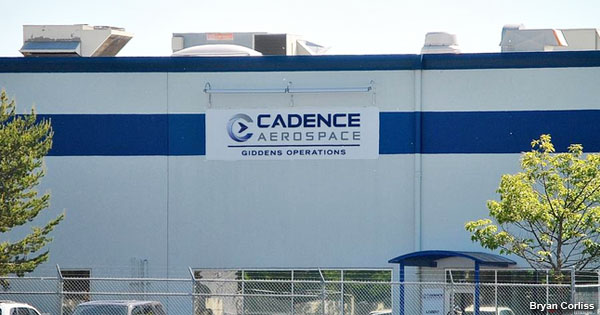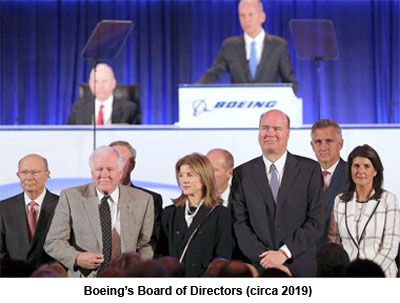 ► From the (Everett) Herald — Boeing says 2 directors are leaving as board faces scrutiny — The Chicago-based aircraft maker said Arthur Collins Jr., chairman of the committee that sets executive compensation, and Susan Schwab won't stand for reelection at Boeing's annual shareholder meeting in April. Boeing directors and executives were named in a shareholder lawsuit filed in a Delaware court that alleges the board failed to properly oversee management during engineering problems with the 737 MAX.
► From the PS Business Journal — Boeing staff told to empty Renton Longacres headquarters by April, fueling deal rumors — Boeing workers have been told to clear out their belongings from the jet maker's Longacres headquarters in Renton by the end of March, suggesting a sale of the $100 million office complex is coming this spring.
---
THIS WASHINGTON

► From KUOW — Why Washington state's Phase Finder is not achieving vaccine equity — It's not just that some people have more barriers accessing vaccines than others; it's that the state created a primary tool to route people to vaccines knowing it wouldn't work for many communities.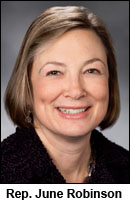 ► From the Olympian — State capital gains tax bill changes shape as it moves through lawmaking process — With the changes, the new proposal is predicted to bring in less revenue than the original and affect fewer taxpayers. "By raising the threshold and expanding exemptions, this capital gains proposal would increase the share of state taxes paid by just 2% of the very wealthiest Washingtonians," said sponsor Rep. June Robinson (D-Everett). "It's a reasonable way of asking those wealthy few to join the rest of us in building a stronger, healthier state for all Washingtonians — a state in which they have thrived."
The Stand (Feb. 17) — Senate panel advances capital gains tax to fund child care
TAKE A STAND — Click here to send a thank-you message to the following Ways and Means Committee members who supported SB 5096: Sens. Christine Rolfes, David Frockt, June Robinson, Reuven Carlyle, Steve Conway, Jeannie Darneille, Manka Dhingra, Bob Hasegawa, Sam Hunt, Karen Keiser, Marko Liias, Jamie Pedersen, and Lisa Wellman.
► From Politico — U.S. Treasury reaps a windfall as stock sales surge — The stock market is booming — and the U.S. Treasury is cashing in. Taxes on capital gains are surging, pouring into government coffers much faster than analysts had expected and propping up federal revenues despite the economic crisis caused by the coronavirus.
EDITOR'S NOTE — Wouldn't it be great if Washington state could maintain essential services during a recession/pandemic by taxing the stock sales of its wealthiest residents? It can!
The Stand (Feb. 17) — Senate panel advances capital gains tax to fund child care — Thank the senators who supported this step toward fixing Washington's broken, upside-down tax system.
---
MANMADE MISERY IN TEXAS
► From the Washington Post — As millions remain without power amid more snow and ice, blame and questions mount — Conditions in Texas turned dire, with the water supply disrupted in several cities and officials saying it could be days before power is restored in many parts of the state. Calls intensified for an investigation into what caused the large-scale failure of the state's power grid, with much finger-pointing but no answers.

► From HuffPost — People in Texas jails are 'freezing,' without hot food, running water
► From the Washington Post — The Texas grid got crushed because its operators didn't see the need to prepare for cold weather (by Will Englund) — What has sent Texas reeling is not an engineering problem, nor is it the frozen wind turbines blamed by prominent Republicans. It is a financial structure for power generation that offers no incentives to power plant operators to prepare for winter. In the name of deregulation and free markets, critics say, Texas has created an electric grid that puts an emphasis on cheap prices over reliable service.
EDITOR'S NOTE — Here's a great explanation of the Texas power grid that concludes: "The #TexasPowerGrid is at a breaking point, & could collapse entirely. If it was simply a part of a national interconnection, w/ @FERC regulation, none of these problems would be occurring. But b/c the power companies prioritized profit over safety, people lives are at stake." Read the whole thing.
► From HuffPost — Rick Perry: Texans should endure blackouts to keep feds from overseeing power grid — Republican Rick Perry, a former Texas governor and energy secretary, suggested in a recent blog post that Texans should be more than willing to endure blackouts to keep the federal government from regulating the state's power grid.
EDITOR'S NOTE — Meanwhile, this from a Newsweek reporter…
---
THAT WASHINGTON
► From the AFL-CIO — In Oval Office meeting, AFL-CIO leadership calls for urgent action on PRO Act, infrastructure — AFL-CIO President Richard Trumka: "For working people, this was the most productive Oval Office meeting in years. The president and vice president share our belief that rebuilding our infrastructure is critical to our communities. President Biden ran on a promise to build back better. As we made clear today, America can only build back better if unions are doing the building… President Biden understands how urgent (passage of the PRO Act) is, and we're looking forward to getting it done as quickly as possible."
The Stand (Feb. 11) — Washington Democrats step up for workers — Both senators and seven representatives sponsor PRO Act to build back better with unions.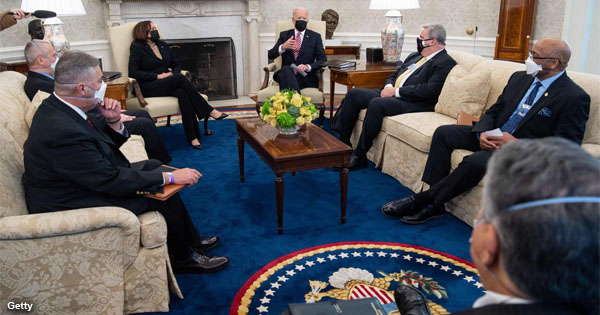 ► From the WSJ — Biden, union leaders huddle on infrastructure plan — President Biden on Wednesday detailed his coming economic-stimulus and infrastructure plans with top labor leaders, some of whom have voiced concerns that his energy policies will come at the expense of union jobs.
MORE coverage from the Detroit News and The Hill.
► From The Hill — Biden nominates Jennifer Abruzzo to serve as NLRB general counsel — Abruzzo previously served as deputy general counsel and acting general counsel at the NLRB and is currently the special counsel to the Communication Workers of America, the country's largest communications and media labor union.
► From the AFL-CIO — NLRB General Counsel nominee is lifelong protector of working people — "There is no better person than Jennifer Abruzzo to help return the NLRB to its core mission of upholding and protecting workers' rights to form unions and bargain collectively," said AFL-CIO President Richard Trumka.
► From the Washington Post — Democrats to formally introduce Biden's citizenship bill — The bill is the centerpiece of Biden's broad strategy to forge a more humane immigration system, and it would grant legal status to approximately 11 million people, mostly from Mexico and Central America.
► From the Japanese American Citizens League — JACL applauds House hearing on H.R. 40 — The House Judiciary Subcommittee on Constitution, Civil Rights, and Civil Liberties held a hearing on the re-introduction of H.R. 40 – Commission to Study and Develop Reparation Proposals for African Americans Act. H.R. 40 has been introduced in Congress every year since 1989, the year after Japanese American redress passed in the Civil Liberties Act of 1988. It is long past time that this legislation passed Congress and be implemented to begin the path towards restorative racial justice.
---
NATIONAL
► From the Washington Post — New York sues Amazon alleging 'flagrant disregard' of health standards at warehouses — New York Attorney General Letitia James accused Amazon of "repeatedly and persistently" failing to provide adequate protection to its warehouse workers in the state, suing the e-commerce giant Tuesday. The company's "flagrant disregard for health and safety requirements" at facilities in Queens and Staten Island "threatened serious illness and grave harm" to workers, James alleged in the suit filed in New York Supreme Court. And the threat continues to pose a danger to public health.
EDITOR'S NOTE — Want a safer workplace? You have the power to demand one! Get more information about how you can join together with co-workers and negotiate for better, safer working conditions and decent pay. Or go ahead and contact a union organizer today!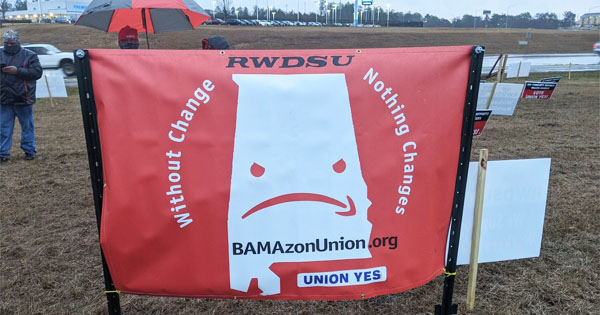 ► From The Verge — Amazon changed traffic light timing during union drive, county officials say — As part of its ongoing fight over an Alabama warehouse's efforts to unionize, Amazon reportedly changed the timing of a traffic light outside the warehouse. Union organizers at the site had previously accused the company of altering the timing so that pro-union workers would not be able to canvass workers while stopped at the light.
► From HuffPost — '5-Alarm Fire': Arizona Republicans lead nationwide GOP push to curb voting rights — No state is considering more bills to restrict voting rights than Arizona, where activists say the GOP is waging a "full-scale assault on democratic norms."
---
TODAY'S MUST-READ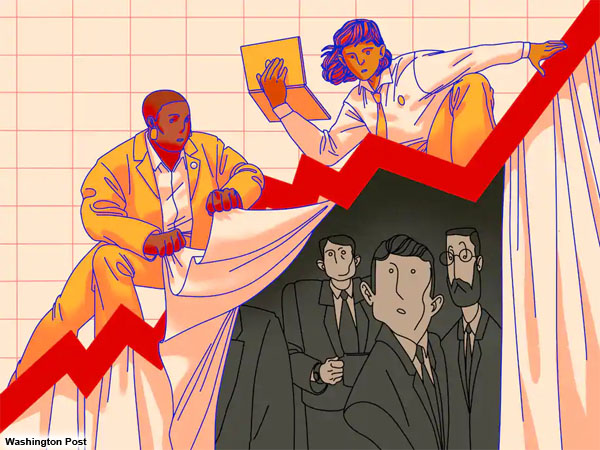 ► From the Washington Post — For younger job seekers, diversity and inclusion in the workplace aren't a preference. They're a requirement. — Over the past decade, highly educated young professionals have increasingly prioritized personal values in deciding where to work, whether it's a commitment to sustainability, philanthropy or social impact. It's why so many companies say their mission is to "change the world." But now, millennials such as Lloyd and Generation Z job seekers are setting a higher bar; they want employers to be equally committed to changing themselves. This includes hiring a more diverse workforce, helping employees of color advance through the ranks, giving them more decision-making power and facilitating uncomfortable conversations about systemic racism. Mission statements about racial justice and prompt responses to current events are also important, but they must be more than set pieces. Young job seekers say they're attuned to anything that smacks of performance.
---
The Stand posts links to Washington state and national news of interest every weekday morning by 10 a.m.
Short URL: https://www.thestand.org/?p=95685
Posted by
David Groves
on Feb 18 2021. Filed under
DAILY LINKS
. You can follow any responses to this entry through the
RSS 2.0
. Both comments and pings are currently closed.