Getting it right on COVID | Getting it wrong on taxes | Amazon awakening
Friday, February 19, 2021
---
BLACK HISTORY MONTH

► Each day during Black History Month, the unions that comprise the Washington State Labor Council, AFL-CIO are honoring Black leaders, past and present. Today, Teamsters Local Union No. 839 honors 22-year member Patricia Gilmore. Please share the following post on Facebook, Twitter and Instagram as #LaborCelebratesBHM!
Today as #LaborCelebratesBHM we honor Patricia Gilmore, 22-year member of Teamsters Local 839 and a member of the PNW Chapter Teamsters National Black Caucus. Patricia embodies the values of hard work, solidarity, and advocacy for others that are central to Labor. #BHM #1u pic.twitter.com/qAnM7brXrT

— Washington State Labor Council, AFL-CIO (@WAAFLCIO) February 19, 2021
► From the AFL-CIO — A message from AFL-CIO Executive VP Tefere Gebre
ALSO, the Black History Month profiles continue at the AFL-CIO blog.
► MUST READ from the NY Times — The book that should change how progressives talk about race (by Michelle Goldberg) — Heather McGhee's book, The Sum of Us: What Racism Costs Everyone and How We Can Prosper Together, is about the many ways racism has defeated efforts to create a more economically just America. Once the civil rights movement expanded America's conception of "the public," white America's support for public goods collapsed. People of color have suffered the most from the resulting austerity, but it's made life a lot worse for most white people, too. McGhee's central metaphor is that of towns and cities that closed their public pools rather than share them with Black people, leaving everyone who couldn't afford a private pool materially worse off. One of the most fascinating things about "The Sum of Us" is how it challenges the assumptions of both white antiracism activists and progressives who just want to talk about class. McGhee argues that it's futile to try to address decades of disinvestment in schools, infrastructure, health care and more without talking about racial resentment.
---
COVID-19
► LIVE from the Seattle Times — Coronavirus daily news update, Feb. 19 — The latest count of COVID-19 cases in Washington totals 332,007 infections (7-day average of new infections per day: 1,014) and 4,803 deaths.
► From the Washington Post — A mass-casualty event every day: Inside the dark winter of COVID-19 (interactive) — An average of 3,100 people in the United States died of the coronavirus each day in January. Washington Post journalists across the nation captured the stories of the people and places closest to the lives lost.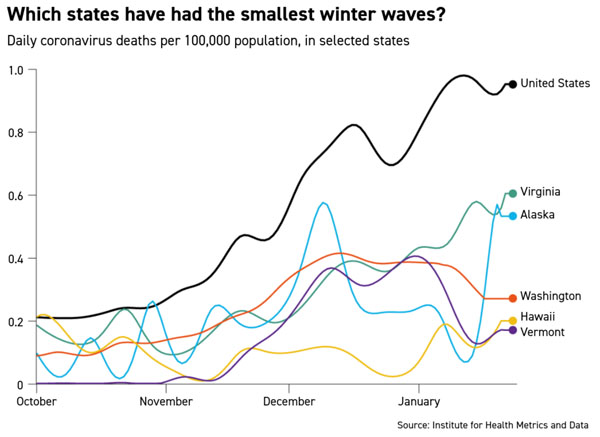 ► From Politico — 9 states getting it right — This winter's wave of COVID-19 outbreaks was the worst and deadliest in the year-long pandemic, but some states managed it better than others. Some of the states that avoided huge spikes in COVID deaths since November have also been top performers since the beginning of the pandemic. Vermont and Washington, which have been consistently praised by experts for keeping case and death counts low during all three surges of the virus, entered the fall with lower case counts than most. Both states have been quick to implement targeted public health measures when cases flare up, while benefiting from high levels of public buy-in.
► From The Hill — Africa surpasses 100,000 COVID deaths
---
LOCAL
► From the Yakima H-R — Federal judge to rule next week on farmworker pay injunction — Familias Unidas por la Justica filed suit in federal court in December arguing that the excusing of piece-rate wages in wage data from the U.S. Labor Department would cause farm workers' wages to be cut significantly. It sought an injunction to maintain the current wage structure with a 5% increase. U.S. District Judge Sal J. Mendoza heard arguments Thursday and said he will decide next week whether to grant the injunction.

► From the Inlander — COVID-19 nearly killed a Washington farmworker. Now, the farm won't pay his workers' compensation — Eduardo, 38, worked for Washington Fruit and Produce under the federal H-2A program, which allows foreign agricultural workers to obtain a temporary visa and live in employer-provided housing. On Oct. 11, days after he told his wife that one of his housemates had COVID-19 symptoms, Eduardo had a stroke that paralyzed the right side of his body, leaving him unable to talk or walk. The state Department of Labor & Industries has twice directed Washington Fruit to pay for Eduardo's medical bills, time loss and other benefits that he's entitled to under the industrial insurance act. But Washington Fruit has failed to pay those benefits, arguing it is not clear that Eduardo contracted COVID either at work or in employer-provided housing.
► From the Spokesman-Review — Amazon confirms fulfillment center warehouse in Spokane Valley; new facility will employ more than 1,000 — After months of speculation, Amazon has confirmed it will open a fulfillment center in Spokane Valley that the company says will bring 1,000 new full-time jobs to the area. The 1.3 million-square-foot facility, at 18007 E. Garland Ave., is slated to open later this year.
► From the NW Labor Press — Hundreds of unrepresented City of Portland workers get a chance to unionize — Seven Portland Police Bureau internal affairs investigators joined AFSCME Local 189 on Jan. 25 — a vanguard that could swell to several hundred city employees in the months ahead.
---
THIS WASHINGTON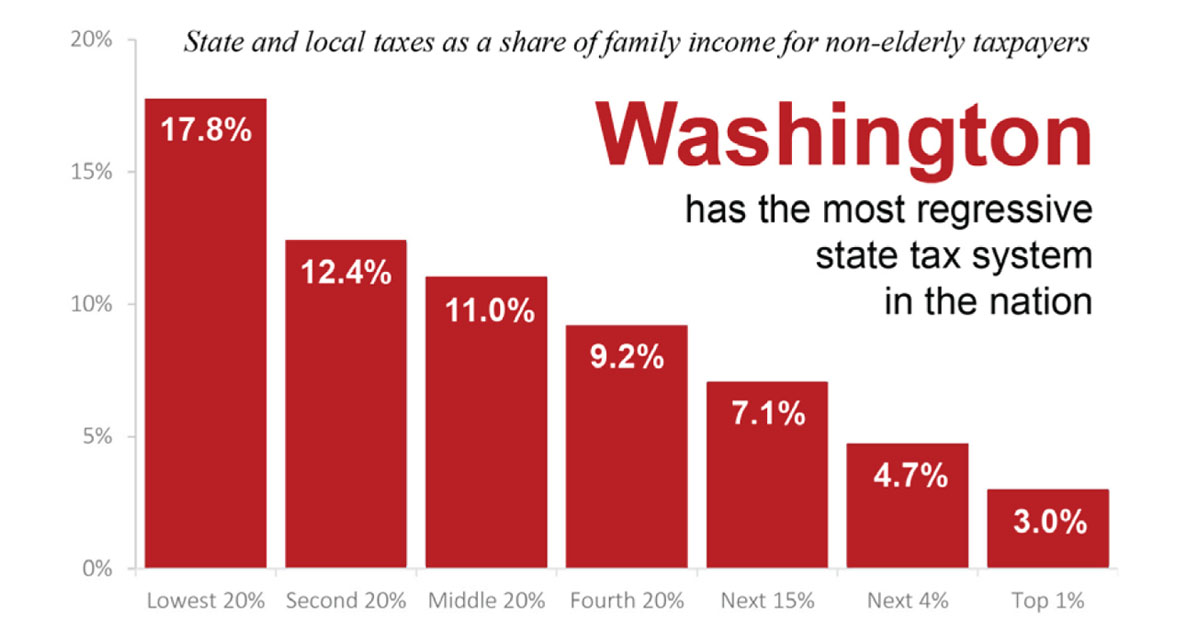 ► From the Columbian — State tax system desperately needs overhaul (editorial) — Washington is in desperate need of an overhaul to its tax system. Being heavily reliant on sales tax, our state routinely is ranked as having the nation's most regressive tax policy, with low-income households paying a larger share of taxes than in other states. (Fixing the tax system) requires creativity, which is the impetus for attempts at passing a wealth tax and a capital gains tax. The coronavirus pandemic has upended the state's economy and revenue streams, but there remains a need to fund vital state programs. When a Washington resident can accumulate nearly $200 billion in wealth, a tax on billionaires seems a reasonable benefit for the public good. But a capital gains tax is more dicey without overturning the constitutional prohibition on income taxes. The proposals warrant consideration.
The Stand (Feb. 17) — Senate panel advances capital gains tax to fund child care — Thank the senators who supported this step toward fixing broken tax system.
► From the News Tribune — During Puyallup tour, Inslee says kids can return to school without teachers being vaccinated — Gov. Jay Inslee visited a Puyallup School District elementary school Thursday and said he has no doubts about the health safety of children returning to the classroom. "There is no debate about this," Inslee told reporters. "There is no reason on this green earth today that we are not giving our kids what they deserve, which is a first-class education in person. I feel very confident on this."
► From the (Everett) Herald — Deal links carbon-fuel standard with transpo package — A major deal is coming together to settle sticky policy fights over a low-carbon-fuel standard and cap-and-trade program while securing funding for a new transportation package and removal of hundreds of culverts as required by a federal court order.
The Stand (Jan. 29) — How we can build back a better Washington — WSLC urges major transportation, capital budget investments to put our state back to work toward a more equitable future.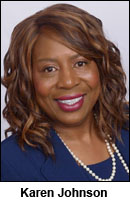 ► From the Seattle Times — Gov. Inslee names head of Washington state's new Office of Equity — Gov. Jay Inslee has named Karen Johnson director of the state's new Office of Equity. The office, created within the governor's office, was established by the Legislature and signed into law by Inslee last year. It is charged with promoting "access to equitable opportunities and resources that reduce disparities and improve outcomes statewide across state government."
► From the Spokesman-Review — State Supreme Court blocks Freedom Foundation political contribution case against unions — A narrowly divided Washington Supreme Court on Thursday threw out several legal challenges filed by a conservative think tank against state employee unions alleging violations of campaign finance laws.
---
THAT WASHINGTON
► From the NW Labor Press — COVID relief bill could save distressed union pensions — Congress is working on a lengthy bill for further COVID relief. One small portion of it is modeled on the union-backed Butch Lewis Act, which passed the U.S. House in 2019 but not the U.S. Senate. Butch Lewis would provide cash grants to union-sponsored multiemployer pension plans that are otherwise headed toward insolvency. About one in 10 multi-employer pension plans are in that situation thanks to stock market losses and declining numbers of active employees in the plans, and the well-being of up to 1.3 million union members and spouses is at stake. If Congress does nothing, the Central States Teamster Pension is expected to run out of money in 2025. That would lead the Pension Benefit Guaranty Corporation (PBGC) itself to become insolvent.
► From Politico — Biden privately tells governors: Minimum wage hike likely isn't happening — When Joe Biden met with a group of mayors and governors last week he bluntly told them to get ready for a legislative defeat: his proposed minimum wage hike was unlikely to happen, he said, at least in the near term. "I really want this in there but it just doesn't look like we can do it because of reconciliation," Biden told the group. "I'm not going to give up. But right now, we have to prepare for this not making it."
► From Roll Call — Next phase of coronavirus relief bill sprint to start Monday — Budget panel markup to staple together submissions from nine House authorizing committees.
► From Vox — What's in the House stimulus bill, so far — Congress is writing up Biden's stimulus plan. Here's what's in it.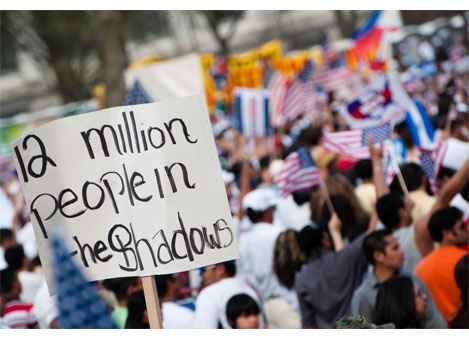 ► From the Spokesman-Review — Spokane supporters call Democrats' immigration reform package good step but recognize tough road ahead — Democrats unveiled a Biden-backed immigration proposal Thursday, a plan that includes a new eight-year path to citizenship for roughly 11 million immigrants in the United States without legal status. With a highly divided Congress, it's unlikely such a sweeping proposal passes completely, although some advocates have said they would support a piecemeal approach. Still, some Washington lawmakers and Spokane community leaders say it is a good first step in fixing the system.
► From the Washington Post — Biden memo for ICE officers points to fewer deportations and strict oversight — U.S. Immigration and Customs Enforcement officers will need preapproval from a senior manager before trying to deport anyone who is not a recent border crosser, a national security threat or a criminal offender with an aggravated-felony conviction, according to interim enforcement memo issued by the Biden administration Thursday.
► From Politico — Biden's farm problem: Booming sales raise questions about bailout money — A turnaround in agricultural exports and prices could force adjustments after years of subsidies propped up farmers.
► From The Hill — Six Capitol Police officers suspended, others investigated after Capitol riot
► From the NY Times — Biden is going big, and Americans are with him (by Timothy Egan) — The current Democratic agenda is hugely popular, crossing racial and regional lines. If you do things that help people's lives, and do them well, the public will stay with you. Joe Biden has been president for only a month. But if his $1.9 trillion American Rescue Plan and the jobs, infrastructure and climate initiatives to follow work out as well as they are now polling, his party could govern for many years to come.
---
NATIONAL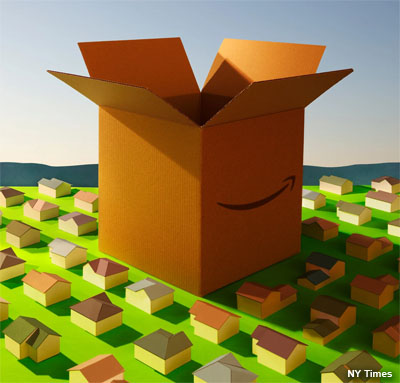 ► MUST-READ from the NY Times Magazine — Amazon's Great Labor Awakening — Between January and October of last year, Amazon added 427,300 employees globally. It reportedly planned to put 1,000 new small facilities in suburbs across the United States to meet same-day shipping demands, and to hire thousands more grocery workers for Amazon Fresh. No other company in history — including Walmart, the largest private employer — has ever added so many workers in a single year. As of December, Amazon employed 1.3 million people worldwide. In the fourth quarter of 2020, it generated $125.6 billion in net sales, its largest quarterly revenue of all time… But something unexpected happened, too: Those who might not have complained about working conditions or considered themselves activists started speaking up. Amazon had long fended off workplace organizing, holding anti-union meetings that employees were required to attend. And while Amazon has often acknowledged that workers have the right to unionize, the company has tried to persuade them that doing so would introduce an unnecessary middleman. But COVID-19 proved to be a breaking point. Some workers were no longer willing to make concessions to a company that they felt was jeopardizing their safety and potentially their lives.
EDITOR'S NOTE — Want a safer workplace and better wages? Get more information about how you can join together with co-workers and negotiate a fair return for your hard work. Or go ahead and contact a union organizer today!
► From the Washington Post — Officially, 10 million Americans are unemployed. Many economists say that number is far too low. — The United States currently has a lot of people out of work — even more than during the worst point of the Great Recession. But exactly how many people are unemployed right now is a surprisingly tricky question to answer. And some economists think the official count is far too low.

► From HuffPost — Jobless Americans face surprise tax bills on unemployment benefits — In an absurd twist, many say they might be forced to use the next round of government-provided stimulus checks to pay the government.
► From the AP — Lights come back on in Texas as water woes rise in the South — Many of the millions of Texans who lost power for days after a deadly winter blast overwhelmed the electric grid now have it back, but the crisis was far from over in parts of the South, with many people lacking safe drinking water.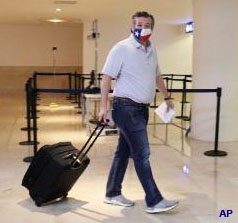 ► From the Washington Post — One night in Cancun: Ted Cruz's disastrous decision to go on vacation during Texas storm crisis — Usually, it takes at least one full day in Cancun to do something embarrassing you'll never live down. But for Ted Cruz (R-Tex.), it took just 10 hours — from when his United plane touched down at Cancun International Airport at 7:52 p.m. Wednesday to when he booked a return flight back to Houston around 6 a.m. Thursday — for the state's junior senator to apparently realize he had made a horrible mistake.
► From The Guardian — 'I can't keep doing this': Gig workers say pay has fallen after California's Prop 22 — Drivers say working conditions remain poor after voters approved measure exempting Uber and other apps from labor laws.
---
INTERNATIONAL
► From Politico — UK Supreme Court rules Uber drivers are workers — In a blow to the ride-hailing app, the U.K.'s top court unanimously ruled Friday that Uber drivers are workers, upholding previous decisions by lower courts and bringing to a close a years-long legal battle. Uber drivers must be classified as workers, not self-employed, and are entitled to rights including a minimum wage, working time protections and holiday pay, the court ruled. The case was brought by former Uber drivers Yaseen Aslam and James Farrar, who argued that the platform effectively controls how they work. In 2016, an employment tribunal in London found that they qualified for workers' rights — a decision Uber appealed all the way to the Supreme Court.
---
T.G.I.F.
► Today, the Entire Staff of The Stand wishes a happy 81st birthday to American singer, songwriter, record producer, and Rock and Roll Hall of Famer and Miracles frontman Smokey Robinson. In addition to all the hits he wrote for the Miracles, Robinson wrote songs for other Motown artists that became classics, including "My Guy" for Mary Wells, "My Girl" and "The Way You Do the Things You Do" for the Temptations, "Don't Mess With Bill" for the Marvelettes, "Ain't That Peculiar" for Marvin Gaye, and "First I Look at the Purse" for the Contours. Here's one of the Miracles tunes he co-wrote that has been covered my multiple artists over the years. But nobody sings it like Smokey.
---
The Stand posts links to Washington state and national news of interest every weekday morning by 10 a.m.
WASHINGTON IS A UNION STATE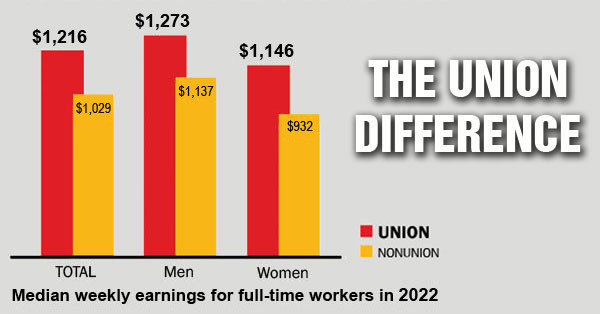 CHECK OUT THE UNION DIFFERENCE in Washington state: higher wages, affordable health and dental care, job and retirement security.
FIND OUT HOW TO JOIN TOGETHER with your co-workers to negotiate for better working conditions and respect on the job. Or go ahead and contact a union organizer today!