KENT (Feb. 1, 2021) — "The 900" at International Brotherhood of Electrical Workers (IBEW) Local 46 made some progress last week in their contract negotiations, but it was too little too late. Now these workers are preparing for the worst-case scenario of a work stoppage after their contract expired on Sunday.
More than 900 members of the IBEW Local 46 employed in the union's second largest unit — Limited Energy / Sound and Communication — voted Saturday to reject the latest contract offer from the National Electrical Contractors Association. The proposal included some improvements, but after months of negotiations, members were clearly dissatisfied with the proposed wages in NECA's offer. The unit has now served the 10-day notice to terminate the contract.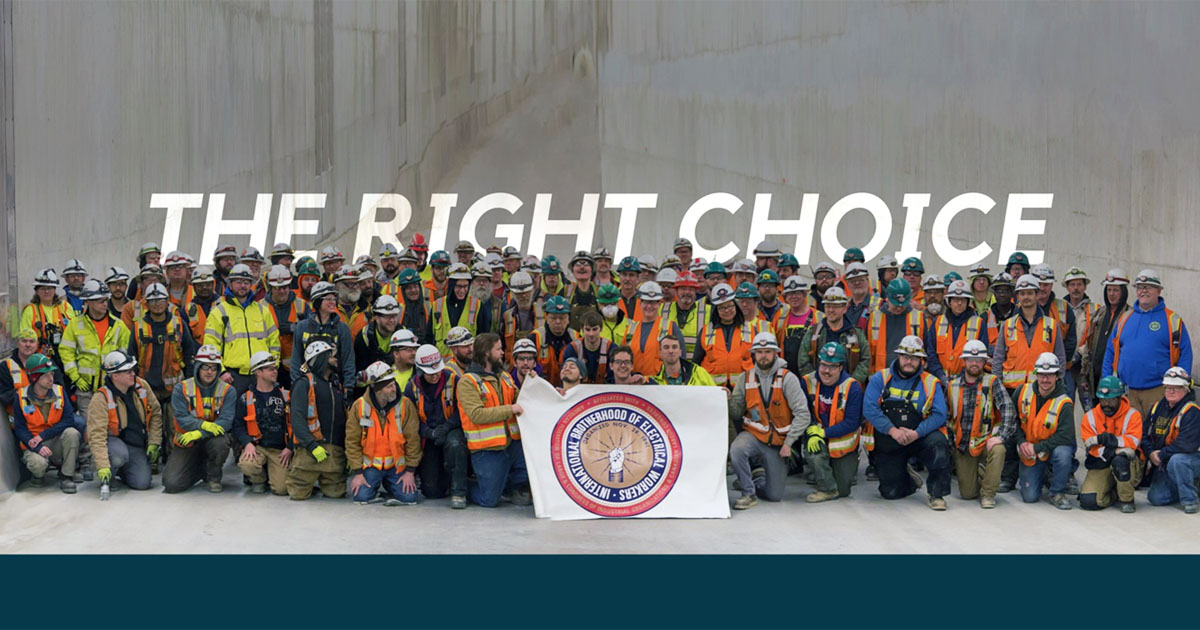 These highly trained, Washington state licensed union members install critical systems that many people take for granted, including voice/data, networking, fiber optics, fire alarm, security, digital antennas, building access controls, card readers, telephone, and other related systems. They perform essential work in King County and the Kitsap and Olympic Peninsulas to keep local and regional businesses and tech companies running every day.
"It has come to this because NECA negotiators refused for months to budge from their initial offer on wages, and when they finally budged it wasn't enough," said Sean Bagsby, Business Manager / Financial Secretary for IBEW 46. "These 900 proud members have fallen behind other trades and classifications for years and they are looking for dignity, respect, and fair compensation for their vital work. NECA needs to stop dragging their feet and present an economic offer that members will approve. The clock is ticking."
TAKE A STAND! — Negotiations between IBEW 46 and NECA will resume on Tuesday. IBEW 46 needs continued support from the labor community and others to win a fair and equitable contract for these workers. If you see them banner and sign-waving, or if you spot them on the job installing cameras, pulling fiber optic cable, or installing a fire alarm systems to keep your building safe, take a minute and tell these IBEW members that you support them and the brave 900!
Bagsby thanked the labor community for their strong support so far and asked everyone to keep it up.
"The solidarity and support our members have gotten from the Washington State Labor Council, the Seattle Building Trades, and all of the various trades has been incredible," he said. "Recognizing that western Washington's union movement has our backs, NECA finally budged. But now they need to do the right thing and show some respect to these essential workers."
Stay tuned to The Stand for updates. For more information, email IBEW 46 Business Representative Frank Woolsey.

IBEW Local 46 has a proud tradition of quality craftsmanship, leadership in the community, excellent wages and benefits for members, and innovation in organizing the unrepresented. Local 46 represents more than 6,200 members in 19 different craft units in King, Kitsap, Jefferson and Clallam counties. For more information, visit the union's website at ibew46.com.
Posted by
David Groves
on Feb 1 2021. Filed under
LOCAL
. You can follow any responses to this entry through the
RSS 2.0
. Both comments and pings are currently closed.