Vaccines sooner | Auburn next? | AFL-CIO vs. filibuster | No, no, no
Friday, March 12, 2021
---
COVID-19
► LIVE from the Seattle Times — Coronavirus daily news update, March 12 — The latest count of COVID-19 cases in Washington totals 347,884 infections (7-day average of new infections per day: 734) and 5,107 deaths.
► From the AP — Biden aims for quicker COVID-19 vaccines, 'independence from this virus' by July 4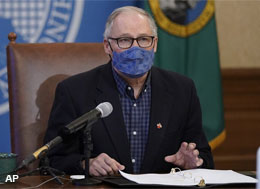 ► From the Seattle Times — Inslee loosens Washington COVID-19 restrictions; pro sports can host fans, restaurants can serve more customers — Inslee's announcement Thursday about changes in his Healthy Washington reopening plan will allow restaurants, retailers, fitness centers and other indoor spaces to open with up to 50% capacity. The changes — most of which kick in on March 22 — will take effect across the state… The increased rollout of the vaccine led Inslee to also announce that the state was speeding up by one week the vaccine eligibility plans for people in the second tier of Phase 1B. That group includes law enforcement, corrections staffers and firefighters, and workers in public transit, grocery stores, agricultural and food processing sectors. They will be eligible for the vaccine starting March 17.
► From the Yakima H-R — Agriculture, grocery workers move up on vaccine timeline to March 17 in Washington state
---
LOCAL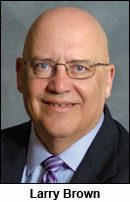 ► From the Auburn Reporter — Auburn to consider hazard pay for grocery workers at large stores — Seattle and Burien and other cities have recently passed ordinances pertaining to implementing mandatory hazard pay for employees of large grocery stores within city limits during the COVID-19 pandemic. Now, Auburn City Councilman (and WSLC President) Larry Brown wants the city to consider something like that here. "We're all very fortunate that retail grocery workers stayed on the job and made available the food that we all need to buy when we go to the grocery store," Brown said at the March 8 council study session. City attorney Kendra Comeau will draw up a draft ordinance and resolution for the council to consider.
From the News Tribune — Shipbuilder to reopen Tacoma facility, bringing 75 jobs for maritime workers — Bremerton-based SAFE Boats International announced it will reopen its Port of Tacoma manufacturing operation and add 75 new maritime jobs thanks to a $100 million contract from the U.S. Navy.
► From the PSBJ — Seattle-based Zillow to hire more than 2,000 employees in 2021, but many will work remotely
---
THIS WASHINGTON

► From the Kitsap Sun — Lawmakers in Olympia on the verge of a major policing overhaul — Lawmakers are on the cusp of overhauling policing and police accountability in Washington state, acting with unusual urgency to curb bad behavior by officers following last year's turbulent protests for racial justice.
The Stand (March 11) — Cops-corrections coalition backs police accountability efforts
► From Crosscut — Court's drug possession ruling upends WA's criminal justice system — In the Blake decision, the Washington Supreme Court voided most drug possession cases in the state. The implications will be huge.
---
AMERICAN RESCUE PLAN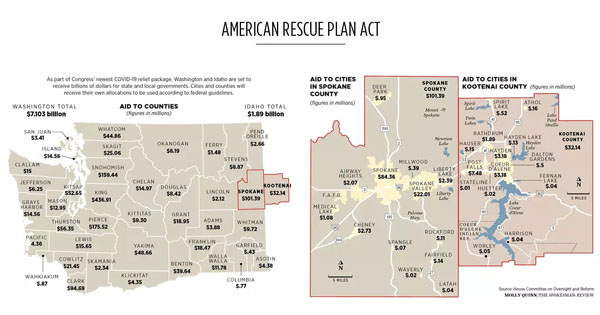 ► From the Spokesman-Review — Washington to receive billions of dollars from federal stimulus package for schools, child care, local governments — Washington will receive $7.1 billion for state and local governments as well as an additional $635 million for child care, almost $1.9 billion for K-12 schools and $655 million for higher education. While local and state governments can expect large sums of money soon, how exactly the funds can be used depends greatly on the federal government's guidelines.
► From Common Dreams — Pensioners, labor groups applaud key $86 billion provision in COVID-19 relief package — The Alliance for Retired Americans  said would provide "greatly increased pension security" for more than 10 million people.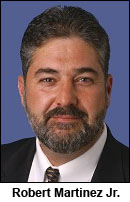 ► From the Washington Post — Transportation gets a big boost in recovery package but still faces an uncertain future — The measure provides $15 billion in payroll support, enough to keep more than 27,000 front-line employees — including flight attendants, mechanics and pilots — on the job through September. IAM President Robert Martinez Jr. said the measure brings a welcome measure of relief for workers who have spent months worried about losing their jobs and benefits: "Critically, this legislation extends the airline Payroll Support Plan, which will keep tens of thousands of airline workers on the job as we distribute vaccines and ramp up air travel."
► From The Hill — American Airlines cancels 13,000 furloughs after stimulus package passes — American Airlines canceled employee furloughs on Wednesday when the House passed the COVID-19 relief package that provided payroll support for the industry.
► From HuffPost — Republicans mock rescue plan while pushing a tax cut for the richest — The American Rescue Plan is a giveaway to people who don't really need help, according to Republican lawmakers. At the same time, Republicans say, America's richest heirs need relief from estate taxes that might take a chunk out of their inheritance.
► From the AFL-CIO — As Biden signs American Rescue Plan, labor movement calls for structural changes to the economy — AFL-CIO President Richard Trumka:
"Now it's time to start building toward a just recovery that leaves working people with a louder voice and a stronger hand than ever before. That means delivering unprecedented funding to create a 21st-century infrastructure alongside a new generation of good-paying union jobs. It means delivering the $15 minimum wage that should have been signed into law today. And most of all, it means strengthening working people's right to organize together by finally passing the PRO Act."
---
THAT WASHINGTON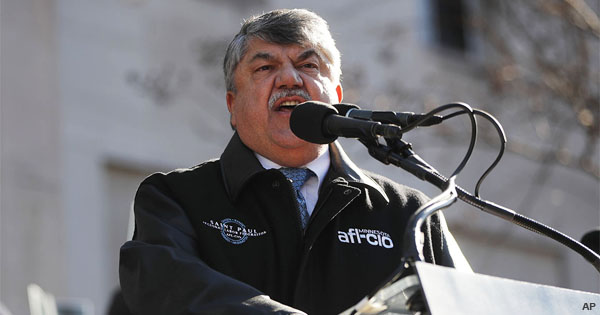 ► MUST-READ from Politico — 'A creature of white supremacy': AFL-CIO targets filibuster — The AFL-CIO, the nation's largest federation of unions, called on Democrats Thursday to reform the filibuster, the Senate rule standing in the way of enactment of some of their top priorities for the Biden administration. In a statement, the AFL-CIO Executive Board wrote:
"The very survival of our democratic republic is at stake. And standing in its way is an archaic Senate procedure that allows the minority to block the majority—the filibuster. An artifact of Jim Crow. A creature of white supremacy. A procedure that was said to encourage robust debate but has turned into an instrument of government paralysis."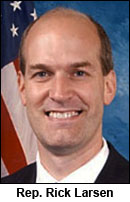 ► From The Hill — Democrats debate fast-track for infrastructure package — Fresh off his first major legislative victory, Biden himself says his nascent administration will turn next to a trillion-dollar infrastructure and clean energy jobs package. And a growing number of Democrats are now urging the White House and Democratic leadership to use the special budget process to push it through Congress to deliver critical roads, bridges and broadband projects to their districts and a potent campaign issue they can run on in the tough 2022 midterm elections. "We need an FDR-like investment in our infrastructure," Rep. Rick Larsen (D-Wash., 2nd), chairman of the House Transportation and Infrastructure Aviation Subcommittee, told The Hill.
► From the Boston Globe — A decision on tough new coronavirus workplace protections awaits Walsh as Labor secretary — The clock is ticking on a Monday deadline set by President Biden for the Labor Department to consider whether new nationwide rules are needed to safeguard workers from COVID-19 and, if so, to issue them.
► From Politico — Biden's new COVID workplace rules set to collide with reopenings — The Biden administration is expected to issue new temporary rules next week to curb COVID-19 spread in the workplace, setting a collision course with the growing number of states loosening restrictions on businesses to aid their reopening.
EDITOR'S NOTE — Alternate headline for this story: "Business groups complain about being held accountable for workplace safety."
---
BOEING

► From the Seattle Times — Boeing lands order for 24 737 MAX jets — A Miami-based investment firm has ordered 24 737-8 MAX jets, with an agreement that includes purchase rights for 60 additional planes, Boeing said Friday. The firm, 777 Partners, will lease the planes to low-cost carriers in which it has invested.
► From Reuters — Exclusive: Airbus targets Boeing's freight fortress with potential A350 cargo jet — Airbus is canvassing airline support for a potential freighter version of its A350 passenger jet, targeting a key stronghold of U.S. rival Boeing as e-commerce lifts demand for transported goods, people familiar with the matter told Reuters.
---
NATIONAL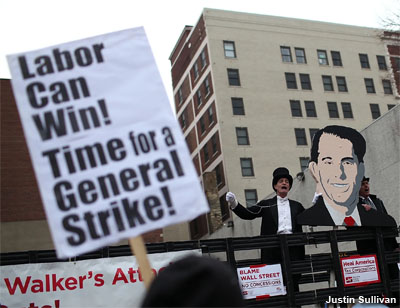 ► From Teen Vogue — Scott Walker's war on unions fueled new wave of labor organizing (by Kayla Blado) — While Wisconsin's Act 10 had a detrimental effect on public-sector unions, one small silver lining is that it brought a new cohort of labor activists into the fold, myself included. Before Act 10, I didn't know anything about labor unions. I had never learned about them in school, nor was I raised in a union family. But because of Act 10, I know the importance of collective power. After graduation, I immediately started working in the labor movement, fighting for collective-bargaining rights for working people. As president of the Nonprofit Professional Employees Union, we've brought hundreds of workers into the labor movement. I have seen firsthand how forming a union and bargaining a contract empowers working people to make real changes at their workplace. Act 10 taught me a crucial lesson: If unions didn't empower workers, Scott Walker, ALEC, and union-avoidance firms wouldn't try so hard and spend so much money to defeat them.
► From the Washington Post — The billionaire boom — Elon Musk, Jeff Bezos, Mark Zuckerberg and six other billionaires made more than $360 billion during the pandemic, which may finally shatter the myth of the benevolent billionaire.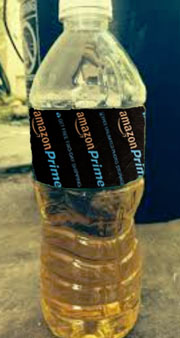 ► From The Guardian — 14-hour days and no bathroom breaks: Amazon's overworked delivery drivers — James Meyers worked as a driver for several Amazon delivery service providers in Austin, Texas, for about one year until he quit in October 2020 citing the immense workloads and poor working conditions. Fourteen-hour shifts were common because delivery service providers wouldn't allow drivers to return any packages from their routes and the pressure to meet delivery rates meant Meyers used a plastic bottle to go to the bathroom on a daily basis.
EDITOR'S NOTE — Crappy job? Don't just quit. Great jobs in this country were made by people who refused to quit. Get more information about how you can join together with your co-workers and negotiate for better working conditions and a fair return for your hard work. Or go ahead and contact a union organizer today!
---
T.G.I.F.
► On this date in 2007, the great Amy Winehouse made her U.S. television debut, performing what would become her signature song on Late Night with David Letterman. "Rehab" went on to win three Grammy Awards, including Record of the Year, Song of the Year, and Best Female Pop Vocal Performance. But alas, Winehouse was plagued by addiction and died of alcohol poisoning four years later at the age of 27. Her family subsequently established the Amy Winehouse Foundation, which "helps thousands of children and young people to feel supported, informed and inspired. We build their self esteem, help them to make better choices about drugs and alcohol and enable them to reach their full potential."
---
The Stand posts links to Washington state and national news of interest every weekday morning by 10 a.m.
WASHINGTON IS A UNION STATE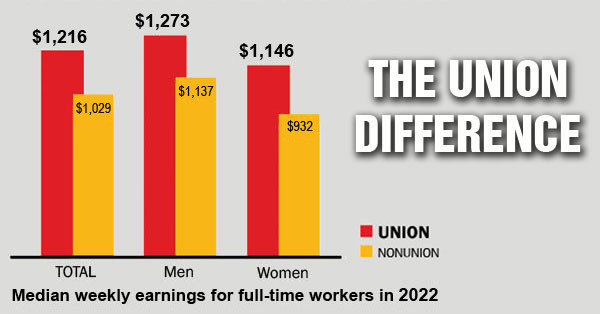 CHECK OUT THE UNION DIFFERENCE in Washington state: higher wages, affordable health and dental care, job and retirement security.
FIND OUT HOW TO JOIN TOGETHER with your co-workers to negotiate for better working conditions and respect on the job. Or go ahead and contact a union organizer today!