Enough | Let's get moving | BAMAzon | Her name is Elisia
Monday, March 22, 2021
---
COVID-19
► LIVE from the Seattle Times — Coronavirus daily news update, March 22 — The latest count of COVID-19 cases in Washington totals 354,782 infections (7-day average of new infections per day: 737) and 5,174 deaths.
► From the Seattle Times — Cautious optimism: Washington enters Phase 3's loosened COVID-19 restrictions with hope, anxiety — As Washington state moved into the third phase of Gov. Jay Inslee's COVID-19 reopening plan Monday, the response by many residents, business owners and experts seemed to be a mixture of optimism, anxiety, and weary resignation over just how far the state still has to go.
---
RACISM AND HATE VIOLENCE



► From the Seattle Times — Stand up against anti-Asian hatred, misogyny and violence (by Sutapa Basu, Connie So and Velma Veloria) — Enough with excuses. Enough with harassment. Enough with objectifying women. Enough with violence against women and AAPI. Enough of domestic terrorism against women and Black, Indigenous and people of color. Enough with hate crimes. Enough with white supremacy. We stand in solidarity with others demanding justice.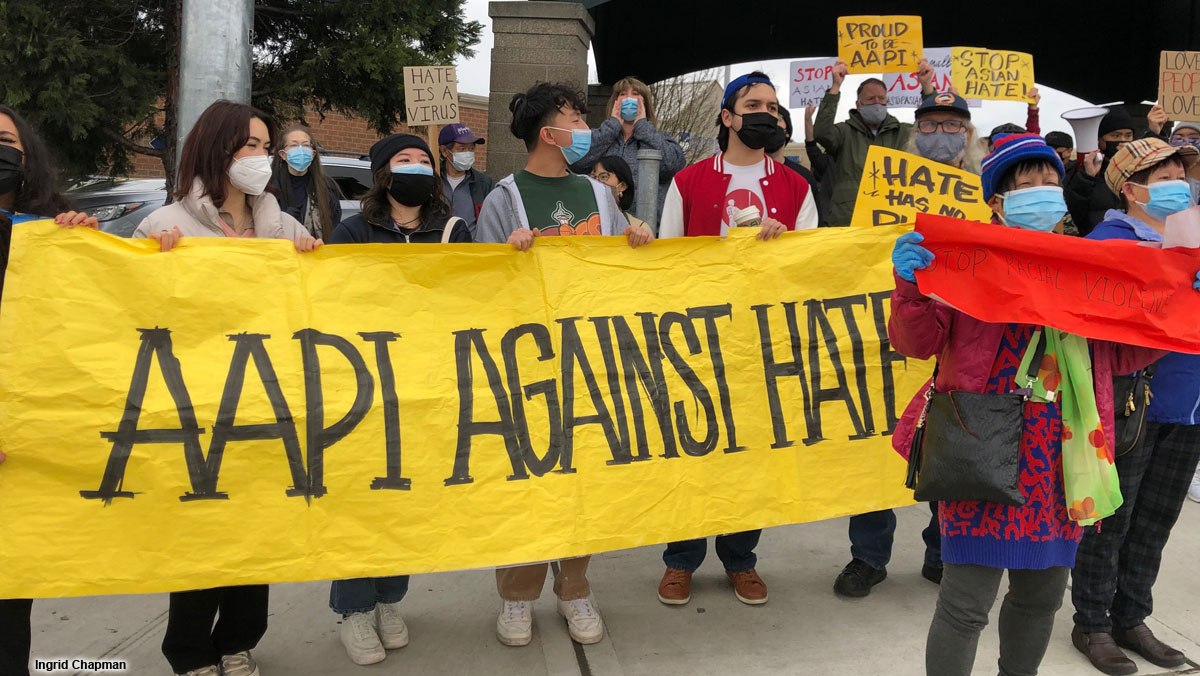 TODAY at The Stand — Support APALA; rally against hate and bias today in Tukwila
► From the Seattle Times — The hidden stories that give rise to violence against Asian American women (by Naomi Ishisaka) — Their names were Soon Chung Park, Hyun Jung Grant, Yong Ae Yue, Suncha Kim, Daoyou Feng, Xiaojie Tan, Delaina Ashley Yaun and Paul Andre Michels. They were not, merely, a "temptation for him that he wanted to eliminate," as a spokesperson for the Cherokee County Sheriff's Office called the victims of a man who authorities say admitted killing eight people — six of them Asian American women — last Tuesday at three spas in the Atlanta area. A "temptation you want to eliminate" is how you talk about a box of cookies you are trying not to eat, not how you talk about the lives of human beings.
The Stand (March 17) — Organized labor condemns Atlanta shootings, racism
► From the (Everett) Herald — Anti-Asian acts and policies are an ugly part of our history (by Julie Muhlstein) — Leaders are speaking out against hate as the Georgia killings raise awareness of growing violence and bias.
---
THIS WASHINGTON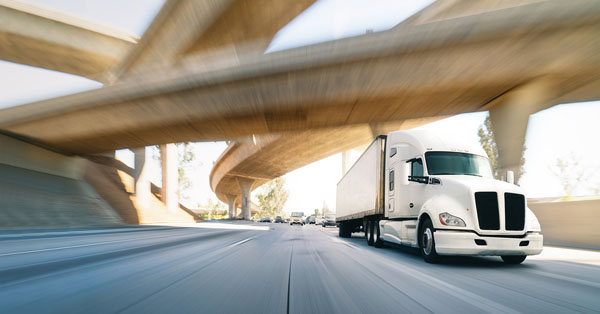 ► From the Seattle Times — Legislators, let's get Washington moving (by John Schoettler) — Spring is a time for hope and renewal, and there is cause for optimism as businesses across the Puget Sound region reopen. All of us are ready to get moving again. A new state investment in transportation will help accelerate the region's economic recovery, by providing near-term construction jobs and long-term economic benefits that come from improved infrastructure. Washington lawmakers are considering a "Grand Bargain" for improvements to our transportation system that could help fix old bridges, patch our roads, clean our air and water, invest in transit and create jobs. The economic benefits of such actions are clear. In fact, a study by the Washington Roundtable found that transportation investments save businesses hundreds of millions of dollars per year in supply-chain costs, increase productivity and enable freight mobility and port expansion that allow businesses to grow exports and international trade, and create new jobs.
► From Crosscut — Police accountability agenda loses some teeth in WA Legislature — After last year's Black Lives Matter protests, Washington state lawmakers set out to enact a sweeping collection of police accountability reforms in 2021. Some of those measures are advancing swiftly through the Legislature, including a proposal to ban chokeholds and a bill to beef up the state's system for decertifying police officers. But other police reform bills have stalled — including a plan to end the qualified immunity that can shield officers from civil lawsuits and a measure to stop arbitrators from reversing police discipline.
► From KNKX — Washington 'HEAL' Act would steer key state agencies toward environmental justice — The Washington Healthy Environment for All Act, or "HEAL Act," has passed the state Senate and is working its way through the House. Its aim is to implement the recommendations from an environmental justice task force that wrapped up its work last summer.
► From the (Everett) Herald — No ruling yet on request for $2.8M in legal fees from Eyman — A judge continued a hearing after the ballot-measure promoter's lawyer sought time to "truth test" the billings.
---
THAT WASHINGTON
► From Te Hill — Democrats vow to go 'bold' — with or without GOP — Democrats are warning they won't tolerate GOP stonewalling as they try to make good on their pledge to enact a "bold" agenda and avoid Obama-era missteps.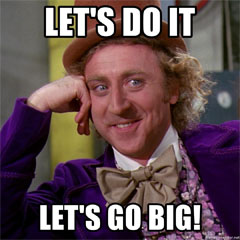 ► From Politico — Drug pricing, climate, immigration: House Dems eye 'kitchen sink' for next big bill — With most items on their agenda hobbled by the Senate filibuster, top House Democrats are eyeing ways to muscle through drug pricing and climate policy goals using the same arcane budget process that let the party bypass GOP votes for its pandemic aid bill. Sweeping immigration bills are also on the wishlist for many members, with Democrats eager to fit what they can in Biden's next high-profile package — which could be the party's last shot at using the budget tool before the midterm elections. "If they don't get rid of the filibuster, then, well, let's use the only mechanism we're allowed to use," said Rep. Juan Vargas (D-Calif.), who supports using the budget process for immigration changes.
► From Roll Call — Democrats pushing to weaken the filibuster say it enables racism — It's all but inevitable now that a confrontation is coming over the filibuster. And Democrats laid out their case in sharp relief this past week, arguing that the current 60-vote threshold for passage of most Senate legislation enables racism.

EDITOR'S NOTE — The AFL-CIO says:
"Standing in (the PRO Act's) way is an archaic Senate procedure that allows the minority to block the majority—the filibuster. An artifact of Jim Crow. A creature of white supremacy. A procedure that was said to encourage robust debate but has turned into an instrument of government paralysis. A tool used by those seeking to preserve the social, economic and political status quo, that the AFL-CIO has long opposed, as a matter of principle as undemocratic and rooted in racism."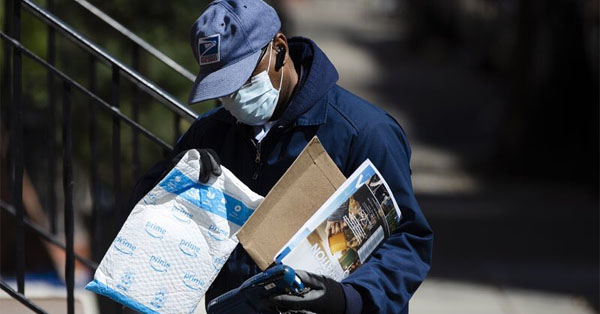 ► From the Columbian — Congress must ensure survival of Postal Service (editorial) — Since becoming postmaster general last year, Louis DeJoy has presided over a distinct slowdown in mail delivery… Despite calls from some Democrats to fire DeJoy, President Joe Biden does not have that power; the governing board makes those decisions. But Biden recently named three nominees for open seats on the board, which could eventually result in DeJoy's ouster. Much of this might seem like distant political infighting – until your medication or your federal stimulus check arrives a week late. The fact is that all Americans depend on a reliable Postal Service.
The Stand (March 16) — 'Imperfect storm' has eroded faith in the U.S. Postal Service (by Mark Dimondstein) — DeJoy must be held accountable, but understaffing and turnover play role.
► From the National Catholic Reporter — Catholic leaders stand with farm workers as critical case heads to Supreme Court — Nearly 50 years ago, Catholic labor activist César Chávez won a hard fought battle to ensure California's farm workers a right to organize. Now, Catholic leaders in the state fear a U.S. Supreme Court case on March 22 could overturn a fundamental regulation, an action that could chip away at worker's rights and have broader health and safety concerns throughout the country.
► From the Washington Post — How Biden quietly created a huge social program — An unlikely coalition of Democrats across the ideological spectrum mounted an 11th-hour push in the final weekend before the American Rescue Plan for President Biden to go big on tackling child poverty.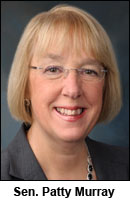 ► From the South Seattle Emerald — Help is here for Washington state families in the American Rescue Plan (by Sen. Patty Murray) — The Child Tax Credit alone will cut child poverty for Black families by more than 50% and Native families by more than 60%. While only about half of Black and Latino children were eligible to receive the Child Tax Credit before the American Rescue Plan, now the vast majority will receive this vital assistance. The expansion of the Child Tax Credit, along with the expanded Earned Income Tax Credit in the bill, is projected to boost the income of eight million Black households, including approximately 54,000 Black households in Washington State.
► From the NY Times — How to collect $1.4 trillion in unpaid taxes (editorial) — The government has a basic obligation to enforce the law and to crack down on this epidemic of tax fraud. The failure to do so means that the burden of paying for public services falls more heavily on wage earners than on business owners, exacerbating economic inequality. The reality of widespread cheating also undermines the legitimacy of a tax system that still relies to a considerable extent on Americans' good-faith participation.
---
AMAZON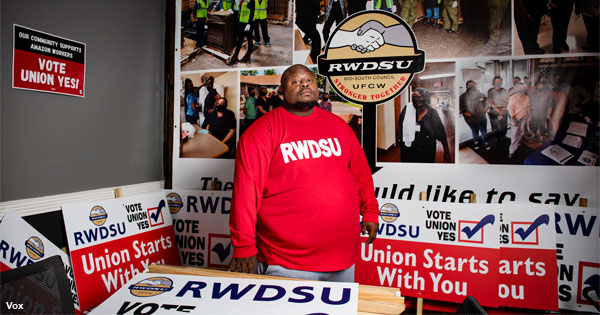 ► From Vox — An unholy union — The more than 5,000 workers at Amazon's Bessemer warehouse — called BHM1, it is one of more than 100 fulfillment centers across the US — are in the midst of the nation's first attempt to unionize one of the e-commerce giant's warehouses, where they spend long hours on their feet picking, packaging, and shipping items as quickly as they can. Their days, workers told Vox, are dictated by algorithms that survey their every move and dole out punishments when targets are not met or workers go over their allotted "time off task" (better known as TOT); workers compare the environment to "a sweatshop," and have lodged complaints about the excessive heat in the building.
EDITOR'S NOTE — You have the power to change working conditions like this! Get more information about how you can join together with co-workers and negotiate for better working conditions and a fair return for your hard work. Or go ahead and contact a union organizer today!
► From Reuters — Amazon workers strike in Italy over pandemic-driven delivery demands — Amazon workers took strike action in Italy on Monday in the first protest involving the U.S. group's entire logistics operations, including third-party delivery service providers. An e-commerce surge there, with goods sold online in 2020 rising by a record 31% to 23.4 billion euros, has prompted trade unions to seek tighter rules on workloads and shifts for drivers who they say deliver as many as 180-200 parcels a day.
► From the PSBJ — Microsoft hires workplace safety activist fired by Amazon last year — Microsoft has hired Maren Costa, a former longtime Amazon employee who was fired last year after speaking out about the company's climate change policies and suggesting the Seattle online retailer's warehouse workers were toiling in unsafe conditions during the pandemic.
► From Vice — John Oliver asks Alexa: 'What is union busting?' Jimmy Fallon shuts it down — During a segment featuring an Alexa device, the talk show host frantically jumped in when his guest asked the speaker how bad Amazon's working conditions were… Amazon's working conditions are often described as dystopian for good reason. Come for the digital rewards systems straight out of Black Mirror that track worker productivity, stay for the mandatory graveyard shifts called "megacycles" or lose your job. 
---
TODAY'S MUST-READ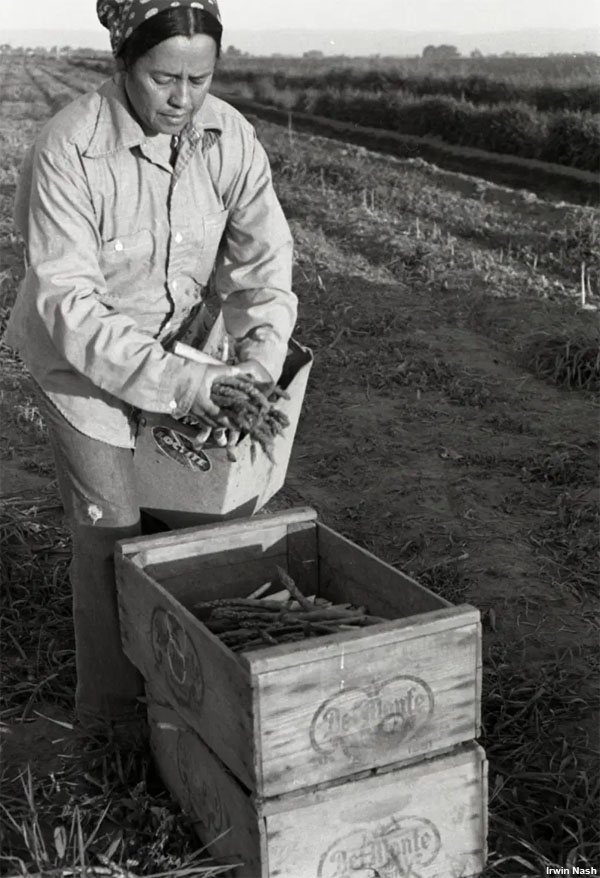 ► From Post Alley — Her name is Elisia — Acquired by the Washington State University Library in the early '90s, an obscure photographic collection consists of approximately 11,500 photographs of migrant agricultural workers in the Yakima Valley, all taken between 1967 and 1976 by a little known Seattle photographer named Irwin Nash. The collection captured scenes from an early and turbulent period in the ongoing struggle for farmworker rights. For nearly three decades it has remained locked away in a sub-basement of the WSU Library. Only about 100 of the photos – less than one percent of the total – had been digitized and were available to view online. Now, the treasure trove of thousands of photographs in the WSU Library basement is generating a renewed interest and excitement from farmworkers' rights leaders, Washington state elected officials, and library archivists. A few months ago $20,000 was raised in just a few weeks to digitize the collection and make it accessible online. Ambitious plans are now in the works to launch an oral history effort to contextualize the images, identify their subjects, and to recover and tell their stories before they are lost forever to the ravages of time.
---
The Stand posts links to Washington state and national news of interest every weekday morning by 10 a.m.
Short URL: https://www.thestand.org/?p=96770
Posted by
David Groves
on Mar 22 2021. Filed under
DAILY LINKS
. You can follow any responses to this entry through the
RSS 2.0
. Both comments and pings are currently closed.